Noah Gragson Finds Redemption at Kansas Speedway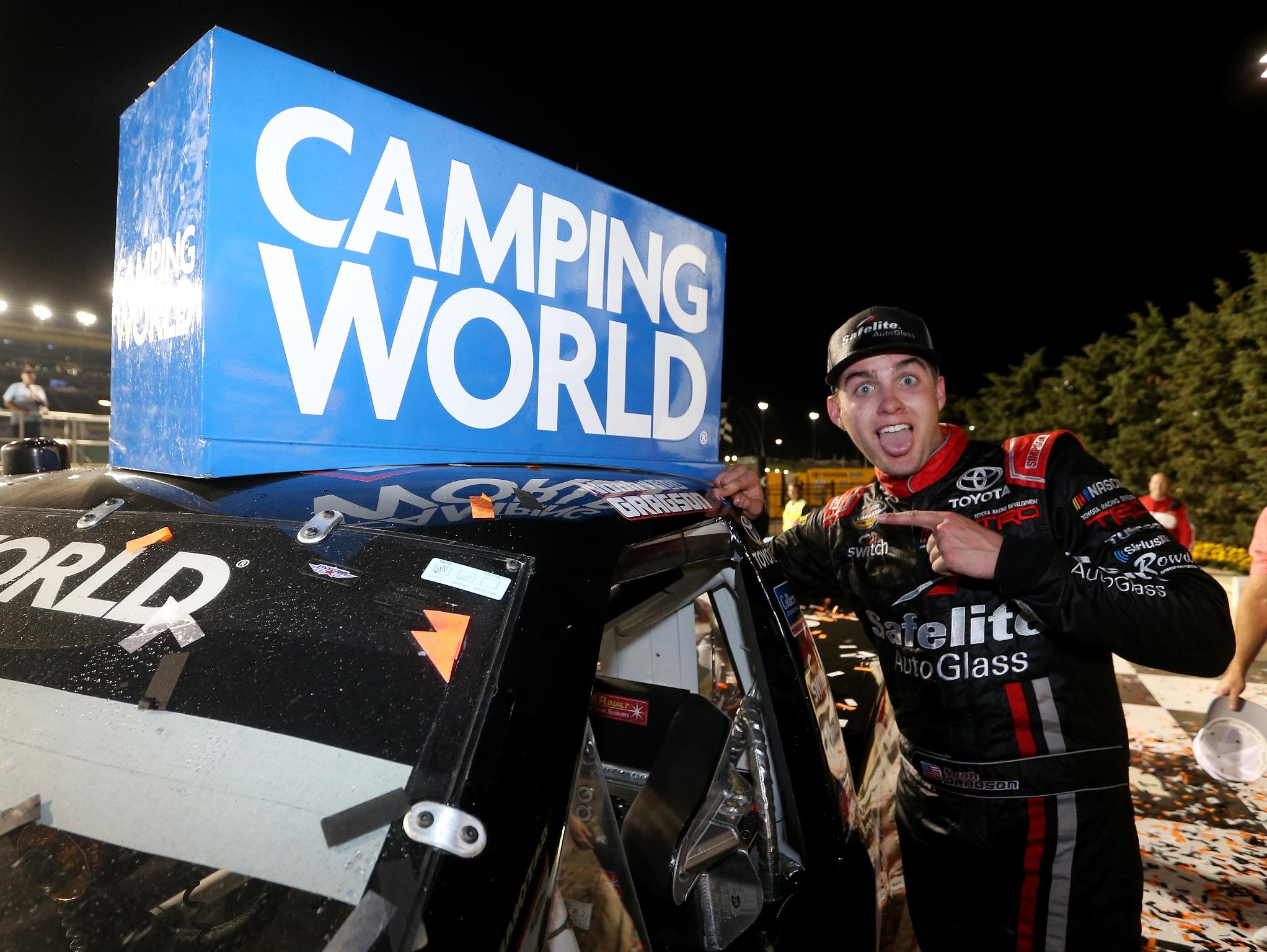 Noah Gragson celebrates in Victory Lane at Kansas Speedway
Brian Lawdermilk/Getty Images
There are times when redemption is swift and merciful.
A week after throwing away a chance to win at Dover with a wreck of his own making, Noah Gragson scored his first NASCAR Camping World Truck Series victory of the season, beating his car owner, Kyle Busch, to the finish line in the 37 Kind Days 250 at Kansas Speedway.
Starting from the pole for the second straight race, Gragson led 128 of 167 laps in his No. 18 Toyota, swept all the stages of the event and collected the second NCWTS victory of his career.
"This is such a relief for a driver who had a hard week last week battling for the win," said Gragson, who was running side by side with Johnny Sauter at Dover when he lost control of his truck and backed into the outside wall. "We came back strong this weekend. Two consecutive poles. We led the most laps today.
"Man, this is a pretty damn cool moment."
[adinserter name="GOOGLE AD"] After passing Busch and third-place finisher Stewart Friesen on Lap 157-thanks to a four-tire call by crew chief Rudy Fugle during a green-flag pit stop on lap 134-Gragson took the lead for good when Myatt Snider ran out of gas with five laps left.
Snider was one of five drivers trying to stretch fuel to the end of the race. One by one they fell by the wayside, but not before muddying the waters in the closing laps.
"After the pit stop, I thought I was going to be the leader, but they told me that (fifth-place finisher) Johnny (Sauter) was stretching it on fuel," Gragson said. "So I said, 'OK, maybe I'm running second.' Then they said the 52 (Friesen) and the 4 (Busch) are a half a lap ahead of you.
"And I thought that was for the lead when I passed the 4 and I passed the 52, and then they said the 13 (Snider) was the leader. And I said, 'Dang, how many leaders are there going to be?"
As it turned out Snider was the last one, and Gragson had come full circle from his mistake at Dover.
Johnson Hunter Nemechek came home fourth, followed by Sauter and Matt Crafton. Cody Coughlin, Grant Enfinger, Brandon Jones and Justin Haley completed the top 10.
With 23 laps left, Friesen forced Busch down to the infield grass in the tri-oval, costing Busch a chance to pass the No. 52 Chevrolet and put distance between himself and Gragson.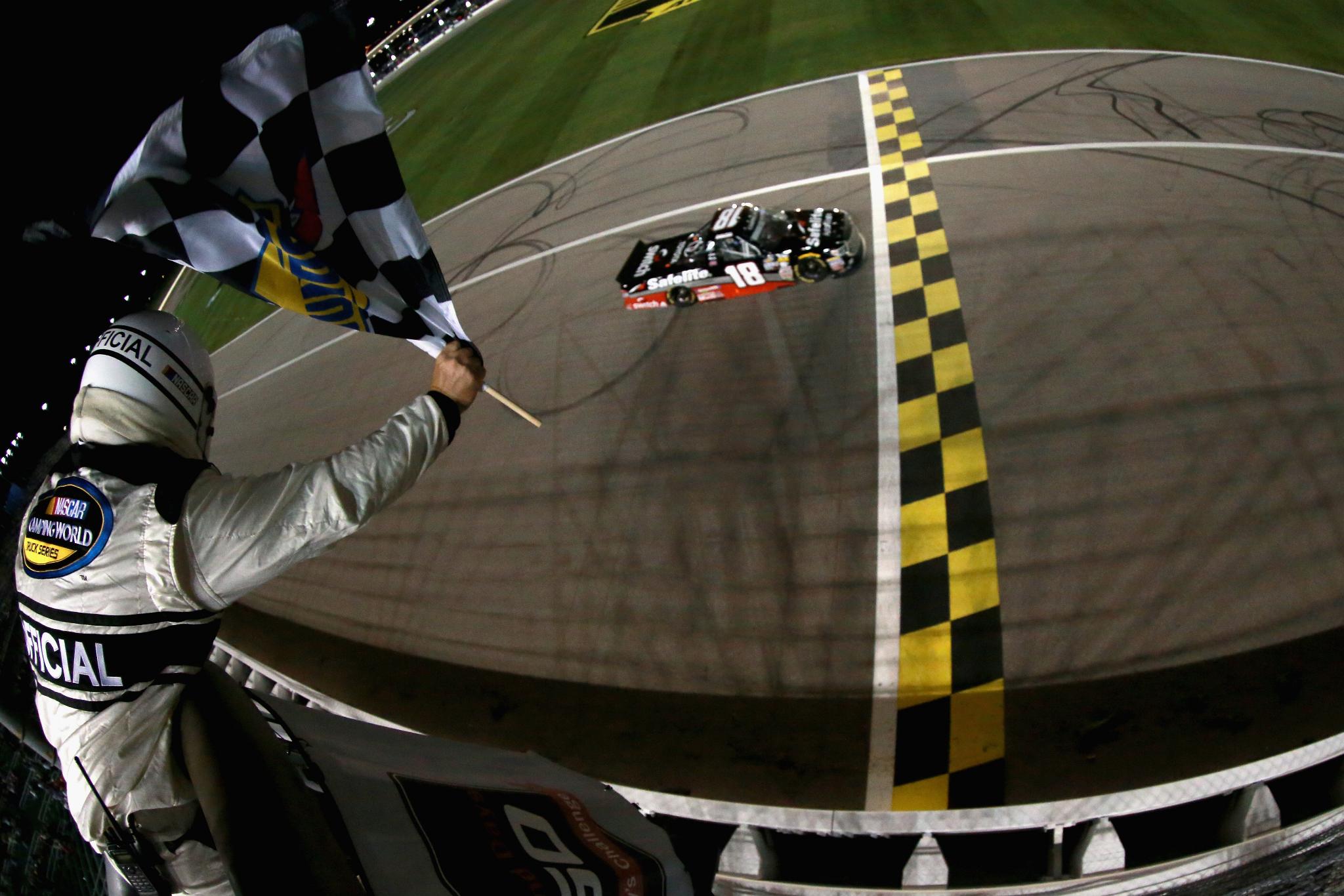 Noah Gragson takes the checkered flag at Kansas Speedway
Sean Gardner/Getty Images
Busch had taken right-side tires only on his green-flag stop on Lap 139, and Gragson methodically caught his car owner, making what proved to be the winning pass with 10 laps left.
"The truck felt good after about 15 laps, but it took too long to come in," Busch said. "And there on that last run, we didn't make enough adjustments. We took two tires and we got way too tight.
"But awesome run by Noah and those guys. They deserve it-they're fast. They needed a boost and they got one. They're going to race for a championship, and hopefully this will help them get going."
Sauter retained the series lead by 35 points over Gragson.
RACE RESULTS
| | | | | | | | |
| --- | --- | --- | --- | --- | --- | --- | --- |
| Finish | Start | # | Driver | Sponsor/Make | laps | Led | Status |
| 1 | 1 | 18 | Noah Gragson | Safelite Toyota | 167 | 128 | Running |
| 2 | 6 | 4 | Kyle Busch | Cessna Toyota | 167 | 1 | Running |
| 3 | 8 | 52 | Stewart Friesen | We Build America Chevrolet | 167 | 6 | Running |
| 4 | 14 | 8 | John Hunter Nemechek | Fleetwing/D.A.B. Construction Chevrolet | 167 | 0 | Running |
| 5 | 5 | 21 | Johnny Sauter | ISM Connect Chevrolet | 167 | 14 | Running |
| 6 | 3 | 88 | Matt Crafton | Flex Seal/Menards Ford | 167 | 4 | Running |
| 7 | 2 | 2 | Cody Coughlin | Jeg's.com Chevrolet | 167 | 0 | Running |
| 8 | 4 | 98 | Grant Enfinger | Protect The Harvest/Curb Records Ford | 167 | 0 | Running |
| 9 | 13 | 51 | Brandon Jones | Lyons Industries/Menards Toyota | 167 | 0 | Running |
| 10 | 12 | 24 | Justin Haley | Fraternal Order Of Eagles Chevrolet | 166 | 4 | Running |
| 11 | 11 | 25 | Dalton Sargeant | Performance Plus Motor Oil Chevrolet | 165 | 0 | Running |
| 12 | 9 | 2 | Austin Hill | United Rentals Chevrolet | 165 | 0 | Running |
| 13 | 19 | 22 | Austin Wayne Self | Don't Mess With Texas Chevrolet | 164 | 0 | Running |
| 14 | 15 | 20 | Darrell Wallace Jr. | Andy's Frozen Custard Chevrolet | 164 | 0 | Running |
| 15 | 32 | 13 | Myatt Snider | Louisiana Hot Sauce Ford | 164 | 9 | Running |
| 16 | 10 | 16 | Brett Moffitt | Concrete Supply Toyota | 163 | 0 | Running |
| 17 | 17 | 45 | Justin Fontaine | ProMATIC Automation Chevrolet | 163 | 0 | Running |
| 18 | 7 | 41 | Ben Rhodes | Alpha Energy Solutions Ford | 162 | 1 | Running |
| 19 | 16 | 54 | Bo LeMastus | Crosley Brands/DGR Crosley Toyota | 160 | 0 | Running |
| 20 | 31 | 83 | Kyle Donahue | First Responder Racing Chevrolet | 159 | 0 | Running |
| 21 | 25 | 33 | Josh Reaume | Colonial Countertops Toyota | 158 | 0 | Running |
| 22 | 29 | 10 | Jennifer Jo Cobb | Think Realty/Mark One Chevrolet | 157 | 0 | Running |
| 23 | 28 | 6 | Norm Benning | Zomongo Chevrolet | 157 | 0 | Running |
| 24 | 30 | 74 | Mike Harmon | Horizon Transport Chevrolet | 146 | 0 | Oil Leak |
| 25 | 21 | 3 | Jordan Anderson | Bommarito Automotive Group Chevrolet | 139 | 0 | Running |
| 26 | 27 | 15 | Robby Lyons | Finke Brothers Inc. Chevrolet | 139 | 0 | Running |
| 27 | 18 | 49 | Wendell Chavous | SobrietyNation.org Chevrolet | 131 | 0 | Suspension |
| 28 | 26 | 50 | Jamie Mosley | Crossbar E-Cigarettes Chevrolet | 66 | 0 | Overheating |
| 29 | 24 | 36 | Bayley Currey | Chevrolet | 30 | 0 | Transmission |
| 30 | 22 | 87 | Joe Nemechek | Fleetwing Chevrolet | 27 | 0 | Overheating |
| 31 | 23 | 0 | Joey Gase | Driven2Honor.org Chevrolet | 6 | 0 | Electrical |
| 32 | 20 | 63 | Kevin Donahue | Mittler Bros. Chevrolet | 0 | 0 | Transmission |

[adinserter name="GOOGLE AD"]