Pritchett, Hight, Anderson Top Qualifiers in Houston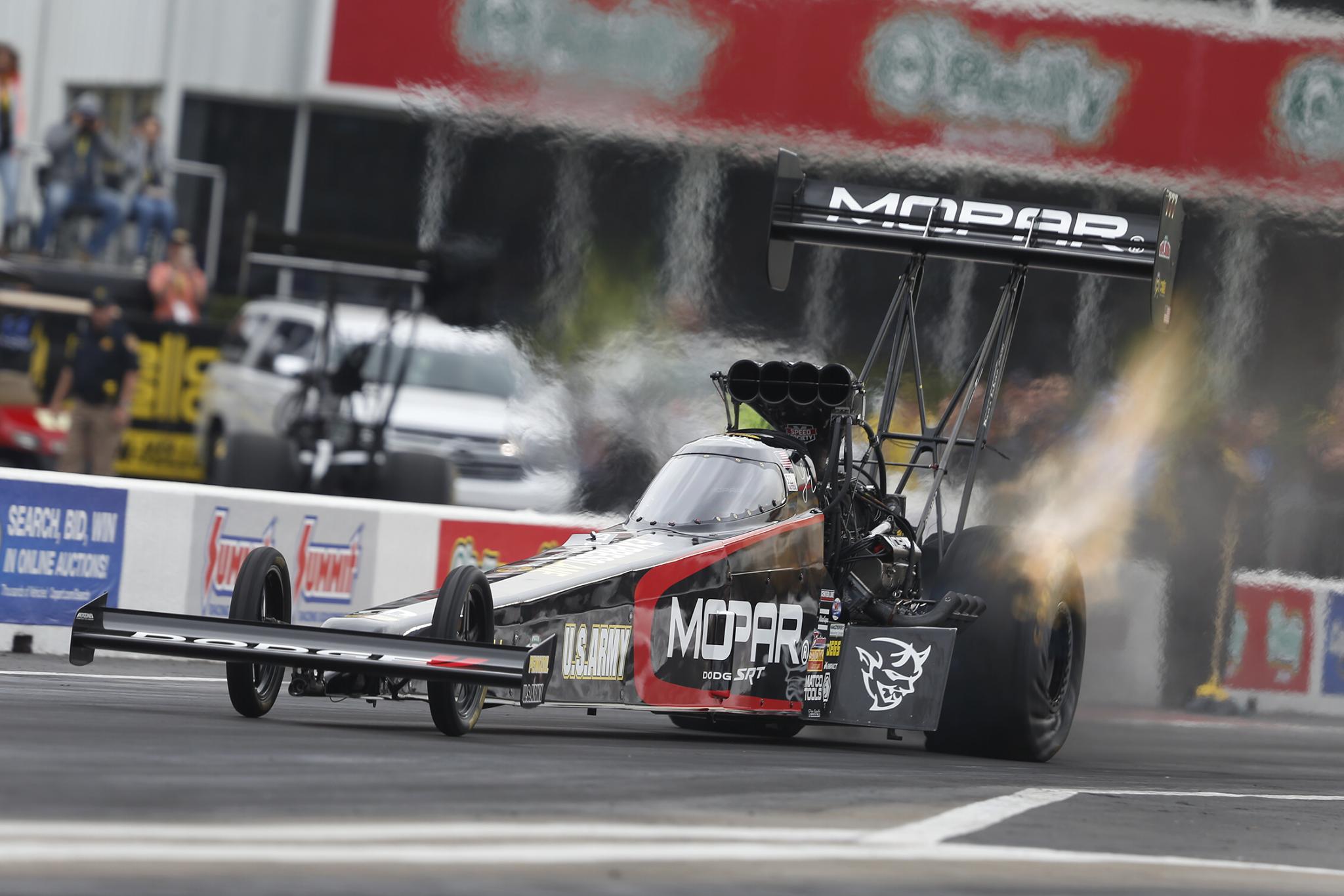 Leah Pritchett
Leah Pritchett set the Top Fuel elapsed time track record during the final qualifying session on Saturday to secure the top spot at the 31st annual NHRA SpringNationals at Royal Purple Raceway.
Robert Hight (Funny Car) and Greg Anderson (Pro Stock) are also No. 1 qualifiers in their respective categories at the fifth of 24 events on the 2018 NHRA Mello Yello Drag Racing Series schedule.
Defending event champion Pritchett raced her Mopar Dodge dragster to a pass of 3.680-seconds at 326.00 mph. This is her first No. 1 qualifier of the season and eighth of her career.
"We've been developing our confidence the last couple of races," Pritchett stated. "To be able to put it on the track is phenomenal. We know we need to be exceptional because our competition is exceptional."
Pritchett will line up against Terry Brian in round one of eliminations on Sunday. Defending world champion Brittany Force locked-in the No. 2 spot after a 3.701 at 313.80 in her Monster Energy dragster. Tony Schumacher is seeded third and will face William Litton.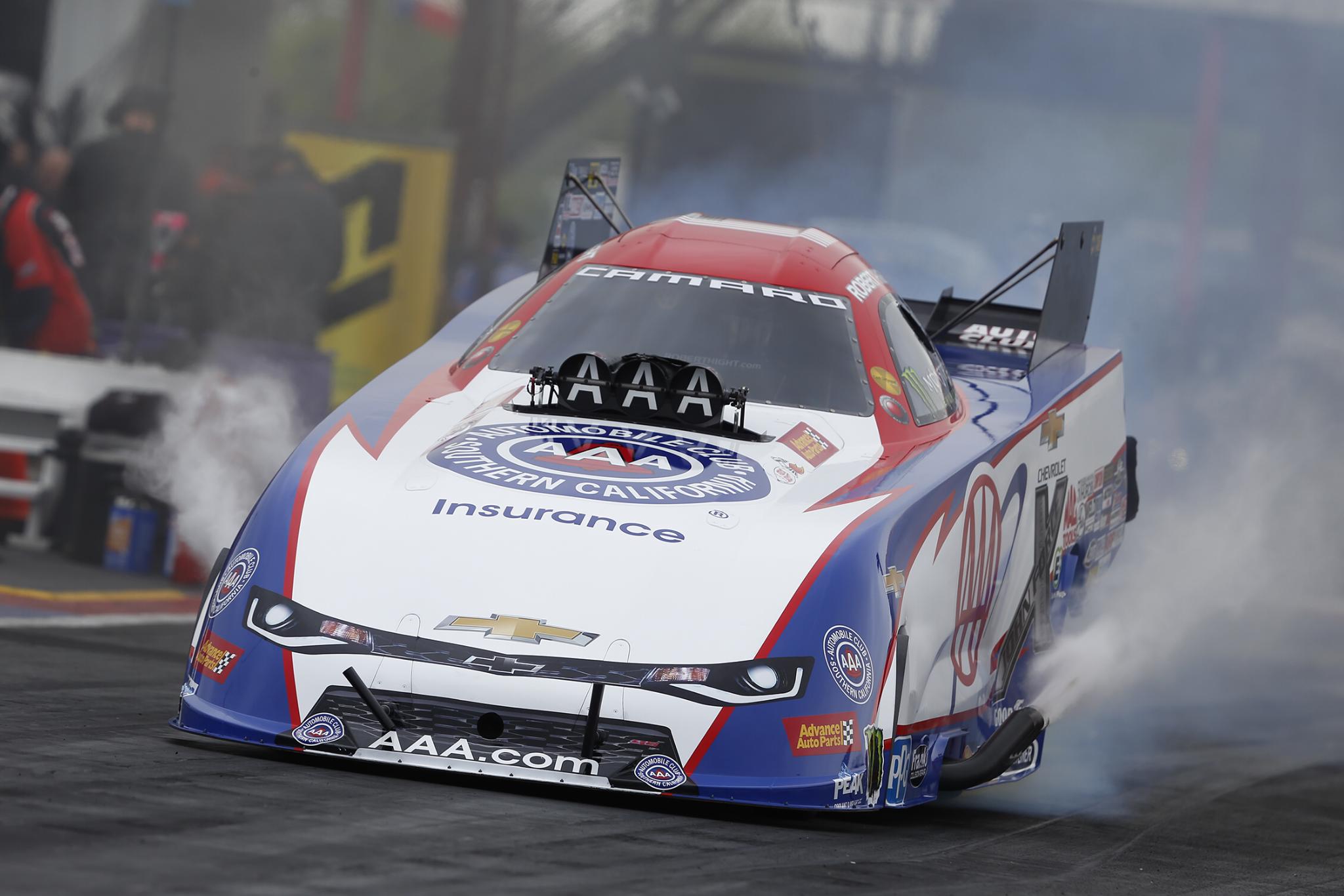 Robert Hight
Hight's final qualifying pass of 3.894 at 317.27 in his Auto Club of Southern California Chevrolet Camaro took him to the top of the Funny Car category. This is his first No. 1 qualifier of the season, second at Houston and 58th of his career.
"This is going to be a new ball game tomorrow," Hight said. "With fresh asphalt and the sun being out; these cars are going to spin. It's definitely going to be fun. Two of our Chevy's are one and two (in Funny Car) which shows we have good combinations."
Hight will face-off against Todd Simpson Sunday morning in the first round. Teammate Courtney Force sits in the No. 2 position with a pass of 3.911 at 295.14 in her Advance Auto Parts Chevrolet Camaro and two-time world champion Matt Hagan rounds out the top three.
John Force was unable to qualify for Sunday's eliminations, which is the first time since Charlotte 2008 that he did not advance past the qualifying rounds. He sat sixth overall on the career qualifying records with 221 consecutive events prior to Houston.
"That is hard for me. You earn what you get. We didn't put it in the show. We couldn't get to half-track," said Force. "We have had a lot of problems all year. At least I got my final shot to get in and I didn't make it. I will be here tomorrow rooting on Robert, Courtney and Brittany. I'll be signing autographs for all the fans."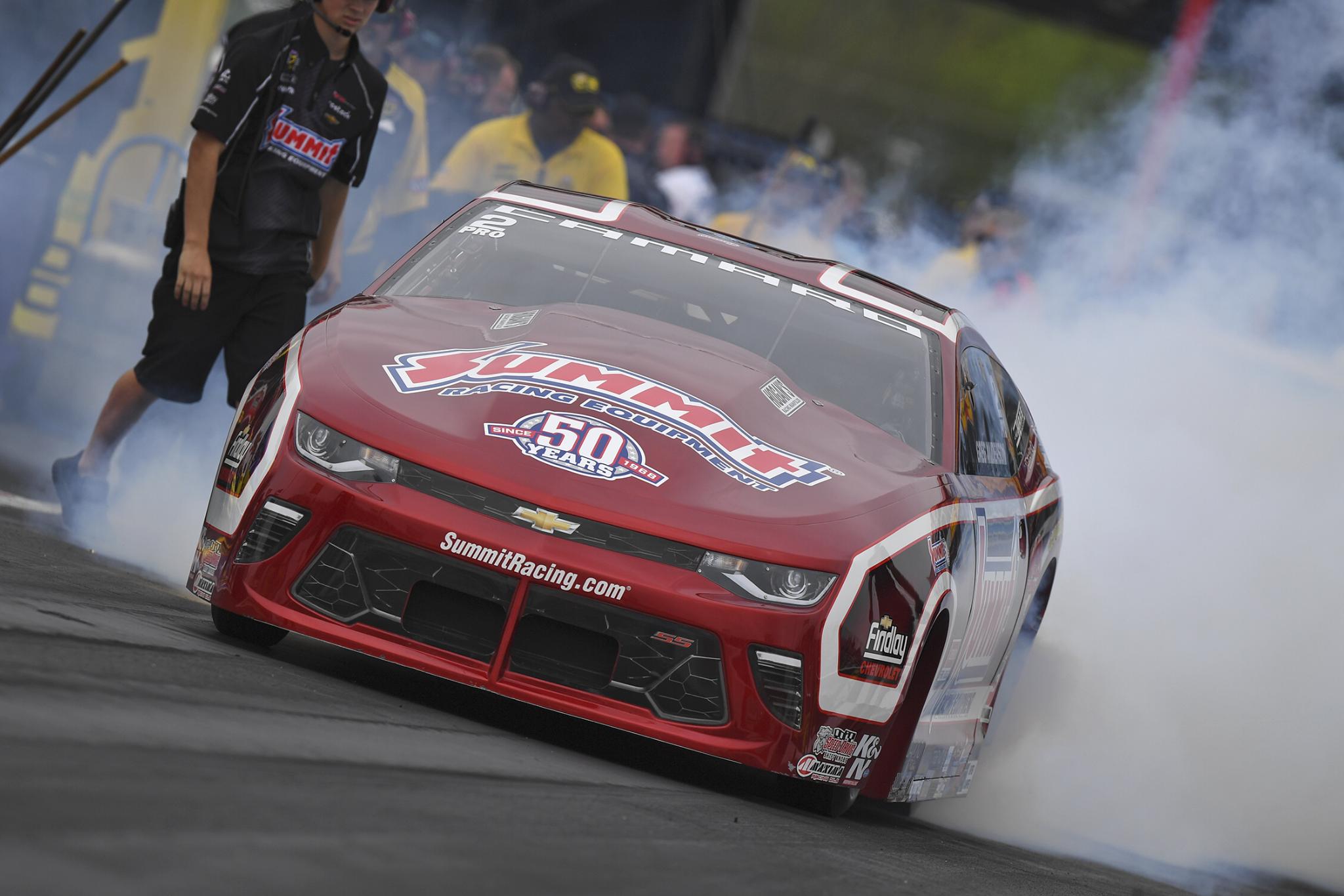 Greg Anderson
Anderson, four-time Pro Stock world champion, remained atop the field Saturday with his pass of 6.492 at 213.00 in his Summit Racing Equipment Chevrolet Camaro from the first qualifying session on Friday. He notched his third consecutive No. 1 qualifier of the season and is seeking his first victory of the year.
"I haven't had great Sunday's yet," Anderson stated. "I know I'm going to break through one of these days though. The weather is going to be great again tomorrow. I feel good about it, I'm excited and so far it's just been a great weekend."
Anderson will race Steve Graham in the first round of eliminations. Jeg Coughlin Jr. qualified in the No. 2 position with a pass of 6.504 at 212.36 in his JEGS.com/Elite Performance Chevrolet Camaro and Tanner Gray is third.
Eliminations at the NHRA SpringNationals begin at 11 a.m. on Sunday at Royal Purple Raceway.
Sunday's first-round pairings for eliminations for the 31st annual NHRA SpringNationals at Royal Purple Raceway, the fifth of 24 events in the NHRA Mello Yello Drag Racing Series. Pairings based on results in qualifying, which ended Saturday. DNQs listed below pairings.
Top Fuel — 1. Leah Pritchett, 3.680 seconds, 326.00 mph vs. 16. Terry Brian, 4.275, 284.62; 2.
Brittany Force, 3.701, 320.20 vs. 15. Terry Haddock, 4.081, 287.17; 3. Tony Schumacher, 3.703,
322.73 vs. 14. Bill Litton, 3.927, 306.60; 4. Billy Torrence, 3.737, 317.87 vs. 13. Kebin Kinsley, 3.819, 313.51; 5. Antron Brown, 3.740, 324.98 vs. 12. Terry McMillen, 3.783, 314.31; 6.
Clay Millican, 3.746, 315.78 vs. 11. Mike Salinas, 3.766, 313.73; 7. Doug Kalitta, 3.748, 320.05 vs. 10. Richie Crampton, 3.766, 316.23; 8. Scott Palmer, 3.754, 318.17 vs. 9. Steve Torrence, 3.759, 313.88.
Did Not Qualify: 17. Terry Totten, 4.636, 216.34.
Funny Car — 1. Robert Hight, Chevy Camaro, 3.894, 317.27 vs. 16. Todd Simpson, Dodge Charger, 4.318, 288.33; 2. Courtney Force, Camaro, 3.911, 313.58 vs. 15. Jeff Diehl, Toyota Camry, 4.151, 283.49; 3. Matt Hagan, Charger, 3.913, 311.85 vs. 14. Ron Capps, Charger, 4.077, 305.77; 4. Jack Beckman, Charger, 3.918, 317.42 vs. 13. Richard Townsend, Camry, 4.026, 308.99; 5. Cruz Pedregon, Camry, 3.918, 301.94 vs. 12. Del Worsham, Camry, 4.017, 307.51; 6. Tim Wilkerson, Ford Mustang, 3.925, 311.41 vs. 11. Shawn Langdon, Camry, 3.994, 311.34; 7. Tommy Johnson Jr., Charger, 3.926,
313.00 vs. 10. J.R. Todd, Camry, 3.989, 313.37; 8. Jonnie Lindberg, Camry, 3.927, 316.52 vs. 9.
Bob Tasca III, Mustang, 3.938, 314.09.
Did Not Qualify: 17. Jim Campbell, 4.341, 273.05; 18. John Force, 4.625, 222.29.
Pro Stock — 1. Greg Anderson, Chevy Camaro, 6.492, 213.00 vs. 16. Steve Graham, Camaro, 6.775, 205.60; 2. Jeg Coughlin, Camaro, 6.504, 212.36 vs. 15. Alan Prusiensky, Dodge Dart, 6.621, 208.65; 3. Tanner Gray, Camaro, 6.507, 211.99 vs. 14. John Gaydosh Jr, Chevrolet Camaro, 6.592, 210.93; 4. Vincent Nobile, Camaro, 6.513, 212.29 vs. 13. Erica Enders, Camaro, 6.548, 210.67; 5. Jason Line, Camaro, 6.518, 211.99 vs. 12. Rodger Brogdon, Camaro, 6.545, 210.50; 6. Chris McGaha, Camaro, 6.525, 212.79 vs. 11. Matt Hartford, Camaro, 6.532, 212.73; 7. Drew Skillman, Camaro, 6.527, 212.29 vs. 10. Bo Butner, Camaro, 6.532, 211.79; 8. Deric Kramer, Camaro, 6.528, 211.93 vs. 9. Alex Laughlin, Camaro, 6.530, 211.33.
[adinserter name="GOOGLE AD"]