Chevy Team Owners Look Forward to 2018 Season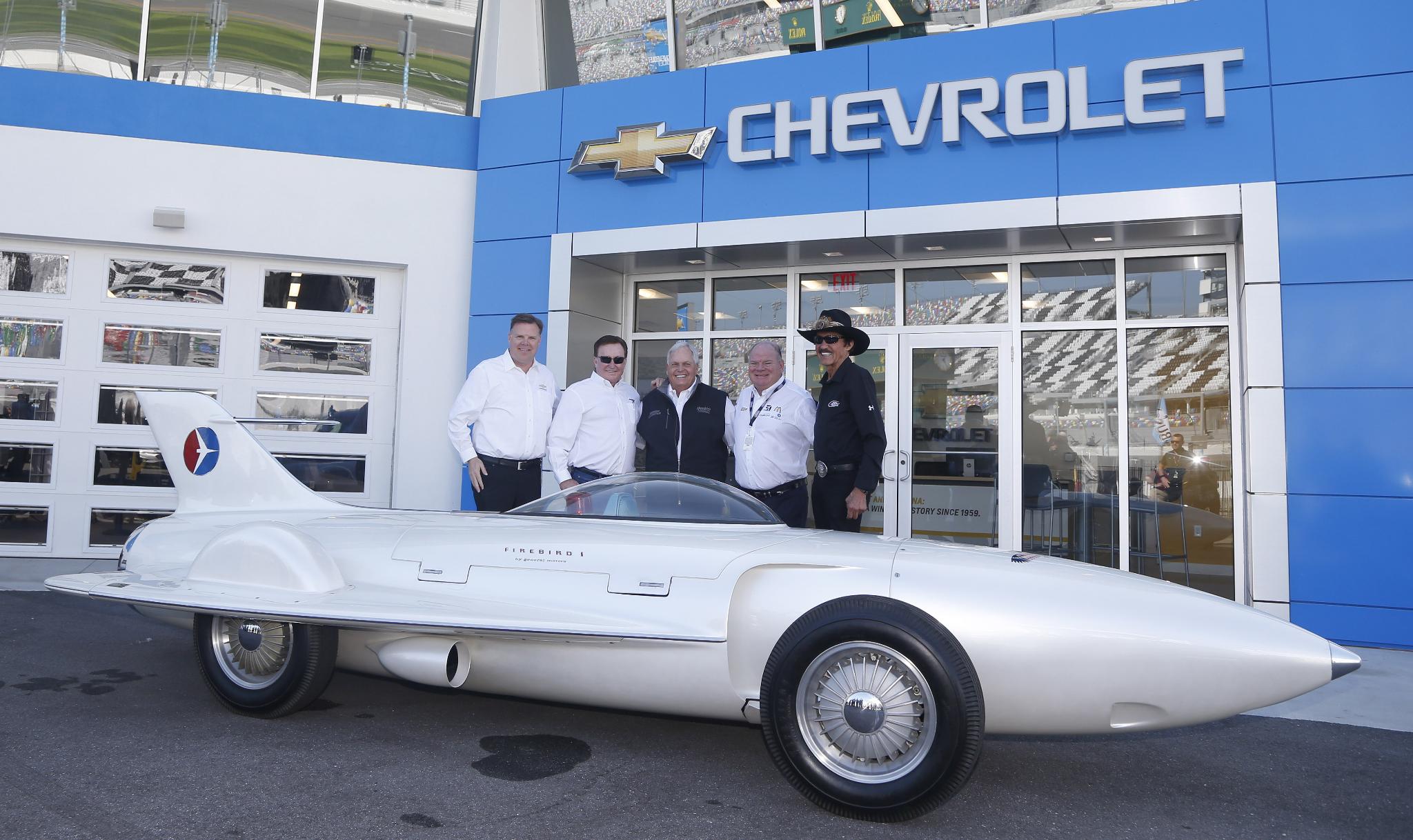 Chevy team owners Richard Childress, Rick Hendrick, Chip Ganassi and Richard Petty and Chevrolet USA Vice-President Jim Campbell pose with the Firebird 1 concept car at Daytona
HHP/Chevrolet
It was billed as a preseason Chevrolet news conference to discuss the manufacturer's expectations and excitement for the 2018 season, but it also had a distinct vibe – as much like a NASCAR Hall of Fame meet and greet as a launch for Chevy's new race car. And positive on all accounts.
Hall of Famers and Chevrolet team owners Richard Childress, Rick Hendrick and Richard Petty sat alongside future Hall of Fame sure-bet Chip Ganassi and Jim Campbell, Chevrolet's USA vice president – to discuss the make's current state of affairs in NASCAR and the highly-anticipated Monster Energy NASCAR Cup Series season debut of the Camaro ZL1.
Good tales and many laughs made for must-see moments. The hope being, of course, that one of those men hoists the big trophy Sunday evening and the season championship trophy in November in Homestead, Fla.
"It's a real honor to race with these four Chevrolet team owners," Campbell said as he glanced at the four accomplished men sharing the stage with him.
"It's absolutely incredible."
Legendary: if you think about the wins and championships represented there.
All the team owners were enthusiastic about the season and encouraged already by the new Camaro. Hendrick driver Chase Elliott won the second Cam-Am Duel Thursday night with Petty's rookie driver Darrell "Bubba" Wallace Jr. finishing third in the first Duel.
Another Hendrick driver, Alex Bowman will start Sunday's Daytona 500 (on FOX 2:30 p.m. ET) from the pole position.
And of course, there's that seven-time Cup champion Hendrick has too, Jimmie Johnson pursuing a historic eighth.
"Chevrolet did more work on this car than any car they've ever brought into this series," Hendrick said. "It's an amazing car, iconic nameplate with Chevrolet. As a dealer, I am more than excited to be able to have this car on the showroom floor and to race it on Sunday."
Throughout the discussion the men shared recollections of earlier times in NASCAR but also were optimistic and "all-in" sizing up the upcoming season. For Petty, this is a return to Chevrolet after almost a decade.
"Sort of a new chapter in Richard Petty Motorsports' book," he said, donning his trademark cowboy hat and dark sunglasses.
[adinserter name="GOOGLE AD"] "We got a new shop, we got a new car, we got a new driver. Had a pretty good night last night (Wallace's third-place finish in the Duel). I was very appreciative of how everything went for us last night. Everything was brand new to us.
"We're looking forward to the rest of the year, like everybody else."
All the men voiced optimism regarding the change to the Camaro for the 2018 season. Certainly the reviews have been promising at Daytona International Speedway this week.
"This one was really important to us, number one, to make sure we connect the track and the showroom together," Campbell said. "We want authenticity. Fuel-injected rear-wheel drive V8 in the showroom, that's how you race it on the track."
And the product has not disappointed.
"They kept saying it's going to be like the showroom car," Ganassi said. "We've all heard that for a long time and it actually is. It really was."
The vibe Friday was definitely high expectation – of course that's something these team owners have felt and delivered on for decades.
And although all these gentlemen – with the exception of Ganassi – are in their 70s and safely beyond retirement age, they insisted with smiles they had no plans to step away from the sport. There are still some more trophies to hoist.
"I've been going to the races since I was 11 years old," Petty said. "Drove the race car, it was a hobby. Now basically, it's a hobby. Trying to make a living out of it too.
"It's in your blood. I wouldn't know what to do if I didn't do the racing part. I guess when my toes turn up, I'll still be at the racetrack somewhere."
And, he added later that he felt very reassured about his family team.
"I got about 25 people with the name of Petty on the end of it," Petty said with a grin. "They'll be here for a while."
[adinserter name="GOOGLE AD"]