Ryan Blaney Wins First Can-Am Duel at Daytona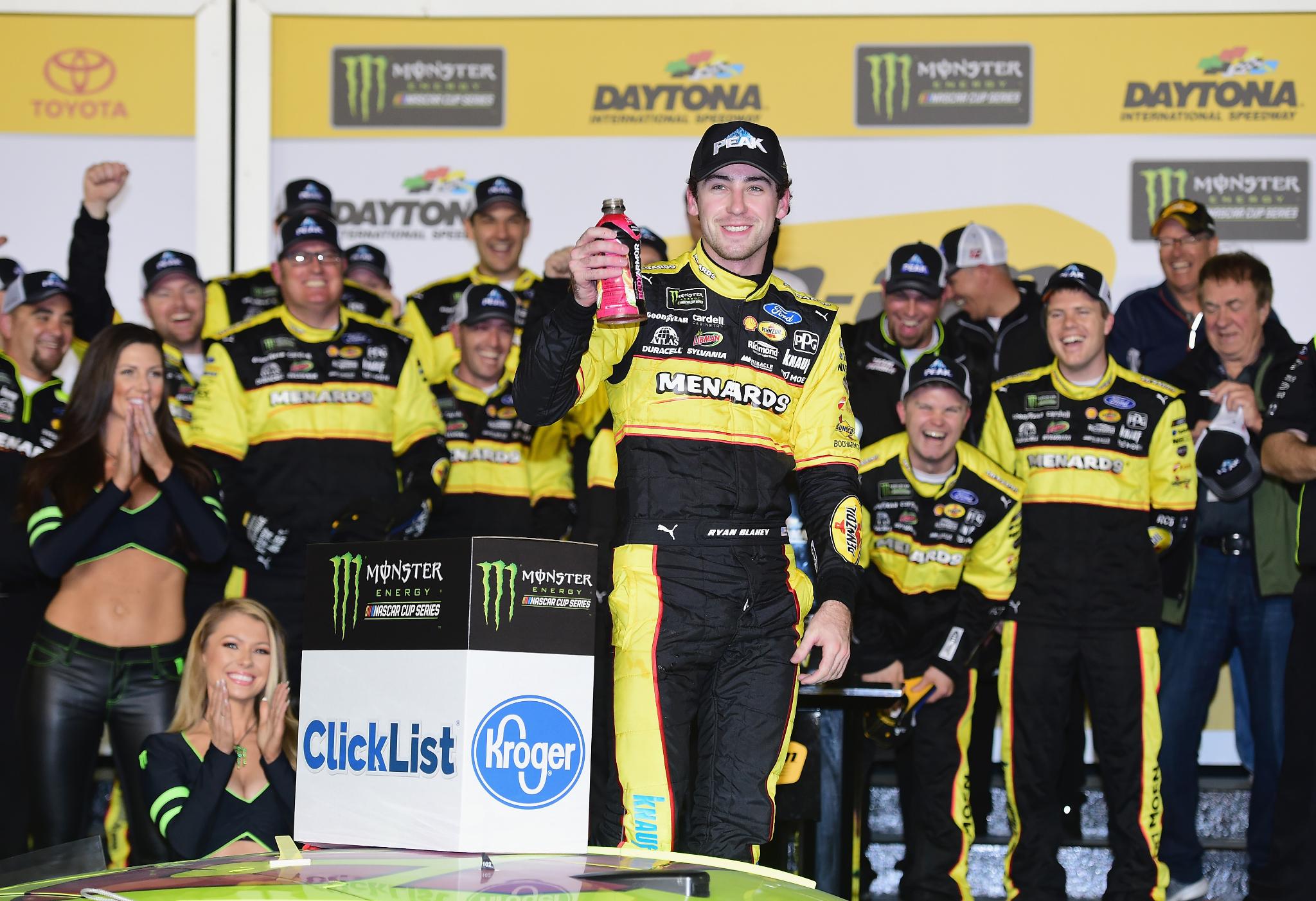 Ryan Blaney celebrates in Victory Lane at Daytona
Jared C. Tilton/Getty Images
Not content to play second fiddle to his teammates yet again, Team Penske's newest team member Ryan Blaney bested Joey Logano to win Thursday night's opening Can-Am Duel qualifying races and secure a second-row start in Sunday's 60th running of the Daytona 500.
Blaney put a move on Logano just before the final caution with two laps to go and then held him off on the ensuing restart with push from Darrell "Bubba" Wallace, Jr. for his first-ever win Daytona victory.
Logano edged Wallace for second. Ricky Stenhouse, Jr. and Kurt Busch rounded out the top five.
Blaney's victory gives Team Penske their second victory of Speedweek after Keselowski's victory in last Sunday's Advance Auto Parts Clash at Daytona. So far, the three Team Penske cars have led 106 of the 138 laps contested in the Clash and Can-Am Duel races.
"It's nice to get the year started off well," said Blaney. ""It's not the (Daytona) 500. You never know what can happen on Sunday. We came close in (last Sunday's) Clash, and I didn't make a good move and I kind of lost that race.
"I thought all three of our cars were really fast, myself, Brad and Joey. I thought we were able to really control the whole race pretty much. We saw that in the Clash, the 2 was able to control it, Joey was able to control it. I was kind of the middle. We had a set plan to try to work with each other the best we can. I think we do that great as a whole organization."
[adinserter name="GOOGLE AD"] Blaney took his shot his on Logano and Keselowski in last Sunday's Clash, but couldn't make the move stick – something that was on his mind as he contemplated the same move on Thursday.
"That's the same spot I made the move in the Clash and it didn't work. Almost didn't work tonight," said Blaney. "I didn't really want to make my move right there because it didn't work. It really shouldn't have worked. I was trying to plot where to do the move better.
"I was thinking about that all week after it didn't work in the Clash. That was not the spot I wanted to do it. I was coming with such a head of steam, I had to turn left or run the (Logano) over.
Thursday's race started out as a near carbon copy of Sunday's Clash, with the Penske trio hooking up early as the front row starters Alex Bowman and Jimmie Johnson dropped out of line before the end of lap one.
Just eight laps into the race, Johnson spun coming off the tri-oval after cutting down a left-front tire, collecting Aric Almirola and Daniel Suarez. It was second straight destroyed race car for Johnson, who crashed out of Clash. Both Johnson and Almirola will have to go to back-up cars for the Daytona 500.
Up front, Logano continued to lead with Blaney and Keselowski behind, with the entire field falling in line single file.
Another caution flag waved on lap 40 as Ricky Stenhouse, Jr. took the air off of William Byron's Camaro, putting him a spin. Logano continued to lead through the restart.
With two laps to go, Blaney made his move for the lead and ducked out of line, pulling alongside Logano on the inside. As Logano moved down to try and side-draft off of Blaney, Keselowski followed, opening up the outside line to McMurray.
As Murray stuck the nose of his no. 1 Camaro to the inside, Keselowski came back up into the outside line and clipped the front of McMurray's car, turning Keselowski into the wall.
As the rest of the field dodged Keselowski's Ford, Blaney inched ahead of Logano as the caution came out, ending up scored as the leader as the field lined up for an overtime finish.
Coming to the line for green-white-checkered, Blaney surged ahead on the inside with a push from Wallace and was able to slide up in front of Logano to lead the opening lap. Wallace fought back on the inside and Blaney came back down to pick him up as the field came to the white flag.
Blaney managed to pull ahead on the backstretch on the final lap as Wallace looked for an opening, but lost momentum trying to hold off Logano coming off turn four, allowing Logano to barely edge him for second at the line.
It was the second runner-up finish in less than a week for Logano, who finished behind Keselowski in last Sunday's Clash.
"I thought we all worked really well together," Logano said of the domination of the Team Penske Fords. "Team Penske cars were doing a good job, being able to control the race. Team orders are, as you know, you work together as much as you can, then you race each other for the win. So you know it's coming.
"Surprised where Blaney made the move to pass me there, because that's the same place he did it in the Clash. Didn't work for him in the Clash. I was kind of not thinking he would do it there. I was kind of a Lone Ranger trying to get the 31 to pull up to me. Darrell did a great job pushing Blaney. As soon as they went, they were hooked going."
Wallace, who is making his Daytona 500 debut in Sunday, was happy to be able to push his friend Ryan Blaney to victory.
"That last restart, I was pretty proud of Ryan for taking the bottom there, stop doing all that team stuff," said Wallace. "Logano didn't like it. I gave Ryan a good shot there. I think I gave him too big of a shot. But it was a good race back to the line. I just moved up a little bit too late. Joey and I said we both would have wrecked if I went up any higher at the end.
"All in all, came home third. It's a good start for our Daytona 500."
Duel 1 Results
| | | | | | | |
| --- | --- | --- | --- | --- | --- | --- |
| Pos | St | No. | Driver | Team | Laps | Status |
| 1 | 8 | 12 | Ryan Blaney | Menards/Peak Ford | 63 | Running |
| 2 | 6 | 22 | Joey Logano | Shell Pennzoil Ford | 63 | Running |
| 3 | 13 | 43 | Darrell Wallace Jr. # | Click n' Close Chevrolet | 63 | Running |
| 4 | 5 | 17 | Ricky Stenhouse Jr. | Fastenal Ford | 63 | Running |
| 5 | 9 | 41 | Kurt Busch | Haas Automation/Monster Energy Ford | 63 | Running |
| 6 | 11 | 31 | Ryan Newman | Bass Pro Shops/Cabela's Chevrolet | 63 | Running |
| 7 | 20 | 38 | David Ragan | Speedco Ford | 63 | Running |
| 8 | 4 | 19 | Daniel Suarez | ARRIS Toyota | 63 | Running |
| 9 | 12 | 1 | Jamie McMurray | McDonald's/Cessna Chevrolet | 63 | Running |
| 10 | 15 | 37 | Chris Buescher | Kleenex Chevrolet | 63 | Running |
| 11 | 14 | 13 | Ty Dillon | GEICO Chevrolet | 63 | Running |
| 12 | 16 | 62 | Brendan Gaughan | Beard Oil Distributing/South Point Hotel & Casino | 63 | Running |
| 13 | 18 | 00 | Jeffrey Earnhardt | VRX Simulators Chevrolet | 63 | Running |
| 14 | 1 | 88 | Alex Bowman | Nationwide Chevrolet | 63 | Running |
| 15 | 17 | 51 | Justin Marks(i) | HARRY'S Chevrolet | 63 | Running |
| 16 | 10 | 2 | Brad Keselowski | Discount Tire Ford | 57 | Accident |
| 17 | 19 | 92 | David Gilliland(i) | Black's Tire Service/Carquest Auto Parts Ford | 47 | Accident |
| 18 | 3 | 24 | William Byron # | AXALTA Chevrolet | 38 | Accident |
| 19 | 2 | 48 | Jimmie Johnson | Lowe's for Pros Chevrolet | 8 | Accident |
| 20 | 7 | 10 | Aric Almirola | Smithfield Ford | 8 | Accident |