Young Drivers vs. Old – Is NASCAR Playing Favorites?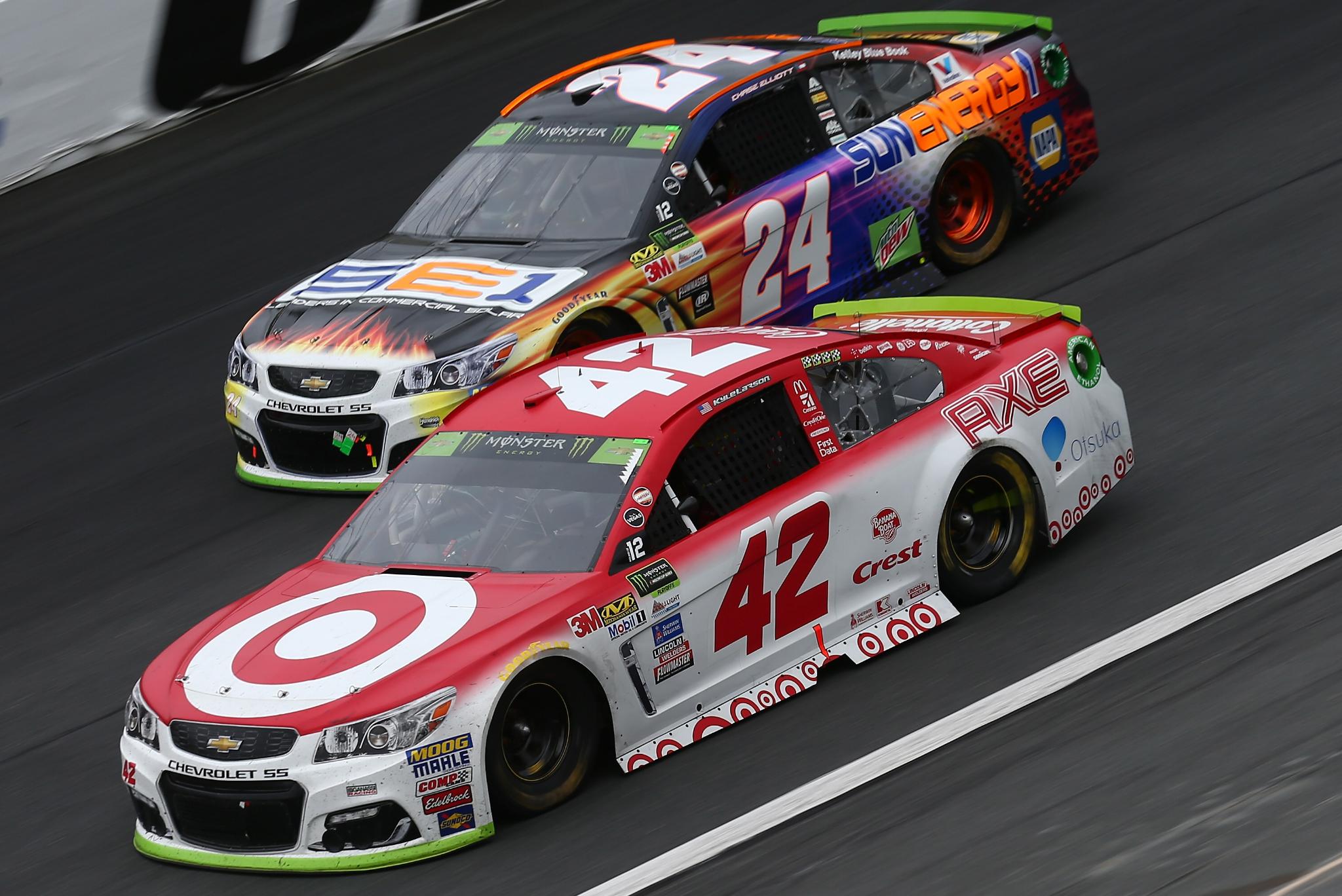 Kyle Larson (42) and Chase Elliott (24) represent two of the newest up-and-comers in NASCAR
Sarah Crabill/Getty Images
It's an age-old rivalry that has been a part of NASCAR since the dirt track days. A decades-old battle that has pitted teams against teams, fans against fans and drivers against each other.
It's the battle of the veterans versus the new "young guns". Old versus new.
Lee Petty vs. Tiny Lund, Fireball Roberts vs. Fred Lorezen, Dale Earnhardt vs. Jeff Gordon. All classic rivalries that helped define the sport by giving older fans a heel to root against and someone for newer fans to root for.
But in recent years, there seems to be more fresh faces in the garage and more veteran drivers hanging up their helmets. What was once a sport that favored experience over youth has done an about-face.
The proof is in the numbers.
NASCAR's newest "young movement" has been in full swing over the last three seasons. Since 2015, the average age of the top 35 in points in NASCAR'S top series has dropped from 32.85 years old to 30.42.
The proof is also splashed all over TV screens, as drivers like Kyle Larson, Chase Elliott and Ryan Blaney take center stage in NASCAR's television promos.
So are some of NASCAR's future Hall of Famers being denied the spotlight in favor of the newest generation of drivers?
Kyle Busch, for one, sure thinks so.
Busch is among the drivers who have seen this influx of younger drivers first-hand, having seen the landscape at Joe Gibbs Racing changes drastically over the last two season, with veteran drivers Carl Edwards and Matt Kenseth falling by the wayside – and replaced by younger up-and-comers.
Veteran drivers seem to have a hard time finding sponsorship dollars, too, as companies tend to shift their motorsports marketing toward younger drivers who more fit their consumers demographics.
[adinserter name="GOOGLE AD"] So when Busch was asked if there was an emphasis by NASCAR to promote this younger generation of drivers at the expense of veteran drivers – his response was "Absolutely there is."
Over the last three or four seasons, teams have been adding more and more young talent to their rosters – including standout drivers like Larson and Elliott.
2016 saw four full-time drivers battling for rookie of the year honors. Last year, three drivers made up the rookie class. In 2018, three more drivers will enter the rookie ranks including William Byron and Darrell "Bubba" Wallace, Jr.
In the meantime, more than a half a dozen veteran drivers have stepped away from the Cup Series – including Edwards, Kenseth, four-time champion Jeff Gordon, three-time champion Tony Stewart and 15-time Most Popular Driver award winner Dale Earnhardt, Jr.
On the surface, the perception is that NASCAR wants younger talent to appeal to a younger generation of fans, but the reality is that veteran drivers don't come cheap, while younger drivers are willing to take whatever they can get for the opportunity to drive in NASCAR's premiere series.
In the current climate in motorsports, where sponsorship dollars are hard to come by and teams are watching every dime, the chance to tap young talent and save some money to boot is hard to pass up, and the fact that sponsors like to put fresh faces front and center is a plus as well.
In a nutshell, the veterans don't fit the current business model anymore – a business model where youth sells.
For Busch, it doesn't seem like a fair deal – for the veterans OR the younger drivers.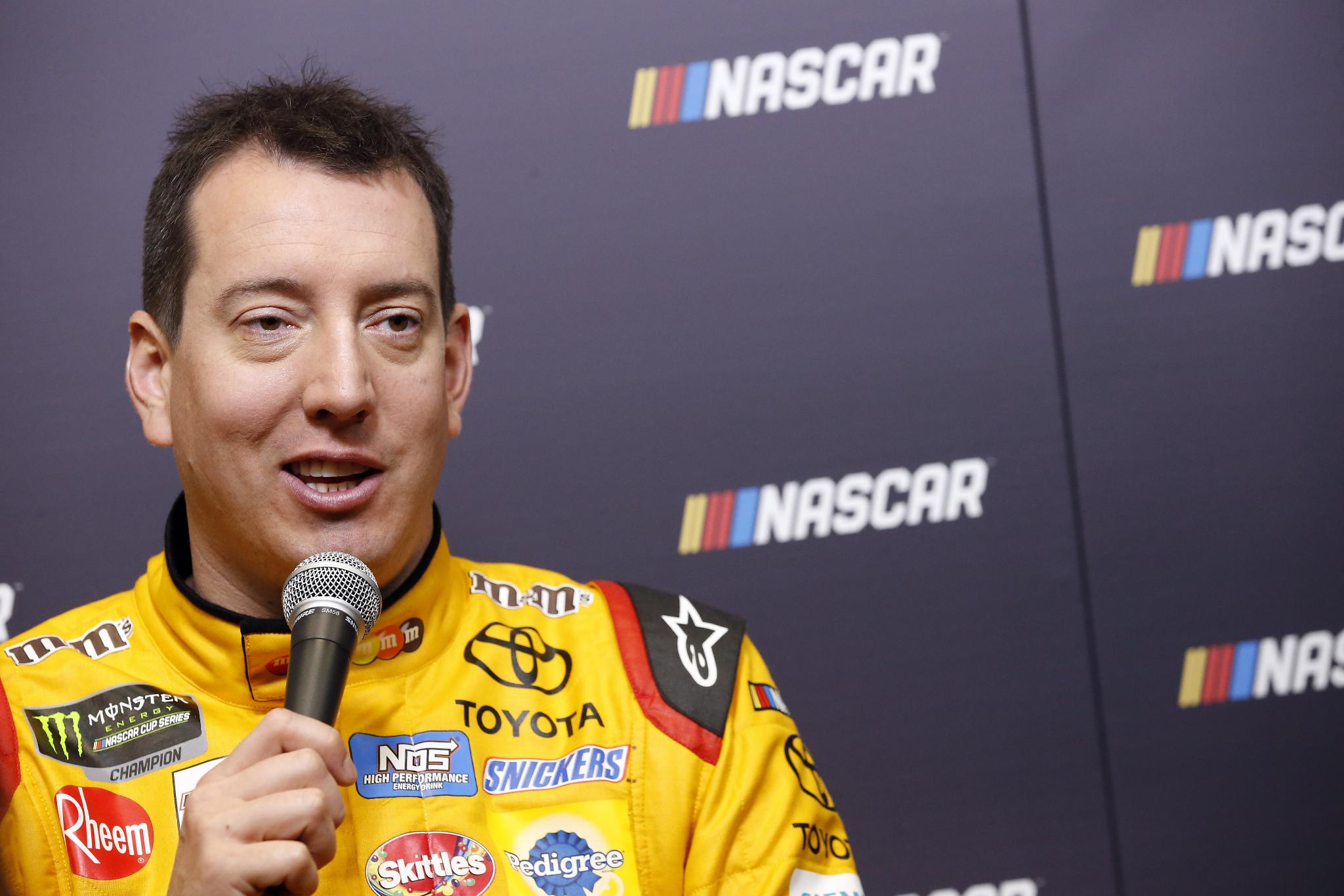 Kyle Busch
HHP/CMS
"It is bothersome," said Busch. "We've paid our dues, and our sponsors have and everything else, and all you're doing is advertising all these younger guys for fans to figure out and pick up on and choose as their favorite driver. I think it's stupid. But I don't know, I'm not the marketing genius that's behind this deal. You know, I just do what I can do, and my part of it is what my part is.
"I guess one thing that can be said is probably the younger guys are bullied into doing more things than the older guys are because we say no a lot more because we've been there, done that, and have families, things like that, and want to spend as much time as we can at home. You know, maybe that's some of it. But you know, some of these marketing campaigns and things like that, pushing these younger drivers, is I wouldn't say all that fair."
However, Steve Phelps, NASCAR's Chief Global Sales & Marketing Officer, disagrees that NASCAR has been promoting younger drivers over the veterans.
"If you look at our marketing, our marketing has traditionally been kind of a combination of deference of the young drivers, probably a little more emphasis on the veteran drivers just because we haven't had a group or crop of young drivers previously that we've had in the last couple years," said Phelps. "So if you look at our marketing and our advertising, it is a mix of veteran drivers and these young drivers.
"You know, the list of veteran drivers is Kyle (Busch), it's Jimmie (Johnson), it's Brad (Keselowski), it's Joey (Logano), Denny (Hamlin), all the guys who are — many of them who are future Hall of Famers, but that is an important element for us. And then we also are telling the stories of these young drivers, so Chase (Elliott) and Ryan (Blaney) and Kyle Larson and Danny Suárez and Bubba Wallace and this whole group of young drivers who are capturing the imagination of our fans, as well."
Of course, there was a time when Kyle Busch himself was the brash newcomer taking over a veteran drivers ride.
Back in 2005, Busch was tapped by team owner Rick Hendrick to take over the No. 5 car from two-time champion Terry Labonte, who was switching to a part-time schedule.
At the time, Busch was riding high as the 2004 Xfinity Series Rookie of the Year, and was the younger brother of defending Cup Series Champion Kurt Busch.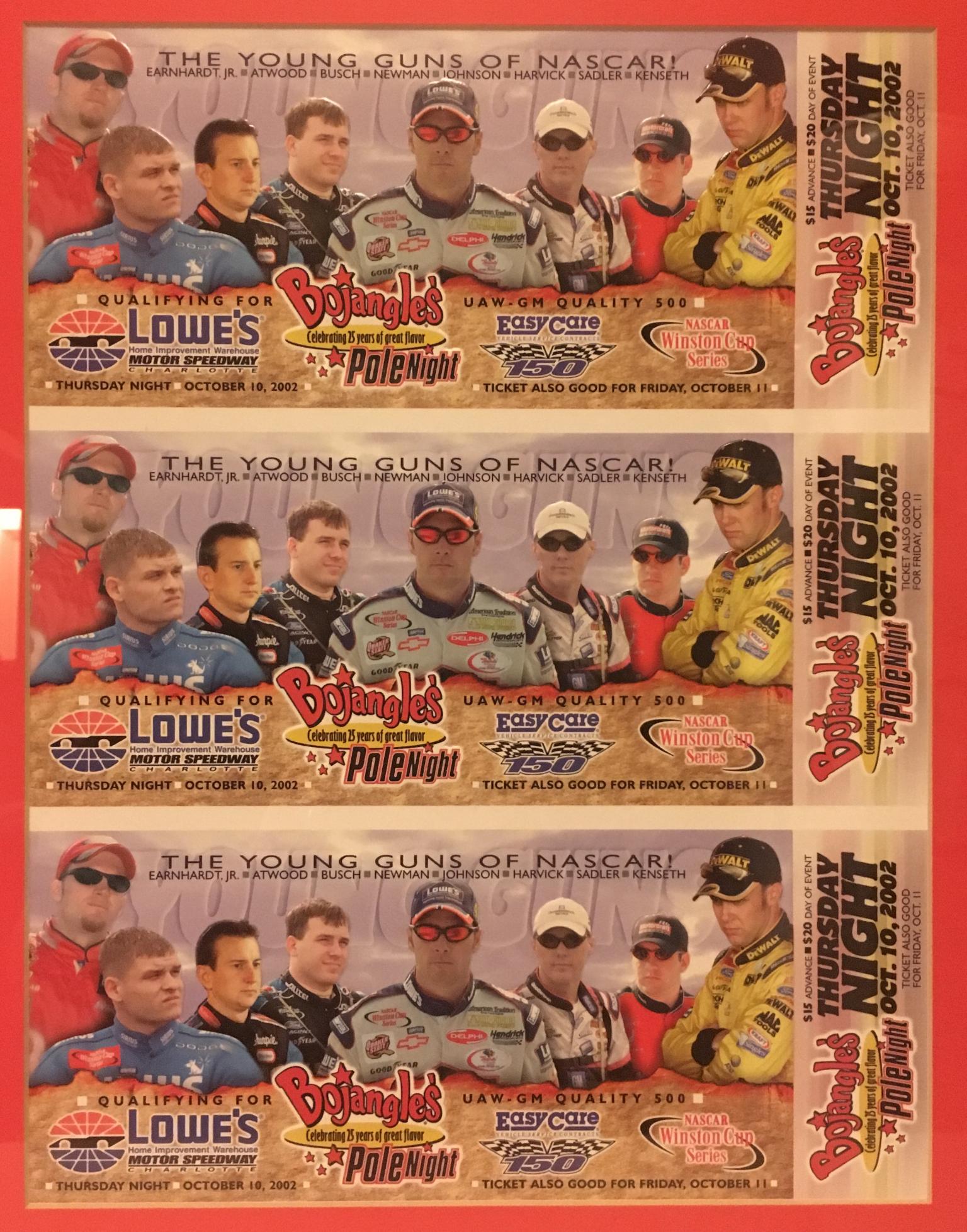 A 2002 Charlotte Pole Night ticket promoting the "Young Guns of NASCAR"
Kyle Busch came into the Cup Series right at the end of NASCAR's last big push and promoting the next generation of drivers – the "Young Guns of NASCAR" – a class that included Earnhardt, Jr., Kenseth, Jimmie Johnson and Kevin Harvick.
By the time Kyle Busch was running for rookie of the year in the Cup Series, the "Young Guns" were now three-to-four-year veterans of the sport and the campaign promoting them had run its course, and even though Busch proved to be a rookie success story, he didn't get the same marketing push that was afforded to the drivers like Earnhardt, Jr. and Harvick.
And according to Phelps, that might have been a mistake on NASCAR's part.
"Until four or five years ago, most of our marketing was about the racing itself and pretty pictures around the racing. It wasn't about the stars of our sport," said Phelps. "And so do I think that's fair that when he came into the sport and started winning right off the bat? Yeah, I think it's a fair statement that we did not give that kind of support."
Not every driver feels as adamant as Busch, particularly Harvick, who joined the ranks of the "Young Guns" when he competed for rookie of the year back in 2001.
"You have to have a push for the younger generation guys as well in order to help introduce them to the fans and in the end that only works if they have the success on the race track. There has to be a push for the guys coming up to introduce them to who they are," said Harvick. "If they happen to perform like they need to perform on the race track and start acquiring some of the race fans that are looking for a driver to support, that is good for everybody. Chase Elliott winning a race would be good for everybody. I think he hasn't done that in two years.
"There is a lot of hype and he has been very competitive but I can promise you that every person in that garage should be happy for the sport when Chase Elliott wins a race because he is big for our sport."
Other drivers say they understand the role the younger generations of drivers have to play in the sport, as new talent coming in is just part of nature of the beast in stock car racing.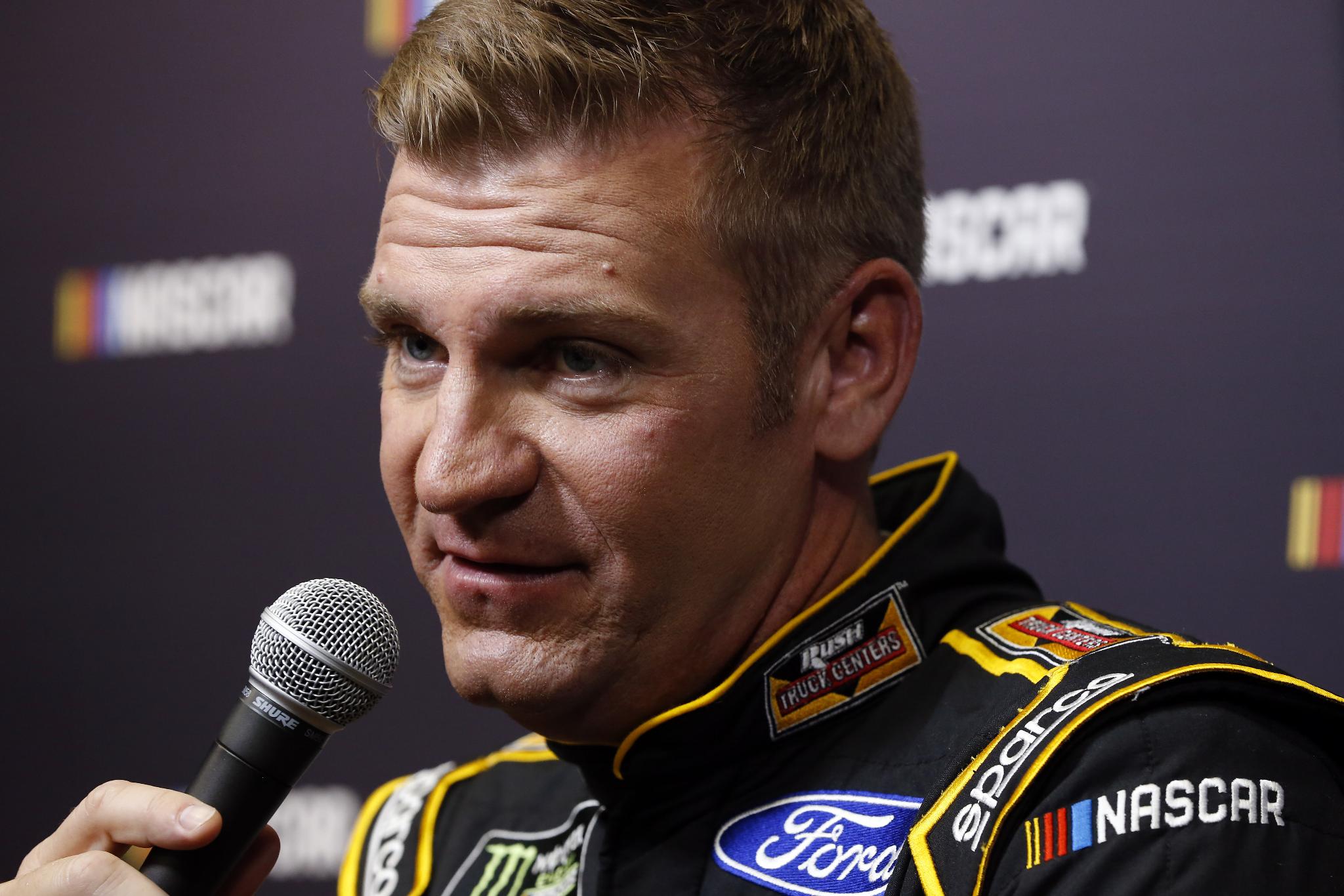 Clint Bowyer
HHP/CMS
One of them is veteran driver Clint Bowyer, who finished second behind Denny Hamlin for rookie of the year honors in 2006.
"You have somebody getting in Jeff Gordon's car, somebody getting in Dale, Jr.'s car – we have to figure out how to fill that void somehow and it can't always been the same guys that have been there," said Bowyer. "I get it. If they deserve it, push it now. If people are beating them — there were drivers last year. Look at Matt Kenseth. He was outrunning them pretty much every week and not getting the limelight. Some of those things are bothersome at times.
"Did I deserve it? I wasn't running as good as I needed to. If I was running up front and should have been in the limelight I would have been barking back a little bit."
And of course, as several drivers pointed out, just because some new young gun manages to snag a Cup Series ride, doesn't mean they get to keep it.
"In the end, results on the race track are what makes it go around," said Harvick. "There is no better way to look at that than to look at Danica (Patrick) and the trouble they had with sponsorship and things they worked on. You had the ultimate marketing tool right there.
"In the end, performance is going to matter at some point. You look at the Championship 4 … you can add the age up…"
The average age was 36.
Brandon Reed contributed to this report
[adinserter name="GOOGLE AD"]