Charlotte Motor Speedway Unveils Updated Road Course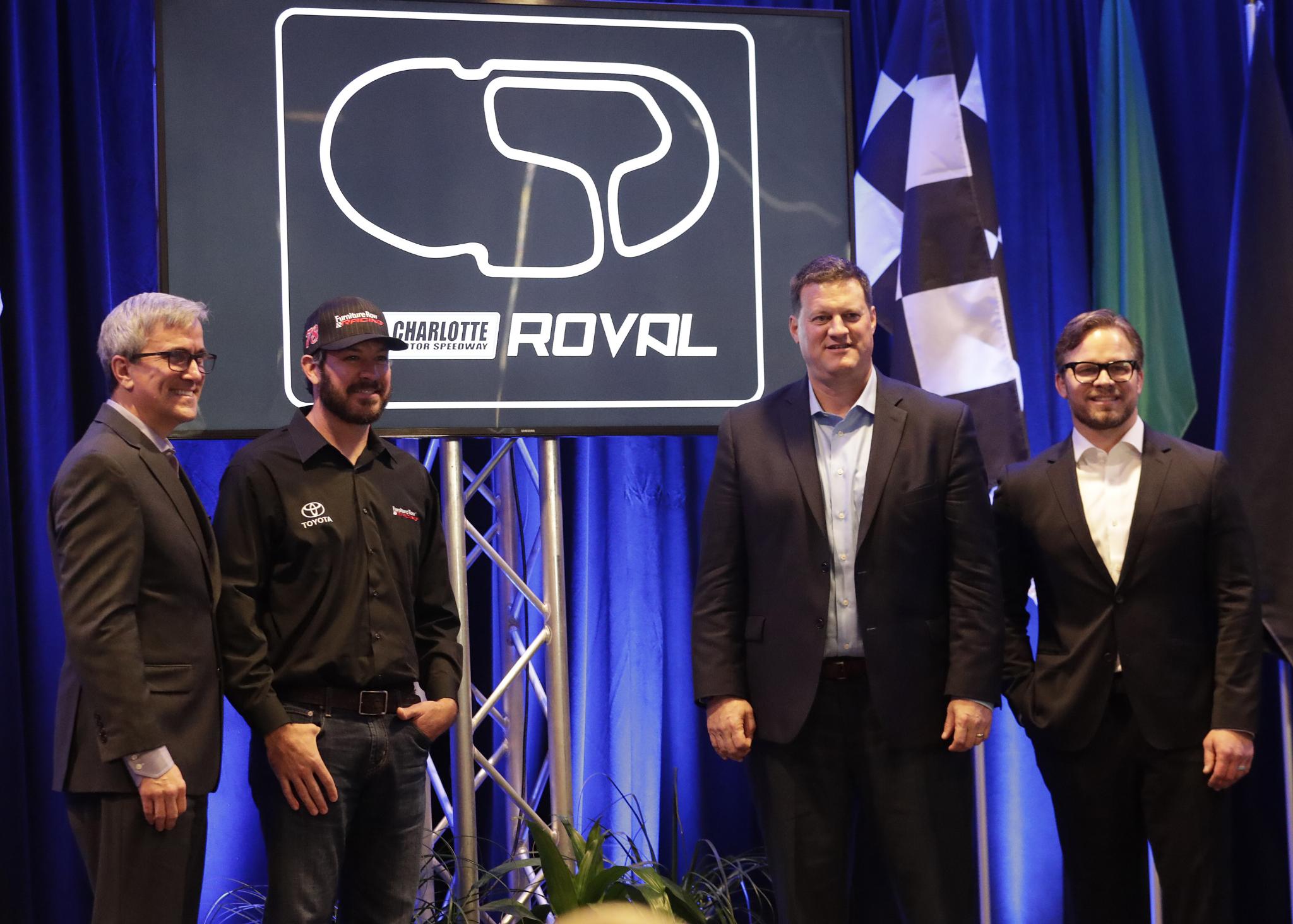 (L-R) CMS VP Greg Walter, 2018 NASCAR Cup Series Champion Martin Truex, Jr., NASCAR VP Steve O'Donnell and SMI CEO Marcus Smith
HHP/CMS
Officials from Speedway Motorsports, Inc. and Charlotte Motor Speedway unveiled an updated layout to their new infield road course as well as some additional improvements to their portfolio of race tracks at a Monday afternoon news conference that served as the kick-off event for the 2018 NASCAR Media Tour hosted by Charlotte Motor Speedway.
Speedway Motorsports Inc. CEO Marcus Smith was on hand to announce the updated changes to the new course and also spoke about the new fan-oriented amenities being added this season.
Charlotte's new track layout is not a true road course, but rather an infield-oval hybrid dubbed a "Roval", which is similar to the infield-oval course unitized at Daytona International Speedway for several events – most notably the Rolex 24.
The new "Roval" will make its debut in October during the track's fall event, the Bank of America 500, but several drivers already turned some laps on the new course during a test last October.
One the basis of some of the testing and suggestions from Goodyear as well as the drivers who participated in last October's test, the speedway has tweaked the layout of the infield course by removing several turns.
The original layout of the course featured an 18-turn, 2.4-mile track that included eight turns through the Charlotte Motor Speedway infield before returning to the oval portion of the track near the entrance of turn one.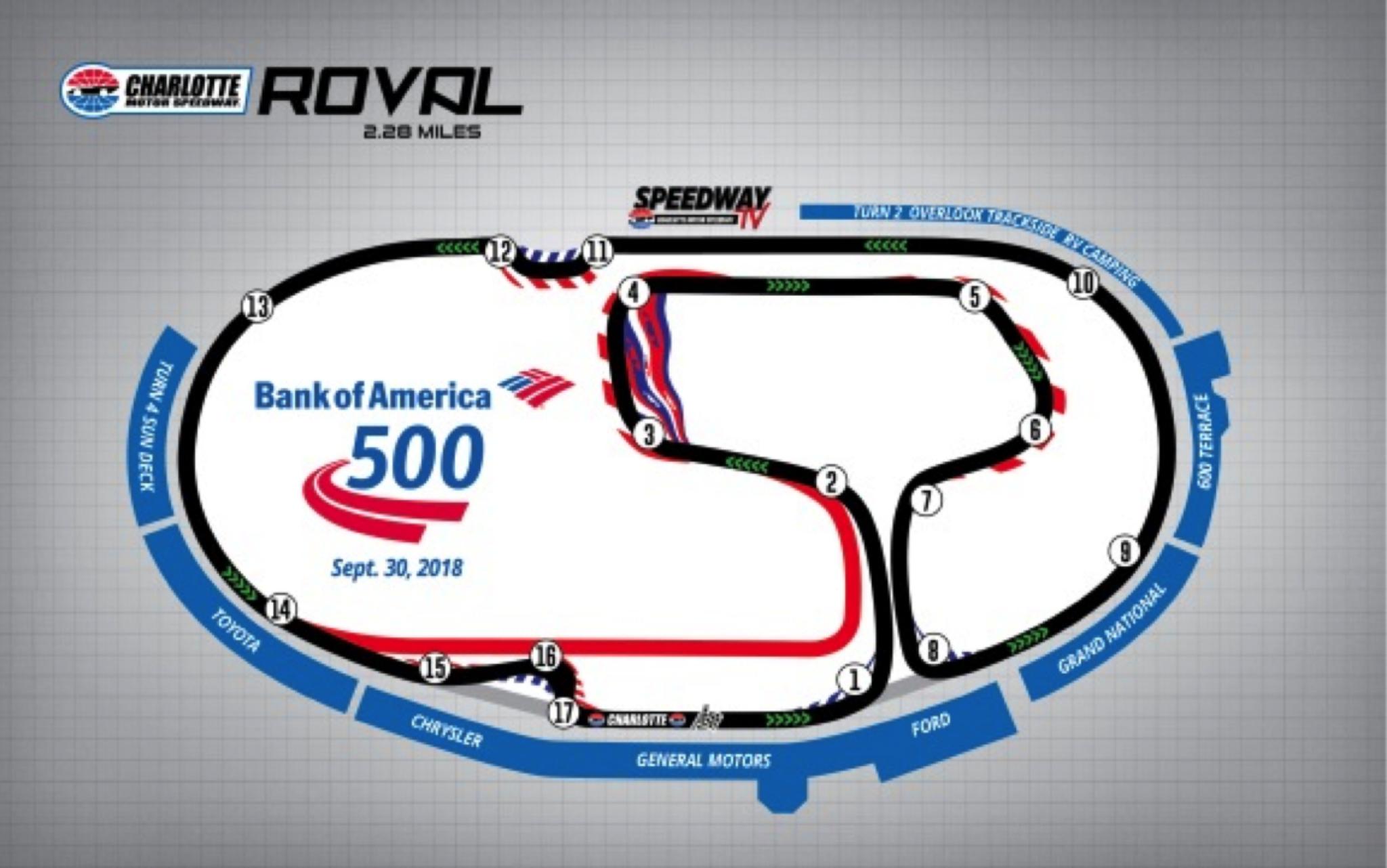 Charlotte's new "Roval" layout eliminates three infield turns
The new layout eliminates the final three infield turns – including a final hairpin turn before turning back onto the oval – and shortens the distance to 2.28 miles.
The new changes will cut lap times by as much as 20 seconds, resulting in a faster race course will more opportunities for passing.
"We're going to bring racing action that fans have not seen before in a speedway setting," Smith said. "Here at Charlotte, you're going to be able to see all of the racing—and in the form of a road course. It's going to be a huge challenge for the drivers.
"I have a lot of confidence that we're going to have one really, really excited person at the end of the Bank of America 500 (the Sept. 30 Round 1 cutoff race in the Cup Playoff) and a lot of others who are not very happy at all. That's the way it is. Victory Lane's going to be a fun place, and pit road may need extra security."
Smith said the track is planning another open test in March, and more changes could be made to the currently layout as a result of those test, but added they feel the track is "99 percent there. There are still some final tweaks to be made….but for the most part, it's ready to go."
Among the drivers who took part in the test was reigning Monster Energy NASCAR Cup Series Champion Martin Truex, who was present for Monday's announcement.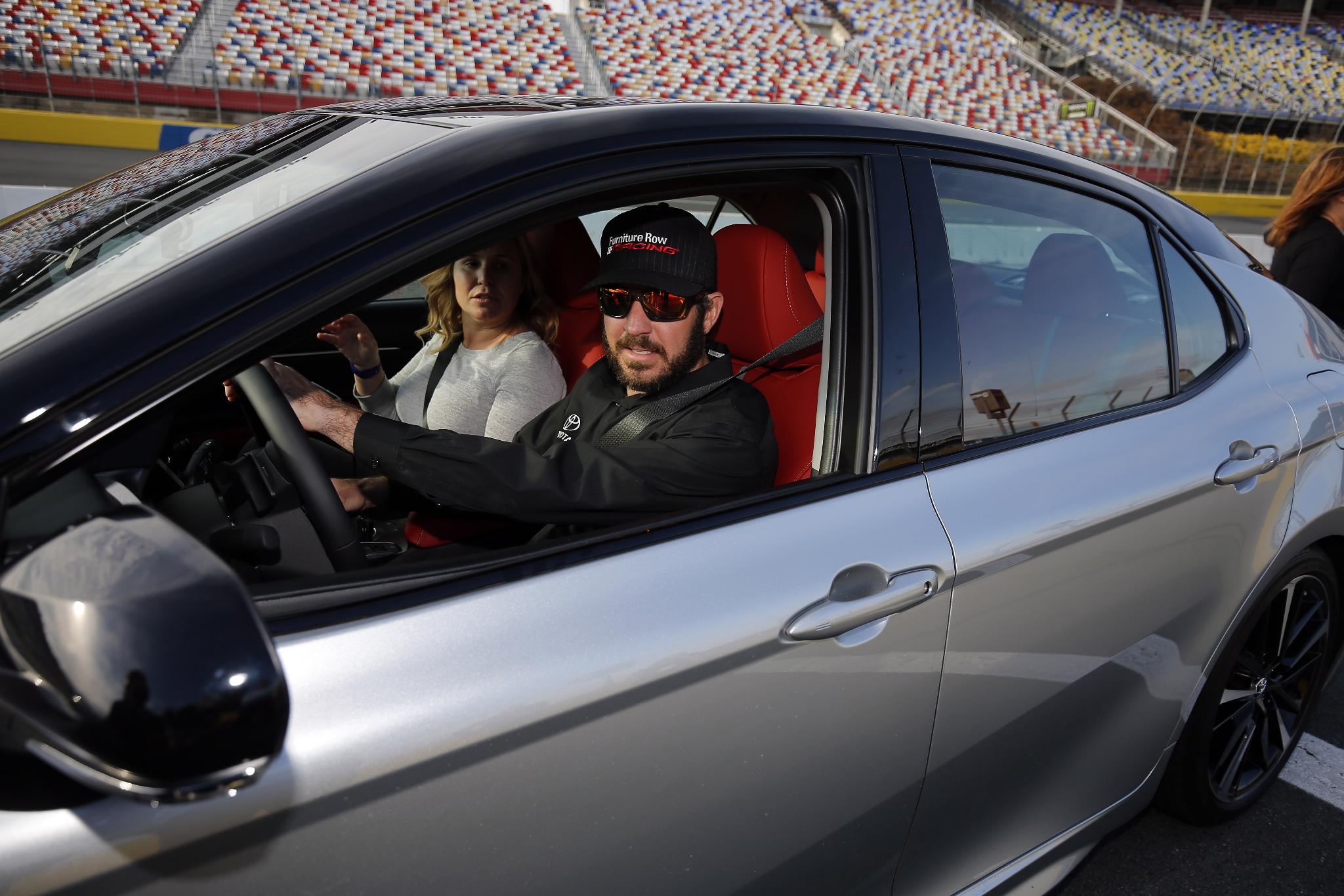 Martin Truex, Jr. gives Associated Press writer Jenna Fryer a ride on the new road course
HHP/CMS
"We're set up to turn right and left, yet we're hitting the banking and trying to go 175 or 180 (mph)," Truex told the NASCAR Wire Service. "It's quite a handful there, and then you get to the infield. You're setup is so compromised to try to run around the big track and then try to run through those sections of the race track where there really is no banking and there's not a lot of grip.
"Everything about this track is completely different (compared to) any road course that we run. The crew chiefs are going to pull their hair out trying to figure this place out because it's so unique."
Truex, Jr. was also among nearly a dozen drivers in attendance at the event , some of whom brought a few of their own toys to try out on the new surface – including former Truck Series champion Mike Skinner, who brought along a Toyota Tundra race track, and Joey Logano, who turned laps in a Mustang.
Former Cup Series drivers and NBC commentators Dale Jarrett and Jeff Burton, along with Truex, Jr. and Joe Gibbs Racing drivers Christopher Bell and Brandon Jones, got behind the wheel of several 2018 Toyota Camry XSE's to give ride-alongs to journalists to experience the new road course.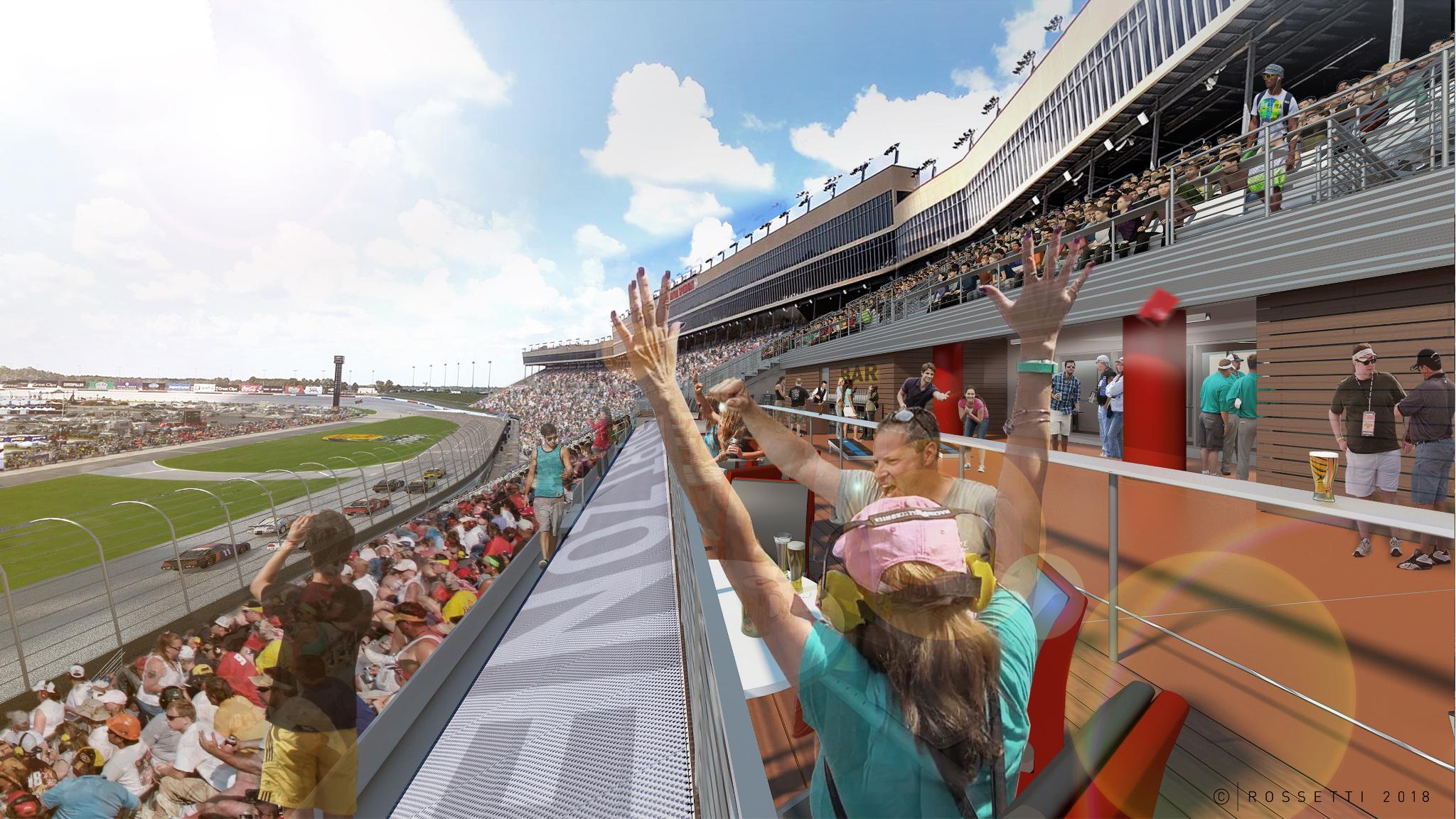 An artist rendering of the new "Restart Zone" bar at Atlanta Motor Speedway
Smith also took time during Monday's event to highlight some new "Fans First" initiatives at some of the company's racetracks this season, including additional fan amenities at Las Vegas, Texas and Atlanta Motor Speedways.
Additions to Texas and Atlanta include a new "Restart Zone" bar at each of the two tracks, while Las Vegas – which will add a second race date in 2018 – will feature three newly-renovated exclusive clubhouse areas, an interactive sports lounge, and a family-themed picnic area dubbed the "Petty Picnic Patio".