SFH Racing Development to Compete in Chili Bowl with Strong New Driver Lineup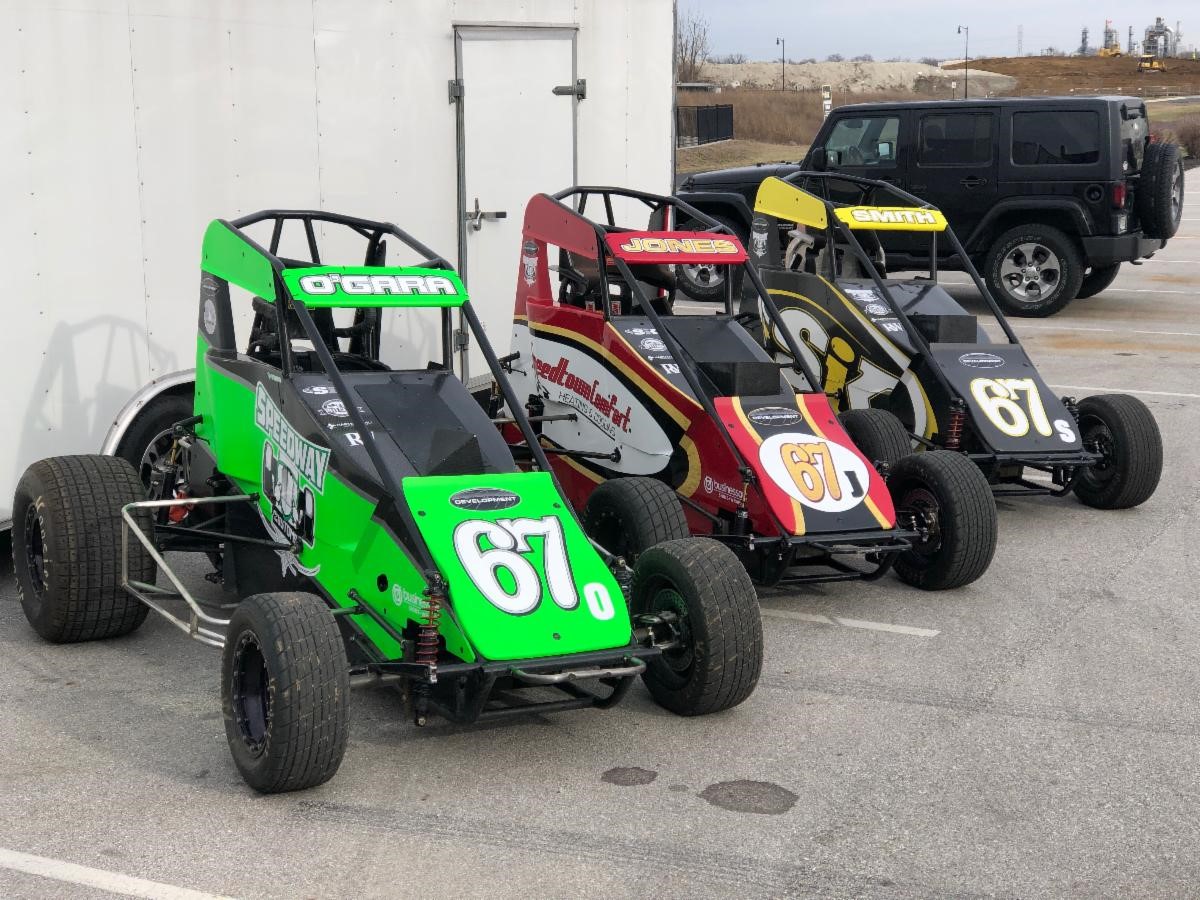 SFH cars for Chili Bowl
INDIANAPOLIS – Sarah Fisher Hartman (SFH) Racing Development is ready to make their annual voyage to the mecca of midget racing competition for the 2020 Lucas Oil Chili Bowl Midget Nationals presented by General Tire with a solid lineup Jan. 13-18 in Tulsa, Oklahoma.
SFH Racing Development will see the return of two Chili Bowl veteran team members in Ryan Smith and Kyle O'Gara and the addition of Chase Jones for his first Chili Bowl with the team. All three drivers have driven for SFH Racing Development and expect the familiarity to provide good results with primary sponsors Speedway Indoor Karting, Speedway Customs and Speedtown Comfort Heating and Air.
"We are excited to start our season once again at Chili Bowl," SFH Racing Development Co-Owner Wink Hartman said. "The event brings the best of the best and our team has worked hard to make sure we are ready to compete at the highest level."
This is the eighth straight year SFH Racing Development will contest for a Golden Driller at one of the crown jewel races of midget racing. The 34thAnnual Chili Bowl features over 352 entries, from five countries.
Smith, from Kunkletown, Pennsylvania will rejoin SFH Racing Development for the third year in a row and mark his seventh Chili Bowl appearance. He has a best finish of 8th place was just a year ago in the second of two final B Mains in 2019. Smith will pilot the No. 67S sponsored by Speedway Indoor Karting with associate sponsors Direct Supply and 1911 Grill.
"We have a lot of confidence in Ryan and what he brings to our team," Co-Owner Sarah Fisher said. "He had a great season in 19 and we are hoping to get him the little bit he needs to push into the A Main this year."
Smith spent the season competing for Heffner Racing Enterprises. In 65 races he had three wins, 30 Top-5 finishes and 42 Top-10 finishes.
Jones, from Greenwood, Indiana, is making his first Chili Bowl start for the SFH Racing Development team, but is no stranger to the event or the team. This will be his fourth attempt at a Golden Driller.
He ran multiple events with the team this year, taking a win at a regional midget race at Bloomington Speedway. In 17 races in 2019, Jones had two wins and four podium finishes.
For Chili Bowl he is bringing a well-known race sponsor on board the No. 67J with Speedtown Comfort Heating and Cooling.
"We support racers because racers support us," Speedtown Comfort Heating and Cooling owner Jerry Wilson said.
For the eighth straight year, O'Gara, from Indianapolis, will wheel a SFH Racing Development midget in a quest for a Golden Driller. O'Gara will behind the wheel of the No. 67O sponsored by Speedway Customs with associate sponsors Hartman Oil and Direct Supply.
"Chili Bowl is a great place to gauge the strength of a team," O'Gara said. "We've developed a solid team over the last year or so and put in a lot of work to get us to the next level and I think that will show this week."
O'Gara goes into Chili Bowl off of a season in multiple types of cars on multiple surfaces. He finished second in the Auto Value Bumper to Bumper Super Sprint Pavement Non-Wing Series and also competed in Silver Crown and USAC Races.
Associate sponsors for the team include: Direct Supply, Jimmy's Egg, 1911 Grill, Whiteland Raceway Park and Business Art Designs.
Practice for the Chili Bowl begins Monday, Jan. 13 at the Tulsa Expos Raceway inside the River Spirit Expo Center. The marquee week-long midget event will feature five preliminary events for the first time before the finale on Jan. 18 with the top 24 drivers from the week competing for the coveted Golden Driller. Starting positions in the A Feature are determined by points received during qualifications.
O'Gara will qualify Monday night during the Cummins Qualifying night. Jones will qualify during the Hard Rock Casino night on Wednesday and Smith is scheduled to compete in the John Christner Trucking Qualifying night on Thursday.
For the seventh year, the Chili Bowl will be shown online on http://www.racinboys.com. The online PPV experience will run from Tuesday through Saturday's qualifiers. At the time of opening ceremonies on Saturday, Racinboys PPV coverage will cease as final features will be shown live on the MAVTV Motorsports Network. For a complete listing of channels, and to request MAVTV, log onto http://www.mavtv.com.
For more information and continuous updates from the Lucas Oil Chili Bowl Nationals presented by General Tire, visit www.chilibowl.com.
Follow O'Gara at @kyleogara and Smith at @ryansmithracing on Twitter and Instagram through the week for individual updates.
SFH Racing Development was started by Sarah Fisher and her husband, Andy O'Gara, in partnership with Wink Hartman and Hartman Oil as a way to find young racing talent and groom them through multiple series on their way to a professional career in racing.