2020 Bentley Motorsport Program To Be Biggest Yet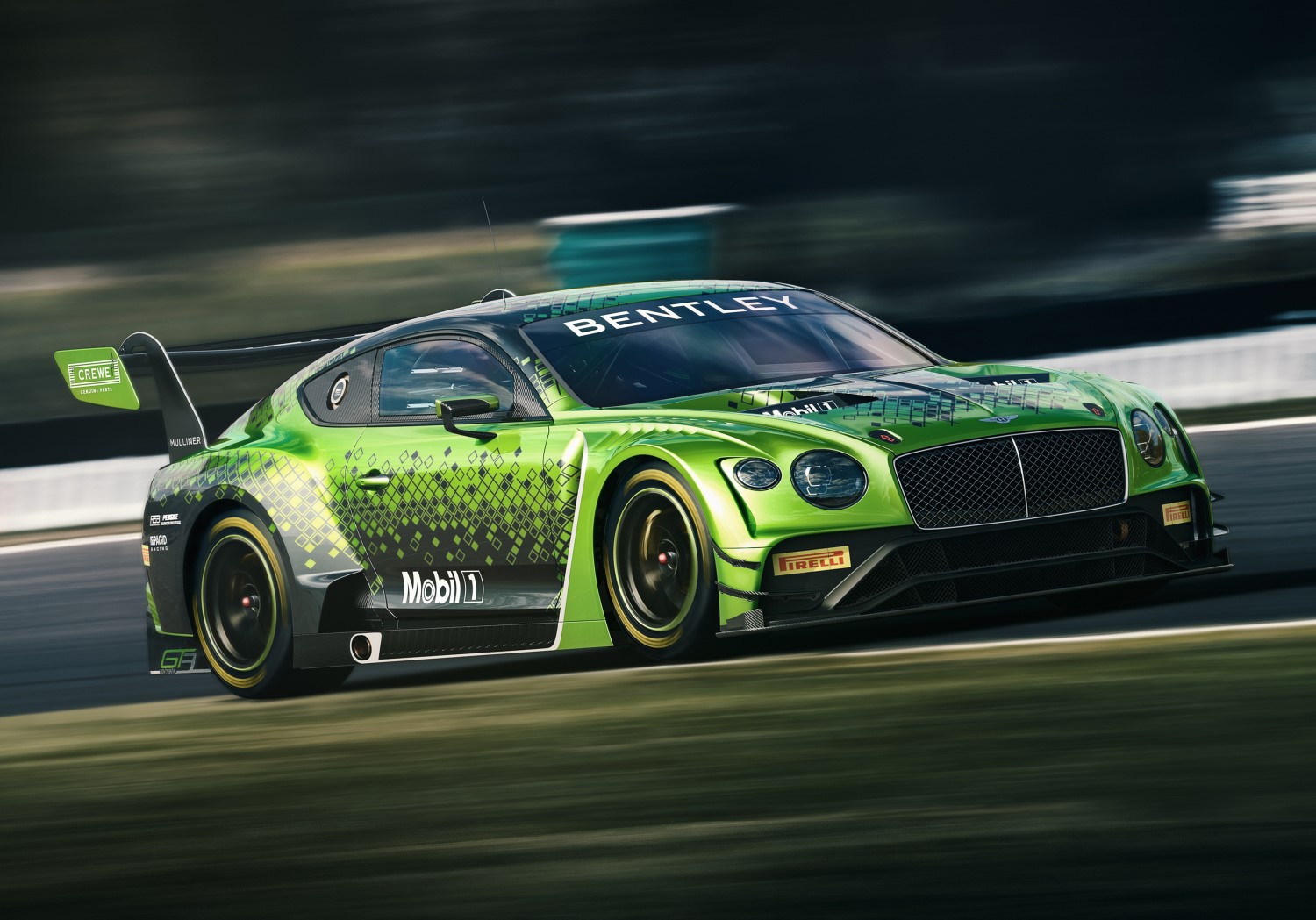 Bentley Continental GT3
Bentley Motorsport's 2020 program is set to be its largest yet, with elite customer teams competing in the world's leading GT3 championships and its works-supported Bentley Team M-Sport outfit entering the highest level of GT3 competition in the Intercontinental GT Challenge (IGTC).
Since 2013, Bentley Team M-Sport has worked with #bentleymotorsport in Crewe to be responsible for the development and build of the Bentley Continental GT3, while also running a race-winning team. With an increased and improved customer #racing program in place for 2020, the Cumbria-based outfit will focus on providing Bentley's teams with the highest level of service, alongside a campaign in the five-round IGTC.
Championship-winning team K-PAX #racing, which has had two very successful seasons with Bentley in the USA, will travel across the Atlantic to enter the GT World Challenge Europe Endurance Cup with a pair of Continental GT3s, spearheading Bentley's push for overall race wins at Europe's top tracks.
Bentley's works drivers will enter the full IGTC, with a pair of Continental GT3s in a striking new green livery, while supporting its customer teams around the globe. Maxime Soulet (BEL) will return to Bentley Team M-Sport for a sixth season alongside Jordan Pepper (ZAR) and Jules Gounon (FRA) who have both raced with the brand since 2018. All three will race for K-PAX #racing alongside regulars Andy Soucek (ESP), Alvaro Parente (POR) and Rodrigo Baptista (BRA).
Seb Morris (GBR), who won the British GT Championship with the first generation Continental GT3, will step up to the works line-up following impressive outings at the 24 Hours of Spa and Suzuka 10 Hours, while Al Buncombe (GBR) becomes a full-time works driver after strong showings for the team in 2019. Olly Jarvis (GBR), who raced for the squad in 2017, will return for IGTC duties only due to a busy schedule.
The #bentleymotorsport Academy run with Team Parker #racing kicks off in 2020 to help to identify and nurture the next generation of Bentley works team drivers. Testing and assessments for the inaugural squad are currently underway.
With more world-class customer teams set to be announced in the coming weeks, #bentleymotorsport has been able to improve the service offered and increase the development and testing program of the Continental GT3.
Bentley's Member of the Board for Engineering, Dr Werner Tietz, comments:
"With the second generation Continental GT3 firmly established as a race winner, our focus is now on growing our family of partner #racing teams to allow more customers the chance to experience the ultimate expression of Bentley performance. We are looking forward to #racing around the world with both our long-standing partners and new customers to the #bentleymotorsport brand."
Bentley's Director of Motorsport, Paul Williams, comments:
"We've been very careful to grow and adapt our program in a way that is sustainable for us and beneficial to both our new and old customers, and I am very pleased that we have attracted teams that operate at the highest level. Bentley Team M-Sport has been instrumental in enabling us to grow our customer program and build the Continental GT3s required for 2020, while also preparing for Bathurst 12 Hours and planning an extensive test schedule that will benefit all of our teams."
While there are further teams and programs yet to be announced – as well as some special projects led by #bentleymotorsport – Bentley has now confirmed Bullitt #racing will contest Le Mans Cup; Team Parker #racing will return to the British GT Championship and will run the #bentleymotorsport Academy program; K-PAX #racing will make its debut in GT World Challenge Europe; and Bentley Team M-Sport will continue in the IGTC.
Fans can follow the action from all of Bentley's #racing teams on social media by searching @BentleyRacing on Twitter and @BentleyRacingOfficial on Instagram.
Supporting quotes:
Maxime Soulet, Bentley works #racing driver: "Bentley is very much home for me. I've been here for five years and 2020 is set to be a great year for the brand and its customers. After #racing for K-PAX #racing in the USA for two years, it's exciting to be able to welcome them over to our playground and help them to get to grips with competing in Europe."
Seb Morris, Bentley works #racing driver: "It's actually been a textbook route from customer #racing into the works team for me. I first raced the Bentley Continental GT3 in 2016 for Team Parker #racing in British GT, which we went on to win. I then stepped up to the Blancpain GT Series with Team Parker, while still contesting the British series with JRM. Thanks to race wins with both, I was selected last year to join the works team at the 24 Hours of Spa and then again at Suzuka 10 Hours. Now, I stand here in 2020 as a fully-fledged works team driver. Bentley promised to nurture talent through its programs, and I can't wait to start my career as a Bentley Boy."
Jim Haughey, team owner of K-PAX #racing said: "K-PAX #racing has been #racing in the U.S. for a long time, and we have had many successes here. I have always had an interest in endurance #racing and with the current status of World Challenge GT, we have the opportunity to go endurance #racing at some of the most iconic tracks in Europe. I have always wanted to race at these tracks, with the strength of our team and our relationship with #bentleymotorsport is what is allowing us the opportunity to run two pro cars. The timing was just right to make the move in 2020."