Did Ganassi team try to cheat with Kyle Larson's rear window? (Update)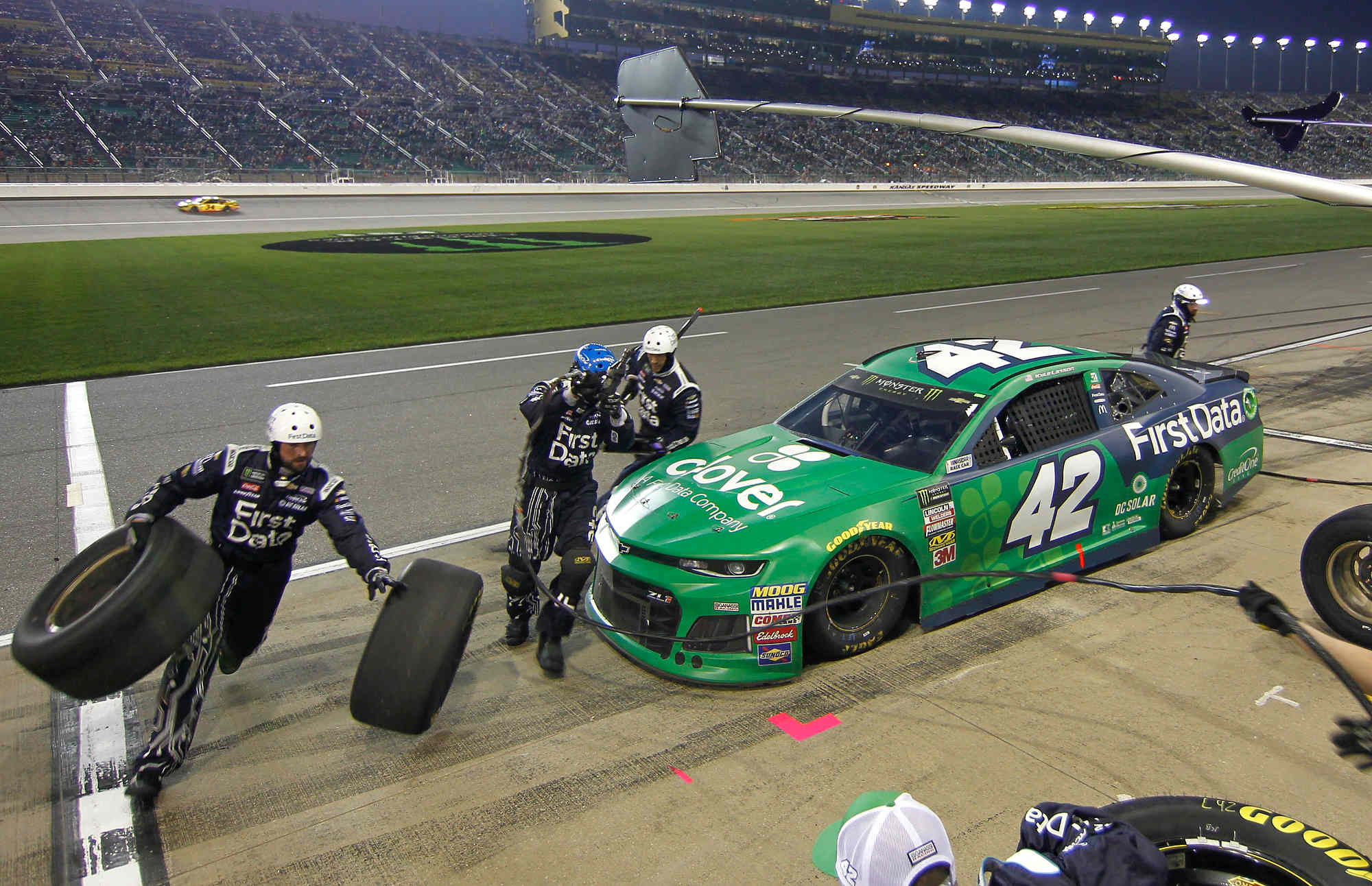 Kyle Larson pits during Kansas race
UPDATE This rumor is upgraded to 'fact' today. NASCAR released the Post-Event Penalty Report for Kansas Speedway:
Monster Energy NASCAR Cup Series Kansas Speedway
Infraction Date: 5/12/2018 (post-race inspection)
Team: #42-Kyle Larson
Violation: Sections 20.4.h Body; 20.4.8.1.b&c Rear Window Support and Structure
Note: Rear window not flush to Deck Lid. Rear Window Support Braces must keep the rear window glass rigid in all directions at all times.
Rule 12.5.2.6.2(c) applied to race finish as a post-race L1 infraction.
Penalty: Crew chief (Chad Johnston) has been fined $50,000. Car chief (David Bryant) has been suspended from the next two Monster Energy NASCAR Cup Series Championship Points Events. Team has been assessed with the loss of 20 driver points and 20 owner points.
Infraction Date: 5/12/2018 (post-race inspection)
Team: #22-Joey Logano
Violation: Sections 10.9.10.4: Tires and Wheels
Note: Lug nut(s) not properly installed.
Penalty: Crew chief (Todd Gordon) has been fined $10,000.
NASCAR XFINITY Series Did Not Race
NASCAR Camping World Truck Series Dover International Speedway
None
See the Kansas Post-Event Penalty Report (pdf) for complete details. NASCAR PR
05/14/18 After the Kansas Monster Cup race Saturday night, Kyle Larson's rear window was shown to have a noticeable indentation in it as the No. 42 Clover/First Data Chevrolet sat on pit road.
Kevin Harvick, Chase Elliott and Clint Bowyer have all received post-race penalties already this year for a lack of rigidity in the rear window area, something that is clearly outlined as a violation of the rule book in section 20.4.8.1, which deals with rear window support.
The rule states that a brace that supports the rear window must meet specifications for keeping the rear window glass rigid "in all directions, at all times."
The penalties assessed for rear window support violations are a $50,000 fine, the loss of 20 driver and owner points and a two-race suspension for either the crew chief or car chief of the offending team.
Larson was firm in his stance during his post-race interview that he believed the window sag was a direct result of something broken during his crash with Blaney.
"I didn't have it until after Blaney and I got together," Larson said of the damage. "I'm glad to see that we have a lot of damage back there, because obviously if there was no damage back there, we would probably get a penalty.
"Who knows, we might still get a penalty, but I've got a ton of damage back there," Larson reiterated. "These cars are pretty rigid, and one (bit) of damage can affect the whole rest of the car, as you can see. We'll see what NASCAR says about it, but I think it's pretty obvious we have a ton of damage back there."
Larson's No. 42 Chevrolet will undergo further teardown and inspection this week at the NASCAR Research & Development Center in Concord, N.C. It was one of four vehicles tagged for a post-Kansas R&D visit, along with the race-winning No. 4 Ford of Kevin Harvick, the No. 78 Toyota of runner-up Martin Truex Jr. and the No. 21 Ford of Paul Menard, who finished sixth.
NASCAR Senior Vice President and Chief Racing Development Officer Steve O'Donnell spoke on the issue during his regular Monday morning appearance on SiriusXM NASCAR Radio.
"I think there's certainly something you can look for," said O'Donnell when asked if mid-week penalties could be assessed to the No. 42 team. "It's no different than rear skew in the past, where it was an area teams found they could work on. Now, suddenly it's become the rear window area. We see the claims of damage … but you know, talking to our folks, I've never seen damage cause that (kind of an issue).
"Certainly we'll go back like we always do and thoroughly inspect the car, but it's an area we continue to focus on because the teams know that they've found something there. If we have to react we will, but right now we're still looking at it."
Steve O'Donnell discusses potential penalties post-Kansas