NASCAR stakeholders interested in Carolina Panthers ownership (6th Update)
With no NFL team, what will Bruton and Marcus Smith do if NASCAR and its tracks are all sold?
UPDATE Steelers investor David Tepper today is "expected to sign the deal to buy" the NFL Panthers and "keep them in Carolina," according to sources TWITTER.com.
The $2.2B Tepper is "expected to pay would be a record for an NFL team, besting the $1.4B for the Bills" in '14 TWITTER.com.
The "next steps" for Tepper are to "sell his minority stake in the #Steelers & get approval by the NFL owners." The timing of the deal means that "there would be a vote in Atlanta for the May NFL meeting." He has "already been vetted," so "all steps should proceed without hitches." TWITTER.com
With NASCAR in a downward spiral, Felix Sabates was leading the effort to get NASCAR folks into the NFL ownership in case NASCAR eventually dies
04/09/18 This rumor is now downgraded to 'false' today. Charlotte businessman Felix Sabates, who has been working for months to pull together a local group to potentially buy the Carolina Panthers, says he now won't be involved with any bids.
The Observer reported last month that Sabates, a long-time fixture on the Charlotte sports scene, was looking to partner with another bidder, rather than assemble his own group. Now he is dropping plans to invest in the NFL team at all.
"I have decided to withdraw from any potential investment," Sabates, 72, told the Observer. "The price has become higher than I consider to be prudent. If any owner wants help, I will help them."
Sabates, who has long been involved in auto racing and is part of the Charlotte Hornets ownership group, has repeatedly said that he would only pursue a bid if it made business sense. He has also been vocal in saying that the team need's a new domed stadium to become financially viable. Charlotte Observer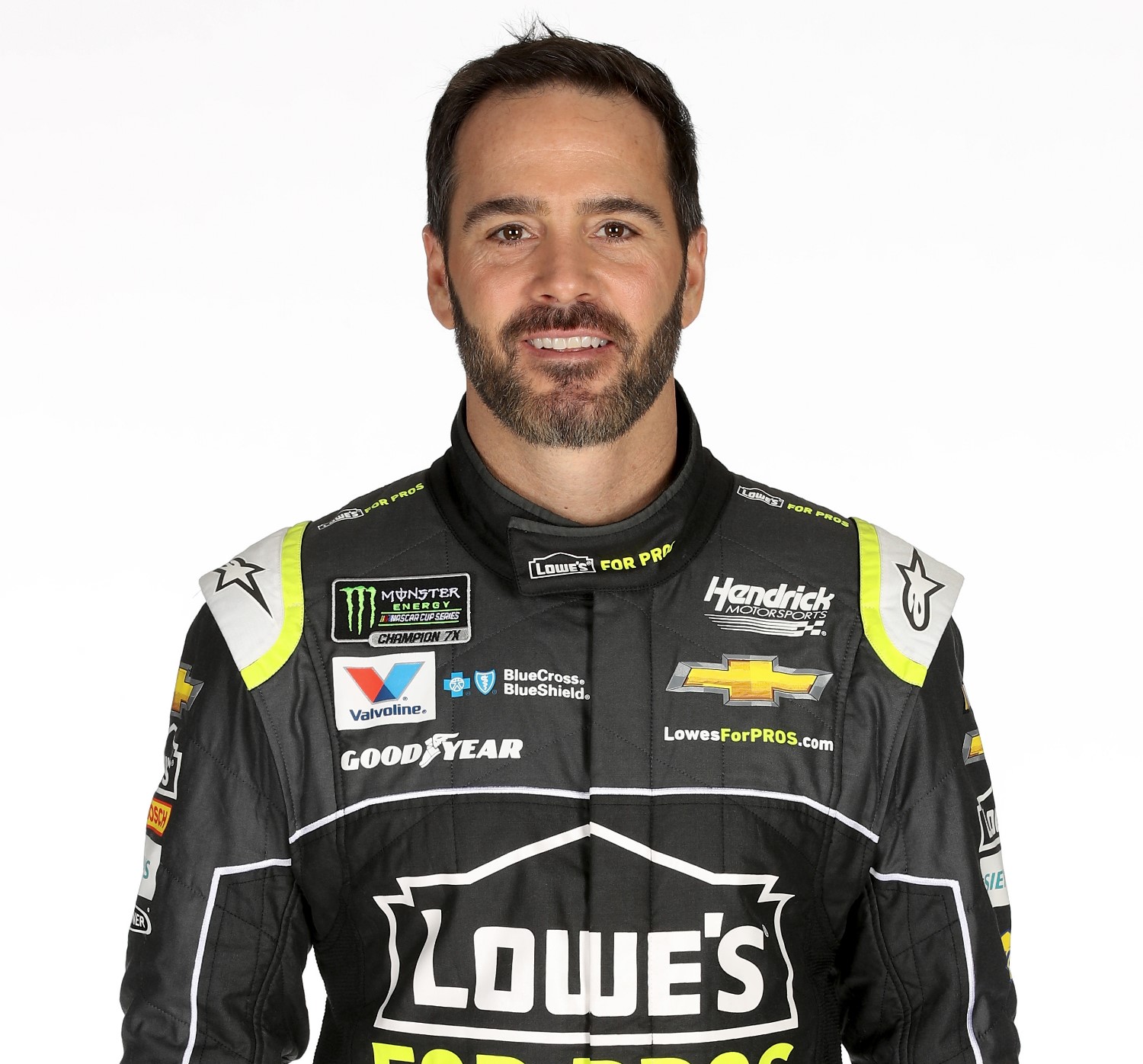 Jimmie Johnson has indicated his willingness to invest
02/15/18 Some of the biggest names in NASCAR say they're interested in joining a bid to buy the Carolina Panthers.
As they prepare for the Daytona 500 this weekend, drivers Jimmie Johnson and Kyle Busch told the Observer Wednesday that they have had conversations with potential bidders for the NFL franchise, which owner Jerry Richardson put up for sale last month.
"I'm not the leader of it at all, but I have had a conversation, one conversation, with one of the groups that is interested in buying it," Busch told the Observer. "I've put my name in the hat just to kind of have a seat at the table, if you will, when it comes to what is going to happen next."
Jimmie Johnson said he has been asked if he would be interested and has signaled that he would.
"I'm not actively in anything. I would love to. I've been asked if I would be interested in doing it, and absolutely," Johnson said. "I don't have anything legally kind of binding me to an offer that's out there or any money invested. I would love to have a shot at it, as I'm sure anybody in the world would to have have ownership in an NFL team, especially a team where you live in the town, that would be off the charts."
Charlotte businessman Felix Sabates has previously told the Observer that he is part of a group of businessmen, including current Panthers minority owners and NASCAR drivers, who are considering a bid for the NFL franchise. He has said he would not be the majority owner by a "long shot" but has not disclosed any other names in the group.
Sabates, a longtime fixture on the local sports and racing scene, declined to comment this week about the ownership group. He has previously said he has had discussions with Marcus Smith, the CEO of Concord-based Speedway Motorsports, about joining his group, but it's not clear if the Smith family is involved.
This week, a source who declined to be identified because the bid is not public told the Observer the NASCAR drivers interested in joining the Sabates group include Johnson, Busch, Jeff Gordon and Dale Earnhardt Jr. The source also said Chip Ganassi, a team owner who is a business partner with Sabates, is also interested, as well as musician Kid Rock.
Ganassi declined to comment. Representatives for Kid Rock, who was born Robert James Ritchie, did not respond to requests for comment. A representative for Jeff Gordon could not immediately respond to a request for comment.
Earnhardt Jr. last month said Sabates had not asked him to be involved but that he did call Smith to express his interest. A representative for Earnhardt could not be reached on Wednesday.
Richardson announced plans in December to sell the team at the end of the season. The move came shortly after Sports Illustrated reported allegations of workplace misconduct by Richardson during his ownership tenure. The NFL is investigating.
To assist with the sale, the team has hired New York investment bank Allen & Co., a blue-chip firm known for working on sports and media deals, as well as New York and Charlotte lawyers. As the sale process moves forward, some interested parties have already signed confidentiality agreements. After the Panthers select a winning bidder, NFL owners would have to approve any sale.
Before the Super Bowl, NFL commissioner Roger Goodell said there won't be a stipulation that the Carolina Panthers remain in Charlotte as part of an ownership change, but he said he expects the league's owners to prefer the team stay in Charlotte.
"That will clearly be the intent of our ownership," Goodell said in response to an Observer question during his state of the league address to the media.
It's possible, however, a new owner might want to find a stadium to house the team. Sabates has said Bank of America stadium is outdated and the city needs a domed building to attract other events.
Busch told the Observer that to be involved with his hometown team would be a "big deal" for him, even though realistically he can only attend a few games a year with the NASCAR schedule.
"Hopefully, there's a guaranteed seat at the stadium with part ownership, and that would just be fun also," Busch said. "The guys that we've been talking with, they've been real open and communicating well." Charlotte Observer
Dale Earnhardt Jr.
01/17/18 Dale Earnhardt Jr., retired as a full-time driver in NASCAR's top series, has an interest in being a minority owner of the Carolina Panthers.
The sports' 15-time most popular driver told The Associated Press that he recently called Marcus Smith, the president and chief operating officer of Speedway Motorsports Inc., about potential involvement in purchasing the Panthers.
The subject came up when Earnhardt was asked whether he was involved with a group headed by Charlotte businessman Felix Sabates, a minority owner with Chip Ganassi Racing, to buy the team from Jerry Richardson.
Sabates told The Charlotte Observer last week that two NASCAR drivers were involved with his group. Sabates also said he'd been in contact with Smith about joining his group planning to make a bid.
A source close to the situation told ESPN that current interest by the Smith family, which also includes SMI owner Bruton Smith, isn't connected with the Sabates group.
But the source said the Smith family is interested in purchasing the Panthers.
"[Felix] did not ask me to be involved," Earnhardt told the AP when discussing his plans to be involved in Winter Olympics coverage with NBC. "I did call Marcus and I said, 'Hey, Marcus, if you guys are in the middle of it and you think it's a good business deal, I definitely have some interest.' But I am not one of the guys that Felix is talking about."
Earnhardt, according to Forbes, has a net worth of about $300 million. A big Washington Redskins fan, he made it clear he would be nothing more than a minority owner if he became involved.
"I wouldn't have the kind of money where I would move the needle too much, but it would be something to have a lot of pride in, and a good Charlotte NFL team is good for the city of Charlotte," Earnhardt said. "I wish them success because of what it does for our community, not only from a pride standpoint but [from] an economical standpoint. I wouldn't be a big player, and it wouldn't be an investment that would really create a big change in my life.
"But I certainly would love to be supportive to the team and the success of the team to the community. That means a lot to me." espn.com
With NASCAR in a downward spiral, Felix Sabates is leading the effort to get NASCAR folks into NFL ownership in case NASCAR dies eventually
01/11/18 Felix Sabates, a Charlotte businessman who is part of a local group exploring a bid for the Carolina Panthers, said Wednesday he is talking to the Smith motorsports family about joining his group.
Bruton Smith is executive chairman of Speedway Motorsports, the Concord-based operator of Charlotte Motor Speedway and other tracks, and his son, Marcus, is the CEO. In the past, they both have expressed interest in buying Charlotte's NFL team if it ever came up for sale.
Sabates said he has talked with Marcus Smith, and "they are very interested in joining our group."
Through a Charlotte Motor Speedway spokesman, Marcus Smith declined to comment.
Sabates said his group, which started with five businessmen, has added two race car drivers whom he declined to name. Sabates, a car dealer and longtime fixture on the Charlotte sports scene, has said he is not the majority owner by a "long shot." His group also includes two of the team's existing minority owners, he has said, although he has declined to name them as well. Charlotte Observer
Brian France
01/04/18 According to WCNC, Charlotte's NBC affiliate, Brian France, chairman and chief executive officer of NASCAR, is heading a group with Felix Sabates to purchase the Carolina Panthers.
The Panthers will be put on sale at the end of the NFL season by Jerry Richardson following sexual and racial misconduct allegations arose last month.
According to the report, France would become the new major holder for the organization.
The goal of the group is to keep the Panther organization in the Charlotte area in a domed stadium to help bring a Super Bowl to the area.
A NASCAR spokesperson released this statement, "NASCAR denies the accuracy of the WCNC report. Brian France is not involved."
12/23/17 With almost 90 percent of all NASCAR teams based in the Charlotte, North Carolina area, there have been numerous rumors spreading throughout about the potential of certain NASCAR stakeholders having interest in buying the Carolina Panthers.
The Panthers, Charlotte's National Football League (NFL) franchise, is for sale after allegations of workplace misconduct arose from current team owner, Jerry Richardson. Richardson announced he would sell the team after more allegations arose.
In early 2016, Bruton Smith, executive chairman of Speedway Motorsports Inc., expressed possible interest in having Panthers ownership. However, a spokesperson for the Smith family declined comment for discussing interest in ownership of the franchise when Richardson announced selling the franchise.
This move is considered possible amongst the region after Marcus Smith's attempt to bring Major League Soccer (MLS) to the Charlotte region has been halted due to funding issues.
Over the previous week, Felix Sabates' name arose as a possible buyer for the Panthers. Sabates currently has minority ownership in Chip Ganassi Racing and a minority ownership role in the Charlotte Hornets, the region's National Basketball Association (NBA) franchise.
Sabates is currently spearheading a team of investors to go in and buy Richardson's stake in the Panthers. According to local news, the group of investors is made up of business professionals who live in the Charlotte area that have a "major presence" within the city.
Dale Earnhardt Jr. and Carolina Panther Thomas Davis share a laugh after Davis rode shotgun
"They're not looking to make money. They're looking for appreciation long term," Sabates said. "For us, staying in this community, staying in this TV market, is very important."
The goal of the investor group is to keep the team in the Charlotte region. There is also talks that this group of investors would like to build a new stadium to entertain major sporting events like the Super Bowl but there would have to be a balance of public and private funding, the same issue that cause Smith's idea of a MLS expansion to be halted.
Brad Keselowski, driver of the No. 2 Ford Fusion for Team Penske, would be interested in a stake in the Panthers franchise but has not been approached by any investors.
"Idk. No one has asked me. Would definitely listen if they did," Keselowski stated to Kickin' The Tires via text message.
If Sabates' plan goes forward, the investing group would have to be approved by current NFL owners. However, the league will not entertain bids until after the season is complete. Kickin' The Tires