Miami to host F1 race October 2019 (4th Update)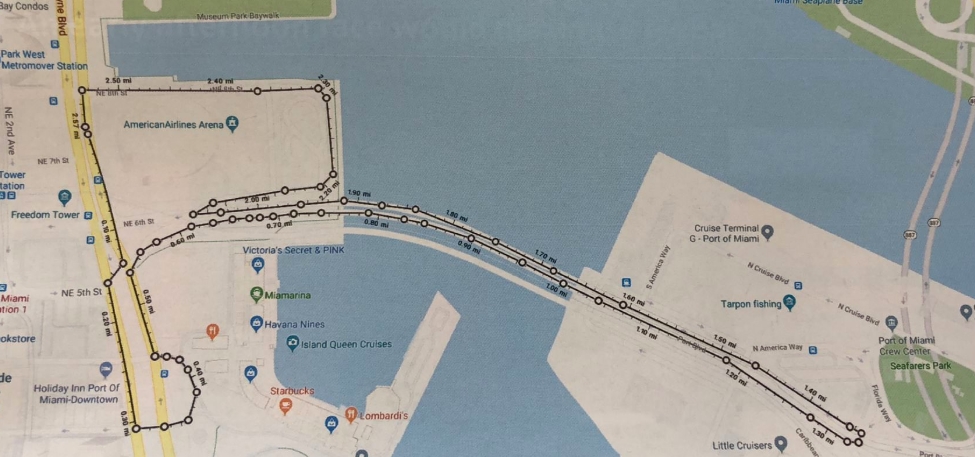 Proposed Miami circuit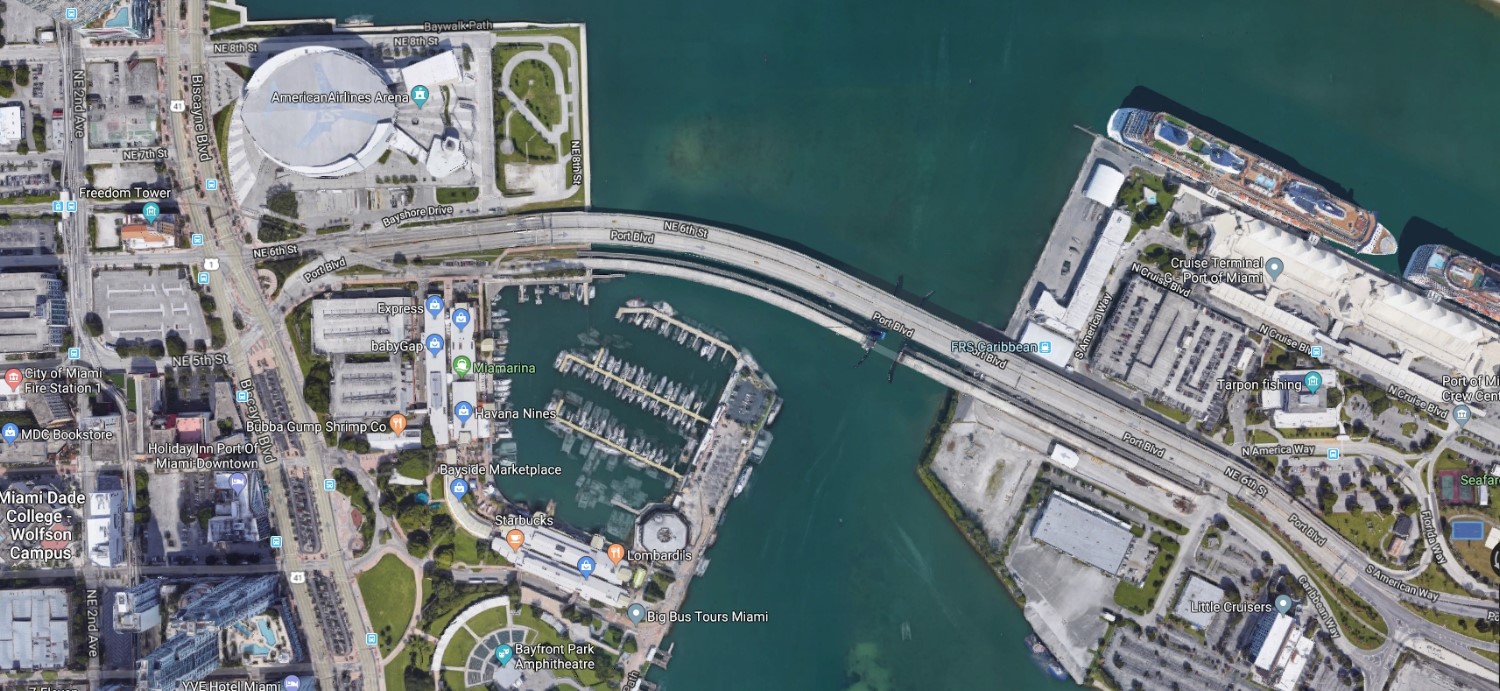 UPDATE This rumor is upgraded to 'fact' today. Plans for an inaugural Formula 1 race in Miami have been approved after the city's commission voted in favor of hosting a round on the calendar from 2019 as part of a 10-year-deal to host the race until 2028.
Thursday's decision has given the city the green light to enter further negotiations with new F1 owners Liberty Media to agree upon the finer details of a race contract.
The move also provides Liberty with a boost in its bid to crack the American market, an aim it has made clear since taking over ownership of the sport back last year.
"With the unanimous votes at both the City of Miami and Miami-Dade County's Economic Development and Tourism Committee, we are very pleased to have received preliminary approval towards bringing a Formula 1 Grand Prix to Miami," said Sean Bratches, F1 managing director of commercial operations.
"We recognize that this is only the start of the process and we will immediately get to work with the various community stakeholders, the City of Miami, the Port of Miami, Bayfront Park Management Trust and others, in order to reach a final agreement.
"Formula 1 in Miami represents a fantastic opportunity to bring the greatest racing spectacle on the planet to one of the world's most iconic cities, and we are delighted that the journey is underway."
Stephen Ross trying to bring F1 to Miami in a 10-year deal. The France family will do whatever they can to kill the event.
05/03/18 A meeting of the Miami City Commission on Thursday, May 10 will "include a discussion over a bid" to bring Formula 1 to Florida from '19-28, according to Scott Mitchell of MOTORSPORT.
If the vote is successful, the city manager will be tasked with formalizing a contract between Miami and F1 execs by July 1. An Oct. '19 date "has been targeted by Miami officials for the first race, provided any agreement between F1 and the city manager receives approval by the Commission."
The push to discuss an F1 race is backed by Miami Mayor Francis Suarez and three city commissioners. Liberty Media has wanted to expand F1's presence in the U.S. since buying the commercial rights in late-'16, with a Miami race "high up its wish list.." MOTORSPORT
The BBC's Andrew Benson reported the Miami race would be the second F1 race in the U.S., in addition to the U.S. Grand Prix in Austin, Texas. The Austin race is also held in October, "which raises the question of whether the two events would be twinned, or whether Texas could be moved to earlier in the season, perhaps to coincide with the Canadian Grand Prix in June." BBC,
05/02/18 Please find below a statement from Formula 1 detailing the sport's proposal to hold a Grand Prix race in downtown Miami next season. This follows the publication of the agenda for the forthcoming meeting of the City of Miami Commission, in which a vote will take place to decide whether to proceed with these plans.
The full agenda for the meeting can be viewed here under Commission Agendas.
Statement from Sean Bratches, Managing Director Commercial Operations, Formula 1: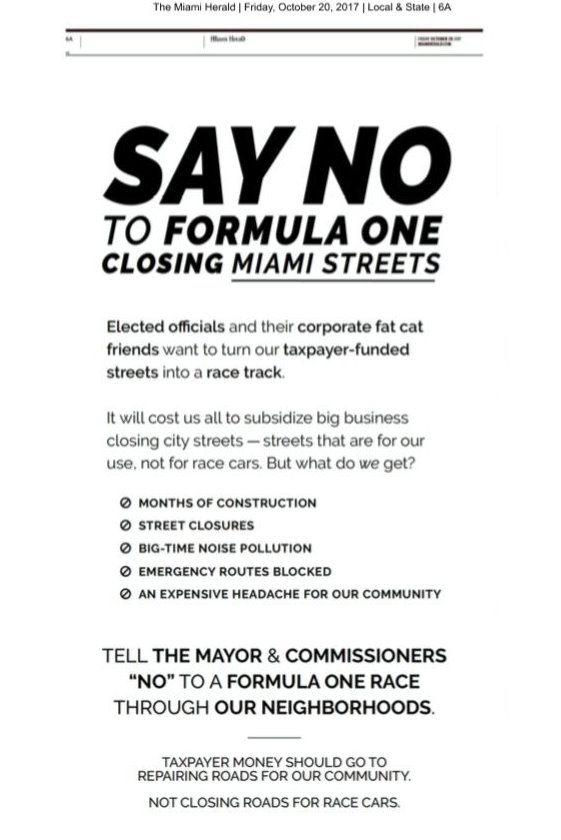 Any bets the France Family is behind this? A group called Better Florida Alliance ran ad in Friday's Miami Herald asking residents to oppose an F1 race there.
"Earlier today the City of Miami Commission took an important step by adding an item to their upcoming agenda, that if approved, will make way to bring Formula 1 to downtown Miami next season. We appreciate the community's interest in hosting a Formula 1 race and look forward to working with local officials and stakeholders to bring this vision to life.
"With over half a billion fans worldwide, Formula 1 is the greatest racing spectacle on the planet, and Miami's status as one of the world's most iconic and glamorous cities, combined with its robust tourism infrastructure, makes Miami the perfect destination for Formula 1 and its fans."
Stephen Ross, US entrepreneur and supporter of the proposed race added:
"Miami is a first-class global city and Formula 1 is a first-class global brand. In cooperation with the City of Miami and Miami-Dade County, I am confident we can deliver yet another global event that will be a destination for people from around the world and drive economic value to South Florida. From football and soccer to tennis and motorsports, Miami deserves only the best in music, food, art, fashion, and sports and entertainment, and that is exactly what we plan on delivering with a Formula 1 race."
Notes
The exact timing of a Formula 1 Miami Grand Prix would be a matter for further discussion between F1, the FIA and the Miami authorities, but if approved we hope at this stage that the inaugural race would take place in October 2019.
Later this year, as part of a fan experience that has already seen us deliver F1 Live London last season, and the hugely successful fan festival in Shanghai, we will be hosting further fan festivals in Marseilles ahead of the FORMULA 1 PIRELLI GRAND PRIX DE FRANCE 2018, and of course in Miami itself, ahead of the FORMULA 1 2018 PIRELLI UNITED STATES GRAND PRIX in Austin Texas.
If Miami were to host a Formula 1 race and you would like to be notified of future developments and ticket opportunities, please visit F1MiamiGP.com
We will not be commenting further at this stage.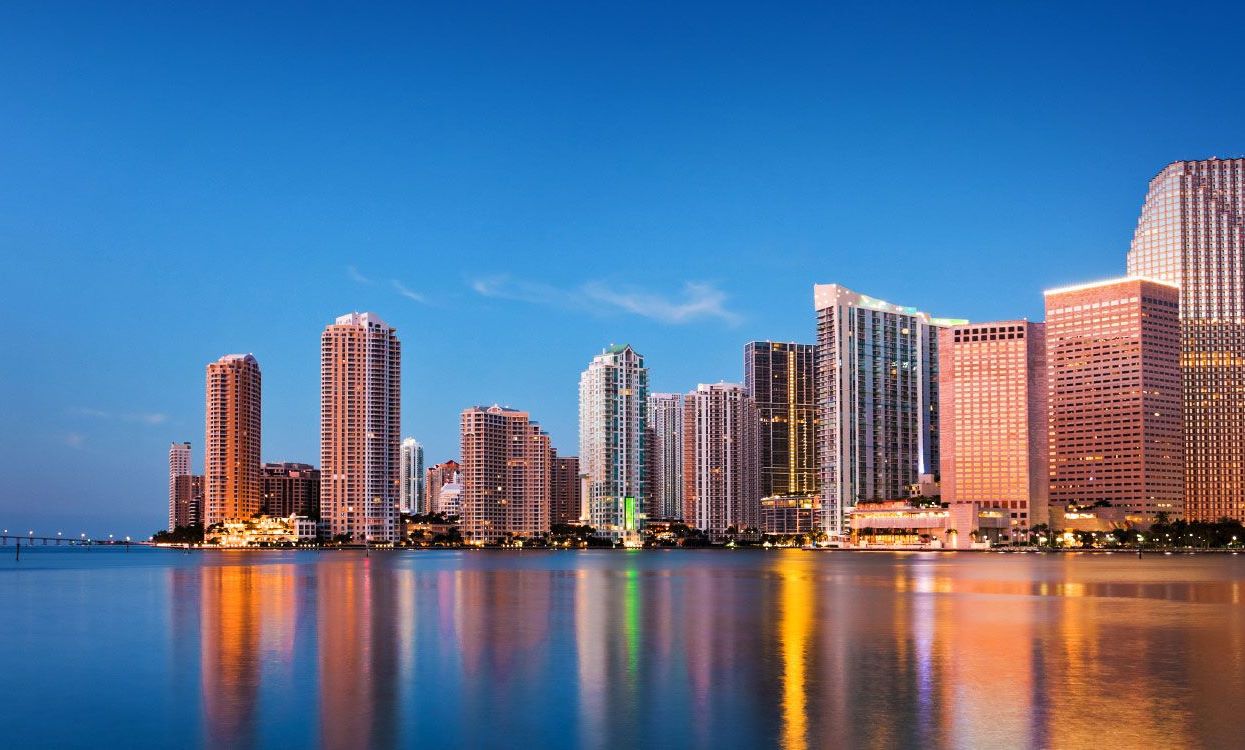 Miami skyline. AR1.com noted Monday that with less than 100,000 fans over 4-days, the Azerbaijan promoter lost his shirt
05/02/18 F1 and Dolphins Owner Stephen Ross' Relevent Sports have publicly confirmed for the first time that they are working to bring a street race to Miami in '19, a move that would be a significant development for the series' bid to grow in the U.S. The sides finally addressed the race as the City of Miami Commission added it to its agenda for a vote next week.
F1 Managing Dir of Commercial Operations Sean Bratches: "The City of Miami Commission took an important step."
Ross added, "I am confident we can deliver yet another global event that will be a destination for people from around the world and drive economic value to South Florida." SBJ/SBD first reported this past November that Ross could get involved in the effort.
05/01/18 Murray Walker's famous quip about the unpredictability of Formula 1 was proven for the fourth consecutive time in the 2018 season, at Sunday's Azerbaijan Grand Prix, whose excitement rivaled that of the 2017 race, arguably the best of the season. In the wake of the race, however, rumors began to circulate that F1's third visit to Baku would be its last.
Dutch sports channel Ziggo Sport parroted via twitter the words of a closely-associated F1 journalist, Jack Plooij, whose translated quote suggests Azerbaijan could be ditched for Florida's largest city, Miami.
"This could well be the last GP in Baku, next year to Miami," Plooij was quoted as saying by Ziggo Sport.
Nieuws uit de pitstraat van onze eigen @Jackontracks
'Dit zou weleens de laatste GP in Bakoe kunnen zijn, volgend jaar naar Miami'#AzerbaijanGP #ZiggoSportF1
— Ziggo Sport F1 (@ZiggoSportF1) 7:21 AM – Apr 29, 2018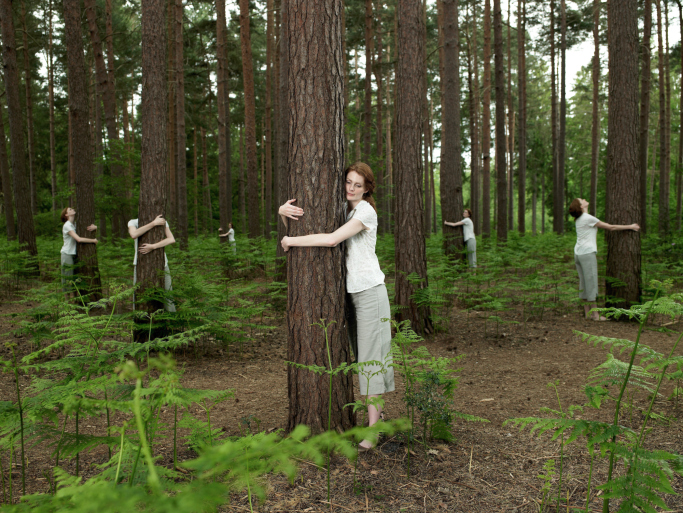 Prediction: The liberals will hug every tree they can to stop a Miami race
Dutch F1 fan blog GP Fans expanded on Plooij's statements, stating the the circuit's pit boxes have allegedly been sold to Miami.
Miami is known to be a serious candidate for a Grand Prix. Commercial representatives of F1 visited the city in November to scout out six conceptual street circuit routes and discuss, and though city officials were receptive to F1's patronage, they admitted little funding was available to support hosting of a Grand Prix. Local opposition sprung up in response, citing the closure of streets, possible infrastructure upgrades, and noise pollution (ha) that could result from the race.
The Floridian urban center is in direct competition with New York City and Las Vegas to host Liberty Media's desired additional Grand Prix within the United States, with Long Beach no longer in the running. Los Angeles was at one point in consideration, but little evidence suggests that F1 will grace Hollywood with its presence. Between Liberty Media's known visitation to Miami and the alleged sale of hosting equipment to the city, it appears the city is pulling ahead of its peers. The announcement is alleged to arrived within a few weeks' time, so we need not wait long for the answer. The Drive