Uncertain future for BK Racing (2nd Update)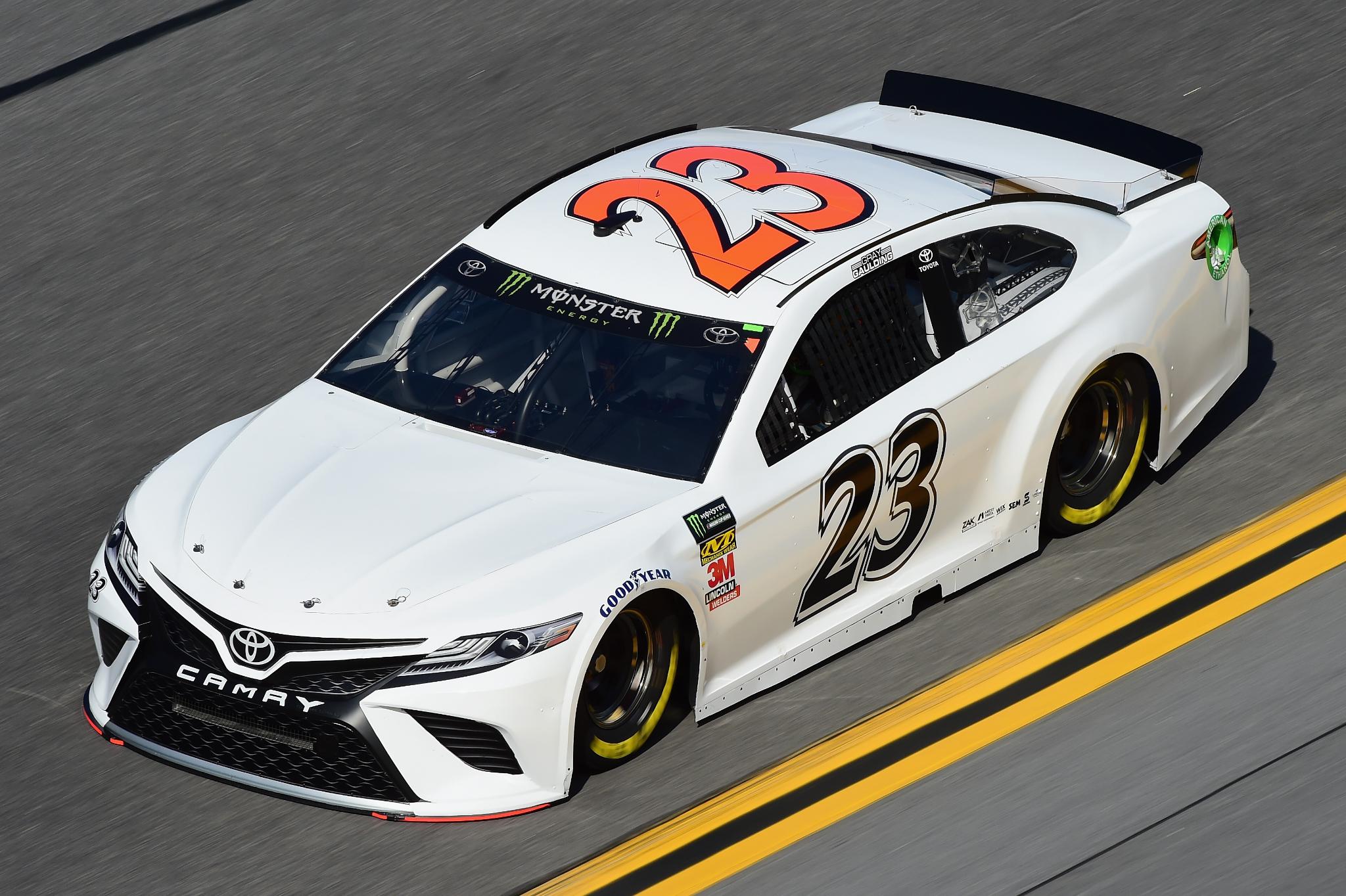 Gray Gaulding raced the no. 23 at Daytona
Getty Images
UPDATE A U.S. Bankruptcy Judge assigned an administrator to take over BK Racing and replace car owner Ron Devine as the team's financial decision maker Wednesday evening.
U.S. District Court Judge J. Craig Whitley appointed Matthew Smith of The Finley Group as the administrator.
"It's a sad day for BK," Devine said after leaving the federal courthouse.
"I'm disappointed, obviously," Devine said after the ruling. "We'll see. … I don't know if I will stay involved in it or go in another direction."
NASCAR said in a statement: "We have a clear process around charter member governance. It is incumbent upon charter members to be ready to race and compete at the highest level."
The judge's decision allows the team to continue to race. One of the roles of the administrator will be to determine if the team remains a viable business and can make money. If not, an option would be to sell the team's assets, including its charter.
"I think it's in everyone's best interests that this business continue in the short run," Judge J. Craig Whitley said in making his ruling.
Gray Gaulding
02/15/18 BK Racing filed for Chapter 11 bankruptcy with a North Carolina court on Thursday afternoon, just hours before the team was due to compete in the Can-Am Duel Daytona 500 qualifying races at Daytona International Speedway.
BK Racing's bankruptcy filing was made in response to a lawsuit filed by Union Bank & Trust of Virginia, and a court request to appoint a receiver to oversee BK Racing's operations. BK Racing is current in default of a $9 million load from the bank, which took BK Racing's NASCAR racing charter for it's no. 23 and no. 83 teams as collateral on the loan, and is now seeking to have the charter that is scheduled to compete this weekend at Daytona. BK Racing sold the no. 83 charter to Front Row Motorsports before the beginning of the season, who then in turn leased it to TriStar Motorsports.
In their bankruptcy filing, BK Racing listed more than $10 million in liabilities among 20 creditors
02/11/18 2017 was a year of transition for BK Racing. While still competing full-time in the Monster Energy NASCAR Cup Series, the team had seven different drivers compete in at least one race for the organization. Producing just one top-10 finish between them, BK hopes for a better outcome entering the 2018 season.
However, up until the night before the first practice to kick off the 2018 NASCAR season, BK Racing had no driver for the Daytona 500. Ron Devine, owner of the race team confirmed to Frontstretch that Gray Gaulding would be piloting the No. 23 car in the Great American Race.
Add this dilemma to the list of problems Devine had to encounter over the past 12 weeks.
On Nov. 17, 2017, Union Bank & Trust (Devine's bank) out of Virginia filed a lawsuit in North Carolina Superior Court (first reported by ESPN). In the lawsuit, the bank stated BK Racing owes it $9.1 million on a loan that included its two charters as collateral. Up until this past week, Front Row Motorsports had purchased BKR's second charter, leasing it to TriStar Motorsports in 2017. On Feb. 6, it was announced TriStar Motorsports had acquired the charter.
Also on Feb. 6, BK Racing was set for its hearing against Union Bank & Trust. However, that was pushed back until Thursday, Feb. 15, the same day as the Can-Am Duels. According to reports, a temporary restraining order remains in effect that keeps Devine from selling assets or his charter.
Devine confirmed that he intends on competing in the full 36-race schedule with the No. 23 machine in 2018, although a complete driver lineup has not been unveiled. He still owns the No. 83, but isn't sure whether he will take it to the track or not in 2018 after placing at the top of the open division last season.
Despite veteran crew chief Doug Richert departing at the beginning of the new year, BK Racing still employs upwards of 30 people. However, it may be the decision in the court ruling on Thursday that gives a better understanding of where the race team will head going forward.
"We're still battling a little bit, but just stay tuned on that," Devine said of the scheduled Feb. 15 court appearance. "They like to complain about nothing and let me deal with my bank. You don't want anybody dealing with your bank and your mortgage company – I don't want anybody dealing with my bank, either.
"I'm still here, I'm still racing and I still love this sport. They are lucky I am who I am, otherwise there would be one more guy missing out of the garage. That's a real shame." Frontstretch