Brown, Capps, Gray Win in NHRA Northwest Nationals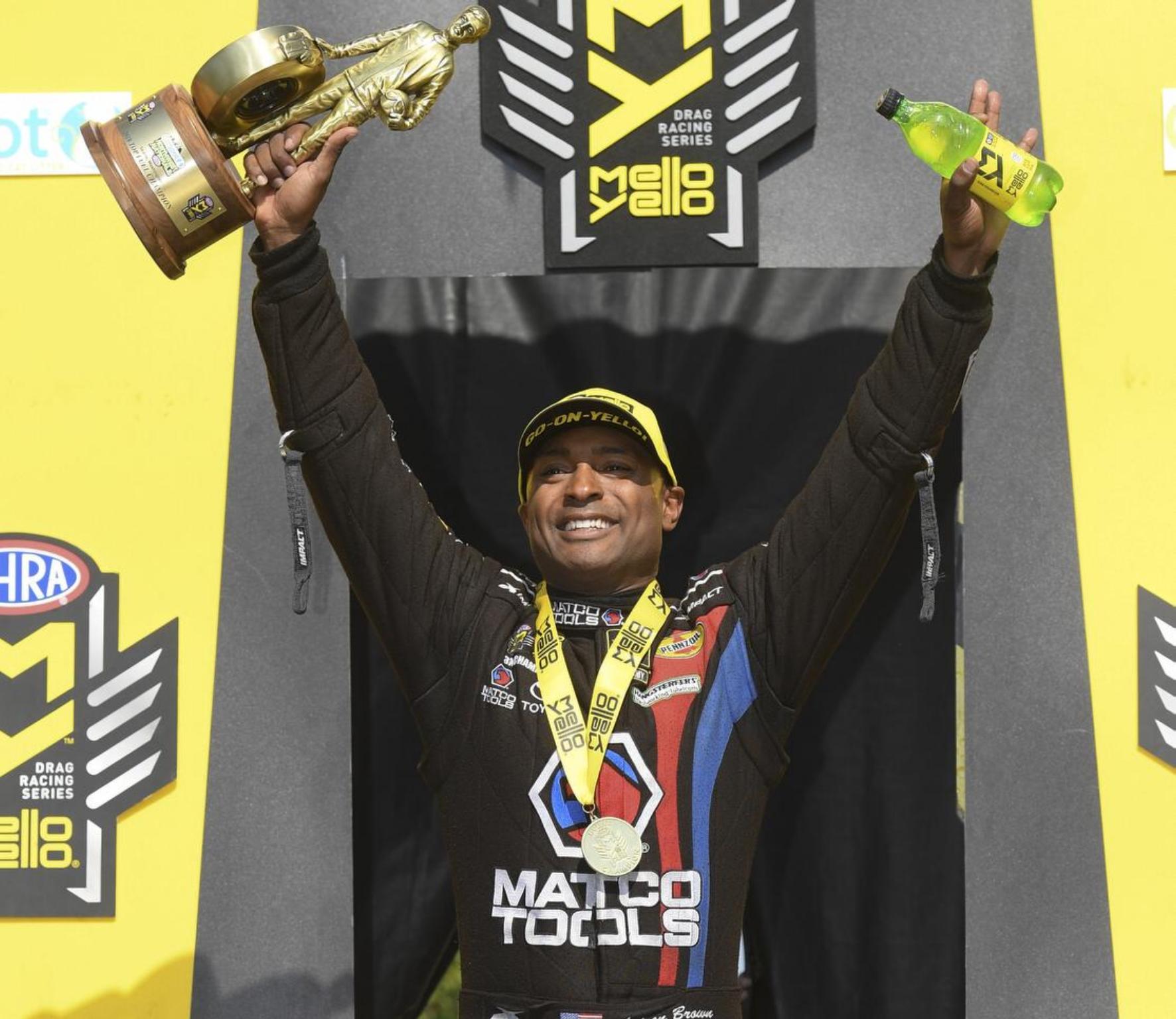 Antron Brown
Antron Brown finally snapped a year-long winless streak on Sunday as the three-time NHRA Top Fuel World Champion scored his first victory of the season – beating out Leah Pritchett to win the 31st annual CatSpot NHRA Northwest Nationals at Pacific Raceways.
Ron Capps won his second national event win of the year in the Funny Car final against Courtney Force, while Tanner Gray collected his division leading fourth Wally of the season with a victory over Deric Kramer in the Pro Stock class.
After seven straight seasons racing up four victories or more, it's hard to imagine seeing Antron Brown struggling to get his Don Schumacher Racing dragster into the Winner's Circle, but since winning this same event just one year ago, Brown has only managed to advance to the finals two previous times, and only once this season.
And despite solidly placing himself in the Countdown, Brown hoped still hoped to end his winless drought before the final "regular season" race in four weeks at the U.S. Nationals.
Brown bested Pritchett with a stellar pass of 3.835-seconds at 322.84 mph to collect his 66th-career NHRA victory and his 50th behind the wheel of a Top Fuel car – becoming the fourth Top Fuel driver in NHRA history with 50 career wins.
"It is no secret that we struggled at the beginning of the year," said Brown. "Our main focus was one run at a time and to get better each time. But today all of the win lights turned on for our team and I couldn't be so proud of all my guys for how persistent that they have been. It had been so long that I hadn't even thought about winning 50 (races) but now that we got that win it is just a true blessing."
Brown picked up early-round victories over Shawn Reed, teammate Tony Schumacher and points leader Steve Torrence to advance to face Pritchett, who evened her 2018 final-round record to 2-2.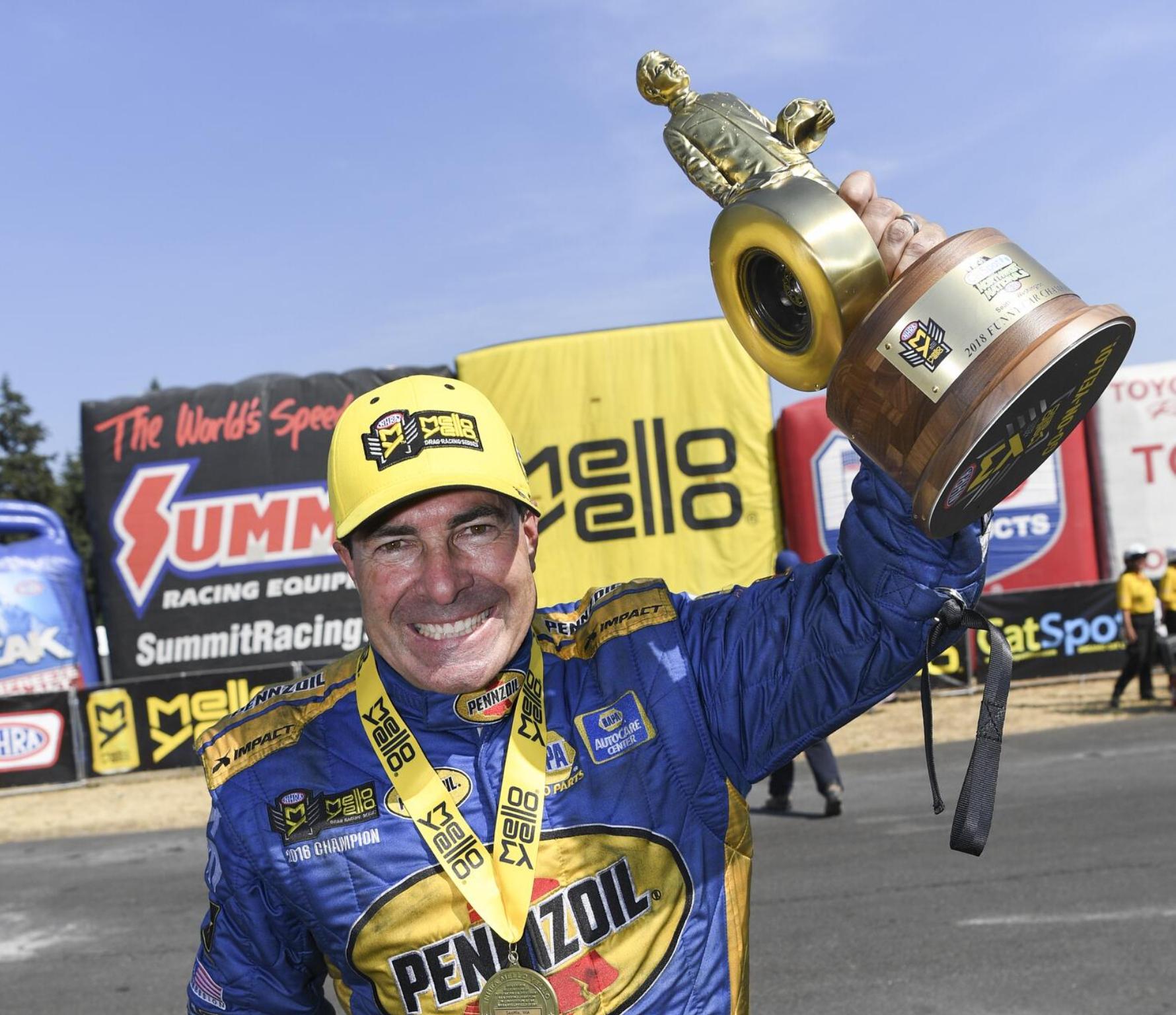 Ron Capps
After posting two straight final round losses against John Force Racing drivers, Ron Capps picked up a measure of revenge in Seattle by eliminating points leader and JFR driver Courtney Force in the Funny Car final for his second victory of the season.
Capps defeated Jonnie Lindberg, teammate Matt Hagan and Tim Wilkerson to advance to face Courtney Force for their fourth final-round meeting, with Capps holding a 2-1 edge.
In the final round, Force was first off the line and led up to the 660-foot mark before the engine started dropping cylinders, allowing Capps to power to the finish line with run of 4.033 at 314.90 mph to collect his 60th-career NHRA victory.
"There's a lot of good solid competition out there," Capps said. "The main thing going through my head was to not let John Force sweep the swing in Funny Car so we put a stop to that. This was Rahn Tobler (crew chief) and I's 24th event victory together since 2012 which is just crazy and I think we're going to have a lot of success the rest of the season."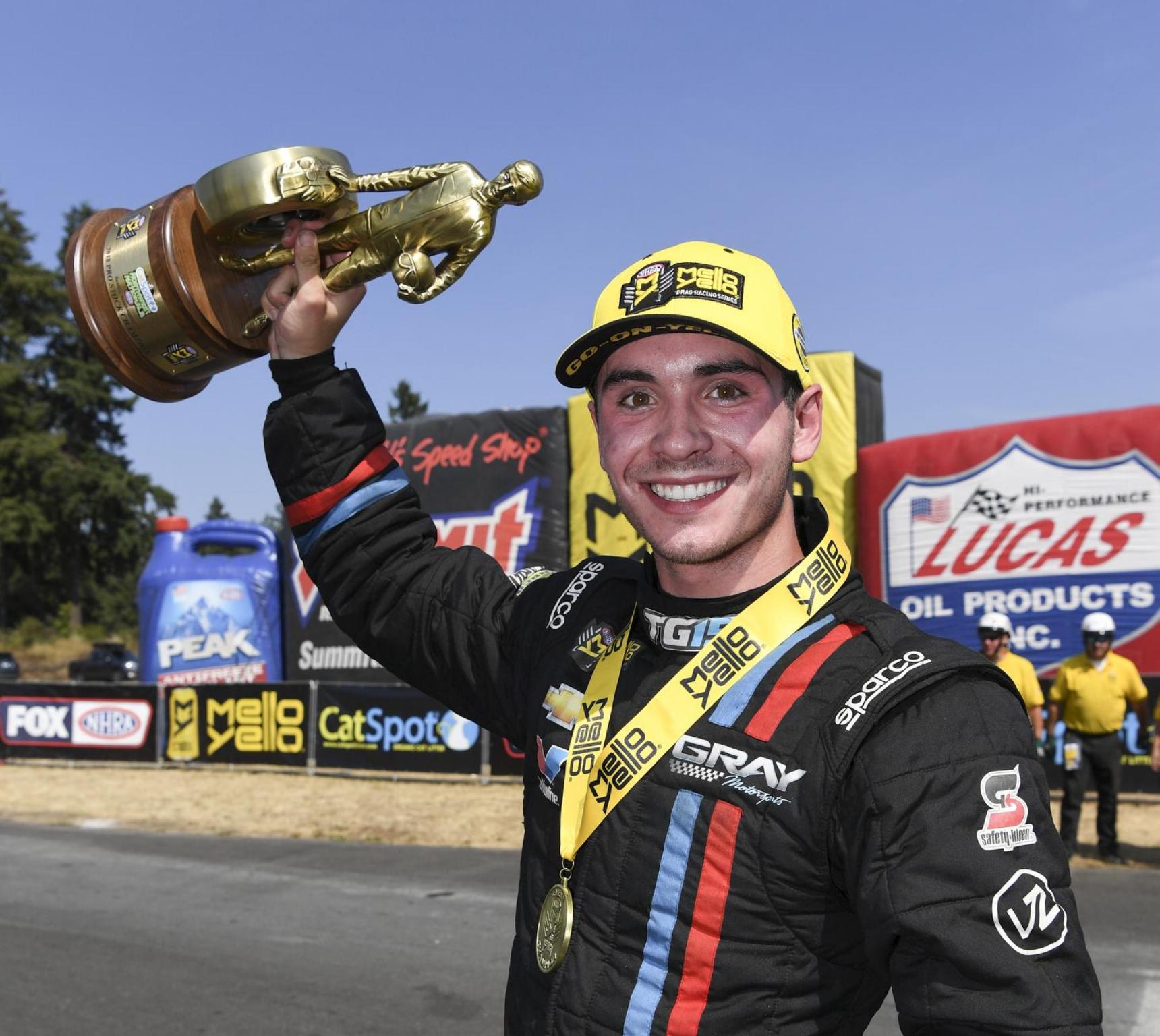 Tanner Gray
In Pro Stock, Tanner Gray beat out Deric Kramer after Kramer lit the red lamp in the final round, handing Gray his fourth victory of the season – tops among all the drivers in the Pro Stock class.
Gray won out over Fernando Cuadra, Jason Line and Vincent Nobile to move onto the money round for his first-ever final meeting against Kramer, who ended finishing runner-up for the second-straight race.
"We went out there and it tried to shake on me but I was able to keep pulling gears and get down there. Luckily, Deric went red. Definitely kind of a lucky win, but I'll take them any way I can get them," said Gray. "All in all, it was a good day. We unloaded off the trailer better and was able to qualify a little better than we have recently. Then (crew chief) Dave (Connolly) and the rest of the guys gave us a pretty consistent car all day right to the final. We kind of got messed up with not getting lane choice over Deric going to the final, but we got lucky and I'll take it any day."
Final round-by-round results from the 31st annual CatSpot NHRA Northwest Nationals at Pacific Raceways, the 16th of 24 events in the NHRA Mello Yello Drag Racing Series:
TOP FUEL:

ROUND ONE — Mike Salinas, 3.745, 324.59 def. Scott Palmer, 3.840, 323.89; Tony Schumacher, 4.137, 258.47 def. Terry McMillen, 6.626, 91.90; Clay Millican, 3.777, 329.34 def. Jim Maroney, 5.406,124.10; Doug Kalitta, 3.790, 328.78 def. Bill Litton, 3.994, 285.29; Steve Torrence, 3.801, 326.16 def. Ron Smith, Broke; Antron Brown, 3.796, 327.03 def. Shawn Reed, 3.887, 322.58; Leah Pritchett, 3.809, 325.53 def. Troy Buff, 3.798, 315.71; Richie Crampton, 4.308, 274.94 def. Brittany Force, 4.429, 238.72;
QUARTERFINALS — Torrence, 3.813, 325.30 def. Crampton, 3.863, 318.69; Salinas, 3.792, 326.08 def. Kalitta, 4.565, 170.60; Pritchett, 3.823, 319.60 def. Millican, 3.957, 266.79; Brown, 4.137, 301.74 def. Schumacher, 4.718, 213.00;
SEMIFINALS — Brown, 3.811, 323.97 def. Torrence, 3.800, 325.85; Pritchett, 3.838, 304.74 def. Salinas, 4.045, 237.63;
FINAL — Brown, 3.835, 322.88 def. Pritchett, 3.849, 320.13.
FUNNY CAR:
ROUND ONE — J.R. Todd, Toyota Camry, 4.037, 319.75 def. Bob Tasca III, Ford Mustang, 4.057,
314.46; Matt Hagan, Dodge Charger, 4.045, 316.52 def. Cruz Pedregon, Camry, 4.854, 166.11; Robert Hight, Chevy Camaro, 3.950, 320.36 def. Gary Densham, Mustang, 5.189, 147.13; Courtney Force, Camaro, 4.060, 317.79 def. Jim Campbell, Charger, Foul – Red Light; Tim Wilkerson, Mustang, 4.001, 313.15 def. Richard Townsend, Camry, 6.373, 106.37; Shawn Langdon, Camry, 4.017, 318.69 def. Jack Beckman, Charger, 4.026, 315.56; Tommy Johnson Jr., Charger, 4.177, 301.74 def. John Force, Camaro, 5.598, 138.27; Ron Capps, Charger, 3.989, 321.04 def. Jonnie Lindberg, Mustang, 4.049, 317.79;
QUARTERFINALS — Wilkerson, 4.037, 316.52 def. Todd, 4.049, 316.23; Johnson Jr., 4.074, 318.09 def. Hight, 4.551, 215.37; Capps, 3.998, 320.43 def. Hagan, 4.032, 311.27; C. Force, 4.023, 322.11 def. Langdon, 4.036, 318.02;
SEMIFINALS — C. Force, 4.011, 320.20 def. Johnson Jr., 4.062, 316.08; Capps, 4.002, 315.49 def. Wilkerson, Broke;
FINAL — Capps, 4.033, 314.90 def. C. Force, 4.115, 255.63.
PRO STOCK:

ROUND ONE — Vincent Nobile, Chevy Camaro, 6.594, 210.08 def. Chris McGaha, Camaro, Foul – Red Light; Bo Butner, Camaro, 6.601, 210.14 def. Alex Laughlin, Camaro, 6.593, 209.17; Deric Kramer, Camaro, 6.552, 210.87 def. Drew Skillman, Camaro, 6.577, 210.11; Jason Line, Camaro, 6.548, 210.31 def. Matt Hartford, Camaro, 6.575, 211.00; Tanner Gray, Camaro, 6.546, 210.73 def. Fernando Cuadra, Camaro, 6.584, 209.56; Erica Enders, Camaro, 6.548, 211.30 def. Alan Prusiensky, Dodge Dart, 6.665, 207.46; Greg Anderson, Camaro, 6.543, 210.11 def. Steve Graham, Camaro, 6.637, 208.84; Jeg Coughlin, Camaro, 6.549, 211.23 def. Joey Grose, Camaro, 6.723, 206.35;
QUARTERFINALS — Nobile, 6.579, 209.33 def. Coughlin, 6.589, 210.64; Kramer, 6.544, 209.92 def. Enders, 6.566, 210.47; Gray, 6.570, 210.60 def. Line, 6.573, 210.37; Butner, 6.573, 211.13 def. Anderson, 8.996, 108.14;
SEMIFINALS — Gray, 6.574, 210.77 def. Nobile, 6.606, 209.75; Kramer, 6.565, 209.88 def. Butner, Foul – Red Light;
FINAL — Gray, 6.632, 210.05 def. Kramer, Foul – Red Light.
Point standings (top 10) following the 31st annual CatSpot NHRA Northwest Nationals
at Pacific Raceways, the 16th of 24 events in the NHRA Mello Yello Drag Racing Series –
Top Fuel
1. Steve Torrence, 1,251*; 2. Tony Schumacher, 1,090*; 3. Clay Millican, 1,084*; 4. Leah Pritchett, 1,083*; 5. Doug Kalitta, 995*; 6. Antron Brown, 927; 7. Terry McMillen, 759; 8. Brittany Force, 731; 9. Richie Crampton, 660; 10. Scott Palmer, 649; 11. Mike Salinas, 619; 12.
Blake Alexander, 522.
Funny Car
1.Courtney Force, 1,300*; 2. Ron Capps, 1,146*; 3. Robert Hight, 1,085*; 4. Matt Hagan, 1,064*; 5. Jack Beckman, 999; 6. J.R. Todd, 914; 7. Tommy Johnson Jr., 892; 8. John Force, 824; 9.Shawn Langdon, 736; 10. Bob Tasca III, 691; 11. Tim Wilkerson, 688; 12. Cruz Pedregon, 641; 13. Jonnie Lindberg, 598; 14. Jim Campbell, 451; 15. Del Worsham, 380.
Pro Stock
1. Greg Anderson, 1,189*; 2. Tanner Gray, 1,147*; 3. Erica Enders, 1,082*; 4. Vincent Nobile, 1,052*; 5. Jeg Coughlin, 1,020*; 6. Chris McGaha, 939; 7. Deric Kramer, 928; 8. Drew Skillman, 927; 9. Jason Line, 913; 10. Bo Butner, 895; 11. Alex Laughlin, 681.
* Clinched berth in NHRA Mello Yello Countdown to the Championship
[adinserter name="GOOGLE AD"]