IndyCar Mid-Ohio Honda Indy 200 postscript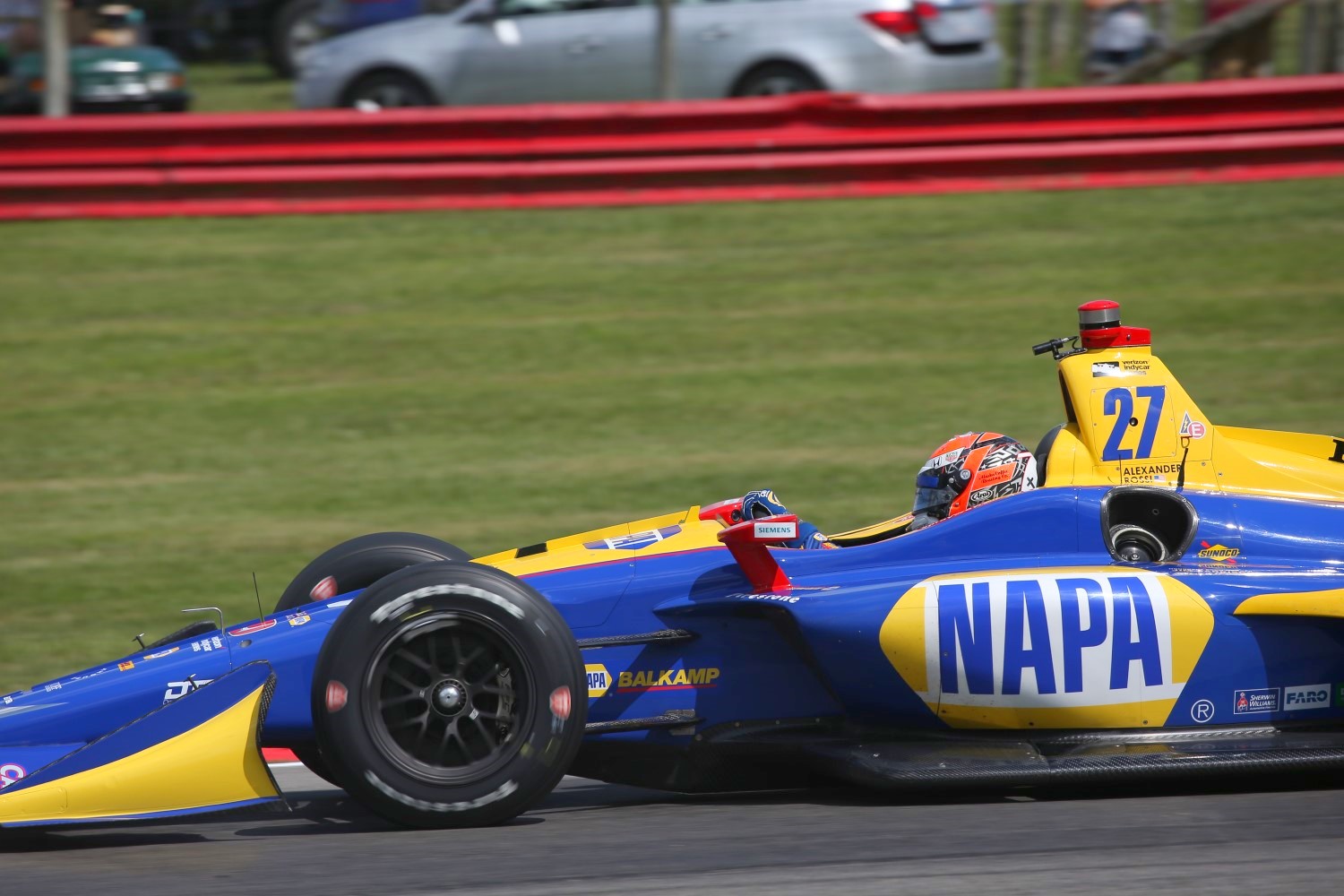 Rossi was fastest, but he and his Andretti team used a rope-a-dope strategy on its competitors, and beat them using a 2-stop strategy to perfection
Alexander Rossi dominates and finds himself in a mini-controversy; Scott Dixon seems to have a host of suitors; the Mazda Road to Indy is undergoing some changes.
Yes, we have a host of stories to come out of this past weekend's Honda Indy 200 at Mid-Ohio. So, let's get started with the Mid-Ohio Postscript.
Dixon
NBC Sports' Robin Miller commented on air during Sunday's race that Team Penske might be interested in the services of Scott Dixon for 2019. I'm actually surprised so many people were surprised, as Roger Penske has stated previously on record that he'd be interested in Dixon were he to ever become available.
I think the question then becomes well, why is Dixon available?
Keep in mind, since joining Chip Ganassi Racing in 2002, Dixon has been a one-team man. There was a chance back in 2004 that he would move to Formula One with Williams, but he was passed over in favor of Mark Webber. Otherwise, Dixon and Ganassi have been bread and butter, peanut butter and jelly, wine and cheese, a pair seemingly forever linked.
[adinserter name="GOOGLE AD"]And from Dixon's perspective, why would you want to leave Ganassi? Whereas drivers such as Josef Newgarden, Rossi, Will Power and others are in situations where they have to share the pie so to speak, you are the undisputed number 1 driver on a team that has won 11 championships in the last 22 seasons. You are Sebastian Vettel at Red Bull, Michael Schumacher at Ferrari. You are in the ideal position for any race car driver to be in. Even a seat with the Penske Armada, or a start-up McLaren effort do not, in my opinion, offer what Dixon has at Ganassi.
Also, I think it's rather safe to assume the team wouldn't really think twice about extending the relationship to an 18th season in 2019. Yes, Dixon is 38, but he isn't exactly over the hill, having won three of the last 7 IndyCar races and leaving Mid-Ohio with a 46-point championship lead. Plus, you have to think that if anyone is going to age well it will be Dixon, who from all indications has lived a clean, relatively stress free existence. Granted, Ganassi probably doesn't want to lock Dixon up for another 5 years; but there's nothing on the surface that would cause any hesitation from the team to lock Dixon up another 2-3 years.
So, what's the holdup?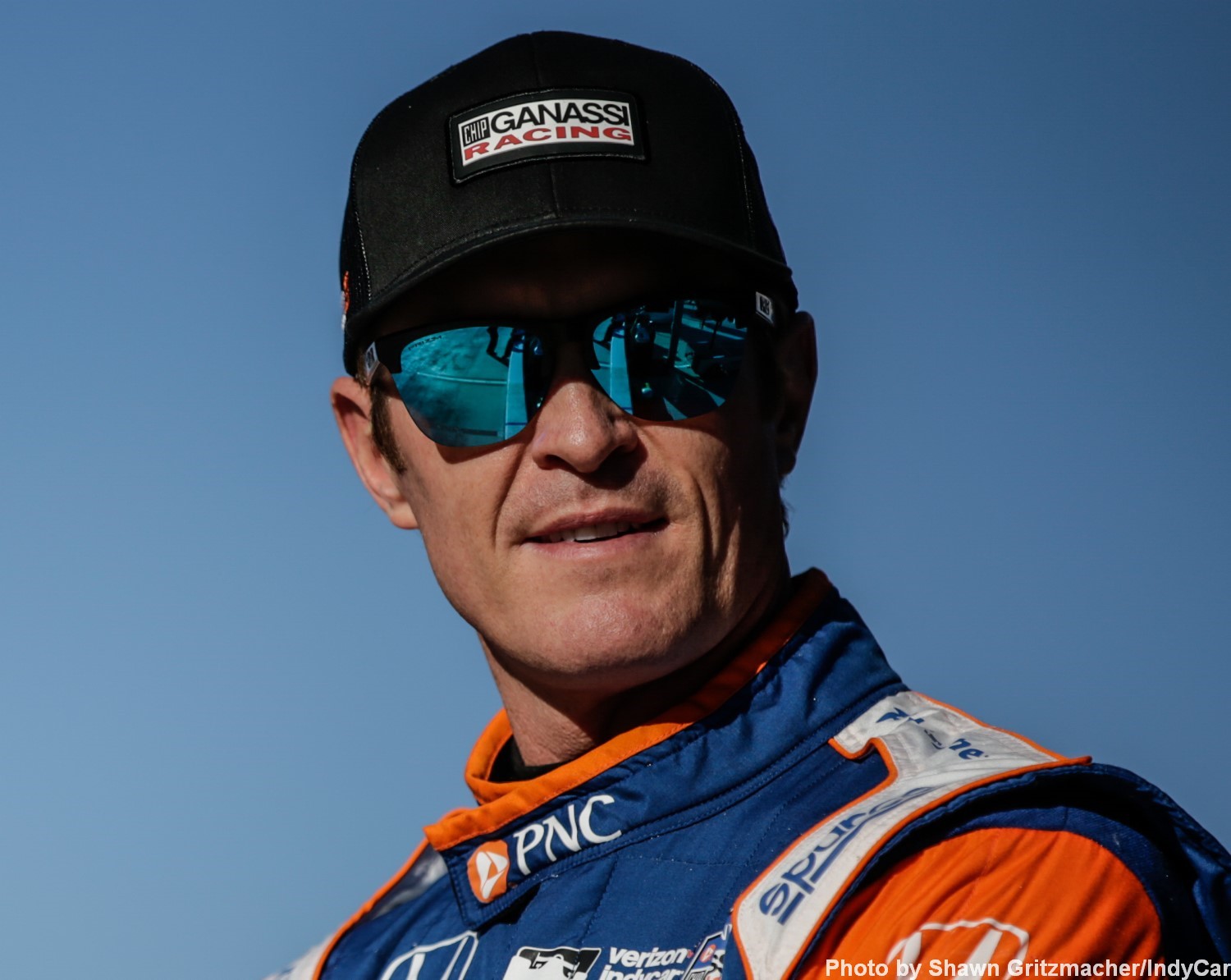 The body language of the Ganassi crew leads us to believe Dixon might indeed be gone from Ganassi
Perhaps, and this is pure speculation, Ganassi doesn't have their 2019 sponsorship program locked up at the moment. Now, that's not necessarily abnormal for any race team, but it could be for Ganassi. Remember, for years, Ganassi always had Target sponsorship in place, which perhaps allowed the team to go out and get guys like Dario Franchitti, Dan Wheldon, and Tony Kanaan, and/or keep Dixon from ever getting to the open-market. Has that ability changed in recent years? Dixon, at the very least, seems to be a free agent in a way he's never been a free agent before.
Now, let's take a look at Dixon's rumored suitors. McLaren and Penske aren't merely race teams; they are essentially auxiliary pieces of larger conglomerates. Both we know can write Dixon a rather large check right now, and figure out the details later.
Also, all indications are there are not exactly a ton of free agents on the market this offseason. Rossi is signed through 2019, and Robert Wickens reportedly has a 5-year deal with Schmidt Peterson Motorsports. While I imagine a Dixon departure might lead Ganassi to Sebastien Bourdais, Dixon knows the market isn't flush with young available hotshots. And perhaps Dixon knows he holds a little more leverage relative to the team than he has in the past.
As for Penske….
Look, I have no doubt that Penske would be willing to write Dixon a giant check tomorrow. Not only would this be a huge boon to Penske's team, but it would also eliminate what has been Team Penske's biggest nemesis for over a decade.
In an era in which teams struggle to get any sort of performance edge, Penske buying up available talent would not shock me in the least.
But what happens if Dixon does sign Penske? Does the team expand to 4 cars again? Or does Penske move along say, Simon Pagenaud, who is enduring a disappointing season?
Yes, it would seem odd for Penske to move a driver along two years after winning a championship. But remember, Penske replaced Juan Pablo Montoya with Josef Newgarden less than two years after Montoya won the Indianapolis 500. Heck, if you want to go back, Tom Sneva won the 1977 USAC Championship and was not retained by The Captain. In short, there is precedent in regard to the parameters necessary for a Dixon move to Penske – whether it be three or four cars.
Whatever the case, Dixon doesn't seem to be in a huge rush. If so, we have a very interesting few weeks ahead of us.
As for McLaren…
I speculated on this in the Sunday Overheard, in particular with regard to Dixon and McLaren. From what it seems, Michael Andretti believes the McLaren-to-IndyCar deal, and perhaps Fernando Alonso too, remains very much alive. Where Dixon fits into that – if he fits into that – remains uncertain
Rossi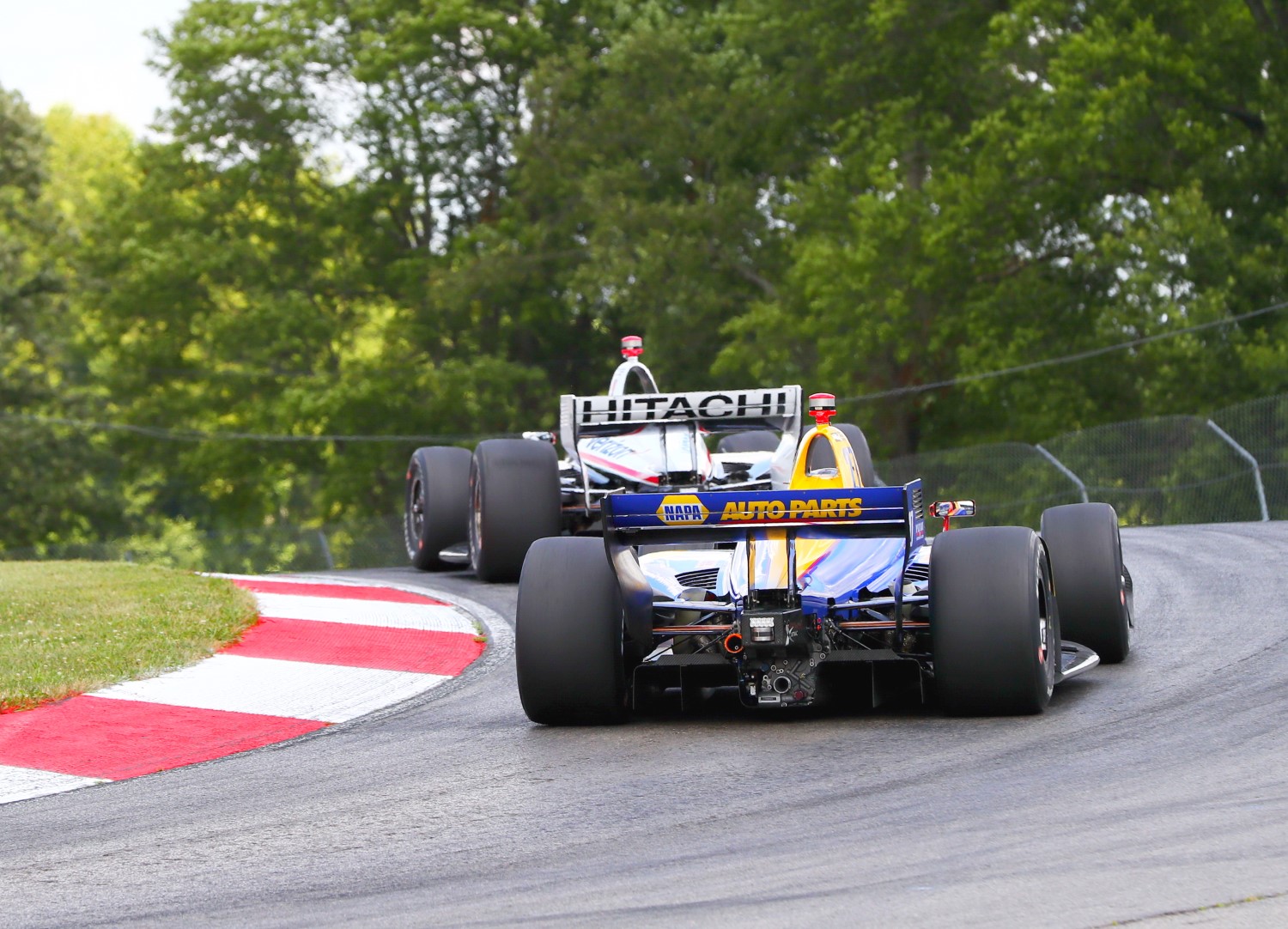 Rossi rope-a-doped Newgarden by letting him past in the race to burn his fuel, then beat him by making one less pitstop.
I think very highly of young Rossi's abilities behind the wheel. And for a more in-depth discussion of that I'll link you to this week's AR1 IndyCar Podcast with Brian Carroccio.
But for now, I'm going to talk about the controversial start of the race, in which Rossi found himself under attack. Paul Tracy called Rossi's start "dirty" noting that "he (Rossi) brake-checked the whole field." Robert Wickens was somewhat more measured, calling Rossi's start "cheeky."
And I suppose Rossi may have violated some sort of unwritten rule. But this much in my opinion is clear: whatever you thought of Rossi's start it violated no written rule. From my reading of the rule book, the notion that the leader must maintain some sort of consistent speed applies only to restarts not starts. See below.
7.7.1.3 At the appropriate time, the Pace Car lights will be turned off, indicating the intent to restart the Race. The leader is required to maintain the pace lap speed until reaching a point designated by INDYCAR near the start/finish line when the leader shall accelerate smoothly back to racing speed and the Green Condition will then be declared…
The above is what people seemed to be referencing when it comes to the idea that a smooth pace must be maintained by the leader. The problem is section 7.7 of the IndyCar Rule Book deals with a Race Restart not a Race Start; that's section 7.6. And if you look through section 7.6, there is nothing that places any burden on the leader of the Race Start to smoothly accelerate. Again, according to the Rule Book that burden only exists on a Race Restart.
Simply put, whatever you or anyone else happen to think of Rossi's start, it violated no rule that I can see.
The Best Solution
Champ Car never had any problem with its standing starts, but of course the Champ Car was a superior car
This tends to be something of a no-fly zone with many in the world of IndyCar. But I can tell you right now, what will get rid of any shenanigans at the start of races: standing starts.
Not only are standing starts infinitely more exciting, they are inherently more fair. Obviously, the series had a somewhat ill-fated attempt to implement standing starts in 2014. However, as I've written numerous times in the past, hundreds of racing series throughout the world – most with nothing even close to the budget of an IndyCar team budget – conduct standing starts on any given weekend. With a new car coming in 2020, it's time to implement the technology for standing starts. Note: See Videos Below – the superior Champ Cars were doing standing starts 14 years ago
MRTI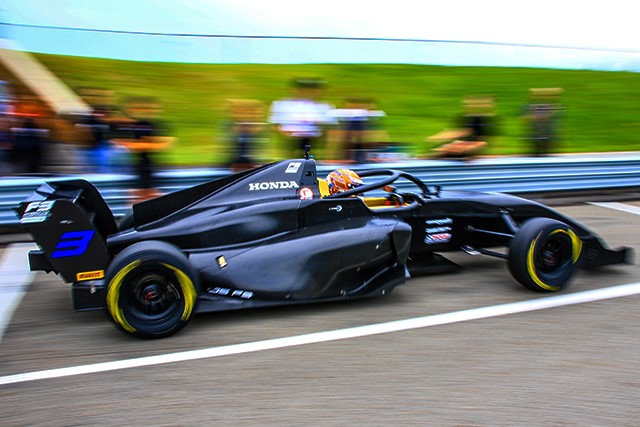 Should the entire IndyCar ladder system be replaced with the global FIA ladder system?
IndyCar and Andersen Promotions reacted quickly to the news that Mazda would be discontinuing its partnership with the Road to Indy following the 2018 season, outlining a five-year plan to strengthen Indy Lights participation.
Now, I was pretty deep into writing this article when the five-year plan was announced, so I haven't had the opportunity to delve into it in any depth. However, at first glance, I don't love the idea of making rules to pigeon hole drivers into a series that is struggling to gain entrants. It reeks of "our program isn't viable enough on its own, so well, let's make some artificial rules to prop it up."
Again, I reserve the right to change that opinion upon further observation. But I have no reservation in saying, the above was my first reaction.
Kudos to IndyCar…
Once again, for the new lower downforce universal aero kit. Although, Rossi was largely untouched at the front, the action through the middle of the pack was very good, most notably, Bourdais' drive from last on the grid to sixth.
While Mid-Ohio will likely never be known as an overtaking paradise, the drivers seemed to have the ability to outbrake going into turn 4. And the many spectators on that 4-5-6 hillside area at Mid-Ohio were treated to quite a show.
Again, I know the new aero kit hasn't resulted in an amazing show everywhere, the Indianapolis 500 most notably. However, Mid-Ohio reminded us that, conceptually speaking, INDYCAR is on the right track with the new package.
Kudos also to…
Andretti Autosport. The team hosted a very nice event on Friday evening, inviting the media for dinner. The team's drivers and key principals were friendly, available and helpful.
Brian Carroccio is a senior columnist for AutoRacing1 and the host of the AR1 IndyCar Podcast with Brian Carroccio. He can be contacted at BrianC@AutoRacing1.com
Watch Champ Cars execute a perfect standing start at Long Beach in 2006. IndyCar today is still inferior and cannot do them
First ever Champ Car Standing Start at Portland. Today's inferior IndyCars cannot do this