Christopher Bell Makes It Three In A Row at Iowa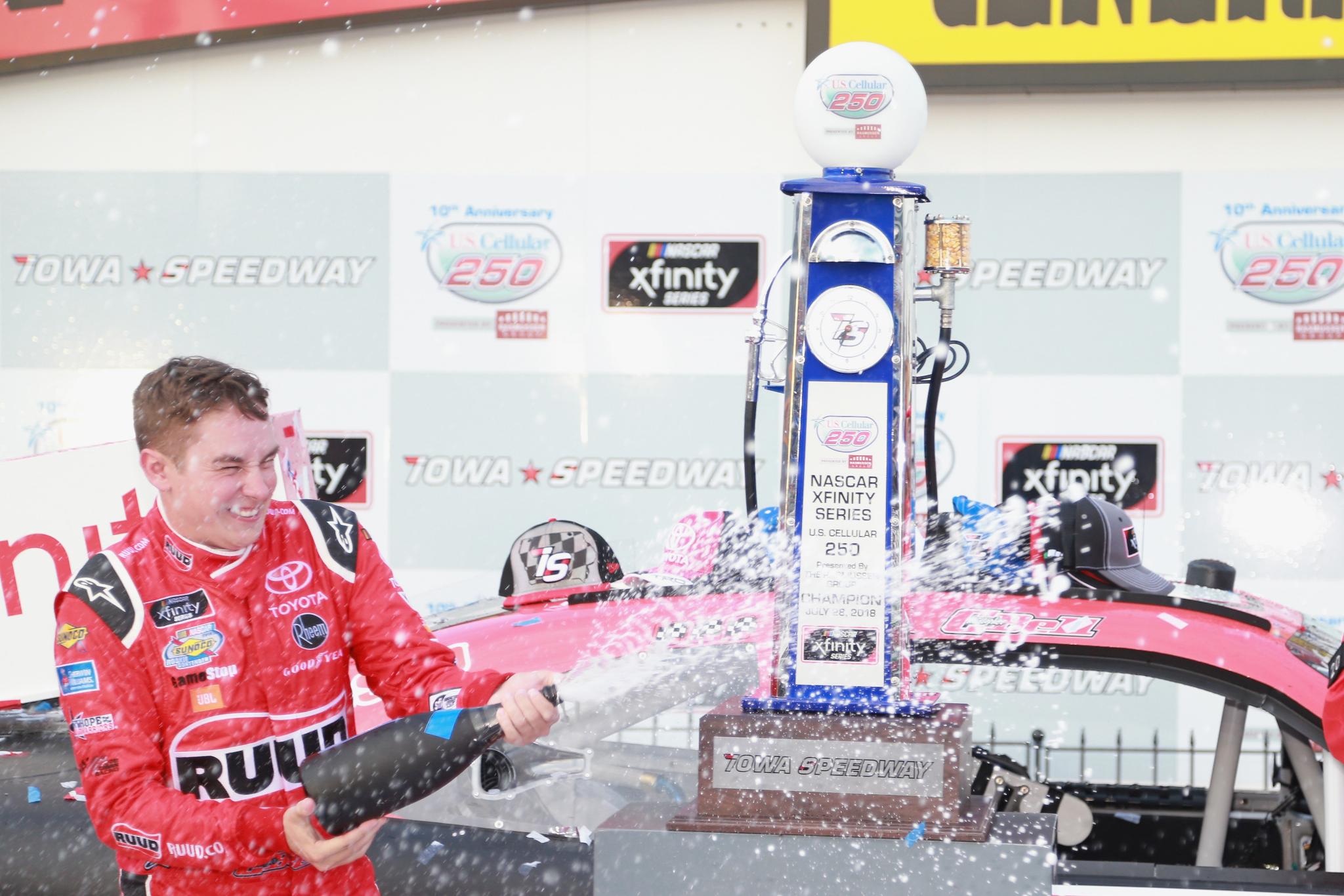 Christopher Bell
Matt Sullivan/Getty Images
How long had it been since a non-Monster Energy Cup regular triumphed in three straight Xfinity Series races?
Even NASCAR star-turned-NBC Sports Network commentator Dale Earnhardt, Jr., didn't seem to know the answer when asked on-air — and he was the most recent driver to accomplish the feat in 1999.
Until Saturday at Iowa Speedway.
Christopher Bell somehow steered clear of a spate of potential disasters within the final 15 laps of the mostly-green U.S. Cellular 250, wheeling his No. 20 Ruud Toyota to Victory Lane for the third consecutive time.
"When it's your day, it's your day," a smiling Bell said as he celebrated by his car. "I'll take them any way."
Whew? Sure.
Wild? Even more so.
"Our Ruud Camry was really, really good," Bell said. "I'm just thankful we were able to get Ruud in Victory Lane. This is their first win. All these Camry's are made in Georgetown, Kentucky here in the United States, so it's special to win for these guys."
Bell somehow kept his car intact after Chase Briscoe spun in front of him with 14 to go. The 23-year-old Joe Gibbs racing rookie's car sustained some damage, but he managed to maintain the lead after the restart — until Garrett Smithley spun out to draw another caution flag. Then the inexplicable occurred. On the following restart, Justin Allgaier — who won the June race at Iowa — boldly drove the high groove to the lead. Bell was shuffled back to fourth during a four-wide restart that completed one lap before contact between Matt Tifft and Max Tullman caused the red flag to wave.
Bell was momentarily stunned. How'd it happen?
"I don't know," he told NBC Sports during the red flag. "I really don't know."
[adinserter name="GOOGLE AD"] But it would be Allgaier shaking his head after Bell found a way to reverse his fortunes on the final restart. He also said he felt Bell didn't race him as clean as he's accustomed to at the end. "It's just disappointing to get run over," said Allgaier, who settled for second. "I know that Christopher definitely had the best car. … It's a good day at Iowa. 1-2 in the two races here. I know social media's going to blow up. They're going to hate me for being mad at Christopher, but it is what it is."
Bell said his last-gasp restart maneuver past Allgaier had been executed according to plan.
"I mean, I haven't seen it so I don't know, but the spotter was yelling clear and if I'm clear then it was clean," Bell said.
Bell's third win in as many weeks shuffled up spots atop the point standings.
He now leads Elliott Sadler by 16 points, 702 to 686. Cole Custer — who led 104 laps before car troubles hit later in the race — is third with 684 points and Daniel Hemric ranks fourth, a mere five points behind Custer, who finished ninth in Saturday's race.
Kyle Benjamin, Ross Chastain and John Hunter Nemechek completed Saturday's top-five.
Sadler, Saturday's pole-sitter, led most of the first stage and finished sixth.
Bell led 94 laps and shrugged off disappointment over a second-place June finish at Iowa.
Now the former dirt open-wheel racer's accomplished something no series regular has done in this millennium.
"It's pretty cool, man," Bell said. "I'm just kind of speechless. These races are really hard to win."
RACE RESULTS

| | | | | | | | | |
| --- | --- | --- | --- | --- | --- | --- | --- | --- |
| Finish | Start | # | Driver | Sponsor/Make | Laps | Led | Points | Status |
| 1 | 3 | 20 | Christopher Bell # | Ruud Toyota | 257 | 94 | 58 | Running |
| 2 | 7 | 7 | Justin Allgaier | Precision Tank Chevrolet | 257 | 6 | 48 | Running |
| 3 | 4 | 18 | Kyle Benjamin | Toyota Service Centers/Mobil 1 Toyota | 257 | 5 | 44 | Running |
| 4 | 18 | 4 | Ross Chastain | KM Sports/Future Media Sales Chevrolet | 257 | 0 | 33 | Running |
| 5 | 11 | 42 | John Hunter Nemechek | Fire Alarm Services Inc. Chevrolet | 257 | 0 | 40 | Running |
| 6 | 1 | 1 | Elliott Sadler | US Cellular Chevrolet | 257 | 41 | 43 | Running |
| 7 | 19 | 16 | Ryan Reed | Drive Down A1C Lilly Diabetes Ford | 257 | 0 | 32 | Running |
| 8 | 14 | 11 | Ryan Truex | Phantom Fireworks Chevrolet | 257 | 0 | 29 | Running |
| 9 | 2 | 0 | Cole Custer | Haas Automation Ford | 257 | 104 | 47 | Running |
| 10 | 12 | 60 | Chase Briscoe | Ford Ford | 257 | 0 | 27 | Running |
| 11 | 10 | 21 | Daniel Hemric | South Point Hotel & Casino Chevrolet | 257 | 0 | 29 | Running |
| 12 | 9 | 19 | Brandon Jones | Menards/Tide Toyota | 257 | 1 | 36 | Running |
| 13 | 8 | 3 | Shane Lee | Childress Vineyards Chevrolet | 256 | 6 | 25 | Running |
| 14 | 17 | 5 | Michael Annett | TMC Chevrolet | 256 | 0 | 23 | Running |
| 15 | 15 | 23 | Casey Roderick | Chevy Accessories Chevrolet | 256 | 0 | 22 | Running |
| 16 | 21 | 36 | Alex Labbe # | RoyAuto.com/VR Victoriaville Chevrolet | 255 | 0 | 21 | Running |
| 17 | 22 | 35 | Joey Gase | SALARMYWESTERN.ORG/Iowa Donate Network | 255 | 0 | 20 | Running |
| 18 | 6 | 22 | Austin Cindric # | LTi Printing Ford | 254 | 0 | 32 | Running |
| 19 | 23 | 52 | David Starr | Honest Wrenches Chevrolet | 253 | 0 | 18 | Running |
| 20 | 13 | 51 | Jeremy Clements | RepairableVehicles.com Chevrolet | 253 | 0 | 17 | Running |
| 21 | 25 | 78 | Tommy Joe Martins | Riessen Construction Chevrolet | 253 | 0 | 16 | Running |
| 22 | 5 | 9 | Tyler Reddick # | Takl Chevrolet | 252 | 0 | 15 | Running |
| 23 | 27 | 76 | Spencer Boyd # | Grunt Style Chevrolet | 252 | 0 | 14 | Running |
| 24 | 31 | 90 | Josh Williams | Sleep Well Chevrolet | 251 | 0 | 13 | Running |
| 25 | 24 | 0 | Garrett Smithley | FAME / fame-usa.com Chevrolet | 250 | 0 | 12 | Running |
| 26 | 16 | 2 | Matt Tifft | American Ethanol e15 Chevrolet | 249 | 0 | 11 | Accident |
| 27 | 28 | 15 | Brandon Hightower | Kustom Race Parts Chevrolet | 249 | 0 | 10 | Running |
| 28 | 30 | 8 | Ray Black II | Chevrolet | 248 | 0 | 9 | Running |
| 29 | 34 | 1 | Vinnie Miller # | JAS Expedited Trucking LLC Chevrolet | 247 | 0 | 8 | Running |
| 30 | 26 | 26 | Max Tullman(i) | Zoomi\Myota Ford | 245 | 0 | 0 | Accident |
| 31 | 36 | 55 | Peter Shepherd III | National Exhaust Systems Toyota | 242 | 0 | 6 | Running |
| 32 | 35 | 74 | Mike Harmon | Horizon Transport Chevrolet | 241 | 0 | 5 | Running |
| 33 | 37 | 66 | Stan Mullis | TLC Resorts Chevrolet | 236 | 0 | 4 | Running |
| 34 | 20 | 39 | Ryan Sieg | Lombard Bros. Gaming Chevrolet | 206 | 0 | 3 | Running |
| 35 | 32 | 38 | Jeff Green | RSS Racing Chevrolet | 140 | 0 | 2 | Ignition |
| 36 | 40 | 92 | Dexter Bean | Chevrolet | 73 | 0 | PE | Vibration |
| 37 | 29 | 40 | Chad Finchum # | MBM Motorsports Toyota | 56 | 0 | 1 | Brakes |
| 38 | 33 | 89 | Morgan Shepherd | Visone RV Chevrolet | 46 | 0 | 1 | Brakes |
| 39 | 39 | 93 | Stephen Leicht | RSS Racing Chevrolet | 36 | 0 | 1 | Electrical |
| 40 | 38 | 45 | Josh Bilicki # | Prevagen Toyota | 2 | 0 | 1 | Engine |

[adinserter name="GOOGLE AD"]