Daniel Suarez Wins First Career Cup Series Pole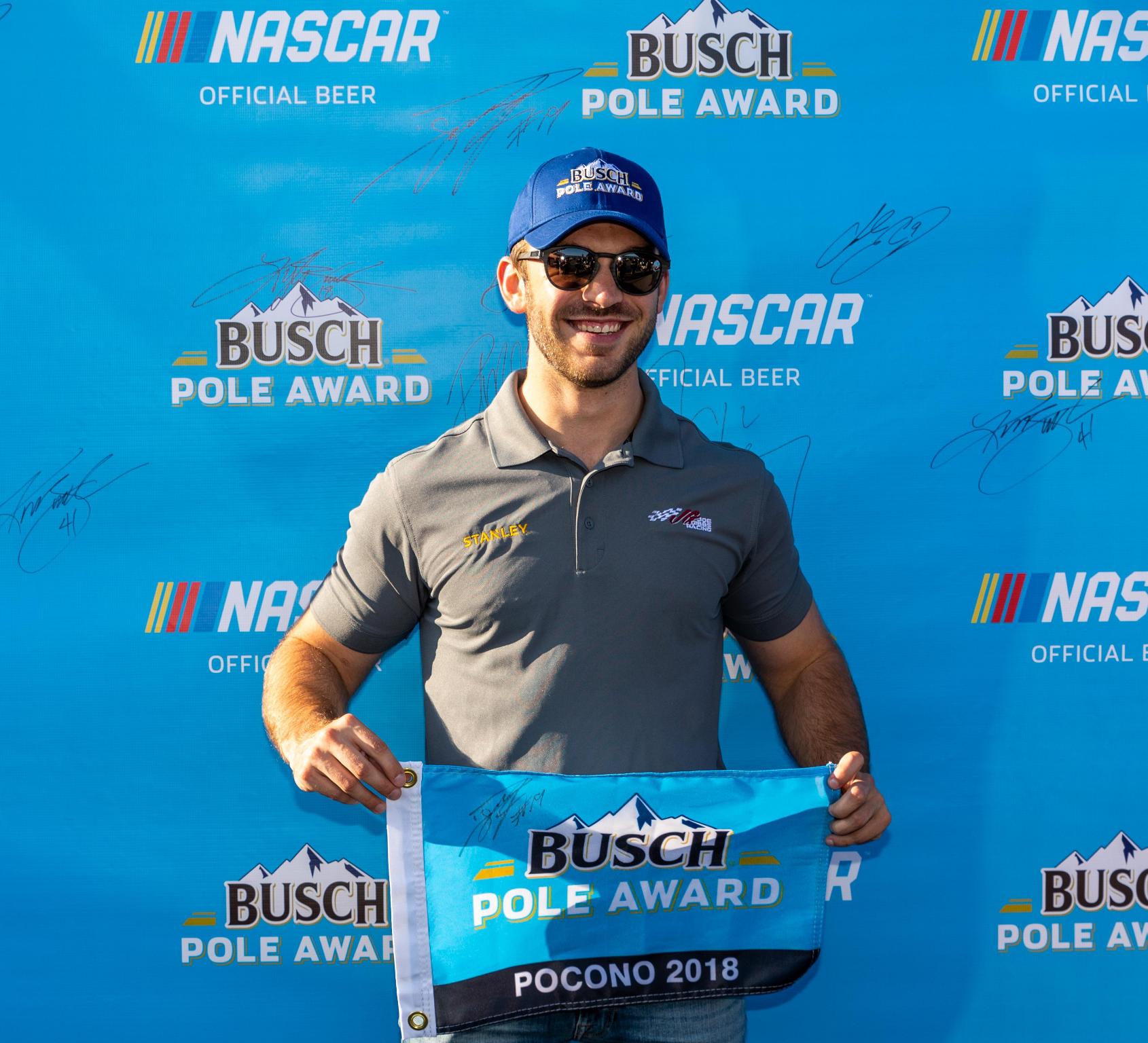 Daniel Suarez
Andrew Hampton/Pocono Raceway
Thanks to a double disqualification of two of the Monster Energy NASCAR Cup Series' so-called "Big Three," Daniel Suarez earned the first Busch Pole Award of his career.
In the final round of Friday's knockout qualifying at Pocono Raceway, Suarez navigated the 2.5-mile track in 50,851 seconds (176.988 mph) to claim the top starting position when the cars of Kevin Harvick and Kyle Busch failed post-qualifying inspection.
Both Harvick and Busch had posted faster laps than Suarez, but Harvick's No. 4 Stewart-Haas Racing Ford failed the Optical Scanning Station, and Busch's No. 18 Toyota was outside tolerances at the chassis station.
That put Suarez on the pole, surpassing his previous best starting spot of third last June at Dover International Speedway. The driver of the No. 19 Joe Gibbs Racing Toyota put his car on the pole without making a mock qualifying run in practice.
"I think this is one of the races of the year where we did not make a qualifying run in practice," said Suarez, the first Mexican driver to win a pole in NASCAR's premier series. "We just talked about race trim, and that was the plan.
"We didn't do a "Q" run in practice, and that's why we didn't look very good on the (speed) chart. But we were a top-10, top-eight car for sure in practice. We made some adjustments for qualifying, and actually the car felt better and more connected, so I'm happy for that."
Suarez was at his motor home, analyzing data and studying where he had lost time to Harvick and Busch when he was told to report to the media center as the pole winner.
"Next time I hope I can get the pole by being the fastest guy, not by a couple of guys being disqualified," Suarez said. "But it's fine—we'll take it."
[adinserter name="GOOGLE AD"] Harvick ran the fastest lap of the day at 177.750 mph, but both his run and that of Busch were disallowed because of inspection failures. Both drivers will start from the rear of the field in Sunday's race.
Since finishing third at Dover in May, Suarez has gone nine straight races without a victory, but he sensed the performance at Pocono was a turning point.
"The guys have been working very hard for the last couple months to put things the right way," Suarez said. "Obviously, we know we can run well, and we can run in the front.
"All my guys are really talented, and I know that I can do it, and the results haven't been there. So this is a good thing for us."
Lineup
| | | | | | |
| --- | --- | --- | --- | --- | --- |
| Pos | Car | Driver | Team | Time | Speed |
| 1 | 19 | Daniel Suarez | Stanley Toyota | 50.851 | 176.988 |
| 2 | 11 | Denny Hamlin | FedEx Express Toyota | 51.012 | 176.429 |
| 3 | 20 | Erik Jones | Reser's Toyota | 51.023 | 176.391 |
| 4 | 2 | Brad Keselowski | Alliance Truck Parts Ford | 51.050 | 176.298 |
| 5 | 1 | Jamie McMurray | Arctic Cat Chevrolet | 51.103 | 176.115 |
| 6 | 9 | Chase Elliott | NAPA Auto Parts Chevrolet | 51.112 | 176.084 |
| 7 | 41 | Kurt Busch | Haas Automation Ford | 51.322 | 175.363 |
| 8 | 78 | Martin Truex Jr. | Auto-Owners Insurance Toyota | 51.356 | 175.247 |
| 9 | 31 | Ryan Newman | Bass Pro Shops/Cabela's Chevrolet | 51.498 | 174.764 |
| 10 | 88 | Alex Bowman | AXALTA All-Pro Teachers Chevrolet | 51.540 | 174.622 |
| 11 | 6 | Matt Kenseth | Roush Performance Ford | 51.654 | 174.236 |
| 12 | 37 | Chris Buescher | Scott Products Chevrolet | 51.990 | 173.110 |
| 13 | 34 | Michael McDowell | Dockside Logistics Ford | 52.023 | 173.000 |
| 14 | 47 | AJ Allmendinger | Kroger ClickList Chevrolet | 52.118 | 172.685 |
| 15 | 13 | Ty Dillon | GEICO Chevrolet | 52.174 | 172.500 |
| 16 | 38 | David Ragan | A&W All American Food Ford | 52.241 | 172.278 |
| 17 | 17 | Ricky Stenhouse Jr. | Ford Ford | 52.319 | 172.022 |
| 18 | 32 | Matt DiBenedetto | Dude Wipes Ford | 52.517 | 171.373 |
| 19 | 96 | Jeffrey Earnhardt | Xtreme Concepts Inc. Toyota | 53.313 | 168.814 |
| 20 | 23 | JJ Yeley(i) | Steakhouse Elite Toyota | 53.323 | 168.783 |
| 21 | 72 | Corey LaJoie | Monarch Chevrolet | 53.346 | 168.710 |
| 22 | 15 | Gray Gaulding | Chevrolet | 53.557 | 168.045 |
| 23 | 99 | Kyle Weatherman | StarCom Fiber Chevrolet | 53.767 | 167.389 |
| 24 | 00 | Landon Cassill | Lock Haven University Chevrolet | 53.976 | 166.741 |
| 25 | 7 | Reed Sorenson | Chevrolet | 54.276 | 165.819 |
| 26 | 51 | BJ McLeod(i) | Jacob Companies Chevrolet | 54.286 | 165.789 |
| 27 | 66 | Timmy Hill(i) | Lehigh Valley Phantoms Toyota | 54.652 | 164.678 |
| 28 | 18 | Kyle Busch | M&M's Caramel Toyota | 0.000 | 0.000 |
| 29 | 4 | Kevin Harvick | Mobil 1 Ford | 0.000 | 0.000 |
| 30 | 22 | Joey Logano | Shell Pennzoil Ford | 0.000 | 0.000 |
| 31 | 14 | Clint Bowyer | Haas 30 Years of the VF1 Ford | 0.000 | 0.000 |
| 32 | 42 | Kyle Larson | DC Solar/Credit One Bank Chevrolet | 0.000 | 0.000 |
| 33 | 12 | Ryan Blaney | PPG Ford | 0.000 | 0.000 |
| 34 | 10 | Aric Almirola | Smithfield Ford | 0.000 | 0.000 |
| 35 | 48 | Jimmie Johnson | Lowe's for Pros Chevrolet | 0.000 | 0.000 |
| 36 | 21 | Paul Menard | Menards/Libman Ford | 0.000 | 0.000 |
| 37 | 3 | Austin Dillon | American Ethanol e15 Chevrolet | 0.000 | 0.000 |
| 38 | 24 | William Byron # | AXALTA/IMRON Chevrolet | 0.000 | 0.000 |
| 39 | 43 | Bubba Wallace # | Mile 22 Chevrolet | 0.000 | 0.000 |
| 40 | 95 | Kasey Kahne | Procore Chevrolet | 0.000 | 0.000 |