Cunning Pit Strategy Earns Sonoma Win for Truex, Jr.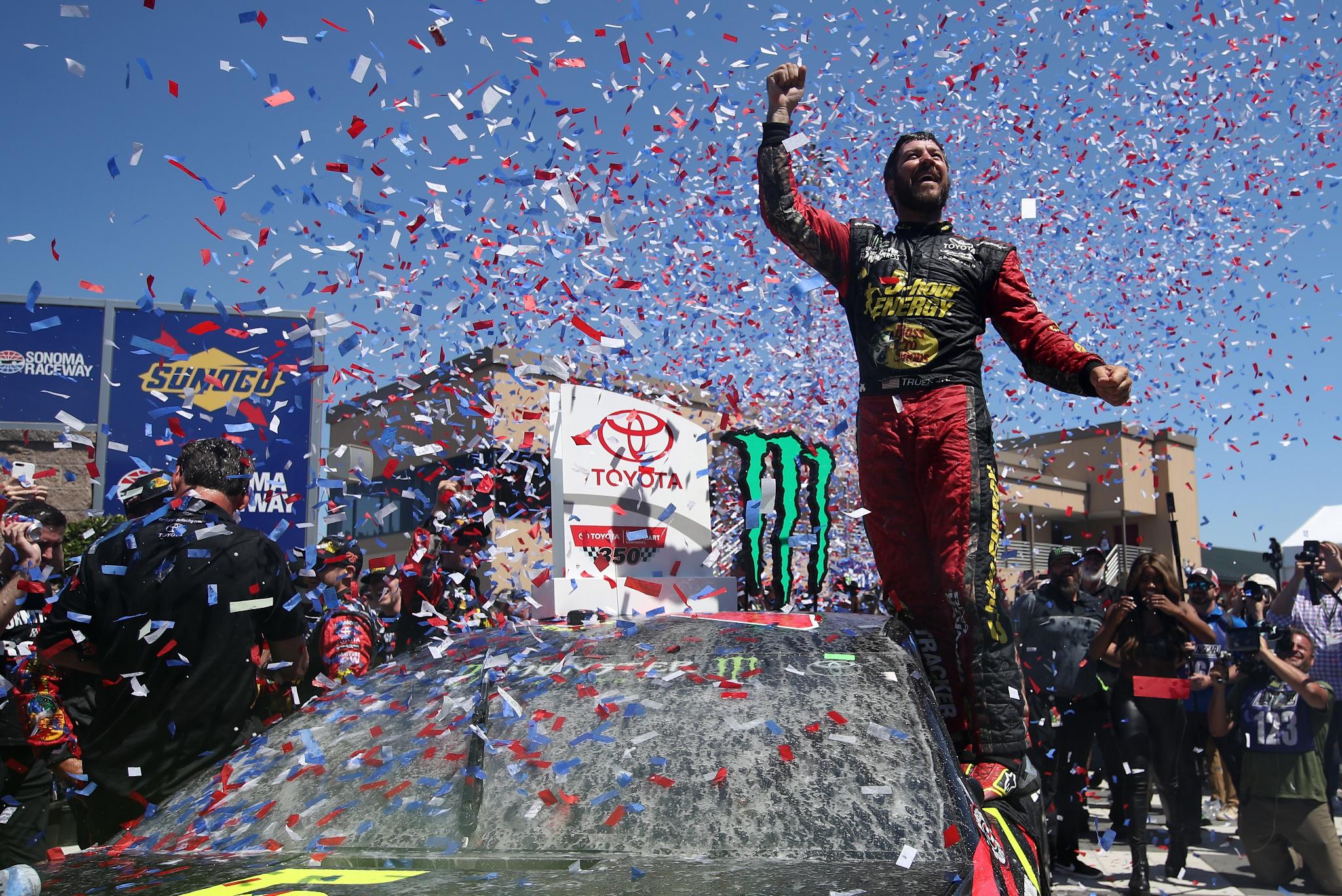 Martin Truex, Jr.
Photo by Chris Graythen/Getty Images
Using a contrarian strategy that included bluffing Kevin Harvick onto pit road earlier than planned in the final stage of Sunday's Toyota/Save Mart 350, Martin Truex Jr. pulled off a convincing victory in the 16th Monster Energy NASCAR Cup Series race of the season.

On Lap 73, during the final stage of the race, Truex's crew chief, Cole Pearn, ordered the No. 78 Furniture Row Racing Toyota to pit road. On the spur of the moment, Harvick's crew chief, Rodney Childers, opted to cover Truex's move and called the No. 4 Stewart-Haas Racing Ford to the pits from the lead.

But Pearn, by design, called off the pit stop at the last second, and Truex picked up the lead, which he surrendered on Lap 81 when he pitted for the only time during the final stage. Harvick and teammate Clint Bowyer returned to pit road on Lap 92 of 110, and when that happened, Truex held a 23.826-second lead over Chase Elliott in second.

All Truex had to do the rest of the way was avoid a caution in the final 18 laps – a situation that was realized as the final stage ran green from a Lap 55 restart to the finish.

"All you're doing is begging, hoping the caution doesn't come out," Truex said of the end of the race. "Then you'd have to pit, and you don't know what could happen. It messes the field up. Just hoping for no cautions and don't make any mistakes and hope the engine stays together."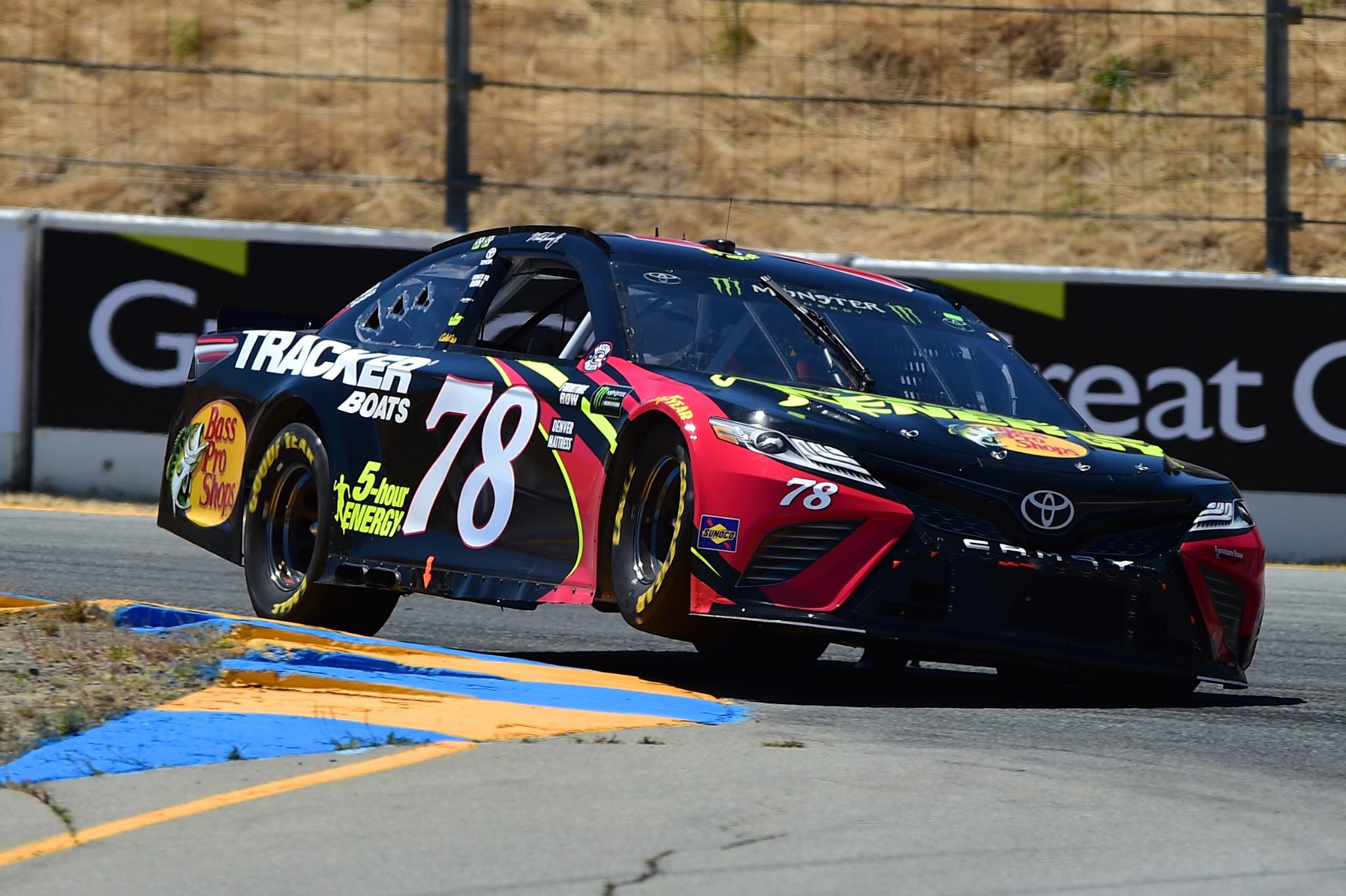 Martin Truex, Jr. led a race-high 62 laps on Sunday
Jared C. Tilton/Getty Images
In winning for the third time this season, Truex led 62 laps, including the last 20 after he passed Harvick to retake the lead on Lap 91. The victory was Truex's second at Sonoma and the 18th of his career. With his first win coming in 2013, Truex's triumph also broke a streak of nine straight different winners at the 1.99-mile road course.

Pearn said the single stop in the final stage was the plan all along, even if Harvick's car hadn't been snookered into the pits.

"We knew we were going to do one stop – that was kind of our plan," Pearn acknowledged. "We just really needed them to pit earlier for it to work out. It was a bit of a gamble, but obviously, it paid off. It worked out great. It's tough. Everybody is so good in this (series) that sometimes you have to do something different to pull one out."

Harvick was philosophical about the call that in all probability cost him the race.

"We all make mistakes," Harvick said. "We all do things split-second that might be right after it all happens. But these guys do a great job. Everyone on our Mobil1 Ford has done a great job for the last five years.

"We had a shot today. The call was one thing, but I think I was too hard on the car the first couple of stages. The brake pedal was long after qualifying and never really came around during the race. It progressively got worse, and I kept losing drive about Lap 20 off of (Turn) 3 and was getting tight off of 4. I had a lot of problems I needed to work on, but all of our guys do a great job."

Driving conservatively with a massive lead over the final 10 laps, Truex crossed the finish line 10.513 seconds ahead of Harvick, who passed Elliott for the second spot on Lap 102. Two laps later, Bowyer got by Elliott to finish third.

Posting his first career top-five result on a road course, Elliott held fourth, one spot ahead of charging Kyle Busch, who retained the series lead by 72 points over Harvick. Kurt Busch, Erik Jones, Aric Almirola, Alex Bowman and Denny Hamlin completed the top 10.
Quotes
MARTIN TRUEX JR., No. 78 5-Hour Energy / Bass Pro Shops Toyota Camry, Furniture Row Racing
Finishing Position: 1st
Did you know all along you guys were going to snooker the competition?
"No, that's all Cole (Pearn, crew chief). That's all him. That was amazing. I'm cool with whatever he wants to do. I tell him all the time, like you know win, lose or draw, we do it together and I just got a lot of trust in him. I don't even say anything when he says pit or don't pit. I just did what he wants to do, so awesome job by him today."
What is going through your mind as a driver when you hear your crew chief say, they can't beat us from here?
"You know honestly all your doing is begging, hoping that the caution doesn't come out because then you're going to have to pit and you never know what could happen. It mixes the field up and stuff. Just hoping for no cautions and don't make any mistakes, hope the engine stays together. Thanks to TRD it did this year. We had some trouble with that last year and kind of let one slip away here, but got a lot of people to thank. Obviously 5-Hour for coming on board this year with us and really, we wouldn't be able to do this program without them. Obviously Johnny (Morris) and Bass Pro and all they do. Everybody at Toyota and TRD, Auto Owners for coming back. We have some many partners that honestly we would not be able to do this. Furniture Row, Denver Mattress, all the guys in Denver, just thanks to everyone. You know everybody that works for me at MTJ, Beechcraft, Hawker and Cessna. I can't even remember them all. TrueTimber came onboard this year – a lot of people that make this possible and we get to live out our dreams because of them, so thank you all. Everybody at Toyota. This is an awesome day. Pretty cool to win here again."
What was going through your mind when you had a 23-second lead and you were hoping no caution would come out?
"That was it – just hoping no caution would come out. You never know how these things are going to go. Last year, I felt like we had the best car and we didn't win and then this year I wasn't sure we could beat the 4 (Kevin Harvick). We were real equal. He was better early in the race. I felt like we caught up to him a little, but he was going to be hard to beat either way. To get off strategy was the perfect call and then you just hope it works out for you, so sometimes you're the bug, sometimes you're the windshield. Today we made the right call and it all worked out. We had a fast enough car to stay out there. Just happy for everybody. Proud of everybody on this team. Everybody back in Denver, 5-Hour Energy, Bass Pro, Auto Owners – all our partners, they really make this happen for us, so it means a lot."
You struggled a bit with traction today, did you ever really get that where you wanted it to be?
"Not really, no. Usually this place – if you don't have traction, you just can't find it. That's stuff we build into the car throughout the weekend, so we just missed it a little bit today. I thought for sure – I thought we were a little bit better last year. We tried some different things here this weekend and qualified better with it I think, but it was off a little bit on the long runs. All in all, it worked out for us and we had what we needed to do.
Chicagoland Speedway next weekend. You won there last year and have momentum on your side – how are you feeling about that upcoming race?
"Yeah, I feel great about that. Going for three in a row there at Chicago. A little sad it's not kicking off the Playoffs anymore just because of our record there, but at the same time, great race track and excited to go there and see what we can do."
COLE PEARN, crew chief, No. 78 5-Hour Energy / Bass Pro Shops Toyota Camry, Furniture Row Racing
Did you plan to fake the field with that pit stop?
"We knew we were going to do one stop. That was kind of our plan. We just – we really needed them to pit earlier for it to work out. It was a bit of a gamble obviously, but obviously it paid off and worked out great. It's tough. Everybody is so good in this, it sometimes takes something different to mix it up to pull one out."
Did Martin really think he was going to pit?
"Yeah, we're not that smart. He probably screwed up. I was telling him to pit and he probably thought he was pitting. At the end of the day it worked out and we're sitting in victory lane, so it's good."
KYLE BUSCH, No. 18 M&M's Caramel Toyota Camry, Joe Gibbs Racing
Finishing Position: 5th
What was your end of race strategy?
"I thought we had enough to beat the 9 (Chase Elliott), maybe. That's where our strategy put us there. Overall a good day for us. We struggled being able to find speed here, and I don't know, it's just a little bit each lap. There's a few areas on the track where I kind of lack at, but it's hard to make up that ground and then beat somebody that is so good here like the 78 (Martin Truex Jr.) and 14 (Clint Bowyer). I feel like those guys all have that and we're just the best of everybody else. The guys worked hard on the car, we kept making it better every time we were on the race track this weekend. That was helping me and it's about all we had. Fifth-place finish is pretty good."
Considering how you ran earlier in the week, are you satisfied with a fifth-place finish?
"Fifth is okay. For as bad as I thought we were going to be, we ended up a lot better than that."
RACE RESULTS
| | | | | | | | | |
| --- | --- | --- | --- | --- | --- | --- | --- | --- |
| Pos | St | # | Driver | Sponsor/Make | Laps | Led | Points | Status |
| 1 | 2 | 78 | Martin Truex Jr. | 5-hour ENERGY Toyota | 110 | 62 | 40 | Running |
| 2 | 6 | 4 | Kevin Harvick | Mobil 1 Ford | 110 | 35 | 35 | Running |
| 3 | 19 | 14 | Clint Bowyer | One Cure Ford | 110 | 0 | 34 | Running |
| 4 | 3 | 9 | Chase Elliott | NAPA Auto Parts Chevrolet | 110 | 0 | 49 | Running |
| 5 | 9 | 18 | Kyle Busch | M&M's Caramel Toyota | 110 | 0 | 32 | Running |
| 6 | 23 | 41 | Kurt Busch | Haas Automation Ford | 110 | 1 | 31 | Running |
| 7 | 20 | 20 | Erik Jones | DeWalt Toyota | 110 | 1 | 30 | Running |
| 8 | 24 | 10 | Aric Almirola | Smithfield Ford | 110 | 0 | 38 | Running |
| 9 | 17 | 88 | Alex Bowman | Axalta Chevrolet | 110 | 0 | 32 | Running |
| 10 | 21 | 11 | Denny Hamlin | FedEx Express Toyota | 110 | 4 | 37 | Running |
| 11 | 7 | 48 | Jimmie Johnson | Lowe's for Pros Chevrolet | 110 | 0 | 42 | Running |
| 12 | 25 | 37 | Chris Buescher | Maxwell House Max Chevrolet | 110 | 0 | 29 | Running |
| 13 | 10 | 2 | Brad Keselowski | Discount Tire Ford | 110 | 0 | 40 | Running |
| 14 | 1 | 42 | Kyle Larson | DC Solar Chevrolet | 110 | 2 | 29 | Running |
| 15 | 16 | 19 | Daniel Suarez | STANLEY Toyota | 110 | 0 | 25 | Running |
| 16 | 27 | 3 | Austin Dillon | Dow Chevrolet | 110 | 0 | 21 | Running |
| 17 | 30 | 32 | Matt DiBenedetto | The Hartford Gold Group Ford | 110 | 0 | 20 | Running |
| 18 | 18 | 17 | Ricky Stenhouse Jr. | Fastenal Ford | 110 | 0 | 19 | Running |
| 19 | 12 | 22 | Joey Logano | Shell Pennzoil Ford | 110 | 0 | 18 | Running |
| 20 | 26 | 95 | Kasey Kahne | Procore Chevrolet | 110 | 0 | 18 | Running |
| 21 | 22 | 34 | Michael McDowell | Love's Travel Stops/Roller Bites Ford | 110 | 0 | 19 | Running |
| 22 | 28 | 38 | David Ragan | 1000Bulbs.com Ford | 109 | 0 | 15 | Running |
| 23 | 34 | 96 | Parker Kligerman | Gaunt Brothers Racing Toyota | 109 | 0 | 0 | Running |
| 24 | 14 | 31 | Ryan Newman | Grainger/American Red Cross Chev | 109 | 0 | 19 | Running |
| 25 | 8 | 24 | William Byron | Liberty University Chevrolet | 109 | 0 | 12 | Running |
| 26 | 15 | 21 | Paul Menard | Menards/Richmond Ford | 109 | 0 | 11 | Running |
| 27 | 13 | 6 | Trevor Bayne | AdvoCare Rehydrate Ford | 109 | 0 | 10 | Running |
| 28 | 33 | 15 | Justin Marks | SUFFERFEST Beer Co Chevrolet | 109 | 0 | 0 | Running |
| 29 | 35 | 43 | Bubba Wallace | World Wide Technology Chevrolet | 109 | 0 | 8 | Running |
| 30 | 29 | 23 | Gray Gaulding | Earthwater Toyota | 109 | 0 | 7 | Running |
| 31 | 36 | 51 | Chris Cook | Shockwave Ford | 109 | 0 | 6 | Running |
| 32 | 37 | 0 | Tomy Drissi | Go Share Chevrolet | 108 | 0 | 5 | Running |
| 33 | 31 | 13 | Ty Dillon | GEICO Chevrolet | 106 | 0 | 4 | Running |
| 34 | 11 | 12 | Ryan Blaney | PPG Ford | 104 | 0 | 9 | Running |
| 35 | 32 | 72 | Cole Whitt | Chevrolet | 57 | 0 | 2 | Accident |
| 36 | 38 | 52 | Cody Ware | SBC Contractors Chevrolet | 42 | 0 | 1 | Fuel Pump |
| 37 | 4 | 1 | Jamie McMurray | Cessna Chevrolet | 33 | 0 | 1 | Oil Pump |
| 38 | 5 | 47 | AJ Allmendinger | Kroger ClickList Chevrolet | 33 | 5 | 11 | Engine |

[adinserter name="GOOGLE AD"]