PR1/Mathiasen Motorsports announce lineup for Rolex 24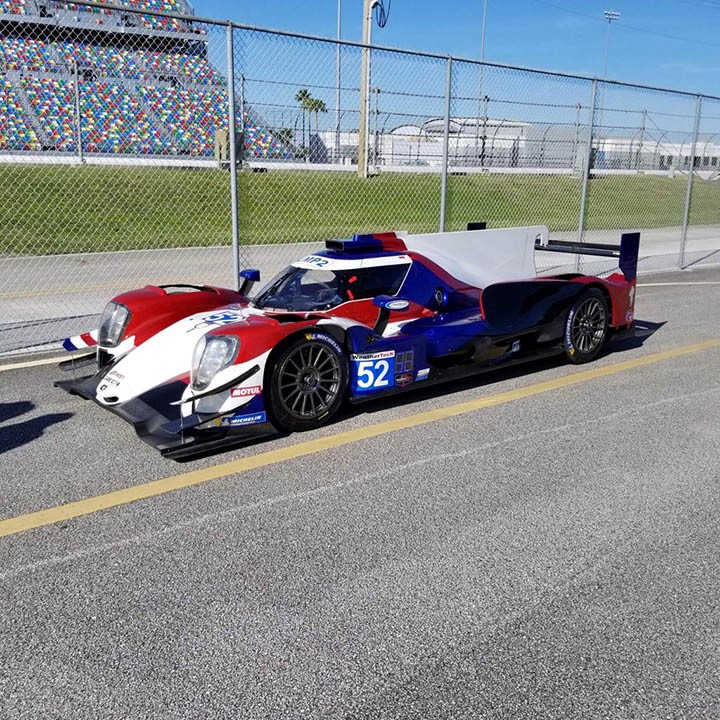 PR1/Mathiasen #52 Oreca
PR1/Mathiasen Motorsports has announced their lineup for the Rolex 24 At Daytona consisting of drivers Gabriel Aubry, Nick Boulle, Simon Trummer, and Ben Keating in the #52 Oreca 07 LMP2.
The Roar Before the Rolex 24 will be the official start of the 2020 IMSA WeatherTech SportsCar Championship activities for the season. PR1/ Mathiasen Motorsports is coming into the Roar Before the Rolex 24 after winning the 2019 IMSA WeatherTech SportsCar Championship title in the LMP2 category. The team will use "The Roar" to acclimate themselves with the team, car, and track. The four drivers will count on each other and the crew for experience on how to navigate the historic 3.56-mile circuit.
Frenchman, Aubry made his IMSA debut in 2019 and is no stranger to sportscars as he is currently an FIA World Endurance Championship class points leader. The 21-year-old also competed in the European Le Mans Series, the GP3 Championship, and finished 2nd at the 24 Hours of Le Mans in 2019.
Boulle rejoins PR1/ Mathiasen Motorsports where he earned a 2nd place finish at the Rolex 24 Hours of Daytona in the Prototype Challenge class in 2016. In January 2017, Boulle became the first-ever Rolex dealer to win the Rolex 24 Hours of Daytona Prototype Challenge. In 2018 he raced for the third time in the ROLEX 24 Hours of Daytona and came in 12th in his class. Boulle debuted in the 24 Hours of Le Mans in 2018 finishing in 8th in the LMP2 class. He now has two 24 Hours of Le Mans' under his belt after competing in 2019's race.
Trummer brings ample sportscar seat time to the team as a three-time participant in 24 Hours of Le Mans in class and a competitor in the FIA World Endurance Championship LMP2 class in 2017, earning the best result of 5th at Bahrain. Trummer finished 2nd in FIA Endurance Trophy for LMP1 Private drivers in 2016 with the best result of 5th at Silverstone.
Keating, now 47, is an experienced bronze driver who has won five national championships racing with Viper, ran in the Nascar Rolex Grand-Am Sports Car Series in 2011, the American Le Mans Series in 2013 and won his first two national-level sports-car races in 2013. By 2015, he was driving at Le Mans, and by 2017 he had his own team there. He has competed in five 24 Hours of Le Mans in total. Keating will be doing double duty during the Rolex 24 at Daytona driving with PR1/ Mathiasen Motorsports in the LMP2 category and driving in a GT Daytona entry.
The three-day testing period will begin at 11 A.M. EST for practice session one on Friday, January 3rd. PR1/ Mathiasen Motorsports will use the data obtained from the Roar to not only prepare for the Rolex 24 at Daytona on January 25th but for the rest of the 2020 IMSA WeatherTech SportsCar Championship. For the full schedule and more information about the Roar, click here.
Gabriel Aubry, Driver
#52 PR1/Mathiasen Motorsports Oreca 07 LMP2
"I'm very excited to join back PR1 Motorsport in Daytona once again. It was not an easy path, I need to thank Bobby Oergel, everyone at PR1/Mathiasen Motorsports and my sponsors for the hard work put into this project. We worked very hard to put this line up together, and now I'm only looking to build a strong base for the race and finish the job from last year."
Nick Boulle, Driver
#52 PR1/Mathiasen Motorsports Oreca 07 LMP2
"I couldn't be more excited to be heading back to race in North America's most grand endurance race. To say I'm surprised is probably a bit of an understatement and really goes back to my needing to thank several of my longtime supporters for making this even remotely possible on such short notice.
I've raced for PR1 / Mathiasen Motorsports several times before and I really like how their whole operation works. On top of that, strapping into a prototype is always exciting for me so doing so with the line up like we have makes it even more special. I'm optimistic for the race knowing we have Simon, Gaby, and Ben on board."
Simon Trummer, Driver
#52 PR1/Mathiasen Motorsports Oreca 07 LMP2
"I cannot wait to get it going at Daytona. I know Bobby from the first time a did a test in the USA and we got along very well right away. I can't wait to race again in IMSA and especially in the Oreca 07 which is a real racecar. The competition in the LMP2 class seems to be very high again, so I'm looking forward to the battles out on the track. Most importantly I'm very thankful to all the people who helped me live out my passion!"
Ben Keating, Driver
#52 PR1/Mathiasen Motorsports Oreca 07 LMP2
"I am incredibly excited to be with PR1/ Mathiasen Motorsports for the Rolex 24 At Daytona! I haven't driven an LMP2 car since the 24 Hours of Le Mans in 2017. With PR1/ Mathiasen Motorsports having won the championship last year, I know they have the car completely sorted and figured out. I love IMSA's new design of the LMP2 class. I think it will create a really good Pro-Am competition in a format that has been missing for quite a while. I think we have a driver line up that is capable of running for a win at Daytona. Although there are many good teams and nothing ever comes easy at Daytona.
Additionally, I will be driving in two different cars and two different classes for this year's Rolex 24 At Daytona. I think I am the only driver in the field doing this in 2020. This creates another level of excitement. This will be my 10th anniversary of doing the Rolex 24 At Daytona and I've been in two cars for about half of them. This is my favorite race of the year. I love racing at Daytona International Speedway. The environment is unlike anywhere else.
I am excited to bring Wynn's back to Daytona. They have offices here in Florida, and this is a special race for them also. Many of their automotive products are made for endurance and the Rolex 24 At Daytona is a great place to showcase their stuff. Wynn's has been such a great partner both at the track and at my dealerships. They have amazing products that work extremely well."
Bobby Oergel, Team Principal
#52 PR1/Mathiasen Motorsports Oreca 07 LMP2
"I am very excited to kick off the 2020 season with the team this week. Thanks to the hard work and efforts of everyone involved drivers and crew, I believe we have a great shot at a run for the team's second Daytona 24 Hour At Daytona win. Having worked with Gabby, Nick, and Simon previously and knowing that Ben is one of the most successful and hardest working drivers in the paddock we are looking forward to a smooth consistent test and beginning to the month of January. The growth of the category is great to see and really backs up the belief we share along with IMSA to help it be as successful here in the USA as it is around the globe currently."