USAC, NASCAR and IndyCar Stars have a go at Chili Bowl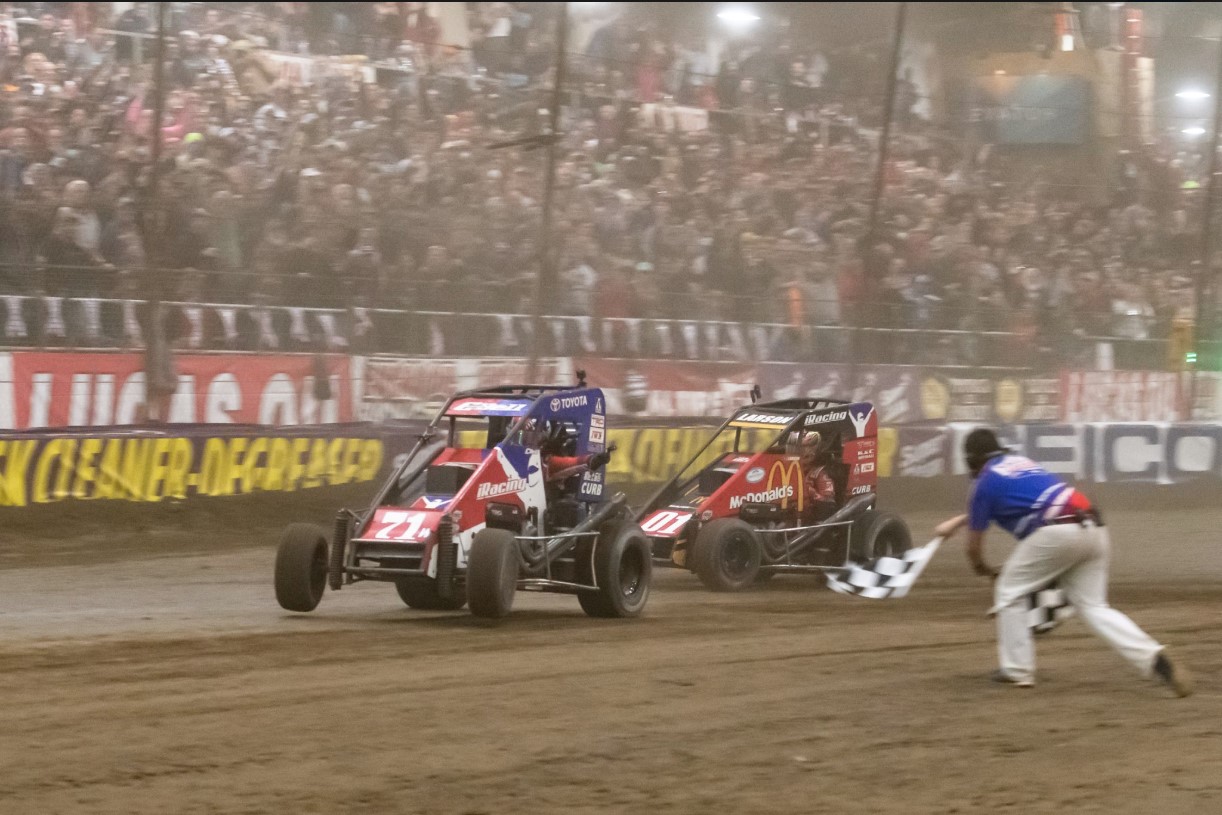 2019 Chilil Bowl
For the sixth year in a row, the Chili Bowl Midget Nationals will feature over 300 entries for the 34th running of the annual classic at the Tulsa Expo Hall in Oklahoma Jan 13-18.
The 2020 running will feature former winners Christopher Bell, Rico Abreu, Sammy Swindell, Tim McCreadie and Tracy Hines. In addition, Kyle Larson returns looking for his first win after a most disappointing near-victory in 2019.
10-time World of Outlaws Sprint Car champion Donny Schatz with make his 3rd attempt at the Chili Bowl.
NASCAR Cup Series driver Alex Bowman will make his fifth appearance in the Chili Bowl Nationals. Bowman will once again field a two-car program for himself and C.J. Leary.
Dirt ace and NASCAR Xfinity Series rookie of the year Chase Briscoe will also return behind the wheel of his self-owned No. 5.
IndyCar Series regular Connor Daly will drive for Petry Motorsports and Indy 500 driver James Davison will drive for Jonathan Byrd Racing.
#ChiliBowl2020 So Far: 337 Entries from 241 Municipalities, 39 States, and 6 Countries (USA, Can., Aust, Mex., NZ, and the UK) with 58 A-Feature starters and 59 Rookies. pic.twitter.com/gHA1fpOcrX

— Chili Bowl Nationals (@cbnationals) December 27, 2019
Entry List
| | | |
| --- | --- | --- |
| Car # | Driver | Hometown |
| TBA | TBA | |
| TBA | TBA | |
| GO | Eddie Martin | Stilwell, OK |
| 0 | Billy VanInwegen Jr | Port Jervis, NY |
| 0G (R) | Gunner Ramey | Sedalia, MO |
| 0K | Don O'Keefe Jr | Pittsboro, IN |
| 00 (R) | Rob Yetman | Castleton, NY |
| 00S | Randy Sterling | Morrisdale, PA |
| P1 | Paul White | Waco, TX |
| 01 | Kyle Larson | Elk Grove, CA |
| 1 | Sammy Swindell | Germantown, TN |
| 1B | Anton Hernandez | Arlington, TX |
| 1G | Kyle Cummins | Princeton, IN |
| 1H (R) | Rick Horn | Colony, KS |
| 1J (R) | James Reed | Oklahoma City, OK |
| 1K | Brayton Lynch | Springfield, IL |
| 1M (R) | Mark Smith | Sunbury, PA |
| 1NP | Terry Nichols | Delano, CA |
| 1P | Holly Porter | Dorchester, ON |
| 1R | Brad Sweet | Grass Valley, CA |
| 1Z | Chris Roseland | Carter Lake, IA |
| 02 | Andy Gage | Whiting, IA |
| 2 | Ryan Hall | Midlothian, TX |
| 2A (R) | Matt Linder | Braselton, GA |
| 2B (R) | Tyler Hewitt | Marion, IN |
| 2BX | Brett Becker | Odessa, TX |
| 2C | Seth Carlson | Stafford, CT |
| 2D | Matt Sherrell | Owasso, OK |
| 2G | J.J. Yeley | Charlotte, NC |
| 2L | Landon Simon | Indianapolis, IN |
| 2M (R) | Colby Stubblefield | Seagoville, TX |
| 2N | Weston Gorham | Colleyville, TX |
| 2ND | Dave Darland | Lincoln, IN |
| 2R | Matt Rossi | Peoria, AZ |
| 2S | TBA | |
| 2T | Keith Martin | Burleson, TX |
| 2W | Wyatt Burks | Topeka, KS |
| 2X | A.J. Fike | Galesburg, IL |
| 3B (R) | Jessie Barber | Napa, CA |
| 3F | TBA | |
| 3N | Jake Neuman | New Berlin, IL |
| 3T | Taylor Peterson | Tulsa, OK |
| 3W | Brandon Waelti | Sun Prairie, WI |
| 4 | TBA | |
| 4A | Justin Grant | Ione, CA |
| 4C | Kyle Bellm | Nixa, MO |
| 4D | Robert Dalby | Anaheim, CA |
| 4F | Chad Frewaldt | Kansas City, KS |
| 4M | Michelle Decker | Guthrie, OK |
| 4R | TBA | |
| 4S | TBA | |
| 4X | TBA | |
| 5 | Chase Briscoe | Mitchell, IN |
| 5D | Zach Daum | Pocahontas, IL |
| 5F | Danny Frye III | St. Peters, MO |
| 5G (R) | Ben Worth | Coalinga, CA |
| 5H | TBA | |
| 5HX | Casey Hicks | Platte City, MO |
| 5J | Jeff Crook | Garden City, KS |
| 5K | Justin Peck | Monrovia, IN |
| 5L (R) | Logan Roberson | Waynesboro, VA |
| 5T | Kevin Thomas Jr | Cullman, AL |
| 5X | Tyson Hall | Longview, TX |
| 6 | Bill Rose | Plainfield, IN |
| 6N | TBA | |
| 07W (R) | Mitchel Moles | Raisin , CA |
| 7 | Shannon McQueen | Tehachapi, CA |
| 7A | Justin Allgaier | Riverton, IL |
| 7C | TBA | |
| 7F | Travis Ashwood | Sapulpa, OK |
| 7J | Shawn Jackson | Bear, DE |
| 7JR | JD Black | Grain Valley, MO |
| 7K | Kaylee Bryson | Muskogee, OK |
| 7M | Brody Roa | Buena Park, CA |
| 7MF | Chance Morton | Coweta, OK |
| 7RS | Christopher Larson | Round Rock, TX |
| 7S | Kory Schudy | Springfield, MO |
| 7T | TBA | |
| 7U | Kyle Jones | Kennedale, TX |
| 7X | Thomas Meseraull | San Jose, CA |
| 7W | Brendon Wiseley | Sand Springs, OK |
| 08 | Michael Faccinto | Hanford, CA |
| 08J (R) | Jace McIntosh | Broken Arrow, OK |
| 08K | Karsyn Elledge | Mooresville, NC |
| 08M | Joe B. Miller | Millersville, MO |
| 8 | Alex Sewell | Broken Arrow, OK |
| 8B | Colin Deming | Hobbs, NM |
| 8J | Jonathan Beason | Broken Arrow, OK |
| 8K | Josh Hawkins | Whitehouse, TX |
| 8M | Kade Morton | Coweta, OK |
| 8W | Mark Lowery | Concord, NC |
| 8X | Austin Shores | Atoka, OK |
| 9 | Tim McCreadie | Watertown, NY |
| 9H (R) | Emilio Hoover | Broken Arrow, OK |
| 9JR | Derek Hagar | Marion, AR |
| 9K | Kevin Olson | Machesney Park, IL |
| 9P | Shane Cottle | Kokomo, IN |
| 9U | Doug McCune | Colleyville, TX |
| 9X | Paul Nienhiser | Chapin, IL |
| 10C | Dalton Camfield | Decatur, IL |
| 10J | Jeffrey Newell | Tulsa, OK |
| 11 | Cale Conley | Vienna, WV |
| 11A | Andrew Felker | Carl Junction, MO |
| 11C | Michael Woodruf | Santanta, KS |
| 11D (R) | Colton Fisher | Mediapolis, IA |
| 11E | Cory Elliott | Bakersfield, CA |
| 11F | TBA | |
| 11J | Justin Melton | Northlake, TX |
| 11K | Gage Rucker | Bellflower, MO |
| 11P | Laydon Pearson | New Castle, OK |
| 11T (R) | Larry Petersen | Wahiawa, HI |
| 11X | Donovan Peterson | Brookings, SD |
| 13A (R) | Austin Yarbrough | Little River, SC |
| 13B | Johnny Brown Jr. | Mauriceville, TX |
| 13G | TBA | |
| 13X | TBA | |
| 14 | Jesse Colwell | Red Bluff, CA |
| 14E | Jake Neal | Omaha, NE |
| 14F | Cameron Hagin | Broken Arrow, OK |
| 14H | AJ Hopkins | Brownsburg, IN |
| 14J | Matt Streeter | Galt, CA |
| 14R (R) | Jake Nail | Muskogee, OK |
| 14S | TBA | |
| 14X | Jody Rosenboom | Rock Rapids, IA |
| 15 | Donny Schatz | Fargo, ND |
| 15A | Harley Hollan | Tulsa, OK |
| 15D | Andrew Deal | Caney, KS |
| 15F | Kinzer Edwards | South Coffeyville |
| 15J | David Prickett | Fresno, CA |
| 15K (R) | Andrew Carlson | Big Lake, MN |
| 15L | Merril Lamb | Iola, KS |
| 15W | Jeff Wimmenauer | New Whiteland, IN |
| 16C | David Camfield Jr | Decatur, IL |
| 17A | Austin Brown | Millstadt, IL |
| 17B | Ryan Bickett | Ramona, SD |
| 17C | TBA | |
| 17D | TBA | |
| 17E | Blake Edwards | Claremore, OK |
| 17F | Devin Camfield | Decatur, IL |
| 17K | TBA | |
| 17L (R) | Rocky Silva | Kapolei, HI |
| 17M (R) | Kala Keliinoi | Waianae, HI |
| 17R | Alex Schutte | Rohnert Park, CA |
| 17S | TBA | |
| 17T | TBA | |
| 17W | Shane Golobic | Fremont, CA |
| 17X (R) | Kurt Stellhorn | Baldwin, IL |
| 17Z | Zac Moody | Tulsa, OK |
| 18 | Tony Bruce Jr | Liberal, KS |
| 18K (R) | TBA | |
| 18L | Logan Scherb | Decatur, TX |
| 18S | TBA | |
| 19 | Tanner Thorson | Minden, NV |
| 19A | Hunter Schuerenberg | Sikeston, MO |
| 19B | Spencer Bayston | Lebanon, IN |
| 19N | Nick O'Neal | Wagoner, OK |
| 19U | Pierce Urbanosky | N. Richland Hills |
| 19X | Don Droud Jr | Lincoln, NE |
| 20 | Tadd Holliman | Murray, NE |
| 20C | Conor Daly | Indianapolis, IN |
| 20G (R) | Noah Gass | Mounds, OK |
| 20H | Noah Harris | Broken Arrow, OK |
| 20S | Shon Deskins | Waddell, AZ |
| 21 | Daryn Pittman | Owasso, OK |
| 21D | Justin Dickerson | Pittsboro, IN |
| 21F | Austin Langenstein | Scranton, PA |
| 21H | Ty Hulsey | Owasso, OK |
| 21K | TBA | |
| 21M | Michelle Parson | Abilene, TX |
| 22 | John Heydenreich | Bloomsburg, PA |
| 22B | Troy Betts | Newark, DE |
| 22C (R) | Charlie Crumpton | Bixby, OK |
| 22L (R) | Lucas Scherb | Decatur, TX |
| 22S | Sean McClelland | Tulsa, OK |
| 22X | Steven Shebester | Mustang, OK |
| 23P | Brad Wyatt | Kearney, MO |
| 23S | Kyle Simon | Covington, OH |
| 23X | TBA | |
| 24F | Hunter Fischer | Broken Arrow, OK |
| 25 | Jerry Coons Jr | Tucson, AZ |
| 25B | Steve Buckwalter | Royersford, PA |
| 25C | Chase Johnson | Penngrove, CA |
| 26 (R) | George Willard Jr | Willoughby, OH |
| C27 (R) | Clint Wilson | Chico, CA |
| 27 | Tucker Klaasmeyer | Paola, KS |
| 27A | A.J. Burns | Norman, OK |
| 27B | Jake Bubak | Arvada, CO |
| 27D | Travis Berryhill | American Canyon |
| 27W | Colby Copeland | Roseville, CA |
| 27Z | Zane Hendricks | Stillwater, OK |
| 28 | Ace McCarthy | Tahlequah, OK |
| 28Q (R) | Sean Quinn | Clovis, CA |
| 29 (R) | Tyler Thompson | Oswego, NY |
| 29A | Tim Buckwalter | Birdsboro, PA |
| 32 | Gary Taylor | Snohomish, WA |
| 32D | Casey Shuman | Rattlesnake Bend |
| 32T | Trey Marcham | Oklahoma City, OK |
| 35 (R) | Ben Schmidt | Howards Grove, WI |
| 33J (R) | James Davison | Melbourne, Australia |
| 35C | Tanner Carrick | Lincoln, CA |
| 35L | Cody Ledger | Omaha, NE |
| 35X | Tyler Robbins | Collinsville, IL |
| 37M | Matt Mitchell | Yorba Linda, CA |
| 39 | Logan Seavey | Sutter, CA |
| 39B | TBA | |
| 39Z | TBA | |
| 40 | Eric Wilkins | El Mirage, AZ |
| 41X | Howard Moore | Memphis, TN |
| 41 (R) | Oliver Akard | Ft. Myers, FL |
| 42 (R) | Hank Davis | Sand Springs, OK |
| 42C | Chris Cochran | Mcloud, OK |
| 44 | Ryan Leavitt | Knoxville, IA |
| 44D | Evan Turner | Jacksonville, IL |
| 44S (R) | Brandon Akau | Waianae, HI |
| 44X | Wesley Smith | Nixa, MO |
| 45H | Anthony Pope | Roseburg, OR |
| 45X | Parker Price-Miller | Kokomo, IN |
| 46 | Kenney Johnson | Bethany, CT |
| 46X (R) | Jeffrey Champagne | Westfield, MA |
| 47 | Alex Bright | Collegeville, PA |
| 47C | TBA | |
| 47K (R) | Kevin Brewer | Owasso, OK |
| 47M | Frankie Guerrini | San Rafael, CA |
| 47X | Danny Stratton | Reading, PA |
| 49 (R) | Scott Kreutter | Alden, NY |
| 50 | Daniel Adler | St. Louis, MO |
| 51G | Garet Williamson | Columbia, MO |
| 51H | Mike Hess | Riverton, IL |
| 51W | Curtis Jones | Tulsa, OK |
| 51X | Joe Walker | Harrisonville, MO |
| 52 | Blake Hahn | Sapulpa, OK |
| 52C (R) | Cody Karl | Gulfport, MS |
| 52F (R) | Logan Faucon | Elkhart, IL |
| 54G | Trey Gropp | Lincoln, NE |
| 54W | Matt Westfall | Pleasant Hill, OH |
| 55D | Nick Drake | Indian Trail, NC |
| 55V | C.J. Leary | Greenfield, IN |
| 55X | Alex Bowman | Mt. Ulla, NC |
| 56A | Riley Kreisel | Warsaw, MO |
| 56D (R) | Mitchell Davis | Auburn, IL |
| 57 | Maria Cofer | Macdoel, CA |
| 57A | Bill Balog | North Pole, AK |
| 57D | Daniel Robinson | Ewing, IL |
| 57K | Kevin Studley | Plainfield, IN |
| 57W | Dustin Golobic | Fremont, CA |
| 63 | Michael Pickens | Auckland, NZ |
| 67 (R) | Michael Kofoid | Penngrove, CA |
| 67J | Chase Jones | Greenwood, IN |
| 67K | Holley Hollan | Tulsa, OK |
| 67o | Kyle O'Gara | Beech Grove, IN |
| 67S | Ryan Smith | Kunkletown, PA |
| 68 | Ronnie Gardner | Corona, CA |
| 68B | Blain Petersen | Essex, IA |
| 68C (R) | Corby Scherb | Decatur, TX |
| 68W | Josh Lakatos | Pasadena, CA |
| 71 | Zeb Wise | Angola, IN |
| 71G | Damion Gardner | Concord, CA |
| 71K | Cannon McIntosh | Bixby, OK |
| 71R | Robby Josett | Agua Dulce, CA |
| 71T | Zac Taylor | Green River, WY |
| 71X | Presley Truedson | Kennedy, MN |
| 72 | Eric Fenton | Tulsa, OK |
| 72C | Chris Tarrant | Greenville, TX |
| 72H | TBA | |
| 72J | Sam Johnson | St Peters, MO |
| 72X (R) | Jeff Wheeler | Rockwall, TX |
| 73 | Dylan Ito | Ventura, CA |
| 73T | Jake Swanson | Anaheim, CA |
| 73X | Tyler Edwards | Salina, OK |
| 74 | Drew Rader | Findlay, OH |
| 74M | Adam Pierson | East Corinth, VT |
| 74S | Slater Helt | Harrisonville, MO |
| 75 | Bryan Stanfill | Bakersfield, CA |
| 75M (R) | Corey Ballard | Orange, CA |
| 75X | Mike Griffiths | Melbourne, Australia |
| 76E | Brady Bacon | Broken Arrow, OK |
| 76G | David Gravel | Watertown, CT |
| 76M | Jason McDougal | Broken Arrow, OK |
| 77J | John Klabonde | Fort Calhoun, NE |
| 77U | Chris Urish | Elkhart, IL |
| 77W (R) | Joey Wirth | Waterloo, IL |
| 78 | TBA | |
| 78M (R) | Merle Scherb | Runaway Bay, TX |
| 80 (R) | Joe Spillman | Austin, TX |
| 81 | Colten Cottle | Kansas, IL |
| 81S | Chad Shields | Grain Valley, MO |
| 81X | Dillon Welch | Carmel, IN |
| 82 | Andrew Layser | Collegeville, PA |
| 82H (R) | Joshua Hanna | Tyler, TX |
| 83 | Austin Liggett | Tracy, CA |
| 84 | Giovanni Scelzi | Fresno, CA |
| 84M | Alex DeCamp | Locust Grove, OK |
| 84S | Shaun Shapel | Wichita, KS |
| 84X | Christopher Bell | Norman, OK |
| 84Z | Johnny Murdock | Kaufman, TX |
| 85 | Matt Moore | Bethany, OK |
| 86C | David Camfield Sr | Decatur, IL |
| 87 | Aaron Reutzel | Clute, TX |
| 87F | Johnny Kent | Kiefer, OK |
| 87W | Ryan Bernal | Hollister, CA |
| 87X (R) | Nick O'Dell | Kannapolis, IL |
| 88E (R) | Tim Estenson | Fargo, ND |
| 88N | D.J. Netto | Hanford, CA |
| 88W | Dustin Weland | Parker, CO |
| 89 | Chris Windom | Canton, IL |
| 91 | Jeff Stasa | Kingman, KS |
| 91A | Chris Andrews | Sandusky, OH |
| 91B | Tanner Berryhill | Bixby, OK |
| 91T | Tyler Thomas | Collinsville, OK |
| 91W | TBA | |
| 92 | Josh Most | Red Oak, IA |
| 93 | TBA | |
| 93Z (R) | Zachary Patterson | Yukon, OK |
| 95 | Chris Andrews | Tulsa, OK |
| 95T | Buddy Tubbs | Colorado Springs |
| 96 | Cody Brewer | Choctaw, OK |
| 97 | Rico Abreu | St. Helena, CA |
| 97K | Tom Harris | Banbury, UK |
| 97W (R) | Kaidon Brown | Sydney Australia |
| 97X | Austin O'Dell | Rochester, IL |
| 98 | Ryan Padgett | Anadarko, OK |
| 98B | Joe Boyles | Greenwood, MO |
| 99 | Larry Wight | Fulton, NY |
| 99K (R) | Robert Carson | Concord, CA |
| 99P | Brandon Long | Wichita Falls, TX |
| 99R | TBA | |
| 101 | Chuck McGillivray | Madison, SD |
| 116 | Claud Estes III | Godley, TX |
| 117 | Jack Dover | Springfield, NE |
| 118 | Scott Evans | Rhome, TX |
| 130 | Larry Bratti | Springdale, AR |
| 155 | Ryan Truitt | Dewey, OK |
| 321 | Chad Winfrey | Gladstone, MO |
| 911 | Waylon Weaver | Claremore, OK |
| 926 | Morgan Frewaldt | Kansas City, KS |