Video: Rendezvous – A film by Claude Lelouch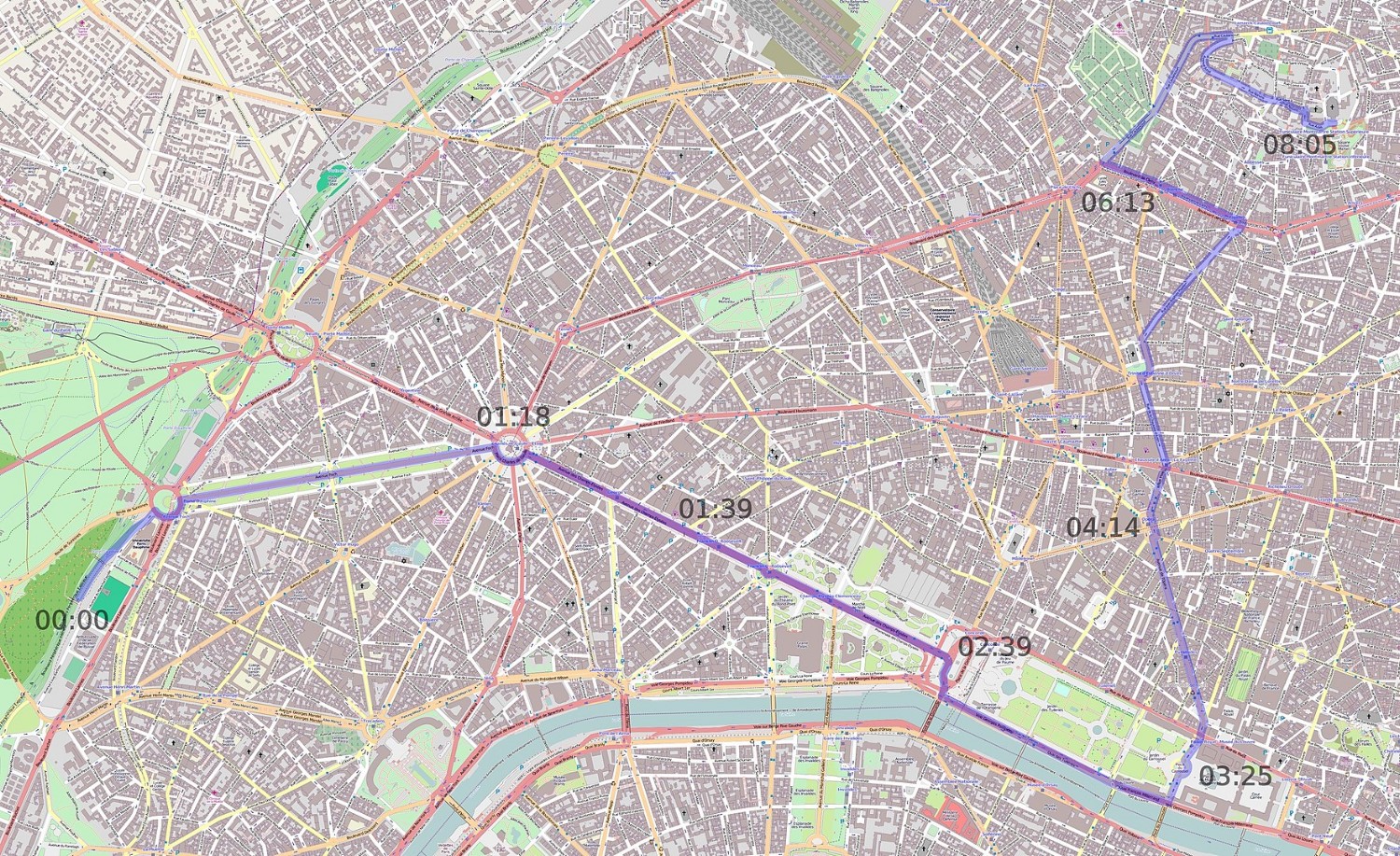 Route
The video is from a 8:24, one-take movie made by French film director, Claude Lelouch in 1976, shortly after he made the movie, A Man and a Woman. It was only available underground for many years (because of all of the traffic laws that were violated during its filming).
The film shows an eight-minute drive through Paris during the early hours (05:30) of a Sunday morning in August (when much of Paris is on summer vacation), accompanied by sounds of a high-revving engine, gear changes and squealing tyres. It starts in a tunnel of the Paris Peripherique at Porte Dauphine, with an on-board view from an unseen car exiting up on a slip road to Avenue Foch. Well-known landmarks such as the Arc de Triomphe, Opera Garnier, and Place de la Concorde with its obelisk are passed, as well as the Champs-Elysees.
Pedestrians are passed, pigeons sitting on the streets are scattered, red lights are ignored, one-way streets are driven up the wrong way, centre lines are crossed, and the car drives on the sidewalk to avoid a rubbish lorry. The car is never seen as the camera seems to be attached below the front bumper (judging from the relative positions of other cars, the visible headlight beam and the final shot when the car is parked in front of a kerb on Montmartre, with the famous Sacre-CÅ"ur Basilica behind, and out of shot). Here, the driver gets out and embraces a young blonde woman as bells ring in the background, with the famous backdrop of Paris.
The movie provides a quick tour of Paris! The film is in real time, and no streets were blocked off. In case you're not that familiar with Paris, here are some highlights:
0:15 Porte Dauphine (start, west of L'Arc de Triomphe)
1:19 L'Arc de Triomphe
1:28 Avenue de Champs-Elysees
2:32 Obelisque and Place de la Concorde
2:38 Assemblee Nationale (in background)
2:44 Quai des Tuileries (road along the Seine River)
3:08 Louvre Museum courtyard (before the addition of the pyramid)
4:13 Place de L'Opera (Opera House)
4:47 Sainte Trinite (church)
6:16 Moulin Rouge (nightclub)
7:45 Place du Tertre (painters' square in Montmartre)
8:02 Sacre Coeur Basilica (end)
Here's a Wikipedia link that describes how the movie was made.