Bill Patterson Named Official Artist of the 2020 Acura Grand Prix of Long Beach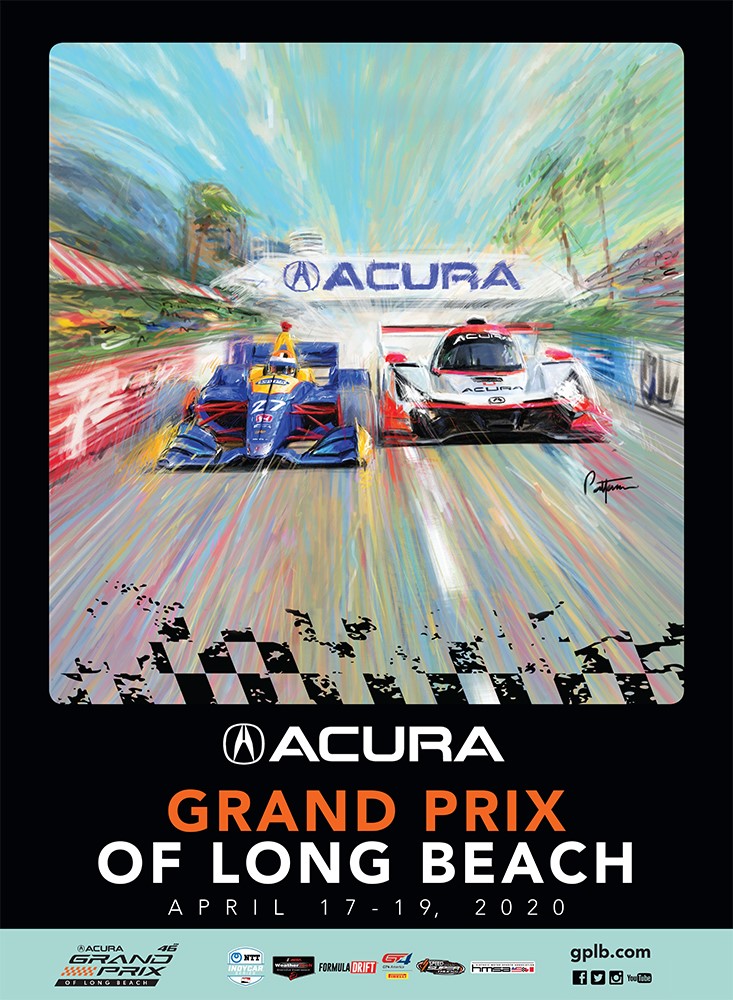 2020 Long Beach Poster and Race Program cover
Prominent motorsports artist Bill Patterson has been named the Official Artist for the 46th Acura Grand Prix of Long Beach, April 17-19, 2020.
Patterson, a resident of Bulverde, Tex. who became hooked on motorsports when he saw his first race in Argentina at the age of 13, has also been the Official Artist of WeatherTech Raceway Laguna Seca since 2004.
For the Acura Grand Prix of Long Beach, Patterson's colorful artwork illustrating an Indy car and IMSA DPi racing on Long Beach's world-famous front straightaway will serve as the official souvenir race poster. It will also be used on the covers of the race's Fan Guide and Official Program.
"I got the call to be the artist for the Acura Grand Prix!" said Patterson. "To be included in the historical record of this iconic event is an honor and I'm loving the finished image. I can't wait to be back in Long Beach this year and absorb the sights and sounds – and turn that inspiration into a series of Live Art paintings."
Drawn to downhill skiing at an early age in his native Wyoming, Patterson, who attended his first Grand Prix of Long Beach in 1988, immediately recognized in auto racing the same "edge" he knew from skiing. He describes it as the edge of precision, calculated speed and technical limits with infinite exhilaration.
Patterson is regularly commissioned by private clients for parties as well as corporate clients, such as Honda, Firestone, IBM, FedEx, Microsoft and Lamborghini, to perform "live art." The 2020 Acura Grand Prix will also feature Patterson's live art, as he will create original paintings in various locations throughout the racetrack during the weekend. He will also be available at select times during race weekend to sign fans' 2020 souvenir posters.
For additional information on Bill Patterson's live art and expressive work, visit BillPattersonArt.com and on Facebook, Twitter and Instagram @billpattart.
The 46th Acura Grand Prix of Long Beach will feature the NTT IndyCar Series, IMSA WeatherTech SportsCar Championship, Pirelli GT4 America SprintX Series, SPEED Energy Stadium SUPER Trucks, Super Drift Challenge and the Historic Formula Atlantic Challenge.
Ticket prices range from $34 for a Friday General Admission ticket to $155 for a three-day ticket that includes Saturday and Sunday reserved seating in grandstand upper levels. Pre-paid parking packages are also available, along with handicapped seating, NTT IndyCar Series Paddock access passes ($65 for three days or $27 per individual day), Super Photo tickets and an array of VIP Club packages.
Fans can select and pay for their 2020 Acura Grand Prix of Long Beach seats, parking and paddock passes online at gplb.com. Ticket orders can also be placed by calling the toll-free ticket hotline, (888) 827-7333. A printed ticket brochure that includes a circuit map, ticket prices, order form and other information is also available.
Fans can also follow the Acura Grand Prix on Facebook at GrandPrixLB, Twitter @GPLongBeach and Instagram at GPLongBeach.