Does new logo for Ferrari point to IQOS as sponsor?

Old Logo
With new years day behind us, we see that 2018 heralds a time of change, and this is also true of Ferrari.
Out with the old and in with the new. Yesterday all Scuderia Ferrari social media platforms changed their logo's to a simple shield type, away from the familiar Marlboro esq. logo we've all become accustomed to. The logo we've seen in recent times was an obvious subliminal nod to the famous Philip Morris owned brand (shown above), which itself succeeded the blatant cigarette 'barcode' variant below.
Instead we have a simple, more traditional shield isolated without any of the Philip Morris cues. An interesting move as TJ13 reported late last year that Ferrari had just signed a renewal with the Tobacco giant back in September for a rumored annual $160 million. One would tend to think that after such a large sum of cash, the main sponsor would have an increased presence on the team logo. Particularly when the Marlboro brand has been part and parcel of the Ferrari imagery for so long.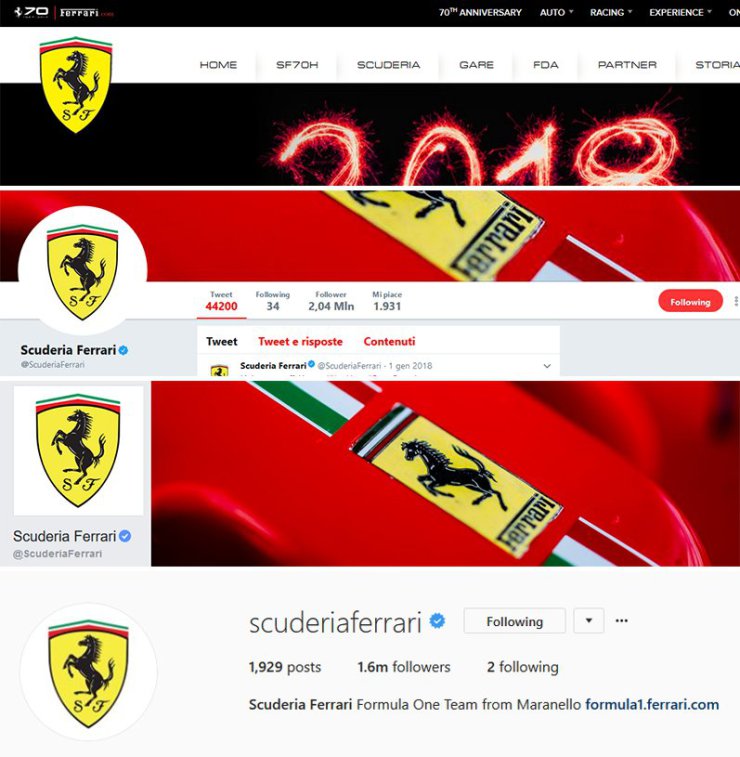 Now on social media – just the Ferrari shield
A very possible reason that we'd see a move away from the Marlboro look logo would be that the main sponsor has decided to change it's focus and that it may well be related to IQOS – another of brand of Philip Morris. Whispers suggest that IQOS (I Quit Ordinary Smoking) could become an official Ferrari sponsor from 2018 onwards.
Tobacco money has long since left Formula One with a voluntary team ban on using cigarette branding on the cars and related F1 merchandise since 2006. But despite this fact, Philip Morris and Marlboro have had advertising space allocated to them by Ferrari who in turn place 'appropriate' advertising partners, not overtly related to smoking, in order to receive a return on their investment with Ferrari, along with some vague presence on the team logo.
IQOS was launched in 2014 – initially in Japan and Italy, in 2016 it was available in twenty countries. Different to regular e-Cigs, IQOS vaporises real tobacco as opposed to using liquids. Three billion dollars has been invested in the development of the product, and in 2017 IQOS is to contribute $ 700 million to the profits of Philip Morris.
The question remains, has Ferrari and Phillip Morris found a way around the likely hurdles of inconsistent 'vaping' legislation from country to country? With the strong trend for e-cigs, it is clear Philip Morris see a threat to their established tobacco plantation model evidenced by the significant sums of money developing IQOS.
Coupled with the recent loss of significant Ferrari sponsor Spanish banking giant Santander, there most certainly will be change afoot at the Scuderia. TheJudge13