Busch Wins At Bristol – Kurt Busch, That Is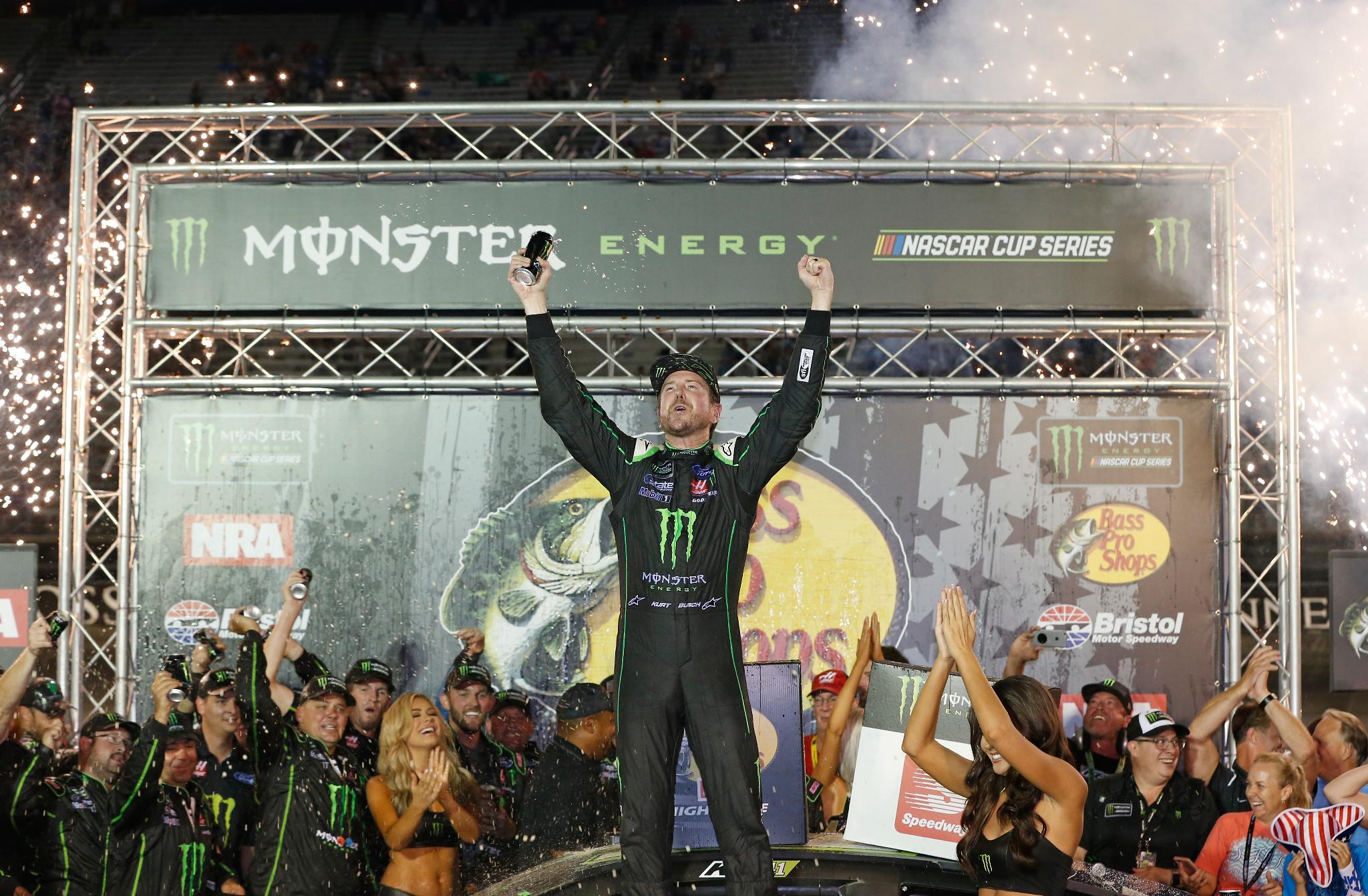 Kurt Busch wins at Bristol
Brian Lawdermilk/Getty Images
For the seventh time this season, a driver named Busch raced to the victory in the Monster Energy NASCAR Cup Series.
But unlike the six previous times, that driver's first name wasn't Kyle.
Instead, it was brother Kurt Busch that survived two late race restarts and held off Kyle Larson, as well as his Stewart-Haas Racing teammate Clint Bowyer to win the Bass Pro Shops NRA Night Race at Bristol Motor Speedway for his first win of the season – ending a 58-race winless drought dating back to his win in the 2017 season-opening Daytona 500.
Chase Elliott finished third, followed by Joey Logano and Erik Jones.
Kurt Busch's win solidifies his spot in the 16-driver field for the NASCAR playoffs with just one race left in the regular season.
"It's been a while," said Kurt Busch on his return to victory lane. "I'll tell you, this track brings out the best in everybody. Just to come here, to feel that Saturday night atmosphere, racing under the lights, it brings you back to the roots. The race was incredible. Every time I looked in the mirror, somebody different. Restarts, I look in the windshield, somebody different. Ton of fast cars tonight."
Kurt Busch's victory was the 30th of his career and his sixth at Bristol, where he scored his first-career Cup Series victory back in 2002.
"It's awesome to do it at Bristol. I love this place," said Kurt Busch. "It just matters to win. It's all about winning. I'm glad we did. We've been the most consistent team this year that hasn't won. I wasn't worried about not making the Playoffs, so we could kind of treat these races coming up as free-for-alls, and we're just gonna keep going after it."
[adinserter name="GOOGLE AD"] Saturday night's race marked just the ninth time in 24 races this season where none of the "Big Three" – Kyle Busch, Kevin Harvick and Martin Truex, Jr. – took the checkered flag. But it wasn't for lack of trying.
While Kurt Busch was enjoying his best performance of the season, younger brother Kyle Busch endured one of the most arduous races in recent memory.
Starting third on the 40-car field with eyes on scoring his second-career Bristol season sweep, Kyle Busch spun out on lap two while battling Ryan Blaney for position and wound up broadsided by at least three cars. Kyle Busch was able to limp back to pit road, but repairs to the No. 18 Toyota Camry put him two laps down.
Kyle Busch was on the verge of going three laps down to race leader Kyle Larson, but Kyle Busch fought back and gained a lap back on lap 199, and then got back on the beat out Kevin Harvick for the free pass at the end of the second stage to get back on the lead lap.
After that, it didn't take long for Kyle Busch to start slicing his way through the field, and eventually worked his way to third behind Martin Truex, Jr.
But while battling for position with 77 laps to go, Kyle Busch got into the left-rear of Truex and spun him, sending Truex hard into the inside wall and back up the racetrack – collecting J.J. Yeley in the process.
The crash ended Truex's night but ultimately set the stage for Kurt Busch's grand finale, as the 2004 Cup Series Champion powered past Bowyer on the restart to take the lead for the first time in the race.
While Kurt tried holding off Bowyer, Kyle Busch wasn't ready to give up, and began another push to try and work his way back up the head of the field.
With 17 laps to go, Kyle Busch cut down a left-rear tire while fighting Chris Buescher for position, sending Kyle Busch spinning and ultimately putting him three laps down and out of contention.
While that was bad news for Kyle Busch, it was nearly a disaster for Kurt Busch, as now the race leader not only faced another restart against Bowyer, but also against Larson – who was running with 30-lap fresher tires.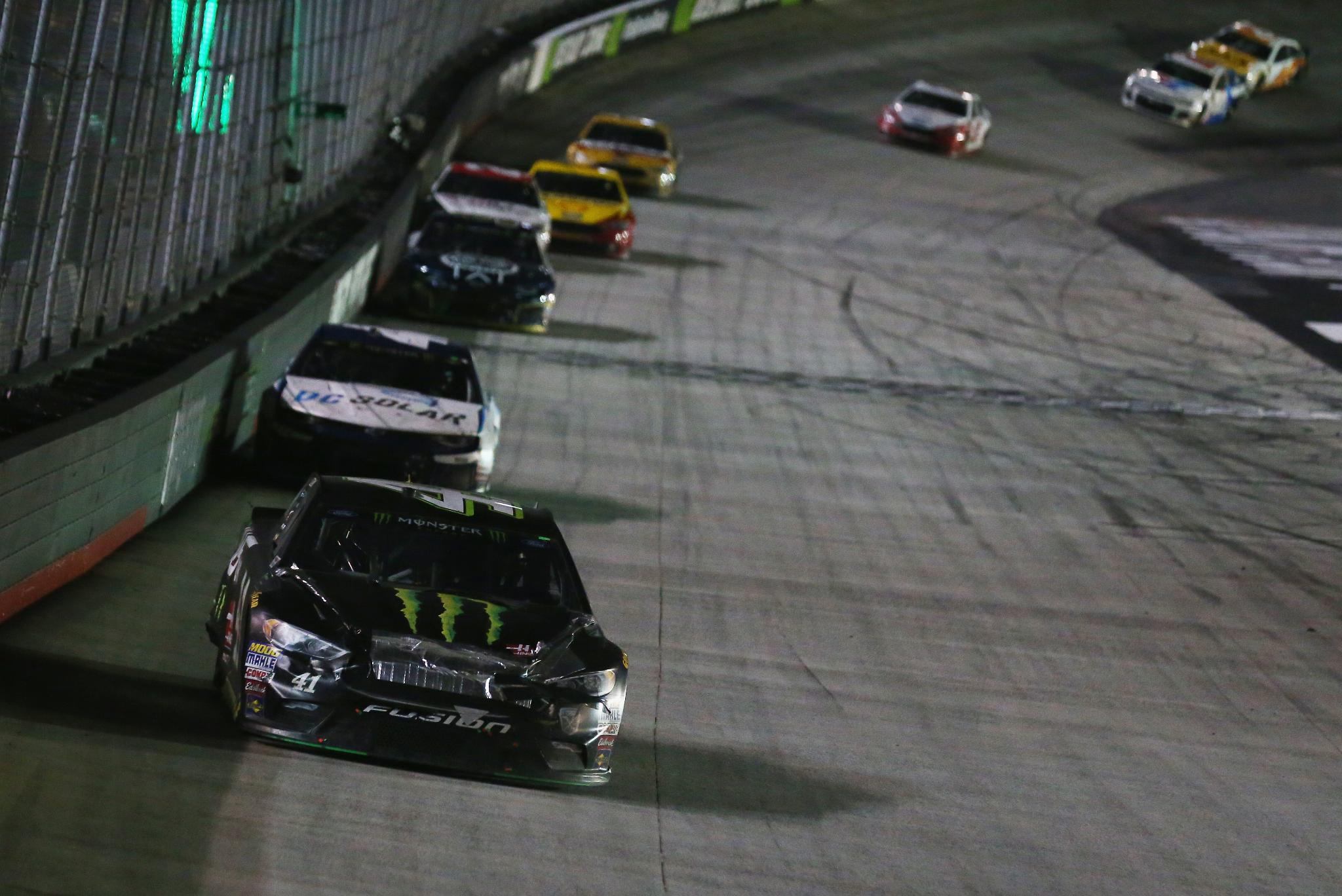 Kurt Busch leads Kyle Larson in the final laps at Bristol
Sarah Crabill/Getty Images
On the restart, Bowyer was slow to get going and Larson took advantage, roaring by on the high side to take over second place behind Kurt Busch.
Larson looked like he had a shot of reeling in Kurt Busch, but Larson bobbled slightly coming through the corner with eight laps to go, giving Kurt Busch just enough of a cushion to stay out in front to the finish.
Larson's runner-up finish was his second straight at Bristol, after leading 200 laps in the spring race back in April.
"I think if I had a better car, tires probably would have showed what they are really capable of. This was just a really frustrating day," said Larson. "I mean, I'm happy to finish second. That's probably 12 to 15 spots I feel like better than where I deserved to finish. Our car was just really bad. I got lucky all night lining up in the right lanes. I could gain three or four spots every restart. Just fight to hang on there – probably the most frustrating Bristol race I've had just 'cause I never really felt like I had a shot to win."
After finally killing his race car, Kyle Busch ended up rolling home 20th – his first finish outside the top five since crashing out at Daytona six weeks ago.
"That was just me and this team and never giving up and being able to drive up through the field like that. This M&M's Camry was fast, even torn up and wrecked and everything else, it was fast," said Kyle Busch. "We had a shot to win the race there, just got to racing with guys three-wide and couldn't get clear of them. We probably finished where we should have, but we had a shot anyways."
RACE RESULTS
| | | | | | | | | |
| --- | --- | --- | --- | --- | --- | --- | --- | --- |
| Finish | Start | # | Driver | Sponsor/Make | Laps | Led | Points | Status |
| 1 | 9 | 41 | Kurt Busch | Monster Energy/Haas Automation Ford | 500 | 24 | 46 | Running |
| 2 | 1 | 42 | Kyle Larson | DC Solar Chevrolet | 500 | 17 | 48 | Running |
| 3 | 2 | 9 | Chase Elliott | Kelley Blue Book Chevrolet | 500 | 112 | 50 | Running |
| 4 | 19 | 22 | Joey Logano | Shell Pennzoil Ford | 500 | 95 | 45 | Running |
| 5 | 14 | 20 | Erik Jones | Sport Clips Toyota | 500 | 0 | 39 | Running |
| 6 | 16 | 14 | Clint Bowyer | Rush Truck Centers/Cummins Ford | 500 | 120 | 44 | Running |
| 7 | 10 | 12 | Ryan Blaney | REV Ford | 500 | 121 | 46 | Running |
| 8 | 22 | 88 | Alex Bowman | Valvoline Chevrolet | 500 | 0 | 30 | Running |
| 9 | 13 | 48 | Jimmie Johnson | Lowe's for Pros Chevrolet | 500 | 0 | 32 | Running |
| 10 | 6 | 4 | Kevin Harvick | Jimmy John's Ford | 500 | 8 | 36 | Running |
| 11 | 23 | 6 | Trevor Bayne | AdvoCare Rehydrate Ford | 500 | 0 | 26 | Running |
| 12 | 24 | 31 | Ryan Newman | Bass Pro Shops/Cabela's Chevrolet | 500 | 1 | 25 | Running |
| 13 | 18 | 3 | Austin Dillon | Dow NORKOOL Chevrolet | 500 | 0 | 24 | Running |
| 14 | 7 | 11 | Denny Hamlin | FedEx Freight Toyota | 500 | 0 | 23 | Running |
| 15 | 26 | 95 | Kasey Kahne | Thorne Wellness Chevrolet | 500 | 0 | 22 | Running |
| 16 | 11 | 2 | Brad Keselowski | Miller Lite Ford | 499 | 0 | 21 | Running |
| 17 | 15 | 38 | David Ragan | Shriners Hospital For Children Ford | 499 | 0 | 20 | Running |
| 18 | 21 | 19 | Daniel Suarez | STANLEY Toyota | 499 | 0 | 19 | Running |
| 19 | 28 | 37 | Chris Buescher | Bush's Beans Chevrolet | 499 | 0 | 18 | Running |
| 20 | 3 | 18 | Kyle Busch | M&M's White Chocolate Toyota | 497 | 0 | 17 | Running |
| 21 | 32 | 13 | Ty Dillon | GEICO Chevrolet | 496 | 0 | 16 | Running |
| 22 | 29 | 32 | Matt DiBenedetto | Zynga Poker Ford | 496 | 0 | 15 | Running |
| 23 | 5 | 24 | William Byron | Liberty University Chevrolet | 496 | 0 | 14 | Running |
| 24 | 12 | 17 | Ricky Stenhouse Jr. | Fastenal Ford | 495 | 0 | 13 | Running |
| 25 | 39 | 0 | Landon Cassill | StarCom Fiber Chevrolet | 493 | 0 | 12 | Running |
| 26 | 35 | 15 | Ross Chastain | LowT Center Chevrolet | 492 | 0 | 0 | Running |
| 27 | 40 | 23 | Blake Jones | Planet Fitness Toyota | 485 | 0 | 10 | Running |
| 28 | 37 | 66 | Timmy Hill | Beef Jerky Outlet Toyota | 481 | 0 | 0 | Running |
| 29 | 20 | 1 | Jamie McMurray | Cessna/McDonald's Chevrolet | 435 | 0 | 8 | Running |
| 30 | 17 | 78 | Martin Truex Jr. | Bass Pro Shops Toyota | 431 | 0 | 7 | Accident |
| 31 | 8 | 10 | Aric Almirola | Smithfield Anytime Favorites Ford | 428 | 2 | 19 | Running |
| 32 | 34 | 7 | JJ Yeley | Steakhouse Elite Chevrolet | 423 | 0 | 0 | Accident |
| 33 | 36 | 51 | Reed Sorenson | Trading View Chevrolet | 338 | 0 | 4 | Accident |
| 34 | 30 | 72 | Corey LaJoie | ARK io Blockchain Solutions Chevrolet | 234 | 0 | 3 | Electrical |
| 35 | 33 | 96 | Jesse Little | Gaunt Brothers Racing Toyota | 59 | 0 | 0 | Accident |
| 36 | 4 | 21 | Paul Menard | Menards/Knauf Ford | 28 | 0 | 1 | Accident |
| 37 | 31 | 34 | Michael McDowell | Love's Travel Stops Ford | 10 | 0 | 1 | Accident |
| 38 | 27 | 43 | Bubba Wallace | Petty's Garage Chevrolet | 3 | 0 | 1 | Accident |
| 39 | 25 | 47 | AJ Allmendinger | Kroger ClickList Chevrolet | 1 | 0 | 1 | Accident |
| 40 | 38 | 99 | Gray Gaulding | StarCom Fiber Chevrolet | 1 | 0 | 1 | Accident |