Kyle Larson Pulls Out OT Victory In Bristol Xfinity Race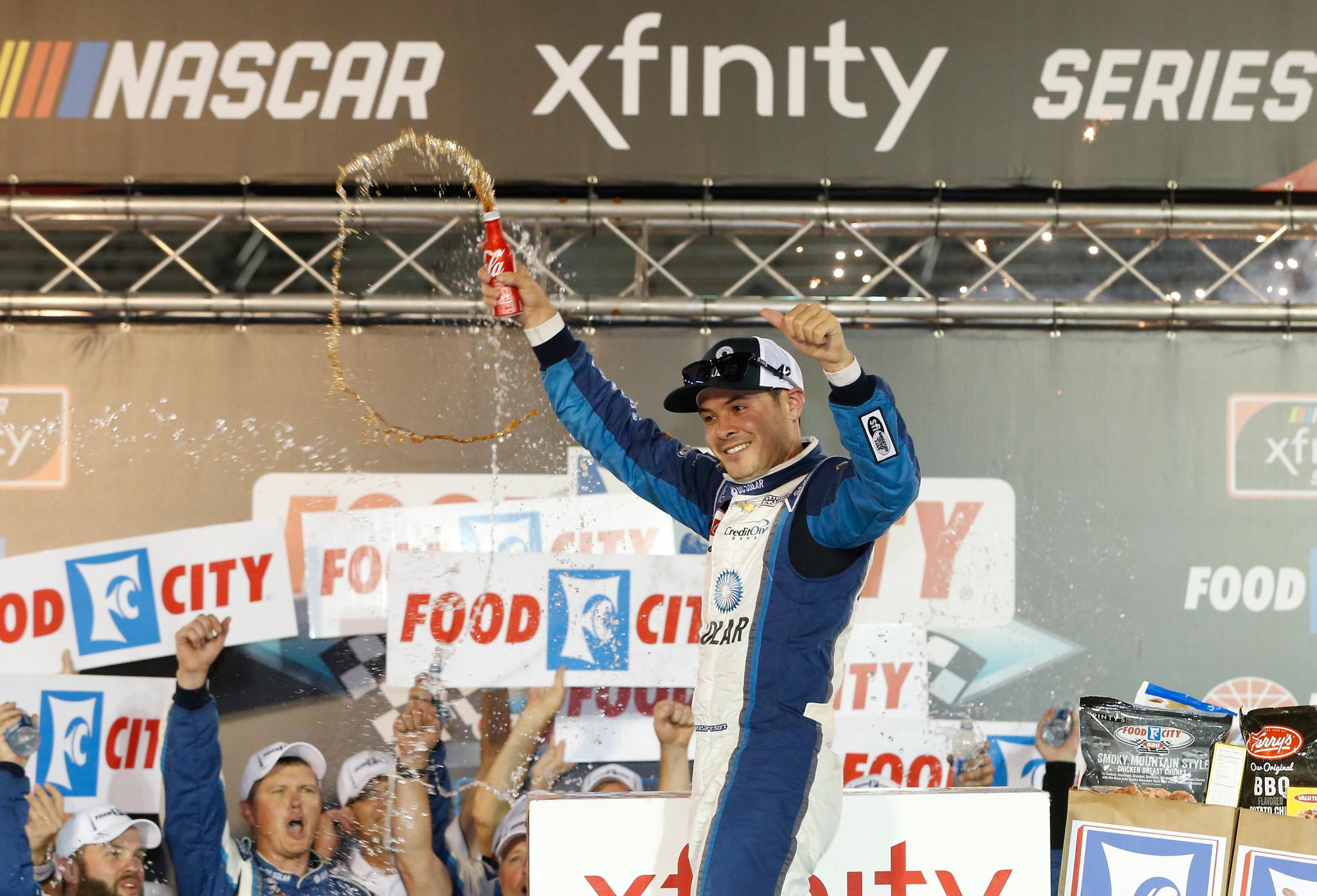 Kyle Larson wins at Bristol
Brian Lawdermilk/Getty Images
Going into Friday night, Kyle Larson had scored three second place finishes in NASCAR Xfinity Series action at Bristol Motor Speedway, but had not sealed the deal with a victory on the high banked half-mile raceway.
By the end of the Food City 300, that statistic had changed.
On an Overtime restart with rain threatening overhead, Larson held off first Justin Allgaier then Christopher Bell over the final three laps to score the win.
It's Larson's fourth win of the season, and the 12th in his series career.
Larson said scoring his first career win at Bristol felt "really good."
"I wish Kyle Busch wouldn't have had his troubles so I could have raced him, but it still feels really, really cool to win a race here, finally, at Bristol," he said as rain began falling over the speedway. "I've been close so many times. This is my best race track by far, I feel like, this and Homestead. It feels cool to win."
Likely the only driver that really could have challenged Larson was Kyle Busch. Busch, who started from the pole, led the first 69 laps of the race, and had lapped all but about 12 cars on the track. That early dominance went away when his No. 18 Toyota made contact with the outside wall left his Toyota suspension damage on the right front, ending his night.
Busch said rubber build up led to his problem.
[adinserter name="GOOGLE AD"] "Just rubber on top of rubber," he said. "The rubber build up that was happening – I just got into the corner a little too hot and just got up into the fence a little bit and then I don't know, two or three laps later it blew out."
With Busch sidelined, Larson went on to lead a total of 202 laps, winning both early segments en route to the victory.
"I've been so close so many times," Larson said. "I thought Bell was going to steal this one from me from me a few times throughout that race. He was really good. He and I have very similar driving styles, so I knew he would be another one that Kyle and I would have to beat. He showed that for sure."
The only two drivers that came close to challenging late in the going were Allgaier and Bell. Over the closing laps, Bell closed on Larson in lapped traffic, pulling alongside the leader on several occasions. But a late pit stop saw Bell come off pit road in third, and he slipped back into the top five on the restart.
Allgaier then gave chase to Larson, but couldn't seem to close. That changed when a spin by Daniel Hemric with two laps to go sent the race into Overtime.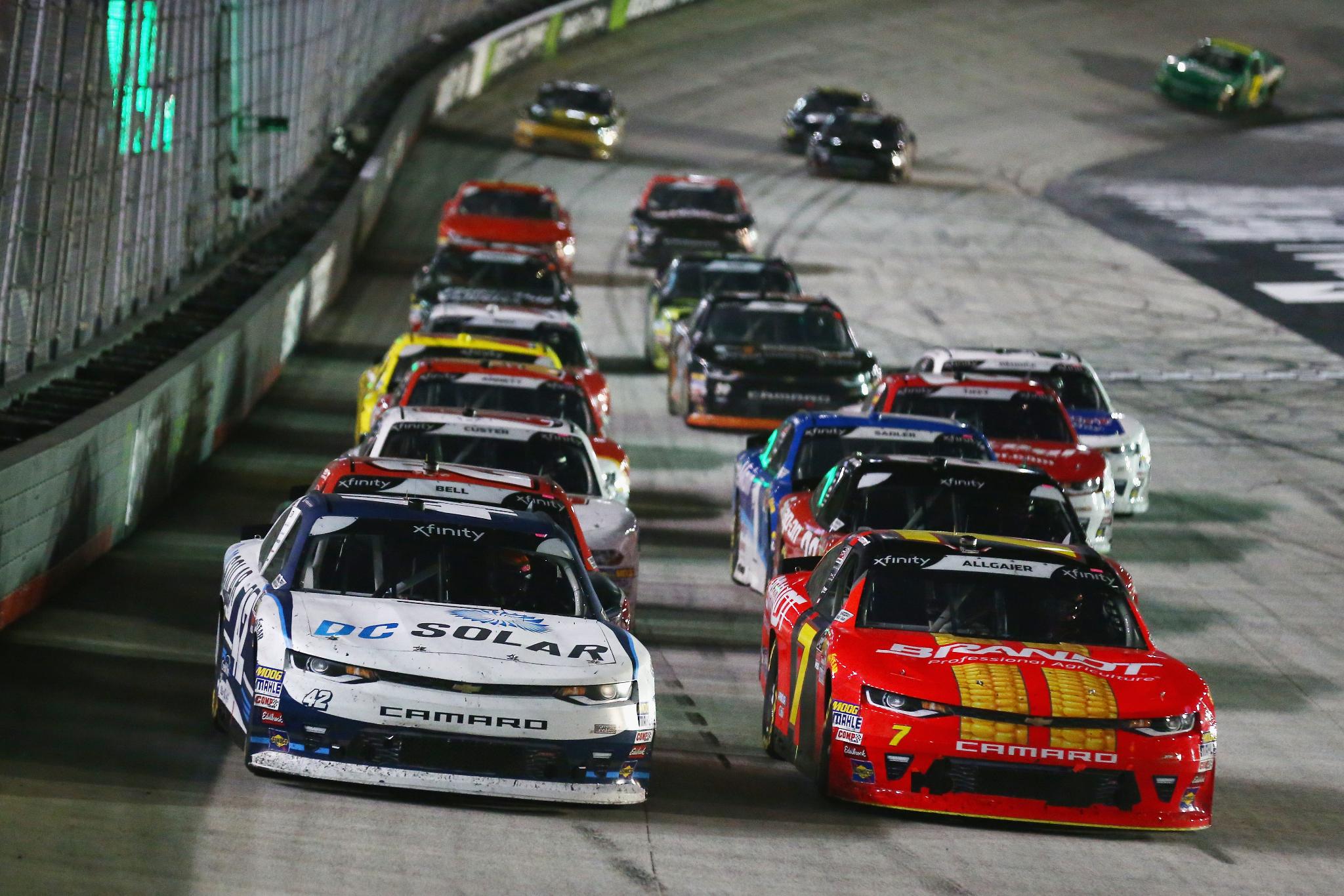 Kyle Larson (L) battles Justin Allgaier (R) at Bristol
Sarah Crabill/Getty Images
Allgaier was able to challenge Larson on the final restart, but as Larson moved away, Bell muscled his way past Allgaier to take home the second spot.
But up front, it was all Larson taking the win.
Larson was worried that the final caution might cost him another chance for a Bristol victory.
"We had the yellow there with two to go, and I was like 'Man, again! Again, I'm going to lose one here late,'" Larson said. "But we were able to get an average restart and get the win.
"Just really excited, and can't wait for tomorrow."
Bell, the current series points leader, had to settle for a second place result.
"I think we were on more than we were off," said Bell. "We just got caught there in the wrong restart lines a couple times and lost a couple spots. We started fourth on the one that mattered and that's how we ended up second. I just kind of did a bad job through traffic and I'd always try and make up time hoping that the 42 (Kyle Larson) or one of those guys would go to the bottom too quick and I'd be able to fill the gap on the outside. I'd always cost myself time there getting stuck behind the lapped cars."
Afterwards, Allgaier, who sits second in series points, second guessed his choice running the middle groove on the last restart.
"He (Larson) spun the tires pretty badly on that last restart, and – you know, I probably should have gone to the bottom in hindsight," he said. "I tried to run through the middle, it had worked earlier. Just didn't have the run off of two, and let the 20 get to us. Unfortunately, once he got to me, he got me a little bit loose, and it was kind of game over from there."
Cole Custer finished in fourth, with Joey Logano in fifth.
Elliott Sadler, Michael Annett, Chase Elliott, Tyler Reddick and Matt Tifft rounded out the top ten.
RACE RESULTS

| | | | | | | | | |
| --- | --- | --- | --- | --- | --- | --- | --- | --- |
| Finish | Start | # | Driver | Sponsor/Make | Laps | Led | Points | Status |
| 1 | 3 | 42 | Kyle Larson | DC Solar Chevrolet | 310 | 202 | 0 | Running |
| 2 | 2 | 20 | Christopher Bell | Rheem Toyota | 310 | 18 | 39 | Running |
| 3 | 10 | 7 | Justin Allgaier | BRANDT Chevrolet | 310 | 0 | 46 | Running |
| 4 | 9 | 0 | Cole Custer | Haas Automation Ford | 310 | 5 | 39 | Running |
| 5 | 4 | 22 | Joey Logano | Snap On Ford | 310 | 2 | 0 | Running |
| 6 | 6 | 1 | Elliott Sadler | OneMain Financial Chevrolet | 310 | 12 | 39 | Running |
| 7 | 22 | 5 | Michael Annett | Pilot Flying J Chevrolet | 310 | 0 | 32 | Running |
| 8 | 15 | 23 | Chase Elliott | Ollie's Bargain Outlet Chevrolet | 310 | 2 | 0 | Running |
| 9 | 14 | 9 | Tyler Reddick | Food City Chevrolet | 310 | 0 | 37 | Running |
| 10 | 5 | 2 | Matt Tifft | Nexteer Chevrolet | 310 | 0 | 32 | Running |
| 11 | 21 | 39 | Ryan Sieg | Cook?s Comfort Systems Inc. Chevrolet | 310 | 0 | 26 | Running |
| 12 | 18 | 4 | Ross Chastain | Flex Seal Chevrolet | 309 | 0 | 25 | Running |
| 13 | 19 | 51 | Jeremy Clements | RepairableVehicles.com Chevrolet | 308 | 0 | 24 | Running |
| 14 | 17 | 12 | Austin Cindric | Pirtek Ford | 308 | 0 | 23 | Running |
| 15 | 8 | 3 | Ty Dillon | Bass Pro Shops/Cabela's Chevrolet | 307 | 0 | 0 | Running |
| 16 | 25 | 0 | Garrett Smithley | Flex Tape Chevrolet | 305 | 0 | 21 | Running |
| 17 | 16 | 16 | Ryan Reed | Drive Down A1C Lilly Diabetes Ford | 304 | 0 | 20 | Running |
| 18 | 26 | 35 | Joey Gase | Sparks Chevrolet | 304 | 0 | 19 | Running |
| 19 | 23 | 15 | BJ McLeod | teamjdmotorsports.com Chevrolet | 304 | 0 | 18 | Running |
| 20 | 27 | 78 | JA Junior Avila | CorvetteParts.net Chevrolet | 304 | 0 | 17 | Running |
| 21 | 32 | 52 | David Starr | Chasco/Whataburger/Dai Chevrolet | 303 | 0 | 16 | Running |
| 22 | 12 | 11 | Ryan Truex | LeafFilter Gutter Protection Chevrolet | 302 | 0 | 22 | Running |
| 23 | 20 | 36 | Alex Labbe | Can-Am/Wholey/Cyclops Gear Chevrolet | 301 | 0 | 14 | Running |
| 24 | 11 | 21 | Daniel Hemric | South Point Hotel & Casino Chevrolet | 300 | 0 | 14 | Accident |
| 25 | 35 | 76 | Spencer Boyd # | Grunt Style Chevrolet | 299 | 0 | 12 | Running |
| 26 | 29 | 38 | Jeff Green | C2 Freight Resources Chevrolet | 298 | 0 | 11 | Fuel Pump |
| 27 | 38 | 55 | Bayley Currey | Prevagen Toyota | 288 | 0 | 0 | Running |
| 28 | 28 | 90 | Josh Williams | Sleep Well Chevrolet | 278 | 0 | 9 | Suspension |
| 29 | 7 | 19 | Brandon Jones | Juniper Toyota | 260 | 0 | 11 | Suspension |
| 30 | 30 | 40 | Chad Finchum | Smithbilt Homes/The Preserve Toyota | 195 | 0 | 7 | Accident |
| 31 | 39 | 74 | Stephen Leicht | Horizon Travel Chevrolet | 192 | 0 | 6 | Overheating |
| 32 | 34 | 1 | Vinnie Miller | Flex Glue Chevrolet | 179 | 0 | 5 | Transmission |
| 33 | 36 | 66 | Carl Long | TLC Resorts Chevrolet | 174 | 0 | 4 | Suspension |
| 34 | 13 | 60 | Chase Briscoe | Ford Ford | 142 | 0 | 3 | Accident |
| 35 | 37 | 45 | Josh Bilicki | Prevagen Toyota | 102 | 0 | 2 | Transmission |
| 36 | 1 | 18 | Kyle Busch | NOS Energy Drink Toyota | 74 | 69 | 0 | Accident |
| 37 | 24 | 8 | Ray Black II | Isokern Chevrolet | 36 | 0 | 1 | Engine |
| 38 | 31 | 13 | Timmy Hill | Smithbilt Homes Toyota | 22 | 0 | 1 | Overheating |
| 39 | 40 | 89 | Morgan Shepherd | Visone RV Chevrolet | 12 | 0 | 1 | Vibration |
| 40 | 33 | 93 | JJ Yeley | RSS Racing Chevrolet | 9 | 0 | 1 | Brakes |

[adinserter name="GOOGLE AD"]