Iowa Corn 300 fast facts
Ryan Hunter-Reay is the most prolific winner on the 7/8ths mile bullring
Race weekend: Saturday, July 7 – Sunday, July 8
Track: Iowa Speedway, a 7/8-mile (0.894-mile) oval in Newton, Iowa
Race distance: 300 laps / 268.2 miles
Entry List: Iowa Corn 300 (PDF)
Firestone tire allotment: Eleven sets for use through the weekend
Twitter: @iowaspeedway, @IndyCar, #IowaCorn300, #IndyCar
Event website: http://IowaSpeedway.com/
INDYCAR website: www.IndyCar.com
2017 race winner: Helio Castroneves (No. 3 Hitachi Team Penske Chevrolet)
2017 Verizon P1 Award winner: Will Power (No. 12 Verizon Team Penske Chevrolet), 34.7541 seconds, 185.210 mph (two laps)
One-lap qualifying record: Helio Castroneves, 17.2283 seconds, 186.809 mph, July 11, 2014
Two-lap qualifying record: Scott Dixon, 34.5588 seconds, 186.256 mph, July 11, 2014
NBCSN television broadcasts: Qualifying, 3:30 p.m. ET Saturday, July 7 (live); Race, 2 p.m. ET Sunday, July 8 (live). Leigh Diffey is the lead announcer for the NBCSN broadcasts this weekend alongside analysts Townsend Bell and Paul Tracy. Pit reporters are Jon Beekhuis, Katie Hargitt, Kevin Lee and Robin Miller.
[adinserter name="GOOGLE AD"]Advance Auto Parts INDYCAR Radio Network broadcasts: Mark Jaynes is the chief announcer alongside analyst Anders Krohn. Jake Query is the turn announcer with Rob Howden, Nick Yeoman and Michael Young reporting from the pits. All Verizon IndyCar Series races are broadcast live on network affiliates, XM 209, Sirius 217, IndyCar.com, indycarradio.com and on the INDYCAR Mobile app. All Verizon IndyCar Series practice and qualifying sessions are available on IndyCar.com, indycarradio.com and on the INDYCAR Mobile app.
Video streaming: All practice sessions for the Iowa Corn 300 will stream live on RaceControl.IndyCar.com and on the INDYCAR YouTube channel (www.youtube.com/indycar).
At-track schedule (all times local):
Saturday, July 7
10:15 – 11:15 a.m. – Verizon IndyCar Series practice #1, RaceControl.IndyCar.com (live)
2:30 p.m. – Qualifying for the Verizon P1 Award (single car/two timed laps), NBCSN (live)
5:45 – 6:45 p.m. – Verizon IndyCar Series practice #2, RaceControl.IndyCar.com (live)
Sunday, July 8
1 p.m. – Driver introductions
1:35 p.m. – Command to start engines
1:40 p.m. – Iowa Corn 300 (300 laps/268.2 miles), NBCSN (live)
Race notes:
Last year's winner doesn't have a ride and won't be in the race

There have been six different winners in the 10 previous Verizon IndyCar Series races in 2018: Sebastien Bourdais (Streets of St. Petersburg), Josef Newgarden (ISM Raceway, Barber Motorsports Park and Road America), Alexander Rossi (Streets of Long Beach), Will Power (INDYCAR Grand Prix and Indianapolis 500), Scott Dixon (Raceway at Belle Isle-1 and Texas Motor Speedway) and Ryan Hunter-Reay (Raceway at Belle Isle-2). Dixon's win at Texas on June 9 gave him sole possession of third on the all-time Indy car victory list with 43 wins.
The Iowa Corn 300 will be the fourth oval race on the 2018 Verizon IndyCar Series schedule. The previous three races were won by Josef Newgarden (ISM Raceway), Will Power (Indianapolis 500) and Scott Dixon (Texas Motor Speedway). The remaining two oval races will take place at Pocono Raceway (Aug. 19) and Gateway Motorsports Park (Aug. 25).
The Iowa Corn 300 will be the 12th Verizon IndyCar Series event at Iowa Speedway. Ryan Hunter-Reay is the only active driver to win at Iowa Speedway more than once. Hunter-Reay has three wins (2012, 2014 and 2015). Past winners Josef Newgarden (2016), James Hinchcliffe (2013), Marco Andretti (2011) and Tony Kanaan (2010) are also entered in the event.
Andretti Autosport has won seven of the 11 previous races at Iowa Speedway, including six of the last eight races (Dario Franchitti 2007, Tony Kanaan 2010, Marco Andretti 2011, Ryan Hunter-Reay 2012, 2014 and 2015 and James Hinchcliffe 2013). Chip Ganassi Racing has two wins (Dan Wheldon 2008 and Franchitti 2009). Ed Carpenter Racing, which won the event in 2016 with Josef Newgarden, and Team Penske, which won last year's race with Helio Castroneves, have each won at Iowa once.
Ryan Hunter-Reay and Dario Franchitti are the only drivers to win at Iowa Speedway and win the Verizon IndyCar Series championship in the same season. Hunter-Reay accomplished the feat in 2012 and Franchitti in 2007 and 2009.
No driver has won the Verizon IndyCar Series race at Iowa Speedway from the pole.
Four drivers have competed in every Verizon IndyCar Series race at Iowa: Marco Andretti, Helio Castroneves, Scott Dixon and Tony Kanaan. All but Castroneves are entered this year. Fifteen drivers entered have led laps at the track (Kanaan 523, Josef Newgarden 394, James Hinchcliffe 245, Dixon 126, Andretti 94, Will Power 57, Ryan Hunter-Reay 54, Graham Rahal 19, Ed Carpenter 18, Charlie Kimball 17, Simon Pagenaud 13, Takuma Sato 7, Sebastien Bourdais 6, Alexander Rossi 4 and Max Chilton 4).
Ryan Hunter-Reay finished on the podium in five of the last six Iowa Speedway races (2012-2015 and 2017)… Josef Newgarden has finished on the podium in three of the last four races at Iowa (2014-2016)…Tony Kanaan has finished on the podium in five of his last eight races at Iowa… Marco Andretti has finished on the podium in four of his 11 starts at Iowa Speedway…Scott Dixon has started on pole three times (two earned) and has nine top-10 finishes at Iowa in 11 starts, but he has never finished better than third.
Five drivers – Spencer Pigot and rookies Zachary Claman De Melo, Matheus Leist, Zach Veach and Robert Wickens – will be competing at Iowa Speedway for the first time in the Verizon IndyCar Series. All but Wickens raced at Iowa in Indy Lights. Leist won at Iowa in 2017.
Tony Kanaan seeks to start his 294th consecutive race this weekend, which would extend his Indy car record streak that began in June 2001 at Portland. Scott Dixon has made 234 consecutive starts heading into the weekend, which is the second-longest streak in Indy car racing. Marco Andretti has made 210 consecutive starts, and will tie Jimmy Vasser for the third-longest streak in Indy car racing should he start the Iowa Corn 300.
IOWA CORN 300 PRE-EVENT QUOTES:
Look for Newgarden to be strong
JOSEF NEWGARDEN (No. 1 Hitachi Team Penske Chevrolet): "I'm pumped to head to Iowa. Our win at Road America was great and we feel like we have gained a lot of momentum. We've done well at Iowa before and we're excited to head back. I know the whole No. 1 Hitachi Chevrolet team and myself enjoy short-track racing so we're looking forward to racing in front of a really fun crowd."
MATHEUS LEIST (No. 4 ABC Supply AJ Foyt Racing Chevrolet): "Pretty excited and glad to be back in Iowa – it was a good race for me last year. I started 10th and won the (Indy Lights) race so it was a fun race. I'm looking forward to the INDYCAR race on the short oval which is a pretty cool track. I think our team will do a great job there."
JAMES HINCHCLIFFE (No. 5 Arrow Electronics SPM Honda): "Iowa is one of the funnest little races of the whole year. That track is so exciting; short-track racing in INDYCAR is always awesome. Our test there last week was pretty productive. It's crazy going to some of these new tracks with the lower downforce and try to wrap your head around it. We learned a lot, and I'm looking forward to getting back there in the Arrow Electronics car for the race as it's usually a really fun event."
ROBERT WICKENS (No. 6 Lucas Oil SPM Honda): "I think Iowa is going to be a pretty crazy race. I'm still trying to get used to these ovals, especially with Iowa being a high-banked short track. I'm really looking forward to learning something new. The goal for the weekend, like it has been on any oval, is to try to make it to the end and hopefully we can be in the top 10 in the final stint. It's going to be a lot of hard work, and I think qualifying is going to be very important. I'm pretty confident that everyone on the No. 6 Lucas Oil car will do a good job to get us up front."
SCOTT DIXON (No. 9 PNC Bank Chip Ganassi Racing Honda): "Iowa Speedway is such a tough track for racing Indy cars. You have very high G-force loading and there is always a lot of action on this little bullring style track. You really have to be on your game with traffic and the quick lap times. I really love this event and especially the fans that attend – they really love Indy car racing and show their support. We've had a few poles here over the years but the best we've finished so far is third – hopefully, we can change that this time."
ED JONES (No. 10 DC Solar Chip Ganassi Racing Honda): "I'm looking forward to Iowa as it's a very challenging track. I think it's gotten quite a bit bumpier from last year as well. We'll have less downforce on the cars this year, and without testing there like some of the other teams did recently, the learning curve will be steeper. I think we're going to need to roll off the truck fast in order to have a good start to the weekend here. It's been a decent run of races here lately, but I know we can perform better and I want to get back to where we were in Detroit in terms of performance."
WILL POWER (No. 12 Verizon Team Penske Chevrolet): "I'm looking forward to heading to Iowa this weekend. We didn't have the best luck at Road America so we're hungry to have a strong weekend. Short-track racing can be a lot of fun which makes racing at Iowa a blast. The No. 12 Verizon Chevy team has worked hard to put together a great car for this weekend and I'm really excited about it."
TONY KANAAN (No. 14 ABC Supply AJ Foyt Racing Chevrolet): "Next up, we go to Iowa Speedway, a short oval that's one of my favorite tracks of the year. It's a place that keeps you on your toes at all times, and although it's just under a mile long, it makes for an extremely fast and exciting race. I didn't test there with the new aero configuration and honestly, I don't know how the car will handle compared to what we used to have downforce-wise, but I expect it to be a harder race than usual. Being a short track, we're always running in traffic and hopefully, we have a good balance to keep the No. 14 up front and get another trophy for the hardware collection."
GRAHAM RAHAL (No. 15 Luther Automotive Group Honda): "We tried to test at Iowa Speedway in May but didn't get to turn a lap due to the conditions. I think it will be a great race. INDYCAR always manages to put on a great event at Iowa Speedway and I think a lot of that is due to the track design and layout compared to other ovals. We can use a variety of different lines and lanes and that makes it fun. I am looking forward to getting back on track with a new aero design that will require more lifting and possibly even braking for the race. I need a win and we as a team need a win. It's that simple. To get back into the championship, top-10s seemingly aren't allowing us to close up any ground. We need to win and Iowa would be a great place to do it. I have always loved racing in Iowa. I find the track makes for a ton of fun for me and I think we can get it done. With a little luck, some speed and good strategy, and we can make it happen. It's been a very competitive season. As everyone can see, we (the field) are separated by basically nothing every weekend. As a team, we need to continue to push hard to find some gains and try to close the gap on a very talented group of drivers and teams currently."
SEBASTIEN BOURDAIS (No. 18 Team SealMaster Honda): "We have qualified very well this year including the ovals and the car has been strong in the races, so I am pretty happy about that. However, Iowa's track is trickier, especially with the lower level of downforce we will use this year and what is expected to be a hot weather race. We, unfortunately, didn't get an opportunity to test unlike half of the field, so we won't know what we have until we unload the car and get to it, but I count on my SealMaster crew to give me another very competitive car. At this point in the season, I'm just looking to have a good result and see how things play out. We'll just need to keep working hard and hopefully catch a break."
ZACHARY CLAMAN DE MELO (No. 19 Paysafe Honda): "I raced at Iowa in the Indy Lights the last couple of years so I'm familiar with the track. It's certainly an interesting oval with it being so short. I'm not sure what to expect as I have not driven an Indy car there yet, but I'm confident my No. 19 Paysafe Dale Coyne Racing team will once again give me a good car this weekend and we can bounce back from our difficult weekend at Road America two weeks ago."
ED CARPENTER (No. 20 Ed Carpenter Racing Fuzzy's Vodka Chevrolet): "I am always excited to race at Iowa Speedway and be a part of the Iowa Corn 300. It has always been a track where I have been comfortable and enjoyed racing at. It's such a small track for our cars and how quick we can run. It's a constant challenge, both physically and mentally. We were able to test last week and it gave us a good direction before we get back on track on Saturday."
SPENCER PIGOT (No. 21 Ed Carpenter Racing Fuzzy's Vodka Chevrolet): "I haven't raced at Iowa Speedway since 2015 and that was in Indy Lights. I'm looking forward to the challenge of racing here in an Indy car this weekend. A pass can take four to five laps to get done while you're running side by side, which is pretty unique for us. There's not a lot of places we get to do that and as a driver, it's a lot of fun. We tried a lot of things on the car at the test last week and have a good direction to work towards heading into the race. Hopefully, we can have a strong race in the Fuzzy's Vodka car."
SIMON PAGENAUD (No. 22 Menards Team Penske Chevrolet): "I'm excited to head to Iowa with the No. 22 Menards Chevrolet team. It's a short track which is really fun and also challenging. The fans there are always so excited to see INDYCAR so we're ready to get back there to put on a good show while also chasing the win."
CHARLIE KIMBALL (No. 23 Tresiba Chevrolet): "I'm looking forward to getting back to a short track. At Phoenix, we learned a lot during the race and I think we were pretty competitive toward the end of the race. I know the Carlin team has worked really hard on the No. 23 Tresiba Chevrolet car since then. We've gained a ton of experience since that second race on to just past the midpoint of the Verizon IndyCar Series season. It's always a great weekend – the Iowa fans come out in droves and with it being the weekend after the Fourth of July, there will probably be some fireworks both off and on the track."
ZACH VEACH (No. 26 Relay Group 1001 Honda): "I have a lot of good memories from Iowa coming through the ladder series. It's a place that's always challenging to race and that adds to what makes it a good show. We had one of our strongest tests last week there, so I'm really excited for what we can accomplish this weekend in the Relay car."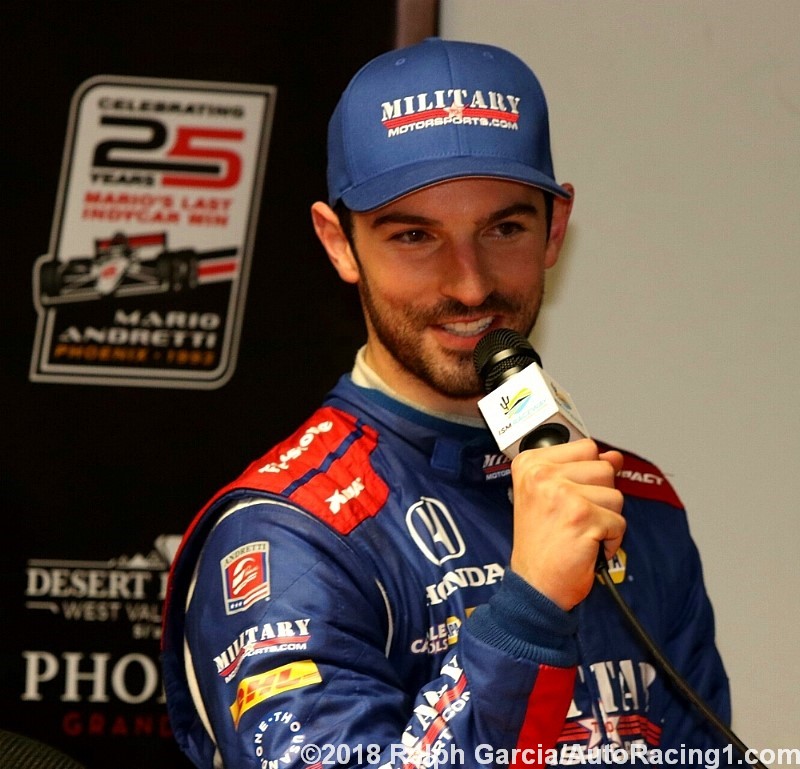 Alexander Rossi hopes test results lead to win for team
ALEXANDER ROSSI (No. 27 NAPA AUTO PARTS Honda): "Iowa has been one of my favorite ovals since Day 1. I love how short, fast, banked and bumpy it is. We had four very strong cars in the test last week, so hopefully, we can convert that into a big result for the NAPA team in order to get the momentum swinging back in our favor once more."
RYAN HUNTER-REAY (No. 28 DHL Honda): "Iowa Speedway is certainly a special place for me and the team as a whole. I love short oval racing, but Iowa is one of my favorites. We've had lots of success here in the past, winning three times, however with a new car and a completely different aero package we have our work cut out for us to develop a new setup that will suit this car. We're coming off a productive test, so we're looking to keep the momentum we have rolling into the Iowa Corn 300 weekend and bring home another good result for the DHL Honda."
TAKUMA SATO (No. 30 Mi-Jack / Panasonic Honda): "Iowa Speedway is just non-stop cornering with usually the highest lateral G-force loads recorded during the season. I simply like Iowa and hopefully that continues this year with the lower-downforce package which will make it even more challenging. Also, there is a bump in Turn 2 which is tricky but generally it's a fun, great track and racing there is exciting. It will be a tough race. It's a lower-downforce package so it's possibly the lowest one in recent years, so I'm sure it's going to be very challenging to follow cars. If we could run in the second lane, then it will be quite exciting one but we will see. It's extremely important to carry good momentum to Iowa and I am sure we will be able to achieve another strong result. We have been a little too unlucky in many circumstances but the last race showed our speed and strength very well in a no-caution, straightforward race so I am looking forward to having another good weekend."
MAX CHILTON (No. 59 Gallagher Chevrolet): "It's hard to believe that we're over halfway through this season already. Last race at Road America was definitely a learning experience for us and I think we all took quite a bit of perspective from that weekend heading into the second half of the season. It's nice to have a weekend between Road America and Iowa to really regroup and get our heads back into a short oval mindset. I'm actually pretty excited to get back to Iowa. Iowa was the first race I won here (in Indy Lights) in the U.S. and for it to be on an oval with Carlin was pretty special. Even though there's a big difference between INDYCAR and Indy Lights and everything that goes into it, it'll be exciting to go back to Iowa with a team (Carlin) who has won at Iowa Speedway every time they have raced there."
GABBY CHAVES (No. 88 Harding Group Chevrolet): "I'm really excited for the Iowa Corn 300 this weekend. We had an extremely productive test last week with the team, so we're already ahead going into Practice 1 on Saturday. Iowa Speedway always brings a nice crowd, so looking forward to a fun weekend with the Harding Racing team! It should really be a great race."
MARCO ANDRETTI (No. 98 U.S. Concrete / Curb Honda): "Iowa hasn't been very nice to me the last few years, during the aero kit era, but I'm looking to regain my strength there. We had a strong test last week and we'll build on that for the race this weekend."