Pritchett, C. Force Lead the Charge in Southern Nats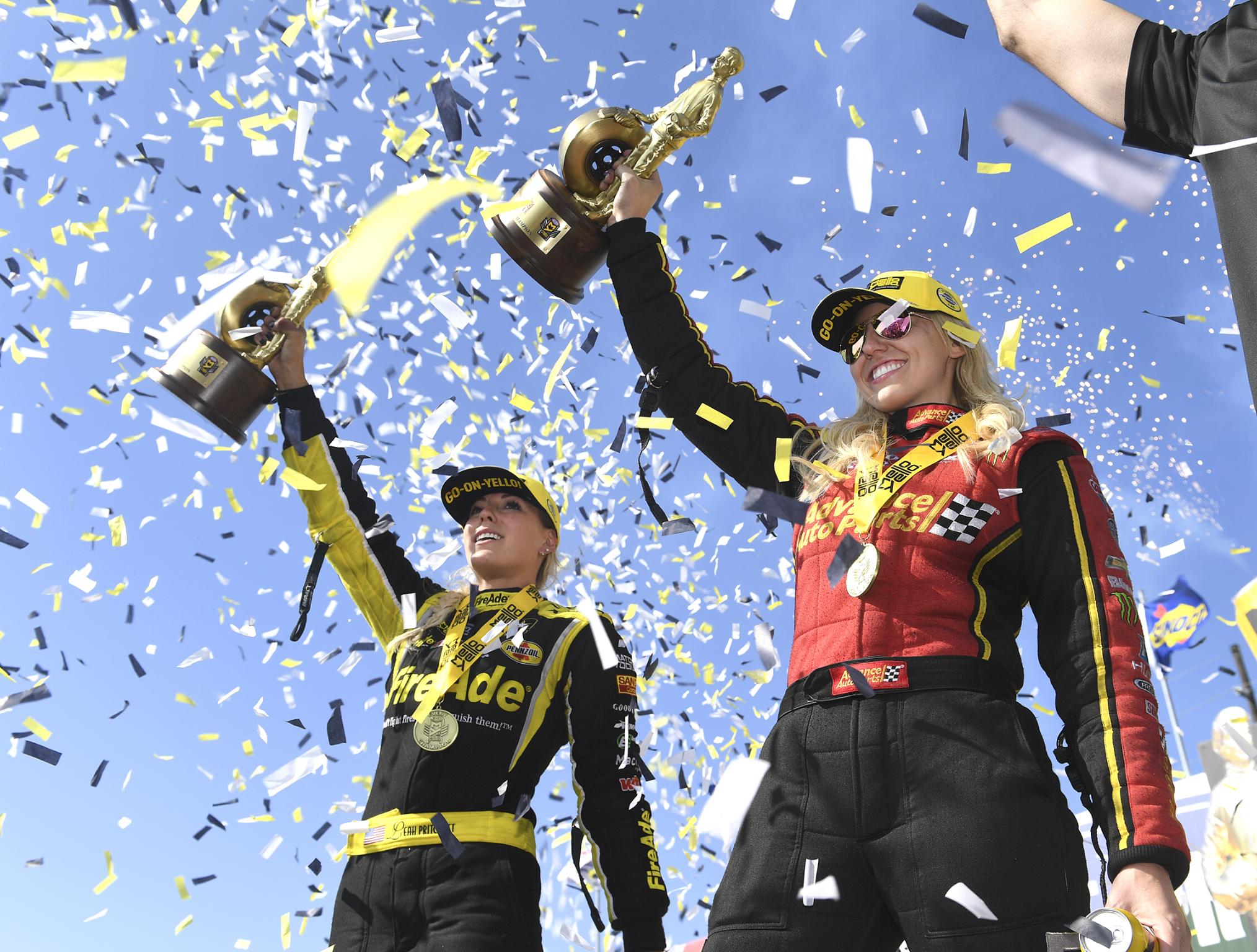 Leah Pritchett (L) and Courtney Force celebrate in the Winner's Circle at Atlanta Dragway
Female NHRA nitro racers dominated Top Fuel and Funny Car as Leah Pritchett and Courtney Force were victorious in their respective categories Sunday at the 38th annual NHRA Southern Nationals Powered by Mello Yello at Atlanta Dragway
Vincent Nobile (Pro Stock) and Eddie Krawiec (Pro Stock Motorcycle) were also victorious in their respective categories at the seventh of 24 events on the 2018 NHRA Mello Yello Drag Racing Series schedule.
Pritchett locked in her first Top Fuel win of the season as she piloted her FireAde dragster to a pass of 3.874-seconds at 322.42 mph during the final round of eliminations to defeat Blake Alexander. This is her first Wally since Brainerd 2017, first event victory at Atlanta Raceway, and sixth overall. Pritchett is the first of Don Schumacher Racing's Top Fuel drivers to go to the winner's circle this season.
"We were racing one round at a time," Prichett stated. "The conditions out there were varying all weekend long and that's why my hats and kudos go off to Todd Okuhara [crew chief] for finding what was right and wrong and adjusting to it. Yeah, you want to win every race, but this one was very special in a lot of ways."
Alexander, who raced to his first career final round, started from the No. 10 position and defeated Antron Brown, defending world champion Brittany Force, and points leader Steve Torrence before the final round.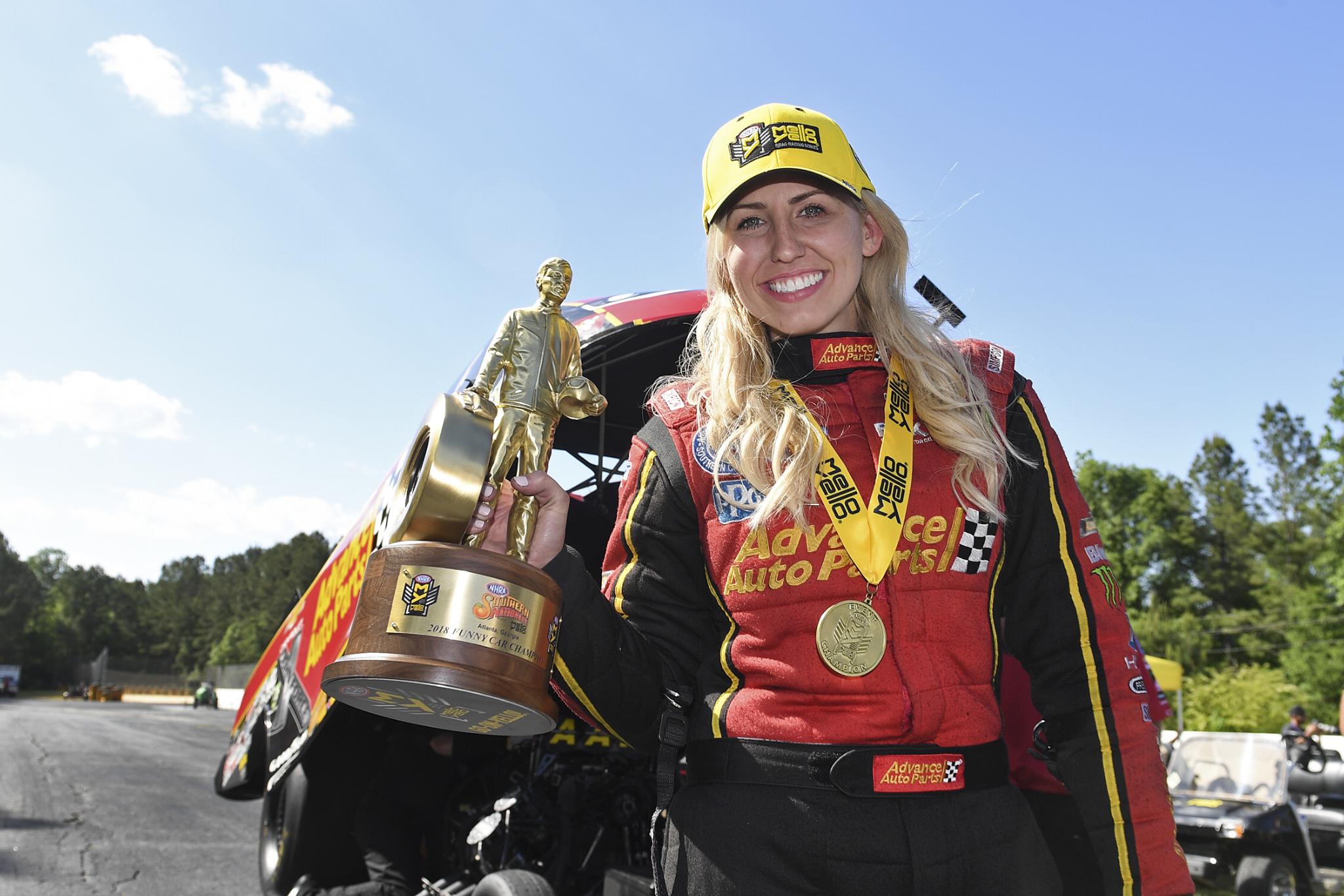 Courtney Force
C. Force claimed her second Funny Car victory this season with a pass of 4.046 at 313.73 in her Advance Auto Parts Chevrolet Camaro against Matt Hagan. After earning the No. 1 qualifier on Saturday, Force secured her 10th career victory making her the most victorious female Funny Car driver in the history of NHRA.
"We had a great race car all day long," Force said. "Every single guy on my crew has done just a phenomenal job all day long. From getting the No. 1 qualifying spot yesterday in our final qualifying run and to go out there and have some consistent runs. It's great to be able to get a win at the track my sister [Ashley Force-Hood] got her first win at. It's a pretty good day and we're excited."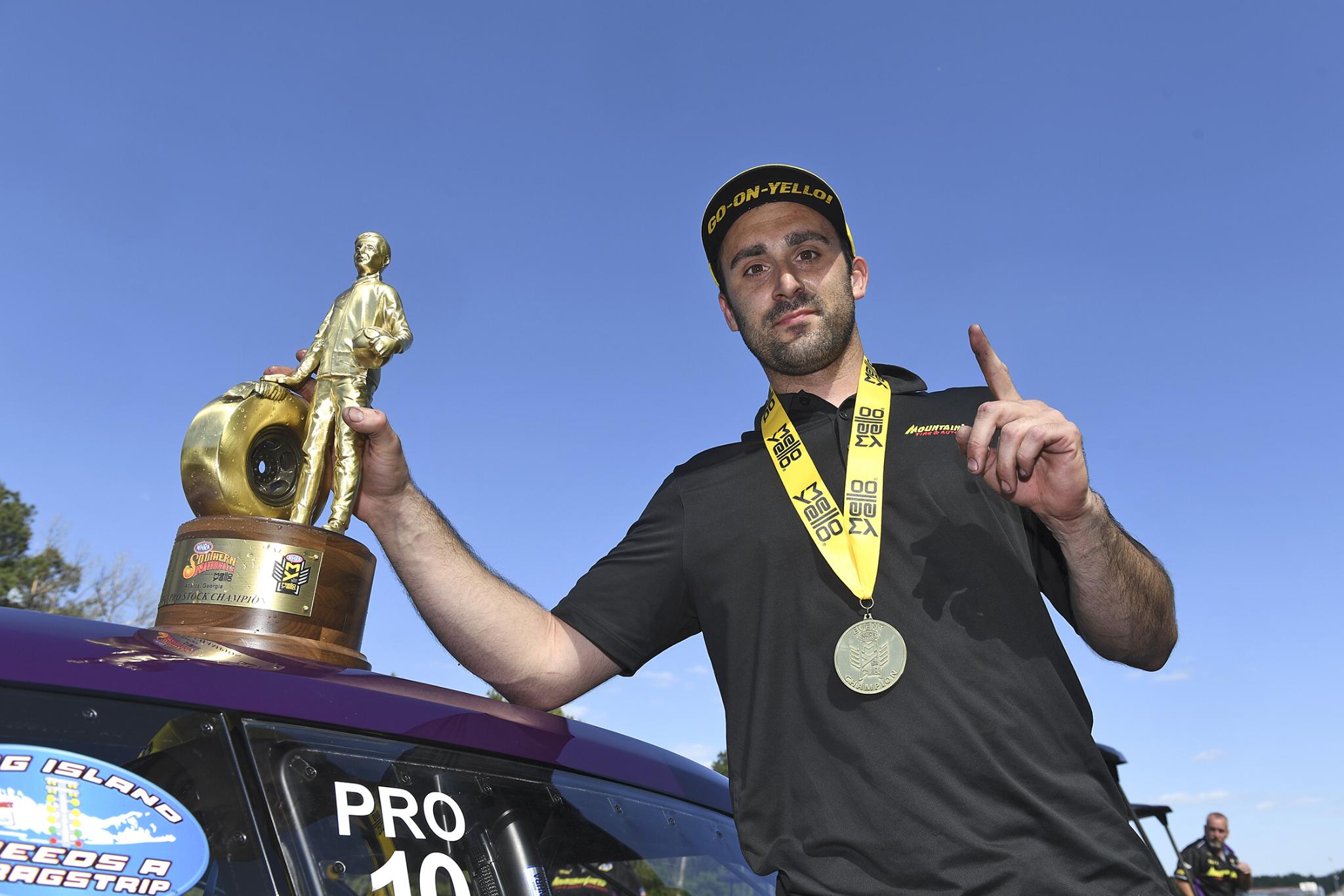 Vincent Nobile
In Pro Stock, Vincent Nobile powered his Mountain View Tire Chevrolet Camaro to a victory run of 6.599 at 209.72 to defeat Tanner Gray in his Valvoline Chevrolet Camaro in the final round. This is his first career victory at Atlanta and second Wally of the season.
"I had the car to beat this weekend," Nobile stated. "I know we didn't qualify No. 1 but going back after each run and looking at the computer we know we could've been the fastest car each session. On race day we got it together and was the fastest car every session. All in all, it was a great day."
Nobile is now the points leaders for Pro Stock after defeating Alan Prusiensky, Chris McGaha and No. 1 qualifier Greg Anderson prior to the final round.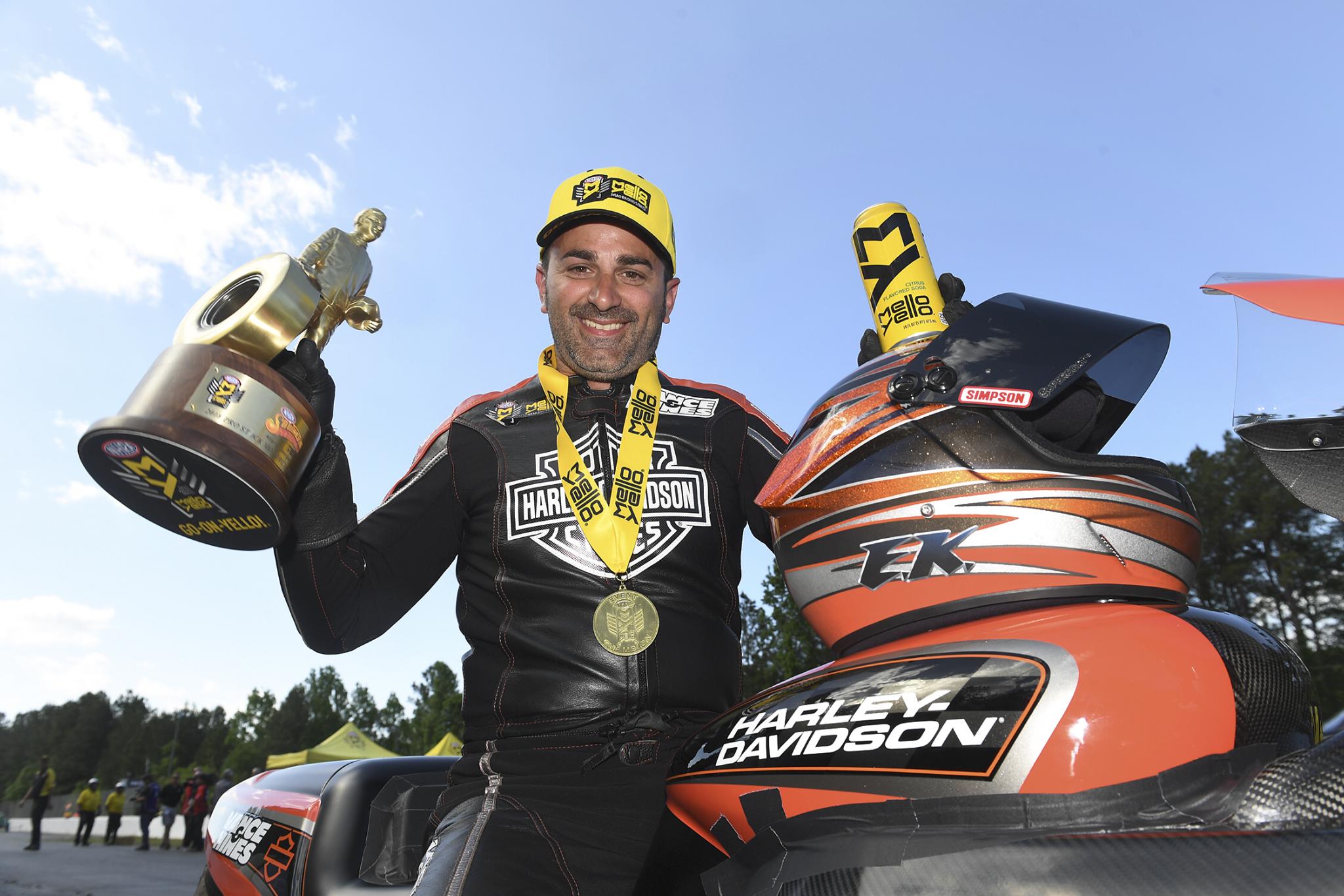 Eddie Krawiec
Defending world champion Eddie Krawiec rode his motorcycle to winner's circle with a pass of 6.922 at 194.91 on his Screamin' Eagles Vance & Hines Harley-Davidson. This is his fourth event victory at the NHRA Southern Nationals and 45th of his career.
"This track has been very challenging for us this weekend," Krawiec said. "I really had a better bike than what I showed Friday and Saturday because I was not making the proper chassis adjustments to get the bike down the track. We're going to learn and continue to get better. That's what we need to do."
Krawiec was the No. 5 qualifier and was victorious against Angie Smith, LE Tonglet, the No. 1 qualifier Hector Arana Jr., and Scotty Pollacheck in the final round.
The 2018 NHRA Mello Yello Drag Racing Series season continues with the Menards NHRA Heartland Nationals presented by Minties at Heartland Motorsports Park May 18-20 in Topeka, Kan.
Sunday's Final Results
Top Fuel — Leah Pritchett, 3.874 seconds, 322.42 mph def. Blake Alexander, Foul – Red Light.
Funny Car — Courtney Force, Chevy Camaro, 4.046, 313.73 def. Matt Hagan, Dodge Charger, 4.148, 291.13.
Pro Stock — Vincent Nobile, Chevy Camaro, 6.599, 209.72 def. Tanner Gray, Camaro, 6.614, 209.52.
Pro Stock Motorcycle — Eddie Krawiec, Harley-Davidson, 6.922, 194.91 def. Scotty Pollacheck, Suzuki, 6.958, 193.18.
Point standings (top 10)
Top Fuel 1.Steve Torrence, 581; 2. Tony Schumacher, 461; 3. Doug Kalitta, 458; 4. Clay Millican, 448; 5. Leah Pritchett, 435; 6. Antron Brown, 390; 7. Brittany Force, 375; 8. Terry McMillen, 336; 9. Richie Crampton, 280; 10. Mike Salinas, 275.
Funny Car 1. Courtney Force, 546; 2. Jack Beckman, 538; 3. Matt Hagan, 487; 4. Tommy Johnson Jr., 436; 5.J.R. Todd, 428; 6. Robert Hight, 421; 7. Ron Capps, 404; 8. Cruz Pedregon, 357; 9. Shawn Langdon, 301; 10. Tim Wilkerson, 293.
Pro Stock 1. Vincent Nobile, 534; 2. Bo Butner, 486; 3. Greg Anderson, 463; 4. Chris McGaha, 460; 5.Drew Skillman, 444; 6. Tanner Gray, 439; 7. Erica Enders, 438; 8. Deric Kramer, 414; 9. Jason Line, 368; 10. Alex Laughlin, 349.
Pro Stock Motorcycle 1. Eddie Krawiec, 286; 2. Andrew Hines, 261; 3. Scotty Pollacheck, 246; 4. Jerry Savoie, 203; 5. Angelle Sampey, 177; 6. Hector Arana, 159; 7. LE Tonglet, 154; 8. Hector Arana Jr, 153; 9. Cory Reed, 142; 10. Steve Johnson, 121.