Kevin Harvick Cruises To Xfinity Series Victory At Atlanta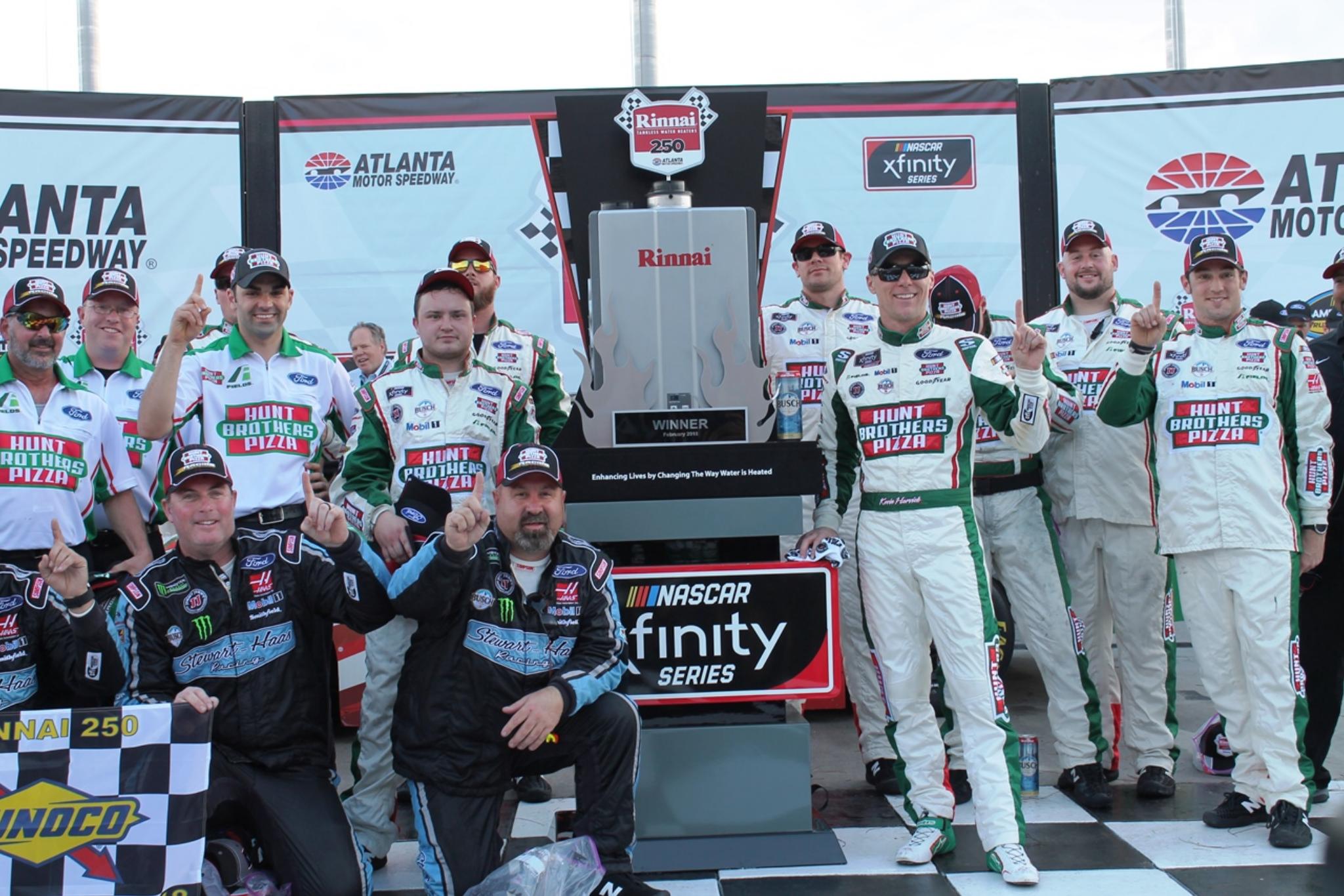 Kevin Harvick celebrates in Victory Lane at Atlanta
Atlanta Motor Speedway
You can sum up Kevin Harvick's run in Saturday's NASCAR Xfinity Series race at Atlanta Motor Speedway in two words – total domination.
Harvick not only led the most laps, but he swept all three segments en route to his 47th career series victory in the Rinnai 250.
"It's just been a really good place for me," said Harvick, who has scored five NXS wins at Atlanta in his career. "The race track has stayed very similar to what it's been for a number of years. It's been a great race track for us. I was frustrated last year when we didn't leave here with a trophy on either day and that's always our goal."
Harvick used a bold three-wide move on a lap 16 restart to bypass Joey Logano and Christopher Bell to take the lead. From there, he went virtually unchallenged the rest of the way, only giving up the lead on pit road for pit stops.
Harvick showed just how strong his car was after making a pit stop just before the end of the first segment. Restarting 10th with just one lap left in the segment, Harvick powered all the way to second by the time the field thundered down the backstretch. He then drove to the outside of leader Logano going into turn three, and scampered away to win the segment.
In all, Harvick led 141 of the race's 163 laps, leaving only seven cars on the lead lap when the checkered flag flew. He edged out the competition by a 4.183 second margin of victory.
Logano made a last pass on Bell to finish in second. "I don't think we were even close," Logano said with a head shake. "Kevin played with us all day long. He ran a few hard laps when he needed to. It doesn't matter what car he's driving, Kevin's just really good at Atlanta.
"Second always stings a little bit."
"I am a little bit bummed right now but I will probably wake tomorrow and be pretty happy with it," said Bell. "Our Ruud Camry was fast but I wasn't good enough to run with the 98 (Harvick). And I don't know if I put myself up too fast on the green flag pit stop that the 22 (Logano) was able to get by me late in the race. I don't know what I missed on but our guys brought a really fast Camry and we'll try to get them in Vegas next week."
John Hunter Nemechek, making his series debut driving for Chip Ganassi Racing, finished in fourth after battling back from a cut tire that sent him to the pits under green on lap 33.
"I'm happy with the outcome that we had finishing fourth," Nemechek said. "My goal was to come here and run all the laps and learn as much as I could, hopefully bring home a top-five run. After we unloaded yesterday, my first-ever lap in an Xfinity car was lap one of practice yesterday. I definitely have learned a lot through both practice sessions, qualifying and the race. There was a couple of instances in the first segment where I got turned sideways a couple of times by some of the veterans – I guess I'm learning my place or something – but overall it was a really good day."
Elliott Sadler finished in fifth.
The race was slowed four times by caution flags, but only one of those was for a major on-track incident.
It occurred when contact between Cole Custer and Nemechek off turn four sent Nemechek up the track in front of Sadler. Sadler made contact with Nemechek's back bumper, sending Nemechek sliding back down into Custer's car. That contact turned Custer's Ford into the outside wall, leaving the car heavily damaged and ending Custer's day.
"It looks like the 42 (Nemechek) got out of shape and then the 1 (Sadler) had a run and he didn't hit the brakes hard enough and he hit the 42 and the 42 hit me. We just got collected in something and there's not much we could do. We had a pretty good car and was just kind of riding at that point, but, I don't know. We'll go on to the next one."
"I've got to apologize to Cole Custer," Nemechek said after the race. "I never meant to get into him off (turn) 4 there. I got tagged from behind."
The other only on-track caution was for debris on lap 35. The other two came out at the end of the segments.
Justin Allgaier, Austin Cindric, Kyle Benjamin, Ryan Truex, and Ryan Reed rounded out the top ten.
RACE RESULTS
| | | | | | | | |
| --- | --- | --- | --- | --- | --- | --- | --- |
| Finish | Start | # | Driver | Sponsor/Make | Laps | Points | Status |
| 1 | 5 | 98 | Kevin Harvick(i) | Hunt Brothers Pizza Ford | 163 | 0 | Running |
| 2 | 2 | 22 | Joey Logano(i) | Discount Tire Ford | 163 | 0 | Running |
| 3 | 1 | 20 | Christopher Bell # | Ruud Toyota | 163 | 52 | Running |
| 4 | 3 | 42 | John H. Nemechek | Fire Alarm Services Inc. Chevrolet | 163 | 33 | Running |
| 5 | 10 | 1 | Elliott Sadler | Cessna Chevrolet | 163 | 43 | Running |
| 6 | 17 | 7 | Justin Allgaier | Rinnai Chevrolet | 163 | 37 | Running |
| 7 | 9 | 12 | Austin Cindric # | Fitzgerald Glider Kits Ford | 163 | 37 | Running |
| 8 | 8 | 18 | Kyle Benjamin | PEAK Antifreeze & Coolant Toyota | 162 | 34 | Running |
| 9 | 15 | 11 | Ryan Truex | Bar Harbor Chevrolet | 162 | 28 | Running |
| 10 | 12 | 16 | Ryan Reed | Drive Down A1C Lilly Diabetes Ford | 162 | 36 | Running |
| 11 | 6 | 21 | Daniel Hemric | South Point Hotel & Casino Chevrolet | 162 | 28 | Running |
| 12 | 14 | 2 | Matt Tifft | Surface Sunscreen Chevrolet | 162 | 25 | Running |
| 13 | 16 | 3 | Ty Dillon(i) | Red Kap/Alsco Chevrolet | 162 | 0 | Running |
| 14 | 13 | 23 | Spencer Gallagher | Allegiant Chevrolet | 162 | 23 | Running |
| 15 | 18 | 60 | Chase Briscoe | Ford Ford | 162 | 22 | Running |
| 16 | 24 | 4 | Ross Chastain | teamjdmotorsports.com Chevrolet | 162 | 21 | Running |
| 17 | 7 | 19 | Brandon Jones | Menards/Jeld-Wen Toyota | 161 | 20 | Running |
| 18 | 33 | 36 | Alex Labbe # | Can-Am/Wholey/Cyclops Gear Chevrolet | 161 | 19 | Running |
| 19 | 11 | 9 | Tyler Reddick # | Nationwide Children's Hospital Chevrolet | 161 | 30 | Running |
| 20 | 21 | 5 | Michael Annett | Pilot Flying J Chevrolet | 161 | 17 | Running |
| 21 | 28 | 28 | Dylan Lupton | thinQ Technology Partners Ford | 160 | 16 | Running |
| 22 | 25 | 39 | Ryan Sieg | Georgia Metals Inc. Chevrolet | 160 | 15 | Running |
| 23 | 20 | 24 | Kaz Grala # | Marlow's Tavern Ford | 159 | 14 | Running |
| 24 | 37 | 90 | Josh Williams | StarTron Chevrolet | 159 | 13 | Running |
| 25 | 32 | 15 | Garrett Smithley | teamjdmotorsports.com Chevrolet | 159 | 12 | Running |
| 26 | 30 | 35 | Joey Gase | DonataLifeGeorgia.org/Sparks Chevrolet | 159 | 11 | Running |
| 27 | 22 | 51 | Jeremy Clements | AllSouthElectric.com Chevrolet | 158 | 10 | Running |
| 28 | 36 | 52 | David Starr | Striping Technology Chevrolet | 158 | 9 | Running |
| 29 | 35 | 76 | Spencer Boyd # | Grunt Style Chevrolet | 158 | 8 | Running |
| 30 | 23 | 78 | BJ McLeod | Densify Chevrolet | 158 | 7 | Running |
| 31 | 39 | 1 | Vinnie Miller # | JAS Trucking Chevrolet | 158 | 6 | Running |
| 32 | 38 | 55 | Stephen Leicht | Janiking Toyota | 157 | 5 | Running |
| 33 | 26 | 8 | Tommy Joe Martins | Chevrolet | 156 | 4 | Running |
| 34 | 29 | 66 | Timmy Hill | CrashClaimsR.Us Dodge | 156 | 3 | Running |
| 35 | 34 | 40 | Chad Finchum # | Smithbilt Homes Toyota | 155 | 2 | Running |
| 36 | 40 | 0 | Matt Mills | teamjdmotorsports.com Chevrolet | 154 | 1 | Running |
| 37 | 19 | 93 | JJ Yeley | RSS Racing Chevrolet | 92 | 1 | Engine |
| 38 | 31 | 89 | Morgan Shepherd | Visone RV Chevrolet | 49 | 1 | Brakes |
| 39 | 4 | 0 | Cole Custer | Haas Automation Ford | 10 | 1 | Accident |
| 40 | 27 | 38 | Jeff Green | RSS Racing Chevrolet | 5 | 1 | Vibration |