Corvette Racing At 20 Years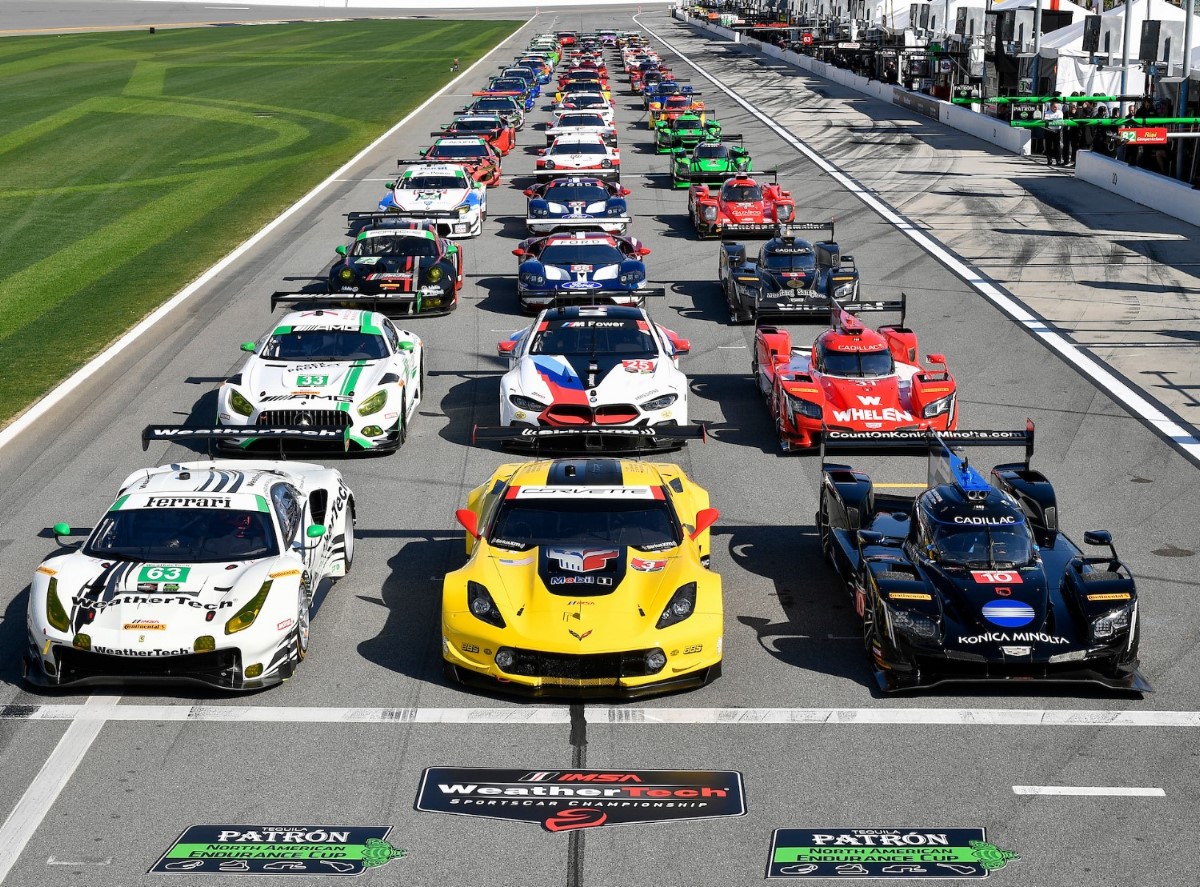 Chevy Corvette front and center yesterday at Daytona
LAT for IMSA
A lot can happen in 20 years. Just ask anyone on the Corvette Racing program.
Sports car racing's premier GT program readies to complete its second full decade in the 2018 season. It's unchartered territory in the modern era of North American endurance racing. No other factory program can claim the number of victories and championships during the last 20 years as Corvette Racing – 106 worldwide victories, 12 Manufacturer and Team championships, and 11 Driver titles. All of this by the same program competing with the same manufacturer and same model.
Likewise, no other vehicle in racing shares the DNA of its production counterpart like the Chevrolet Corvette – America's sports car for 65 years. Two of the latest examples are the Corvette Z06 and new-for-2019 Chevrolet Corvette ZR1, both of which used lessons learned from racing such as chassis construction and stiffness along with the most advanced aerodynamic strategies found on a production Corvette.
"I'm proud of Corvette Racing's achievements during our 20 years," said Jim Campbell, Chevrolet U.S. Vice President, Performance Vehicles and Motorsports. "I was fortunate to be part of the team that launched the program at Daytona in January of 1999. In addition to its on-track accomplishments, I'm proud of the relationship that Corvette Racing has established with our production teams from design, engineering and propulsion to improve Corvettes for the showroom. We continually learn at the race track about delivering the right combination of engine power, durability and efficiency, combined with the development of advanced aerodynamics and the use of lightweight materials.
[adinserter name="GOOGLE AD"]"Corvette owners and fans have supported Corvette Racing from the beginning. I recall hundreds of owners driving their Corvettes to Daytona for the 1999 Rolex 24 to support our launch. We appreciate their passion, knowledge and support at the nearly 200 races since. One of the true hallmarks of this program has been teamwork: Every single day from every single person. That transcends from the race team and our engineers to the Corvette community."
It's a point of pride for everyone associated with the Corvette Racing program from Chevrolet leadership and engineering to Corvette Racing drivers and personnel.
MARK KENT, CHEVROLET DIRECTOR OF MOTORSPORTS COMPETITION: "Over the 20 years of Corvette Racing, we've learned numerous and valuable lessons on the track, at the track and away from the track. On the track, we have had tremendous technology transfer between our Corvette race cars and their production counterparts. At the track, we've used Corvette Racing as a great way to interact with current and prospective customers to learn what they like and don't like in their Corvettes, what they'd like to see in future Corvettes and the opportunity for us to inform them on some of the features of the cars that they own.
"One of the biggest benefits we get from Corvette Racing is technology transfer: not just taking lessons from the race car to the production line, but also taking the tools we use to develop the race car, such as wind tunnel testing tools, and using them to help develop our production cars. This form of technology transfer has been a key enabler for our high-performance Corvette variants, as well our other Chevrolet production cars. Twenty years of Corvette Racing has been of tremendous value to Corvette and Chevrolet."
Can those front engine pushrod Corvettes defeat those expensive rear engine cars of Ford, Porsche and Ferrari again?
TADGE JUECHTER, EXECUTIVE CHIEF ENGINEER, CORVETTE: "It's difficult to imagine what the Corvette brand would look like without the Corvette Racing program. For 20 years we have been working towards total integration of the race- and street-car teams. Endurance racing provides us with a treasure trove of information in any number of areas – aerodynamics, engine performance and chassis, to name a few. That kind of real-world data is highly valuable to production engineers and designers, and we have made great use of those lessons from the racetrack. It really improves our products, and resonates with our fanbase and Corvette owners."
HARLAN CHARLES, PRODUCT MANAGER, CORVETTE: "In the last 20 years, the Corvette Racing program has provided us a unique way to connect to our enthusiastic Corvette customers. Racing allows us to compete and prove ourselves on the track with the same iconic sports car we compete to sell in the showroom – and no other racing program I know of does a better job accomplishing that than Corvette Racing. The feedback on what our owners and fans want in their performance cars based on the success of Corvette Racing is beyond valuable. They are a passionate, knowledgeable group that will continue to drive the Corvette brand to greater achievements and accolades."
DOUG FEHAN, CORVETTE RACING PROGRAM MANAGER: "The past 20 years have flown by… from our Daytona premier in 1999 to last year's IMSA championships and all the excitement and monumental achievements in between. As a team, we have set the global standard in GT racing for continuity, consistency, professionalism and performance. Those are the elements for which we are the most proud. When you look at the Corvette brand from a global perspective and you see the incredible consumer sales numbers, you begin to realize the extraordinary value racing brings to the success and stature of both Chevrolet and Corvette. From the engineering hallways in Warren, Michigan to the pit lane in Le Mans, France the Corvette team has continuously demonstrated that working together with a common focus can achieve outstanding results in the street and on the track."
GARY PRATT, TEAM PRINCIPAL, CORVETTE RACING: "Twenty years… I can hardly believe it. It's a great partnership that we have with Chevrolet on the Corvette Racing program. It shows the commitment of everyone who touches this program. I'm really proud to have worked with the drivers, crew members, engineers, everyone at Chevrolet and many others who make this team what it is."
ANTONIO GARCIA, NO. 3 MOBIL 1/SiriusXM CHEVROLET CORVETTE C7.R: "Corvette Racing has shown how strong we have been over the years. We never stop competing and trying. I'm very happy after all these years that I have helped to contribute to big race wins and manufacturer championships for Chevrolet. The amount of success we have had over the last six years… we've won four championships. That shows we are the best team, and I'm very happy to carry on with Corvette Racing. Let's carry on and keep doing what we are doing. We can keep achieving big wins and more championships. It will be more difficult again in 2018. We just need to keep doing what we did in 2017 and more."
JAN MAGNUSSEN, NO. 3 MOBIL 1/SiriusXM CHEVROLET CORVETTE C7.R: "I joined in 2004, and since then everything about this team has grown. The number of people involved, the attention from fans and of course the success and championships. It's always a privilege being part of a program like this with a history like Corvette Racing's and the support we get from Chevrolet and our partners. Hopefully we can carry on building on those experiences and successes. There is no sign of anyone in this program letting up. We are full speed ahead going for more championships and victories. It's just a fantastic group to be around and I'm very proud and honored to be part of it."
OLIVER GAVIN, NO. 4 MOBIL 1/SiriusXM CHEVROLET CORVETTE C7.R: "I've been with Corvette Racing since 2002, and I've seen Corvette Racing evolve immensely over the years. It really has been incredible to watch. The racing landscape changes constantly with new teams and new manufacturers, but the constant has always been Corvette Racing. It's such a strength of this program to have been flexible and smart enough to apply themselves in the best way to come away consistently with championships and race victories over the years. I'm immensely proud to be part of it all."
TOMMY MILNER, NO. 4 MOBIL 1/SiriusXM CHEVROLET CORVETTE C7.R: "With this coming year being the 20th year of Corvette Racing, it's really unheard of in any motorsports paddock. The partnership between Chevrolet and Pratt & Miller is fantastic – two companies with such a stellar relationship for so many years and one in which I've not seen any hint of complacency. They push each other to be the best. In this environment, it's really unique. The whole reason this program success is to sell Corvettes and showing the cross-over between the race program and the production car side. The way Chevrolet does it is like no other group. Not only am I proud to be part of this team for their success in the racing world but also proud to see, know meet and work with the people that have a hand in making the production car. They are so interested in what we do, and their as big a fan of us as we are of the work they do. Having both racing and production working together is cool to see and a big part of our success."
RON FELLOWS, CORVETTE RACING DRIVER, 1999-2008: "It's incredible to think that the Corvette Racing program is still running as strong as it is after 20 years. It's a testament to the commitment from Chevrolet and the quality of the work on the team. Being around for a lot of the first 'firsts' was an absolute privilege. It was really neat to be part of the growth. When I think back to the early days, we were learning how to finish. Then it was how to compete and then learning how to win. There were times that it was frustrating. We got our first win late in 2000, but the breakout year was 2001. We won overall in the Rolex 24 At Daytona, our first class win at Le Mans where we ran as high as fourth overall and then contending for our first ALMS Championship. As the saying goes, the rest is history! When you look at the numbers in terms of history, 106 wins is just incredible. But I'll never forget the first one. The effort everyone on this program gives remains fantastic."