IMSA 2018 Team-By-Team Preview: Prototype
No. 2 Tequila Patron ESM
DAYTONA BEACH, Fla. –
As the 2018 IMSA WeatherTech SportsCar Championship swings into action with this weekend's Roar Before The Rolex 24, a busy offseason for teams and drivers has already begun to move into the rearview mirror. Here's a quick, team-by-team look at what's in store for each entry in the Prototype class:
No. 2 Tequila Patron ESM
Nissan DPi
Scott Sharp/Ryan Dalziel/Olivier Pla
The No. 2 team closed out 2017 with a victory in the Motul Petit Le Mans. Returning as full-season co-drivers are Sharp and Dalziel, with a new endurance racing teammate for 2018, the ultra-fast Pla. Sharp owns a pair of Rolex 24 victories, the most recent coming in 2016, while Dalziel won the event in 2010.
No. 5 Mustang Sampling Racing
[adinserter name="GOOGLE AD"]Cadillac DPi
Joao Barbosa/Filipe Albuquerque/Christian Fittipaldi
The biggest news for the No. 5 team heading into the 2018 season is the addition of Albuquerque as Barbosa's full-time co-driver in the No. 5 machine, forming "Team Portugal." Fittipaldi moves from full-time driver to become the team's sporting director, but will continue to drive in the Tequila Patron North American Endurance Cup rounds. Barbosa, Fittipaldi and the No. 5 team have won every Patron Endurance Cup since its inception in 2014.
No. 6 Acura Team Penske
Acura DPi
Dane Cameron/Juan Pablo Montoya/Simon Pagenaud
Cameron, the 2016 WeatherTech Championship Prototype co-champion, joins the new-for-2018 WeatherTech Championship team alongside Montoya, a two-time Indy 500 winner, IndyCar champion, three-time Rolex 24 overall winner and race winner in both Formula 1 and the Monster Energy NASCAR Cup Series, who is moving to full-time WeatherTech Championship status this season. Pagenaud, the 2016 IndyCar Series champion, joins the team for endurance races.
Acura DPi
No. 7 Acura Team Penske
Acura DPi
Ricky Taylor/Helio Castroneves/Graham Rahal
Taylor will defend his 2017 WeatherTech Championship Prototype title with a new team, as he moves to the No. 7 Acura DPi to join three-time Indy 500 winner Castroneves as new car's full-time co-drivers. Rahal, a full-time IndyCar racer who already has a Rolex 24 win on his résumé, joins the team for the longer races.
No. 10 Konica Minolta Cadillac DPi-V.R
Cadillac DPi
Jordan Taylor/Renger van der Zande/Ryan Hunter-Reay
The 2017 WeatherTech Championship Prototype champion team – which won the first five races of the season, including the Rolex 24 At Daytona – will feature a new look this season. Van der Zande has joined the No. 10 squad, replacing the Acura Team Penske-bound Ricky Taylor, and will look to help Jordan Taylor and the team successfully defend their 2017 title. Indy 500 and IndyCar champion Hunter-Reay joins the team for endurance races.
No. 20 BAR1 Motorsports
Multimatic/Riley LMP2
Joel Miller
The BAR1 team closed out the 2017 season as the final race-winners for the WeatherTech Championship Prototype Challenge (PC) class, which concluded after the Motul Petit Le Mans at Road Atlanta in October. In 2018, the team steps into the Prototype class with a heavily revised Multimatic/Riley LMP2 race car. Joel Miller, who spent the past several years with Mazda, is the lone driver entered thus far for this week's Roar Before The Rolex 24 test.
No. 22 Tequila Patron ESM
No. 5 Cadillac
No. 22 Tequila Patron ESM
Nissan DPi
Johannes van Overbeek/Pipo Derani/Nicolas Lapierre
Van Overbeek and Derani own the distinction of being the co-drivers for the Nissan DPi's first victory, which they accomplished last year at Road America. This year, Derani – who joined the team as a full-time driver at the Sahlen's Six Hours of The Glen last year – will contest the full WeatherTech Championship season alongside van Overbeek. The pair of drivers will look for their second Rolex 24 win in three years and will do it with Lapierre, a two-time 24 Hours of Le Mans class winner, as their co-driver.
No. 23 United Autosports
Ligier LMP2
Phil Hanson/Lando Norris/Fernando Alonso
The No. 23 garage and pit area figures to be a busy place during the Roar and the Rolex 24 as two-time F1 World Champion Alonso makes his Rolex 24 At Daytona debut alongside Hanson, the 2017 Asian Le Mans Series LMP3 champion, and 18-year-old McLaren F1 Test & Reserve driver Norris.
No. 31 Whelen Engineering Racing
Cadillac DPi
Felipe Nasr/Eric Curran/Mike Conway/Stuart Middleton
Brazilian Nasr joins the 2016 WeatherTech Championship Prototype champion team as Curran's new full-time teammate in 2018. The ex-F1 racer previously raced with the team in the 2011 Rolex 24 At Daytona as winner of the Sunoco Rolex 24 At Daytona Challenge. This year's winner, Middleton, joins the full-timers along with Conway, who is back for another season of endurance racing for the No. 31 team.
No. 32 United Autosports
Ligier LMP2
Will Owen/Hugo de Sadeleer/Paul di Resta/Bruno Senna
The strong, two-car lineup for United Autosports is bolstered by the No. 32 entry. Owen was runner-up in the 2017 European Le Mans Series LMP2 championship, while di Resta is a veteran of Formula 1 and DTM competition. De Sadeleer won 2017 ELMS "Rookie of the Year" honors, while Senna – 2017 FIA World Endurance Championship LMP2 champion and nephew of the Formula 1 legend – makes his second consecutive Rolex 24 start after racing last year with Tequila Patron ESM.
No. 5 Cadillac
No. 37 Jackie Chan DCR JOTA
ORECA LMP2
Lance Stroll/Felix Rosenqvist/Daniel Juncadella/Robin Frijns
This year's Rolex 24 will feature two active F1 racers as Williams driver Stroll returns for his second Rolex 24 appearance after competing in 2016 aboard a Ford Chip Ganassi Racing Daytona Prototype. Swedish driver Rosenqvist is a full-time Formula E racer, while Frijns brings Formula 1, Formula E and sports car experience. Juncadella is a Mercedes-AMG factory driver.
No. 38 Performance Tech Motorsports
ORECA LMP2
James French/Kyle Masson
The final PC class championship-winning team – which won seven of eight races – moves to the Prototype class for 2018. Thus far, the team has named two drivers, both of whom were part of the team's 2017 Rolex 24 At Daytona class victory. French also won the season championship for Performance Tech, while Masson joined French and 2017 co-driver Patricio O'Ward as Patron Endurance Cup champions.
No. 52 AFS/PR1 Mathiasen Motorsports
Ligier LMP2
Sebastian Saavedra/Gustavo Yacaman/Roberto Gonzalez/Nicholas Boulle
In mid-December, Saavedra and Yacaman were introduced as full-season drivers for the team, which combines longtime IMSA participants PR1 Mathiasen Motorsports with the former AFS Racing IndyCar program. While Saavedra and Yacaman form "Team Colombia," they'll be joined at the Rolex 24 by Mexican driver Gonzalez and American Boulle, who won the PC class in last year's Rolex 24.
No. 54 CORE Autosport
ORECA LMP2
Jon Bennett/Colin Braun/Romain Dumas/Loic Duval
After a year of GT Daytona (GTD) class competition in a Porsche, longtime CORE teammates Bennett and Braun return to their Prototype racing roots in 2018. For the Rolex 24, the team has stacked the deck with a pair of drivers with extensive experience as factory drivers. Dumas was a longtime Porsche works pilot, while Duval remains part of Audi's program.
Last year's winners
No. 55 Mazda Team Joest
Mazda DPi
Jonathan Bomarito/Harry Tincknell/Spencer Pigot
Longtime Mazda factory racer Bomarito rejoins a Mazda Prototype program sporting a whole new look in 2018 under the Mazda Team Joest banner. He'll be joined full-time by British racer Tincknell, who also drives for Ford Chip Ganassi Racing's FIA WEC program, and IndyCar racer Pigot.
No. 77 Mazda Team Joest
Mazda DPi
Oliver Jarvis/Tristan Nunez/Rene Rast
Another longtime Mazda factory racer, Nunez will be paired with former Audi factory driver Jarvis on a full-time basis in 2018 with Mazda Team Joest. Rast, who won the 2017 DTM title as an Audi factory driver, joins the lineup as endurance driver.
No. 78 Jackie Chan DCR JOTA
ORECA LMP2
Ho-Pin Tung/Alex Brundle/Antonio Felix da Costa/Ferdinand Habsburg-Lothringen
Tung and the team won the LMP2 class and finished second overall in the 2017 24 Hours of Le Mans, finishing one spot ahead of the team's other Le Mans entry, which included Brundle in its driver lineup. Brundle competed in several WeatherTech Championship events in 2014, but has focused on European racing since 2015. He won the 2016 ELMS LMP3 championship. Da Costa currently races in Formula E, while Habsburg raced FIA Formula 3 in 2017.
No. 85 Oreca of JDC-Miller Motorsports
No. 85 JDC-Miller Motorsports
ORECA LMP2
Simon Trummer/Robert Alon/Austin Cindric/Devlin DeFrancesco
Swiss driver Trummer, who owns previous experience in the FIA WEC and Europe's VLN Series, moves to full-time WeatherTech Championship competition in 2018 aboard the rechristened "Banana Boat." He'll be joined by Alon, who returns to Prototype racing this year after a year of GTD competition in the 3GT Racing Lexus in 2017. Alon is a past race-winner in WeatherTech Championship PC class competition. Versatile racer Cindric, who has been a top performer in everything from the IMSA Continental Tire SportsCar Challenge to the NASCAR Camping World Truck Series to Global Rallycross, joins the team for the Rolex 24, as does 17-year-old Canadian DeFrancesco, who won races in FIA European Formula 3 and the Spanish Formula 3 championship.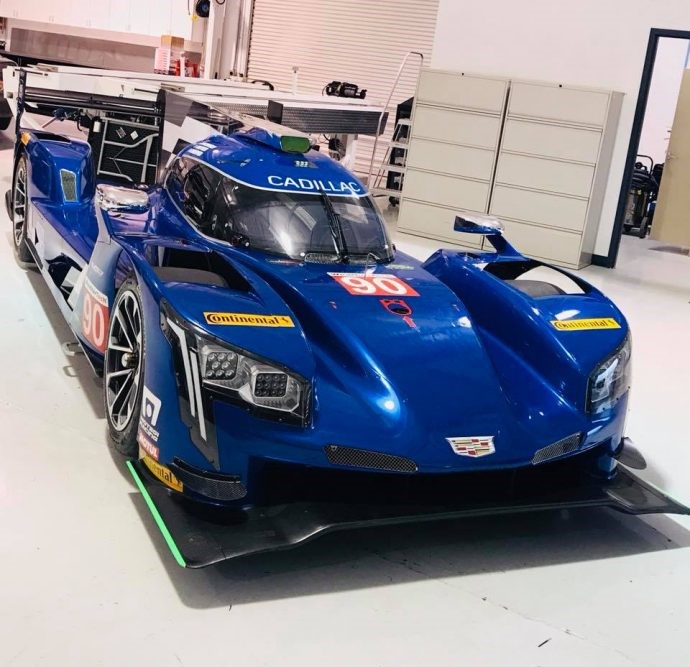 No. 90 Cadillac
No. 90 Spirit of Daytona Racing
Cadillac DPi
Matt McMurry/Tristan Vautier
Spirit of Daytona joins the Cadillac DPi ranks in 2018 with an all-new driver lineup. Vautier, a veteran of IndyCar competition, moves to the Prototype ranks after driving for SunEnergy1 Racing in the GTD class in 2017. McMurry, who became the youngest driver in 24 Hours of Le Mans in 2014 at the age of 16, will race full-time alongside Vautier for the full 2018 WeatherTech Championship campaign.
No. 99 JDC-Miller Motorsports
ORECA LMP2
Stephen Simpson/Misha Goikhberg/Chris Miller/Gustavo Menezes
Simpson and Goikhberg impressed WeatherTech Championship fans throughout 2017 with their strong performances as co-drivers of the JDC-Miller team's "Banana Boat," but in 2018, they'll move to another storied sports car livery, as the No. 99 GAINSCO "Red Dragon" returns for the first time since 2014. The full-time teammates will be joined by their regular endurance co-driver, Miller, as well as Menezes, a 2016 24 Hours of Le Mans winner and FIA WEC champion in the LMP2 class.