Martin Truex, Jr. Rallies To Win At Charlotte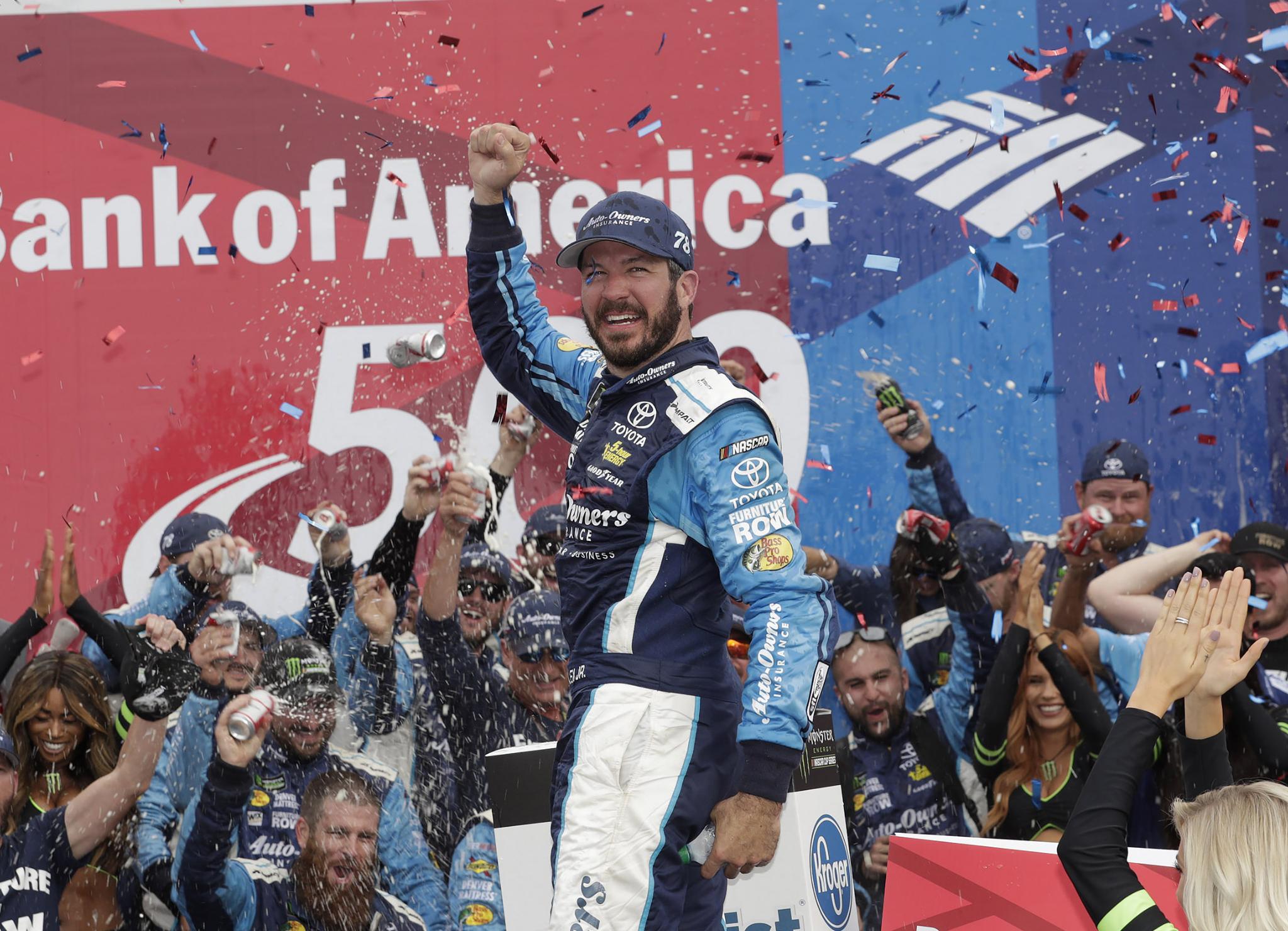 Martin Truex, Jr.
HHP/Harold Hinson
Martin Truex, Jr. fought back to claim his sixth win of the season after holding off Chase Elliott through a final green-white-checkered overtime finish in Sunday's Bank of America 500 at Charlotte Motor Speedway in the opening race in Round of 12.
Truex took over the top spot following a round of pit stops with 53 laps to go and survived two late caution flags to take the checkered flag and punch his ticket to the next round of the NASCAR playoffs.
Kevin Harvick finished third, followed by Denny Hamlin and Jamie McMurray.
Truex's victory was his second of the playoffs and the 13th of his career, and his second win at Charlotte after his dominating victory in the 2016 Coca-Cola 600.
"Unbelievable win. Just a total team effort," said Truex. "Every single guy – every guy on this team just did a perfect job today and I can't be more proud of them and at this time of the year is just when you want it to happen. You dream about days like today. I don't know if we had the best car, but we damn sure go it in victory lane."
Truex's victory gives him a 34 point cushion over Larson in the playoff standings, and automatically enters him into the Round of Eight in the NASCAR Playoffs – a welcome respite with Talladega looming next Sunday.
"I will say that it's going to be pretty awesome going to Talladega and say, oh, what the hell, let's go race. Doesn't matter if we crash," said Truex. "Talladega has just been a tough track for us just to finish. I mean, last year we probably had the best car we've ever went there with, and we ran 20 laps and blew up.
"There's so many unknowns there, and you can run up front all day long and finish 25th. You can run up front for 20 laps and get destroyed. You just never know. There's so much out of your control. To go there and not have to worry about all those things is definitely a good feeling."
Truex found himself in unfamiliar territory in the first two stages of Sunday's race: outside the top 10.
After starting 17th in the race, Truex struggled to make any headway for the first 180 laps, finishing 12th in the opening stage of race – the first time he'd fail to score any stage points since Daytona in July.
In the second segment, Truex fought his way into the top 10 and then broke into the top five thanks to a lightning-fast pit stop following a caution on lap 137, finishing the second stage in fourth.
On lap 226, Truex's crew again pulled off a fast stop – this time under the green-flag – to get him into the over Harvick for the first time in the event.
Truex and Larson would trade the lead on pit road twice over the next 47 laps before Truex won the race off pit road with 53 laps to go after a slow stop by Larson's crew dropped him to 12th.
Once out in front, Truex's no. 78 Toyota was a rocket, pulling out to a one second lead over the field, but in an all too familiar scene, several late cautions threatened to derail his chance at a victory.
A caution with nine laps to go brought the field to pit road, but once again Truex's team was on point and got him back out front while Harvick lost four spots on pit road.
After only three green flag laps, the caution waved again to set up a green-white-checkered overtime finish and another chance for the field to catch Truex.
Restarting with Hamlin on his outside, Truex jumped back out front and pulled out to a five car-length lead while Elliott and Hamlin went side by side for second.
Elliott would finally clear Hamlin as they came to the white flag, but never had a shot to catch Truex – ending the day with his third runner-up finish in the last four races.
"It was a hard-fought day and really, from where we were in those middle stages, I was proud of the way we fought back and were able to get back to the front," said Elliott. "It's frustrating to run like this. We're definitely tired of running second. But, if we keep running like we are, hopefully the opportunities will be there."
Weather played havoc with the teams throughout the course of the race. Although the rain held off, drivers had a hard time staying cooled off in the high humidity, with several drivers going to infield care center following the race – including Kyle Busch and Ty Dillon.
"I'm alright, I'm better now," said Busch after being released from the care center. "I got heat soaked and felt like I had heat stroke just from being inside the race car for 200 laps with the crush panels knocked out of it.
Busch's trip to the care center capped a frustrating weekend for the former Cup Series champion after hitting the way in practice on Friday and again in Sunday's race. Busch himself brought out three of the event's 10 caution flags and finished the day four laps down in 29th, tumbling from second to sixth in the playoff standings.
"Obviously, it was my bad, just trying to get a little too much too early in the race and got too high out of the groove and got myself into the fence and tore the right side off of it. My guys did a great job trying to rebound and get it back together as much as we could throughout the day. It was just evil out there the rest of the day."
RACE RESULTS
| | | | | | | | | | |
| --- | --- | --- | --- | --- | --- | --- | --- | --- | --- |
| Pos. | # | Driver | Make | Start | Laps | Led | Status | Points | Playoff Points |
| 1 | 78 | Martin Truex Jr. | Toyota | 17 | 337 | 91 | Running | 47 | 64 |
| 2 | 24 | Chase Elliott | Chevy | 7 | 337 | 12 | Running | 53 | 6 |
| 3 | 4 | Kevin Harvick | Ford | 3 | 337 | 149 | Running | 54 | 17 |
| 4 | 11 | Denny Hamlin | Toyota | 1 | 337 | 45 | Running | 43 | 13 |
| 5 | 1 | Jamie McMurray | Chevy | 18 | 337 | 4 | Running | 41 | 3 |
| 6 | 19 | Daniel Suarez | Toyota | 14 | 337 | 0 | Running | 33 | 0 |
| 7 | 48 | Jimmie Johnson | Chevy | 25 | 337 | 0 | Running | 34 | 17 |
| 8 | 21 | Ryan Blaney | Ford | 15 | 337 | 0 | Running | 31 | 8 |
| 9 | 5 | Kasey Kahne | Chevy | 9 | 337 | 2 | Running | 28 | 0 |
| 10 | 42 | Kyle Larson | Chevy | 10 | 337 | 12 | Running | 38 | 34 |
| 11 | 20 | Matt Kenseth | Toyota | 2 | 337 | 0 | Running | 38 | 5 |
| 12 | 88 | Dale Earnhardt Jr. | Chevy | 23 | 337 | 0 | Running | 25 | 0 |
| 13 | 17 | Ricky Stenhouse Jr. | Ford | 22 | 337 | 0 | Running | 24 | 10 |
| 14 | 6 | Trevor Bayne | Ford | 26 | 337 | 0 | Running | 23 | 0 |
| 15 | 2 | Brad Keselowski | Ford | 6 | 337 | 0 | Running | 22 | 20 |
| 16 | 3 | Austin Dillon | Chevy | 13 | 337 | 0 | Running | 21 | 0 |
| 17 | 77 | Erik Jones | Toyota | 38 | 337 | 0 | Running | 20 | 0 |
| 18 | 37 | Chris Buescher | Chevy | 21 | 337 | 0 | Running | 19 | 0 |
| 19 | 27 | Paul Menard | Chevy | 20 | 337 | 0 | Running | 18 | 0 |
| 20 | 47 | AJ Allmendinger | Chevy | 19 | 337 | 0 | Running | 17 | 0 |
| 21 | 13 | Ty Dillon | Chevy | 27 | 337 | 0 | Running | 16 | 0 |
| 22 | 41 | Kurt Busch | Ford | 8 | 337 | 0 | Running | 24 | 0 |
| 23 | 32 | Matt DiBenedetto | Ford | 29 | 337 | 0 | Running | 14 | 0 |
| 24 | 43 | Aric Almirola | Ford | 24 | 337 | 0 | Running | 13 | 0 |
| 25 | 34 | Landon Cassill | Ford | 30 | 336 | 0 | Running | 12 | 0 |
| 26 | 22 | Joey Logano | Ford | 28 | 335 | 0 | Running | 11 | 0 |
| 27 | 14 | Clint Bowyer | Ford | 5 | 335 | 0 | Running | 10 | 0 |
| 28 | 23 | Corey Lajoie | Toyota | 39 | 333 | 0 | Running | 9 | 0 |
| 29 | 18 | Kyle Busch | Toyota | 4 | 331 | 22 | Running | 14 | 41 |
| 30 | 33 | Jeffrey Earnhardt | Chevy | 37 | 330 | 0 | Running | 7 | 0 |
| 31 | 15 | Reed Sorenson | Chevy | 34 | 330 | 0 | Running | 6 | 0 |
| 32 | 51 | BJ McLeod | Chevy | 33 | 326 | 0 | Running | 0 | 0 |
| 33 | 66 | Timmy Hill | Chevy | 36 | 326 | 0 | Running | 0 | 0 |
| 34 | 72 | Cole Whitt | Chevy | 32 | 295 | 0 | Running | 3 | 0 |
| 35 | 95 | Michael McDowell | Chevy | 16 | 293 | 0 | Running | 2 | 0 |
| 36 | 55 | Gray Gaulding | Toyota | 35 | 267 | 0 | Running | 1 | 0 |
| 37 | 38 | David Ragan | Ford | 31 | 263 | 0 | Accident | 1 | 0 |
| 38 | 10 | Danica Patrick | Ford | 12 | 263 | 0 | Accident | 1 | 0 |
| 39 | 83 | Brett Moffitt | Toyota | 40 | 89 | 0 | Accident | 0 | 0 |
| 40 | 31 | Ryan Newman | Chevy | 11 | 43 | 0 | Accident | 1 | 0 |