Millican, Hight, Butner, Pollacheck No. 1 at Reading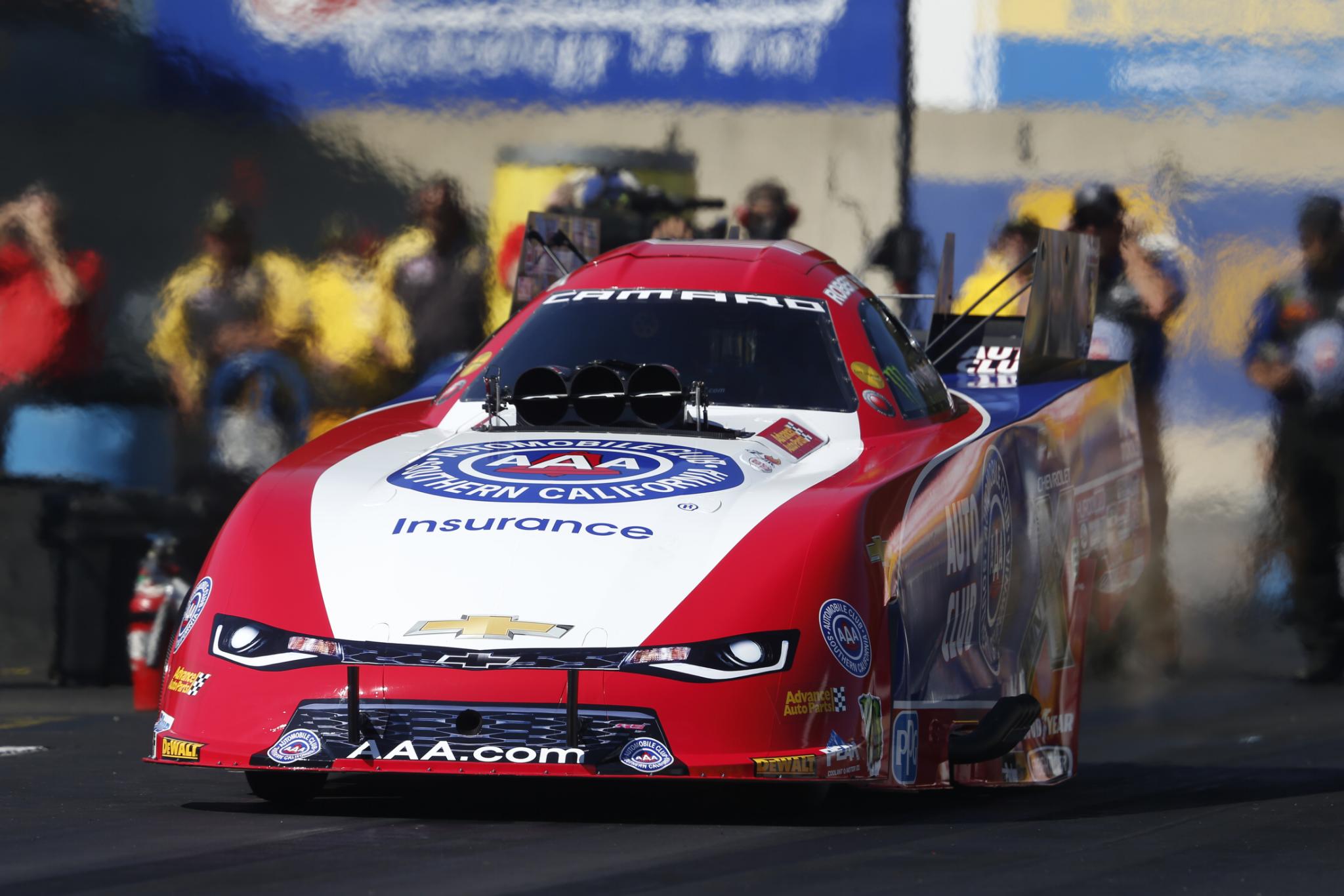 Robert Hight
Robert Hight maintained his No. 1 qualifier status Saturday at the 33rd annual Dodge NHRA Nationals in front of a sellout crowd at Maple Grove Raceway.
Clay Millican (Top Fuel), Bo Butner (Pro Stock) and Scotty Pollacheck (Pro Stock Motorcycle) are also No. 1 qualifiers in their respective categories at the second of six playoff events during the NHRA Mello Yello Drag Racing Series Countdown to the Championship.
Hight broke both ends of the track record with a 3.844-second pass at 339.02 mph in his Auto Club of Southern California Chevrolet Camaro, the second fastest speed in NHRA history, during his second pass on Friday night. He held on for his sixth No. 1 qualifier of the season as he chases his second consecutive win to start the Countdown to the Championship. Hight draws Mike Smith in the first round of eliminations on Sunday.
"Being able to have a good run today in front of a sellout crowd is a pretty awesome feeling, especially at this track in Reading," Hight said. "We're very fortunate with how consistent we've been running recently, but my team has a great handle on this car and that gives me confidence each round."
Matt Hagan has the No. 2 spot after a 3.874 pass at 335.82 in his Mopar Express Lane Dodge Charger R/T on Friday and defending world champion Ron Capps rounds out the top three after a 3.877 at 327.43. Hagan is set to take on Jeff Diehl, while Capps faces off against Jim Campbell in the first round.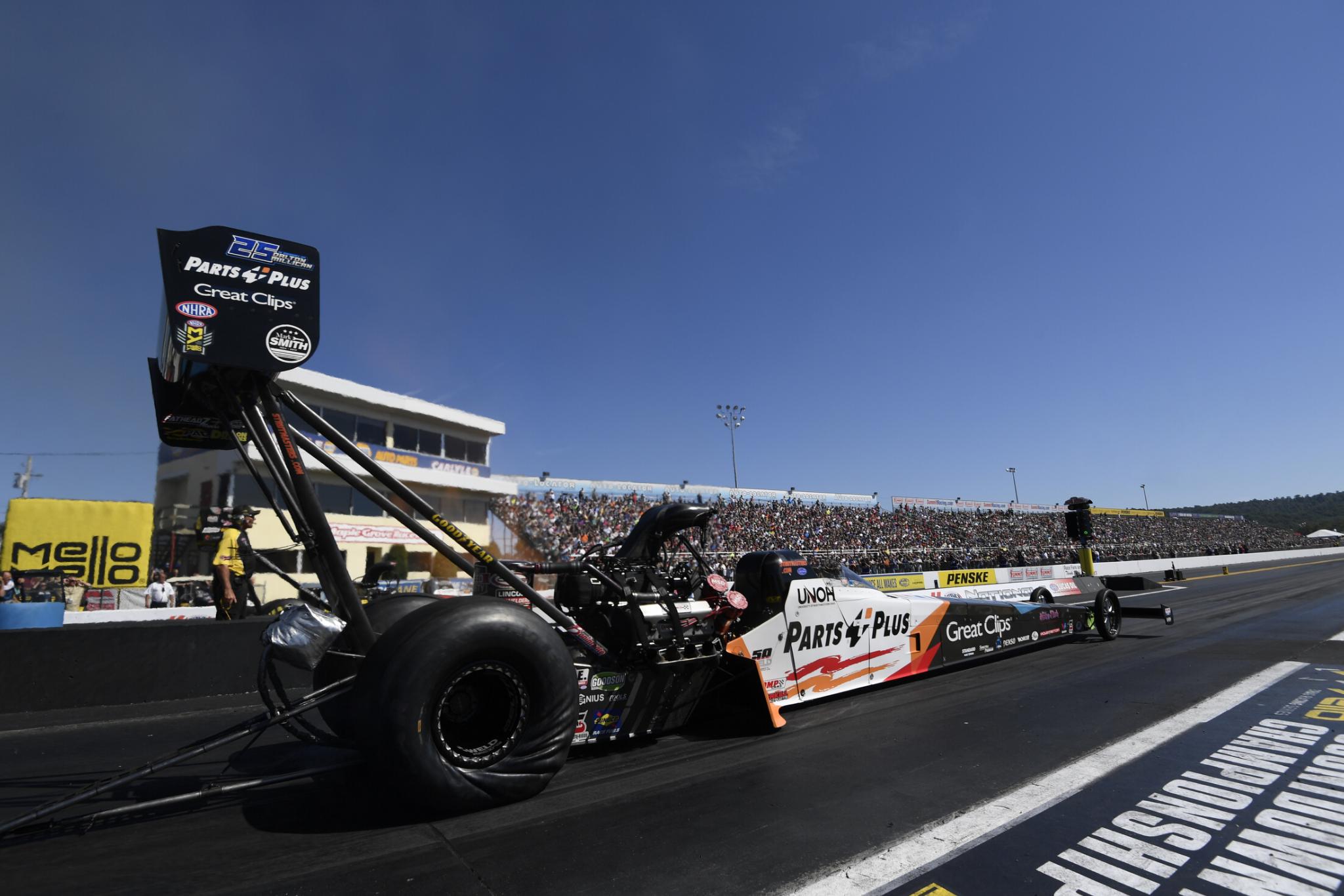 Clay Millican
Millican secured his fourth Top Fuel No. 1 qualifier of the season and ninth of his career after racing to a 3.699-second pass at 327.27 mph in his Great Clips/Parts Plus dragster on Friday.
"I'm very excited because we know that this No. 1 qualifier is a big deal, it puts us in a good spot on the ladder for tomorrow and we want to move up in the points after this race," Millican said. "We've definitely been pushing it each round, trying to see what we can get away with on a hot track like this but we will be happy with our bonus points today."
Points leader Doug Kalitta wound up in the second slot with a 3.704 at a national record-matching 333.66 mph in his Mac Tools dragster. Kalitta will go head-to-head with Pennsylvania native and Top Fuel rookie Audrey Worm in round one. Steve Torrence sits in third after a 3.720 at 327.66 pass on Friday and is set to face Terry Haddock.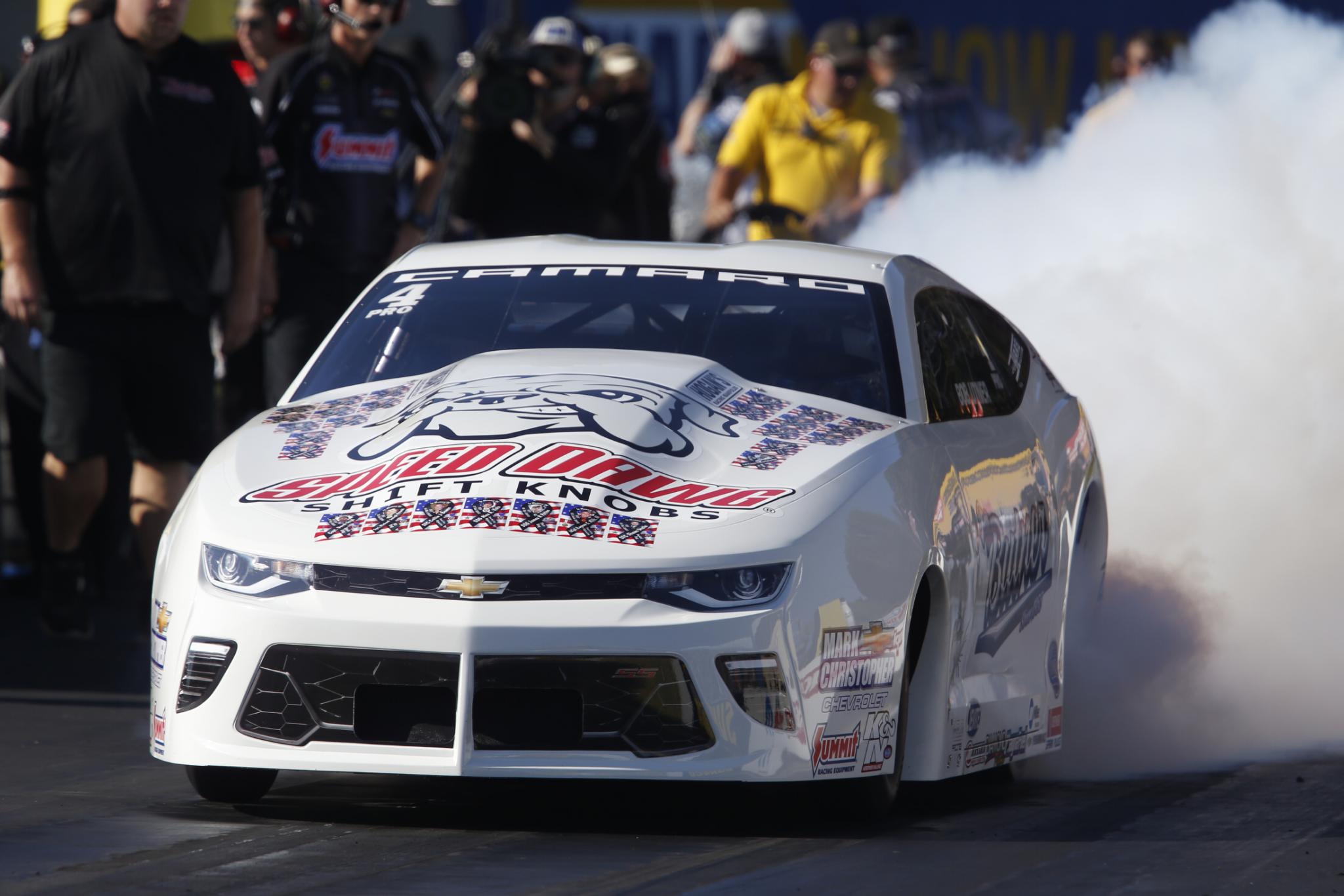 Bo Butner
In Pro Stock, Butner held onto the top spot after driving to a 6.554 at 210.18in his Jim Butner's Auto Chevrolet Camaro during his first pass on Friday. He locked down his fourth No. 1 qualifier of 2017 and seventh of his career as he aims for his fourth win of the season. Butner will line-up with Val Smeland in the first round of eliminations.
"We feel pretty lucky that the run from yesterday held up, but we were happy with these last four consistent rounds and we would be happy with runs like that again tomorrow," Butner said. "I've got a great car and a great team, and I'm really excited to hit the track tomorrow."
Jason Line notched the second qualifying spot after a 6.562 at 210.70 in his Summit Racing Equipment Chevrolet Camaro. He will take on Alan Prusiensky in the first round. Points leader and rookie Tanner Gray ran a 6.565 at 210.44 to round out the top three and will prepare to race Larry Morgan in round one of eliminations.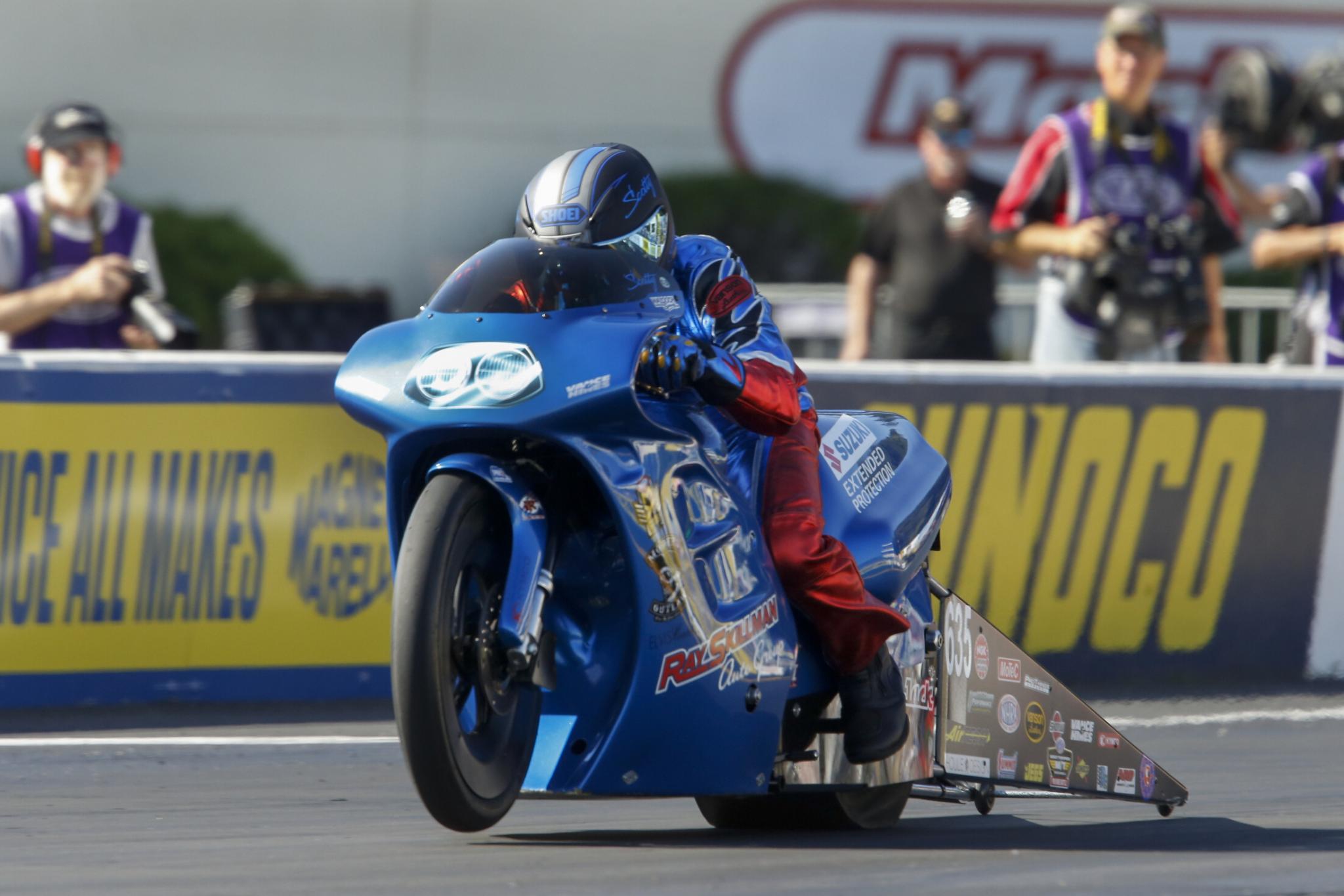 Scott Pollacheck
Pollacheck moved atop the Pro Stock Motorcycle qualifying order with a 6.822 at 196.76 on his Suzuki Extended Protection Suzuki in the final qualifying session on Saturday. It is the first No. 1 qualifier of his career. Pollacheck is set to take on Andie Rawlings in the first round.
"In the first round, we blew our motor so we had to put a new one in, but I have such an incredible team that we were able to get back out there and have some great runs today," Pollacheck said. "Nothing is ever easy for us, but to get our first No. 1 ever is such a huge deal."
Reigning world champ Jerry Savoie moved up to second after a 6.824 at 196.76 on his White Alligator Racing Suzuki and is slated to race Lance Bonham in the first elimination round. Hector Arana Jr. dropped to third after his preliminary No. 1 pass of 6.834 at 196.76 did not hold up on Saturday. He will take on Charlie Sullivan in the first round on Sunday.
Eliminations at the 33rd annual Dodge NHRA Nationals begin at noon on Sunday. Catch the action live at 4:30 p.m. ET on FOX Sports 1.