Toyota runs 1-2 in 8 Hours of Bahrain at halfway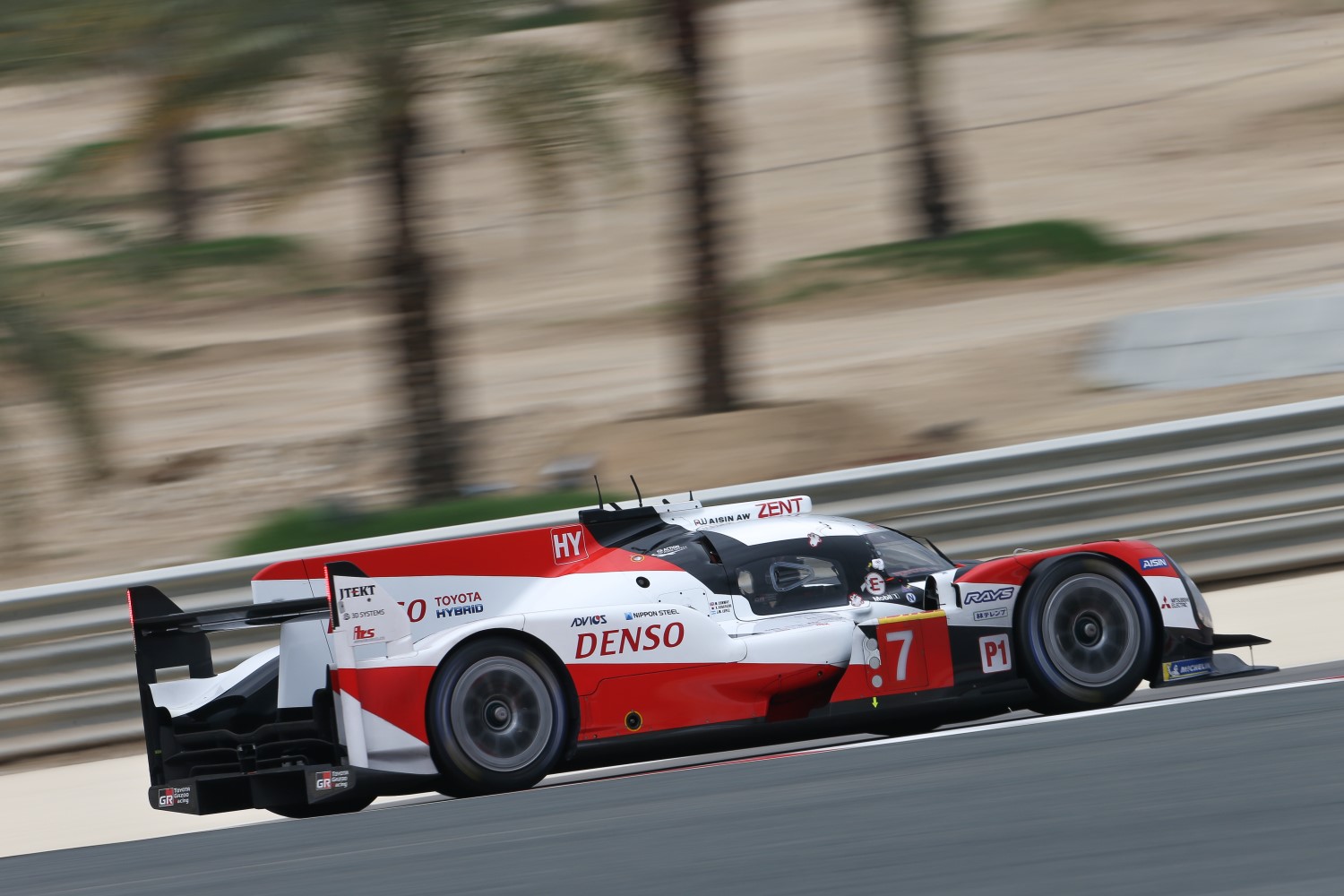 Leading #7 Toyota
As it has done since the opening lap, the #7 Toyota driven by Jose Maria Lopez currently leads the #8 Toyota driven by Kazuki Nakajima at the halfway point of the Bapco 8 Hours of Bahrain World Endurance Championship race. They have a 2-lap lead on the third place car of Ben Hanley.
The #22 United Autosports entry driven by Felipe Albuquerque leads the LMP2 class the #97 Aston Martin leads the #51 AF Corse Ferrari in GTE-Pro.
The #5 Team LNT Ginetta is up to third but two laps down, after the #1 Rebellion suffered gearbox and suspension issues in the third hour which forced the team to pit the R-13 for repairs. The issue, according to the team, was caused by the damage sustained from the contact with the #5.
"I think the Ginetta missed a memo that' it's an eight hour race," a disgruntled Bruno Senna said of the incident with Charlie Robertson (who later apologized for his misjudgment).
"I didn't do anything, I didn't squeeze him off the track and he hit me, it dropped me to dead last. We have damage on the car, there's something going on with the suspension, it's not ideal. We're going to have to do something very special here to win. The fighting spirit is still on."
In LMP2, United's ORECA continues to dominate, the British team now holding a comfortable lead over the G-Drive Racing Aurus which has successfully fought back from its tire issue in the opening hour. The #38 JOTA ORECA is the first of the Goodyear runners in third.
GTE Pro has been the most action packed of the four classes so far in this one, with door-to-door, nose-to-tail action between the three marques for multiple lengthy sequences. But the biggest headline is that disaster has struck Porsche.
Just before the halfway mark, within the space of 10 minutes, both GTE Pro Porsches hit trouble.
The #92 came in with mechanical trouble first. "Kevin Estre reported some issues with car behavior in last two laps, so we had to look at the car, we've had to change a damper," Michael Christensen said.
Moments later the #91 was also forced to pit for a puncture.
"I don't know what happened as I was out of the car, after the stop Gianmaria (Bruni) reported a puncture, we have damage on the underfloor now. Now the time lost is so much that it's just about finishing," Richard Lietz explained.
Currently the #95 Aston Martin leads after a rollercoaster race so far, ahead of the two AF Corse Ferraris (the #71 leading the #51) and the #97 Aston Martin. Both Porsches are now off the lead lap.
Running Order at 4 Hours (Halfway)
| | | | | | | | | | |
| --- | --- | --- | --- | --- | --- | --- | --- | --- | --- |
| POS | CLASS | CL P | No. | TEAM | CURRENT DRIVER | LAPS | BEHIND | PITS | STATUS |
| 1 | LMP1 | 1 | #7 | Toyota Gazoo Racing | Jose Maria Lopez | 127 | 0.000s | 5 | Running |
| 2 | LMP1 | 2 | #8 | Toyota Gazoo Racing | Kazuki Nakajima | 127 | 1:08.632 | 5 | Running |
| 3 | LMP1 | 3 | #5 | Team LNT | Ben Hanley | 125 | 2 LAPS | 7 | Running |
| 4 | LMP1 | 4 | #1 | Rebellion Racing | Norman Nato | 124 | 3 LAPS | 6 | Running |
| 5 | LMP1 | 5 | #6 | Team LNT | Michael Simpson | 123 | 4 LAPS | 6 | Running |
| 6 | LMP2 | 1 | #22 | United Autosports | Filipe Albuquerque | 123 | 15.096 | 6 | Running |
| 7 | LMP2 | 2 | #26 | G-Drive Racing | Roman Rusinov | 123 | 1:03.470 | 5 | Running |
| 8 | LMP2 | 3 | #38 | Jota | Roberto Gonzalez | 122 | 5 LAPS | 6 | Running |
| 9 | LMP2 | 4 | #37 | Jackie Chan Dc Racing | Ho-Pin Tung | 122 | 5.148 | 6 | Running |
| 10 | LMP2 | 5 | #36 | Signatech Alpine Elf | Thomas Laurent | 122 | 53.711 | 5 | Running |
| 11 | LMP2 | 6 | #29 | Racing Team Nederland | Frits Van Eerd | 121 | 6 LAPS | 6 | Running |
| 12 | LMP2 | 7 | #33 | High Class Racing | Mark Patterson | 121 | 12.466 | 6 | Running |
| 13 | LMP2 | 8 | #42 | Cool Racing | Alexandre Coigny | 121 | 27.155 | 5 | Running |
| 14 | LMP2 | 9 | #47 | Cetilar Racing | Andrea Belicchi | 120 | 7 LAPS | 6 | Running |
| 15 | GTE Pro | 1 | #97 | Aston Martin Racing | Maxime Martin | 117 | 10 LAPS | 3 | Running |
| 16 | GTE Pro | 2 | #51 | AF Corse Ferrari | Alessandro Pier Guidi | 117 | 6.636 | 4 | Running |
| 17 | GTE Pro | 3 | #95 | Aston Martin Racing | Marco Sorensen | 117 | 10.978 | 4 | Running |
| 18 | GTE Pro | 4 | #71 | AF Corse Ferrari | Davide Rigon | 116 | 11 LAPS | 4 | Running |
| 19 | GTE Am | 1 | #57 | Team Project 1 | Larry Ten Voorde | 115 | 12 LAPS | 4 | Running |
| 20 | GTE Am | 2 | #86 | Gulf Racing | Michael Wainwright | 115 | 39.462 | 4 | Running |
| 21 | GTE Am | 3 | #98 | Aston Martin Racing | Ross Gunn | 114 | 13 LAPS | 4 | Running |
| 22 | GTE Pro | 5 | #91 | Porsche GT Team | Gianmaria Bruni | 114 | 12.959 | 5 | Running |
| 23 | GTE Am | 4 | #77 | Dempsey – Proton | Christian Ried | 114 | 37.301 | 4 | Running |
| 24 | GTE Am | 5 | #54 | AF Corse | Thomas Flohr | 114 | 48.557 | 4 | Running |
| 25 | GTE Am | 6 | #90 | TF Sport | Jonathan Adam | 114 | 54.085 | 4 | Running |
| 26 | GTE Am | 7 | #83 | AF Corse | Francois Perrodo | 114 | 1:12.595 | 4 | Running |
| 27 | GTE Pro | 6 | #92 | Porsche GT Team | Kevin Estre | 114 | 1:13.242 | 5 | Running |
| 28 | GTE Am | 8 | #70 | Mr Racing | Motoaki Ishikawa | 113 | 14 LAPS | 4 | Running |
| 29 | GTE Am | 9 | #62 | Red River Sport | Bonamy Grimes | 113 | 30.736 | 5 | Running |
| 30 | GTE Am | 10 | #88 | Dempsey – Proton | Khaled Al Qubaisi | 109 | 18 LAPS | 4 | Running |
| 31 | GTE Am | 11 | #56 | Team Project 1 | David Heinemeier-Han | 97 | 30 LAPS | 5 | Running |