Supercars champ marries California girl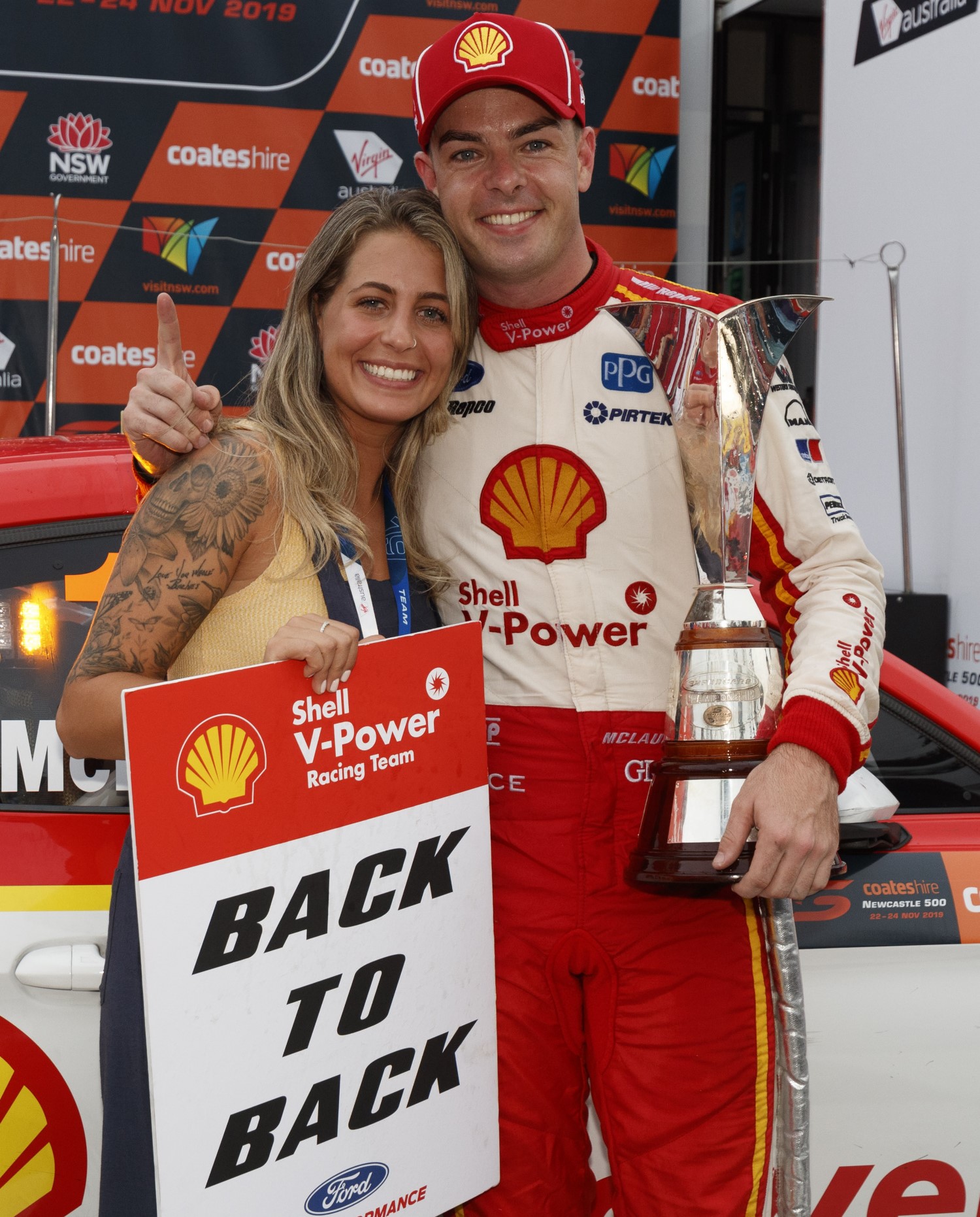 Scott McLaughlin and Karly Paone. Since his new wife is from NT and California, look for Scotty to move to the USA in 2021 to race in NASCAR, IndyCar or IMSA for Team Penske
Two-time Supercars champion Scott McLaughlin has capped off the biggest year of his life by marrying American Karly Paone in Malibu, California.
The wedding came on the same day as Team Penske announced the 26 year-old would be involved in an IndyCar test at Sebring in Florida next month.
The guest list included some of the sport's highest profiles including his current team bosses Dick Johnson and wife Jill, and Ryan Story.
The US-based guests included Roger Penske and wife Kathy, and Team Penske President Tim Cindric and his wife Megan.
McLaughlin's regular Supercars crew chief Ben Croke headed a list of team members who had worked on his #17 Mustang in what was a record-breaking 2019 season, which included a win at the Supercheap Auto Bathurst 1000.
There were a host of other motorsport guests including DJRTP teammate Fabian Coulthard and fiancee Becky, Pirtek Enduro Cup co-driver Alex Premat, DJRTP Commercial Manager Chris Wilson, Melbourne-based broadcaster and author Tim Hodges, and Melbourne-based Lawyer Andrew Croxford and wife Mel.
"It has been an incredible year and I could not think of a better way to top if off," McLaughlin told Speedcafe.com.
"I am incredibly fortunate to have Karly in my life and to have so many friends and family here to celebrate our wedding.
"I has been a terrific day."
McLaughlin and Karly are planning a honeymoon in the US before his IndyCar test on January 13. Brett Murray/Speedcafe
———————–
McLaughlin is committed to re-defending his Supercars title in 2020, but it is generally regarded that he will be transferred to the States in '21.
His long-term future was, logically, thought to be a long-term NASCAR program, but the IndyCar test suggests his road racing skills will be deployed in the open-wheel series or Team Penske's front-running Acura IMSA sports car program.
The Sebring trial will be his first run in what Team Penske describes as "a full-size open-wheel car".
McLaughlin's only previous single-seater experience was a brief run in a Formula Ford in 2010.
"I am always open to new challenges and I'm thankful to Team Penske for providing this opportunity to test an IndyCar," he said before his wedding. "We had an amazing year in 2019 and I'm looking forward to defending our Supercars championship next season.
"I'm also excited to grow as a driver and being with Team Penske creates cool opportunities to try something new. Although I have spent a few hours in a simulator earlier this year, it's going to be a blast to see what one really feels like at a place like Sebring."
Although tainted by controversy, the popular Brisbane-based Kiwi's second successive Supercars title was underpinned by a record of 18 race wins in his Shell V-Power Racing Ford Mustang, including his first Bathurst 1000 victory.
DJR Team Penske also won the teams' championship, adding to the squad's 2017 success with McLaughlin, who narrowly lost the drivers' title before securing it in 2018.
He is held in high regard by Roger Penske, who has made no bones about his future with the team in America.
"Scott has been incredibly successful for DJR Team Penske over the last three seasons and he has become a true champion of our sport," Penske said. "He certainly embraces new challenges and we think this is a great opportunity to utilize the IndyCar Series rookie testing program so Scott can experience what it is like to get behind the wheel of one of our Indycars." Mark Fogarty/Auto Action