Porsche to enter F1 (11th Update)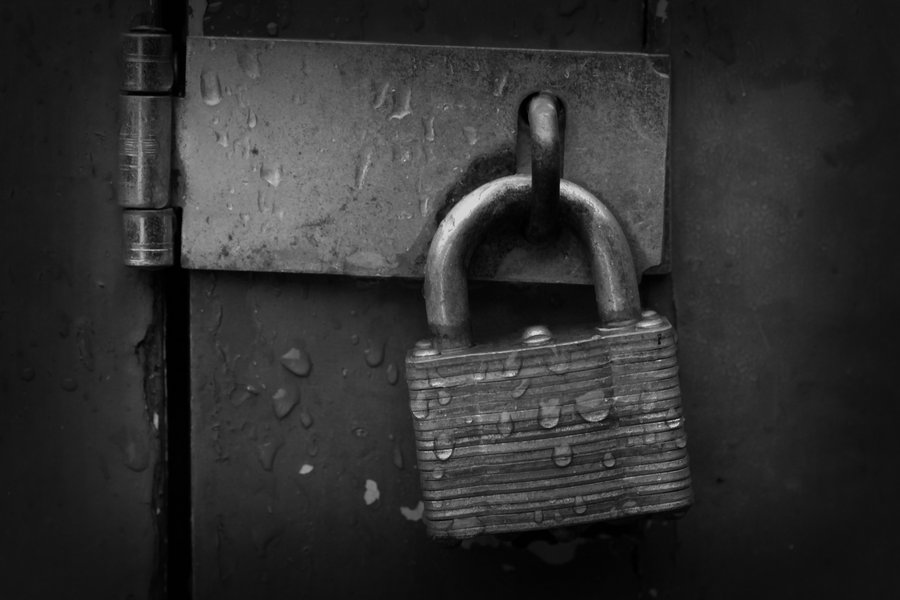 The 'Cartel' has been against changing the engines from Day 1. They do not want any more competition
UPDATE This rumor is downgraded to 'false' today. Porsche is not putting together a formula one team.
Another Volkswagen brand, Lamborghini, has ruled out a team entry. "The investment needed just to participate, let alone win, is too high," said chief executive Stefano Domenicali.
"As long as there is a two-class society in F1, it's is not a playing field for us," he told Auto Bild.
But Domenicali, the former Ferrari team boss, said F1 would be "a fantastic platform for the Volkswagen Group".
The smart money was on Porsche, and it was strongly rumored that the German brand was seriously considering a foray.
But a Volkswagen insider told Auto Motor und Sport: "The time for an F1 entry was just wrong."
07/10/18 This rumor is downgraded from 'fact' to 'strong' today because it looks like Porsche is not coming to F1 because the 'cartel' wants to keep the MGU-H component of the engine.
In response to a question from RaceFans at Silverstone, Red Bull team principal Christian Horner admitted "it doesn't look like there's anybody new coming in."
"So really I think it's down to the FIA and Liberty to decide what do they want."
Mercedes team principal Toto Wolff said there was no point committing to a costly redesign of the current power unit if no new manufacturer expressed an interest in entering.
"It's still very much [up] for discussion. We had a presentation that would have meant a redesign of the engine.
"All four OEMs currently engaged in Formula One have given their preference with an understanding from our side that we maybe needed a bit more noise and not a discussion around fuel consumption, that's important. But just for the benefit of redesigning an engine, without anybody else entering, it doesn't make a lot of sense.
"If somebody would commit to come into Formula One the way we have committed ourselves, all four of us – go through the lows and highs, the expense of the investment it needs – then let's discuss engine regulations. But if nobody's inside, it's an academic discussion."
Fritz Enzinger
07/05/18 Fritz Enzinger, the head of Volkswagen Group motorsport and Porsche competition activities was in the paddock at the Red Bull Ring for the Austrian GP. There have been lots of rumors about one or more VW brands coming to F1 in 2021. Was Enzinger there doing his homework?
06/30/18 Mercedes F1 chief Toto Wolff says he would welcome Porsche to Formula 1 and reckons the fellow German marque is "interested" given their involvement in shaping the 2021 rules package.
Porsche recently quit the WEC to join Formula E but has been actively involved in shaping the new 2021 F1 regulations by FIA invitation amongst other manufacturers both currently involved and not.
Although a Porsche works team looks unlikely, the manufacturer could be looking at supplying engines in the future with a link-up with Red Bull or Williams rumored.
Wolff however is keen for more competition and says Porsche would be welcomed.
"The more we can fight, on our little playground – in the sandpit – the more we enjoy it," he told Sky Sports F1.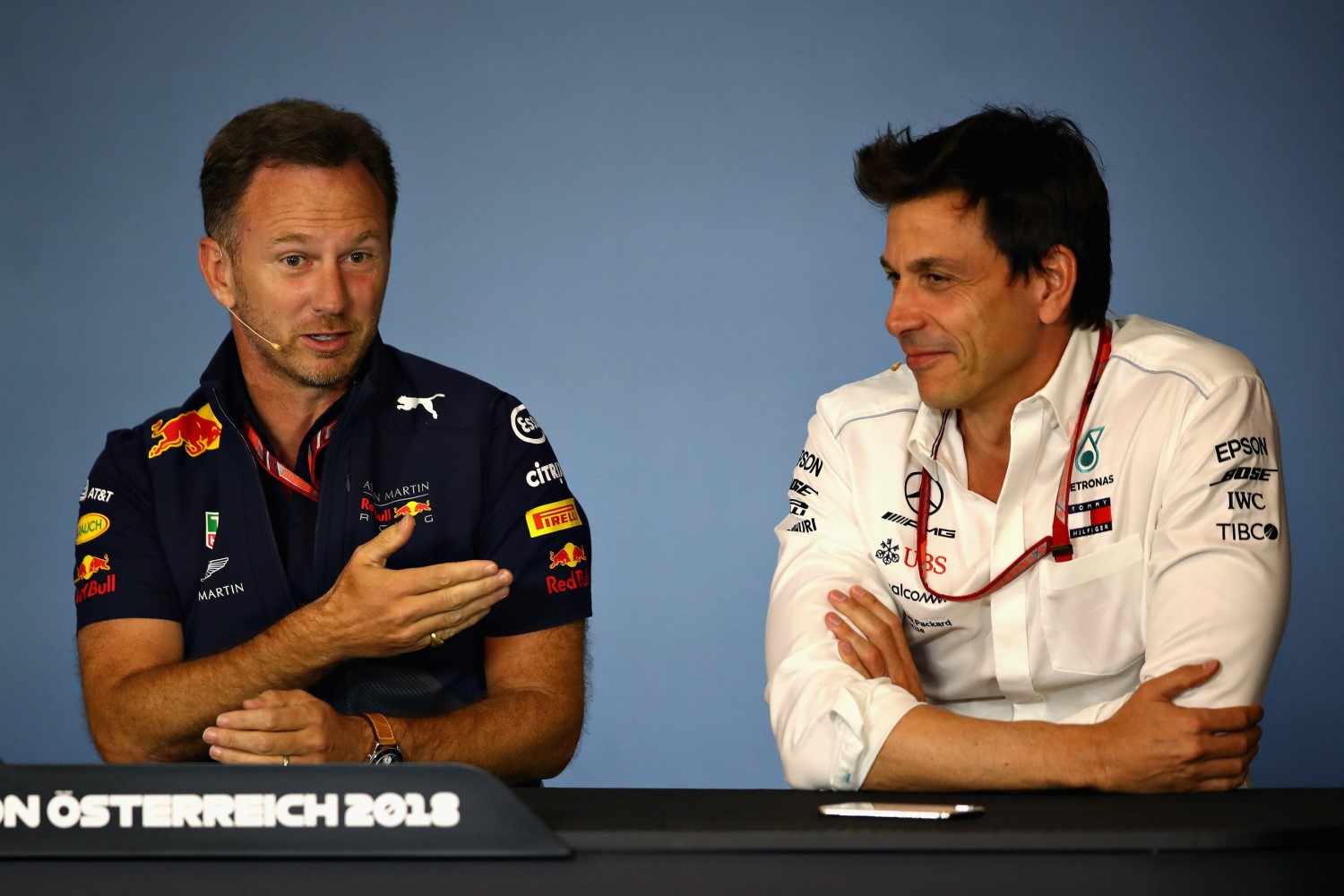 Wolff (R) says Porsche is eyeing F1
"I guess that Porsche is interested, and looking at the environment, it's not quite clear how [they would become involved]. They are sitting on the table and giving their input [into the rules]."
The new regulations are due to be rubber-stamped in the coming weeks and Wolff, like everyone, is keen to see what's been decided.
"They are not cast in stone, but I guess next week in the Strategy Group we are going to hear a little bit more.
"It's still not agreed between what's been on the table in the past sessions and all of the engine manufacturers. So there are quite some tough discussions ahead, I guess.
"For us it's important that the technology message is still there, in efficiency. Because efficiency is important when the whole world moves into green and electricity, and we, for historic nostalgia, move 20 years back – it's not something that we want to do."
He added: "I think transparency and a clear path are important, we need to know what's happening in 2021, what the regs look like, on the power unit side and on the chassis side, in order to get things moving and avoid a cost escalation, a cost rush, at the last minute.
"I hope that with next week's meeting we have a little more understanding and input, and then we'll see how it ends up."
Except for LeMans, WEC has a small following and a small TV audience. F1 delivers in both departments.
04/23/18 (GMM) Porsche is considering entering formula one in 2021.
That is the view of F1 legend Gerhard Berger, who is now the boss of the German touring car series DTM.
Recently, footage emerged of Porsche's successful attempt to unofficially break the F1 circuit record at Spa-Francorchamps with its modified Le Mans car.
It is just more evidence that the German carmaker is eyeing F1's proposed engine rule changes for 2021.
"Porsche is thinking about a formula one entry for 2021," Berger told Auto Bild.
"They are just waiting for the new engine regulations, which should be published in May, and then will decide," he added.
F1 owner Liberty Media's sporting boss Ross Brawn said the sport would welcome Porsche to the grid.
"We want to have big names like Porsche in formula one and are creating the environment for it," he said.
07/29/17 (GMM) Porsche is not ruling out a move into formula one in the future in addition to their confirmed Formula E move.
The famous German carmaker, as well as Mercedes, made big waves this week by pulling out of Le Mans and DTM respectively in order to enter Formula E.
The Le Mans promoter, the Automobile Club de L'Ouest, subsequently hit out at the "abruptness" of Porsche's decision.
Fascinatingly, Porsche said it will keep its entire, Le Mans-winning LMP1 team together "including the factory drivers" such as Brendon Hartley, Neel Jani and Andre Lotterer.
Porsche has recently been linked with a potential move into F1, having participated in meetings to discuss the shape of the sport's post-2020 engine rules.
As for F1, Porsche said of the future: "Alongside ventures in other racing series and the intensive preparation for Formula E, Porsche is examining other fields of application and development areas."
Except for LeMans, WEC crowds are minuscule so Porsche cannot justify the cost anymore. Plus the car industry is going all-electric.
07/28/17 This rumor is upgraded to 'fact' with today's announcement.
07/27/17 How much of the more than $200 million that Porsche spent annually on its Prototype program will be redirected into other motorsport activities remains to be seen, although RACER hears that there is a desire within Porsche to join fellow German manufacturers BMW, Audi and Mercedes in Formula E.
07/27/17 This rumor is upgraded to 'strong' today. Reports surfaced on Thursday morning across several media outlets — including both British and German media — that Porsche will leave the World Endurance Championship after only a four-year stint in the championship, which has yielded two driver's titles, two constructors' titles and three victories at the 24 Hours of Le Mans.
An announcement could come as early as Friday. Porsche was expected to remain in the WEC at least through 2018.
If that happens after Audi pulled out last year, stick a fork in LMP1, it's done.
07/15/17 A decision on Porsche's future in the LMP1 class is expected to be made by the end of this month, according to team principal Andreas Seidl.
Speculation has intensified in recent weeks that the German manufacturer could exit the FIA World Endurance Championship at the end of this year, despite its current contract being through the 2018 season.
Multiple reports in German media, including leading publication Sport Auto, indicate that a return to the WEC and the 24 Hours of Le Mans next year is unlikely, with Porsche instead looking to allocate its motorsports budget to Formula E and potentially a Formula One engine program.
While Seidl declined comment on the matter, he confirmed that the fate of the LMP1 program will be made clear soon.
"I think there's not more to say than what is around in the press and we have to simply wait now for the next decision," Seidl said. "I have nothing to comment on this at the moment. We expect a decision at the end of July."
Should Porsche pull the plug, it would leave Toyota Gazoo Racing as the only LMP1 manufacturer, casting serious doubts over the future of the WEC and its world championship status.
Toyota may be racing against only themselves, so why bother, and drop out.
TMG Vice President Pascal Vasselon admitted "it would be a problem" if Porsche withdraws, although indicated that, as of now, they plan to be on the grid next year.
"We cannot talk for Porsche," Vasselon said. "At the moment, with the situation we know, our management is committed to next year. The rest I cannot say what I don't know.
"What would be our position? I just don't know. It's something very new, which is still not a fact, so it's a bit premature for us to elaborate on it.
"In case the rumor is true, it's not a good news for sure."
07/13/17 (GMM) Porsche is tipped to decide within the next two weeks whether or not to enter formula one.
The Volkswagen brand is currently a frontrunner at Le Mans, but Auto Motor und Sport says the Porsche board is set to "decide the motor sport strategy for coming years" later in July.
"There are several options," said correspondent Michael Schmidt.
"Carrying on in the world endurance championship, a commitment to Formula E or entering formula one as an engine manufacturer.
"A combination is also conceivable."
Porsche has been involved in recent talks with F1 about the future shape of the post-2020 engine regulations.
07/12/17 According to a report by German site Auto Motor und Sport, Porsche will decide within the next few weeks whether it will pull out of the World Endurance Championship, and thus Le Mans, to focus on open-wheeled racing instead. The report says Porsche would do this in the form of an F1 engine supplier, and maybe even a Formula E entry.
The report states Porsche was one of the manufacturers in attendance during an F1 engine constructor meeting held on July 4th. The meeting consisted of current manufacturers Mercedes, Ferrari, Renault, and Honda, but also included Aston Martin, Ilmor Engineering, and Cosworth.