Force India to change name for 2018 (4th Update)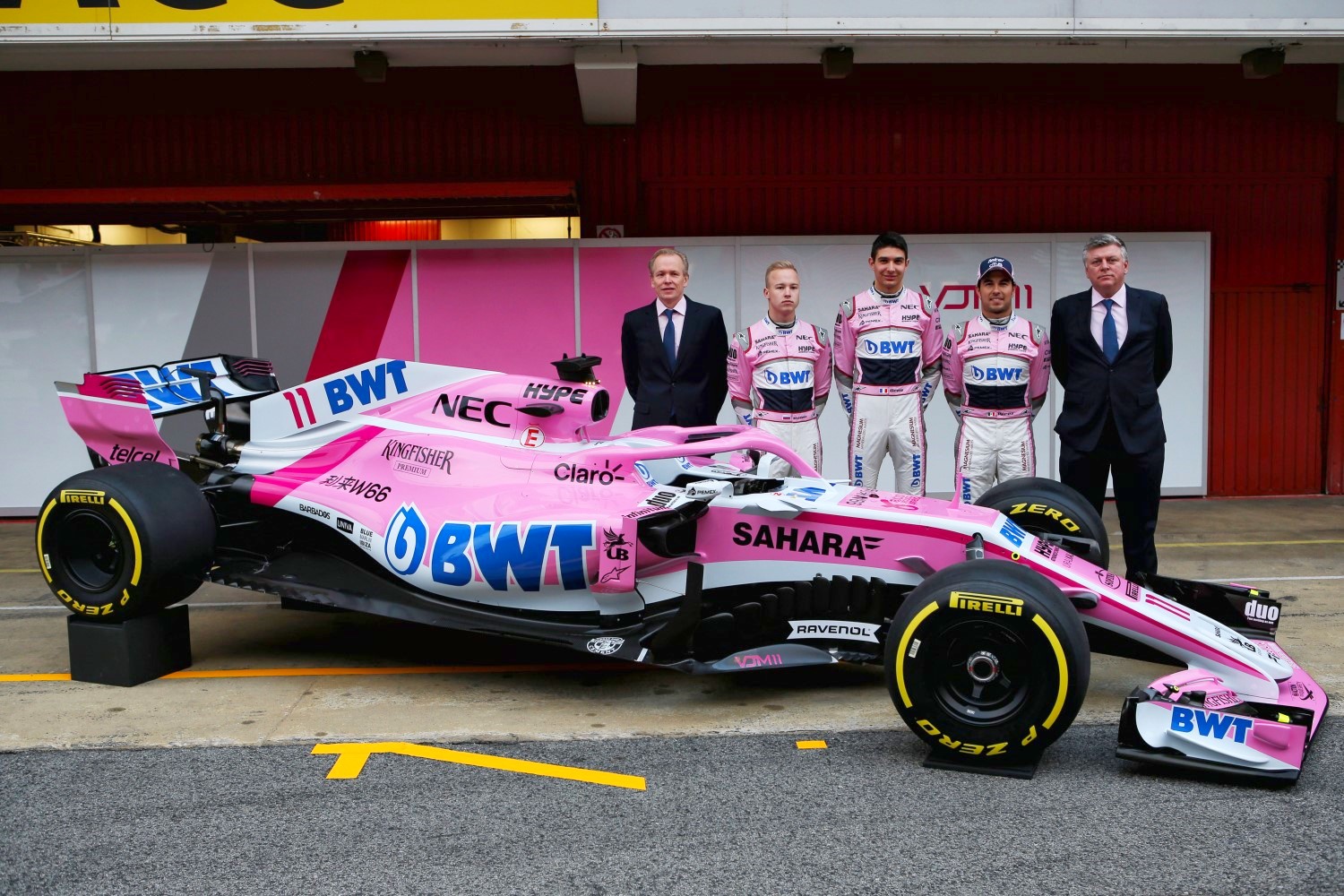 It is still called Force India for now
UPDATE This rumor is downgraded to 'false' today. Force India will not change its name in 2018.
Earlier, amid rumors an energy drink company called Rich Energy would buy the team, it was reported the team could drop the word 'India' from its name.
But Auto Motor und Sport says any name change for Force India will now wait until at least 2019.
A deal with Rich Energy was not done, and talks with BWT about a naming deal reportedly also did not bear fruit.
"No title sponsor and no new owner means no new name," said correspondent Michael Schmidt.
And a mid-year name change is also ruled out, as the FIA thinks that would be confusing.
Force India finish fourth overall in both 2016 and 2017, but it seems that other midfield teams have now stepped ahead of the Silverstone based outfit.
"A lot of cars are going to be within half a second," Haas boss Gunther Steiner said in Melbourne.
"The biggest threats are from Renault, McLaren and Force India," he added. (GMM)
02/26/18 Force India says there is still a "high probability" it will change its team and chassis name before the start of the season in Australia.
COO Otmar Szafnauer told Motorsport.com they are confident that the FIA and F1 will still accept a last-minute change before Melbourne.
"There's a high probability that it will happen before the first race of this year," he told Motorsport.com.
"We're still working on it, we still haven't quite pinpointed what the name change will be, but we always said there will be a name change coming.
"The deadline is coming close, and like anything, the closer you get to a deadline the harder you work to make sure it happens."
"It's one of those things that doesn't happen every day, so you've got to get it right, so you might as well take your time as opposed to doing it early – because it's going to be for a long time," added Szafnauer.
"There's a few stakeholders in this, the guys who own the place, potential sponsors in the future, FOM, so you've got to align all that before you pull the trigger.
"If it doesn't happen by Australia, there's always next year. It will be a good thing to do earlier rather than later, but like I said, getting it right is more important than the timing, because it's going to be there for a long time. I don't think you change your name every year.
"Everyone's got an opinion on it, and until we all come to the same opinion, you still kind of talk about it, and if there's no timing pressure, you still talk about."
How about the Pink Panther team?
11/26/17 Formula 1 team Force India's plans to change its name for '18 have been compromised by "cybersquatters" who have registered website domains that the team "might potentially want to use," according to Adam Cooper of MOTORSPORT.
Team Owner Vijay Mallya confirmed several months ago that he wanted to drop India from the team name "to widen its appeal to sponsors."
Force One "was a strong candidate initially." The team's management is "still debating whether to retain Force as part of the name, or start afresh."
However, the first option has been "impacted by many variations on the Force/F1 website name having been lodged by third parties in recent weeks."
Deputy Principal Bob Fernley said, "The problem we have is that when it gets out in the media every man and his dog goes and registers domain names! And that makes our life so difficult." MOTORSPORT
One Force India owner is already in jail (Subrata Roy) and the other, Vijay Mallya, will be if he returns to India.
11/22/17 This rumor is downgraded to 'false' today. Force India chiefs have abandoned plans to rename the team 'Force One' for 2018.
Earlier, the Silverstone based team said it wanted to drop the 'India' from its name in order to attract a more international profile.
But Force One has been ruled out, ostensibly by F1 commercial rights holder Liberty Media.
"The new name must be able to last and it cannot be Force One," sporting boss Otmar Szafnauer is quoted by France's Auto Hebdo.
"The F1 guys think it could be too easily shortened to F1," he added.
On the face of it, Force India might seem to have bigger problems than its name, as owner Vijay Mallya was this week in a UK court as a date was set for his extradition hearing in December.
But the former Indian billionaire nonetheless told the Gulf News that Force India's plan is to once again finish a laudable fourth in the championship next year.
"We can't compete with the huge budgets of manufacturer teams," he said, "but we make the most of what we do have.
"Maintaining fourth place will be a challenge, but we have stability in all areas of the technical team and a very strong driver lineup so we are up for it," added Mallya.
06/28/17 (GMM) 'Force 1' has emerged as the front-running candidate as Force India prepares to change its name for 2018.
Earlier in June, we reported that the Vijay Mallya-headed outfit was contemplating dropping the reference to India from its name.
"The feeling is that with our improved performance, we are able to attract more international sponsors," Mallya said. "(The name) Force India could be restrictive."
Now, Germany's Auto Motor und Sport said the leading candidate is 'Force 1'.
The media report said: "With BWT, the team finally has a main sponsor, pushing the budget over the EUR 100 million mark for the first time and making it attractive for other sponsors."
Sporting boss Otmar Szafnauer confirmed: "At the end of the season, we will make the request to change the name.
"The word 'Force' should remain in the name so people always remember where we came from."
Based in Silverstone, Force India is currently owned by Indians Subrata Roy, who is in jail, and the scandal-gripped former Indian billionaire Vijay Mallya.
There are rumors the team will be sold.
Szafnauer said: "I had been with the company for a week before the first rumors of a sale came up. Nothing has changed."