William Byron Wins In First-Ever Indy Start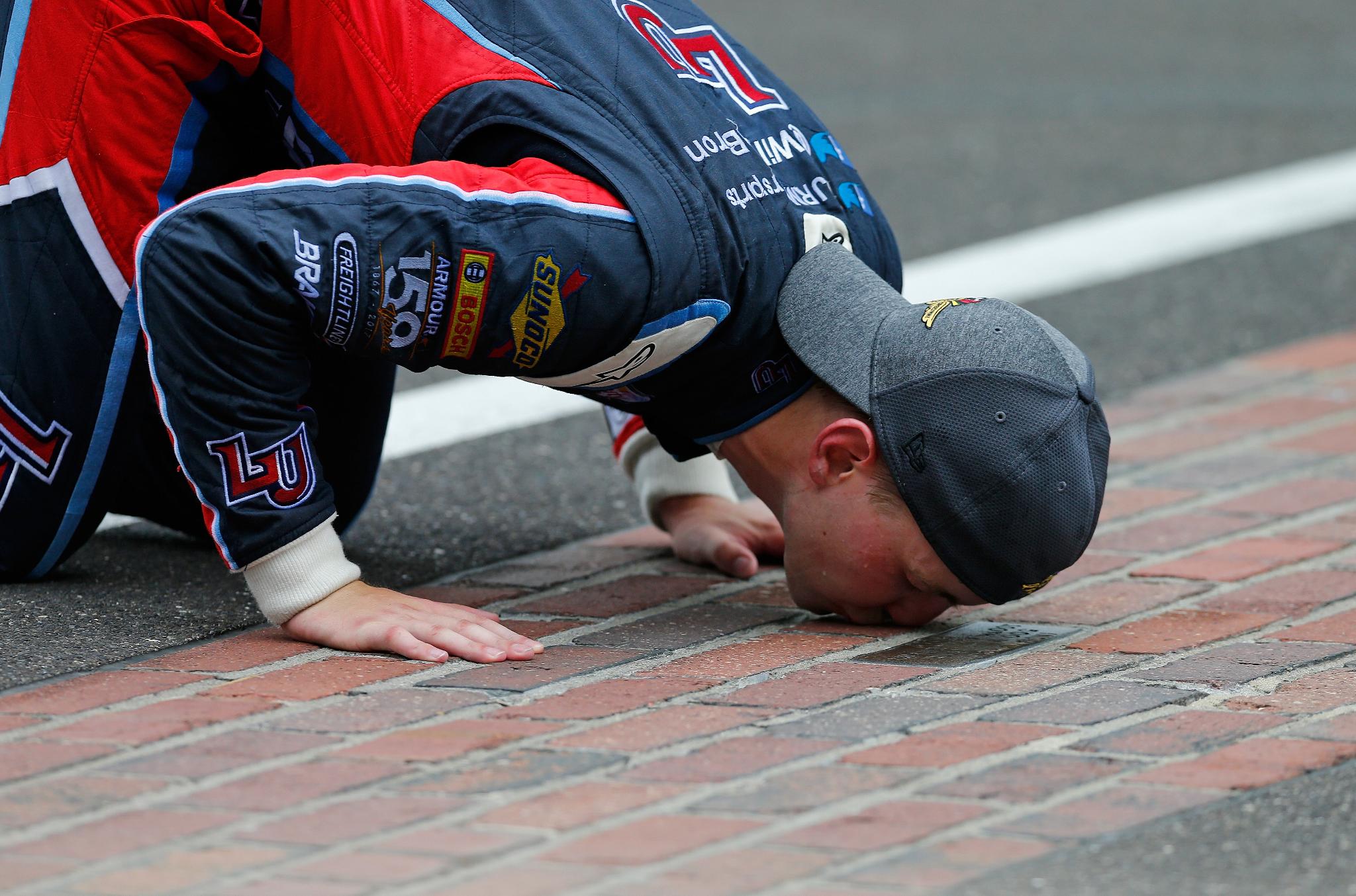 William Byron kisses the famed bricks after taking the checkered flag at Indy.
Sean Gardner/Getty Images
With a new competition package that produced a race-record 16 lead changes and the closest NASCAR XFINITY Series finish at Indianapolis Motor Speedway, William Byron threw more blocks than an NFL fullback in holding off charging Paul Menard to win Saturday's Lilly Diabetes 250.
Byron made the decisive pass for the lead on Lap 85, surging past JR Motorsports teammate Elliott Sadler into the top spot. Menard gained two spots, from fourth to second over a six-circuit stretch from Laps 90 to 96 but couldn't overtake Byron, who blocked each of Menard's attempts to make a winning pass.

"It's so cool—this is awesome," said Byron, who was won in his first visit to the vaunted Brickyard. "I'd never been to a Brickyard 400 or an Indy 500, but I watched it as a kid. It takes a lot to win these races, and to win here is so special."

Joey Logano followed Byron past Sadler on Lap 85 and finished third, after losing the second position to Menard on Lap 96.

The leader in the NASCAR XFINITY Series Sunoco Rookie of the Year standings, Byron won for the third time this season. Fighting a vibration he thought might have been the result of a tire issue, he finished .108 seconds ahead of Menard.

"He's done an awesome job," team owner Dale Earnhardt Jr. said. "I'm excited for his future and the rest of the season."

Menard thought he might have been able to get to Byron's bumper in the closing laps but thought better of trying to move him.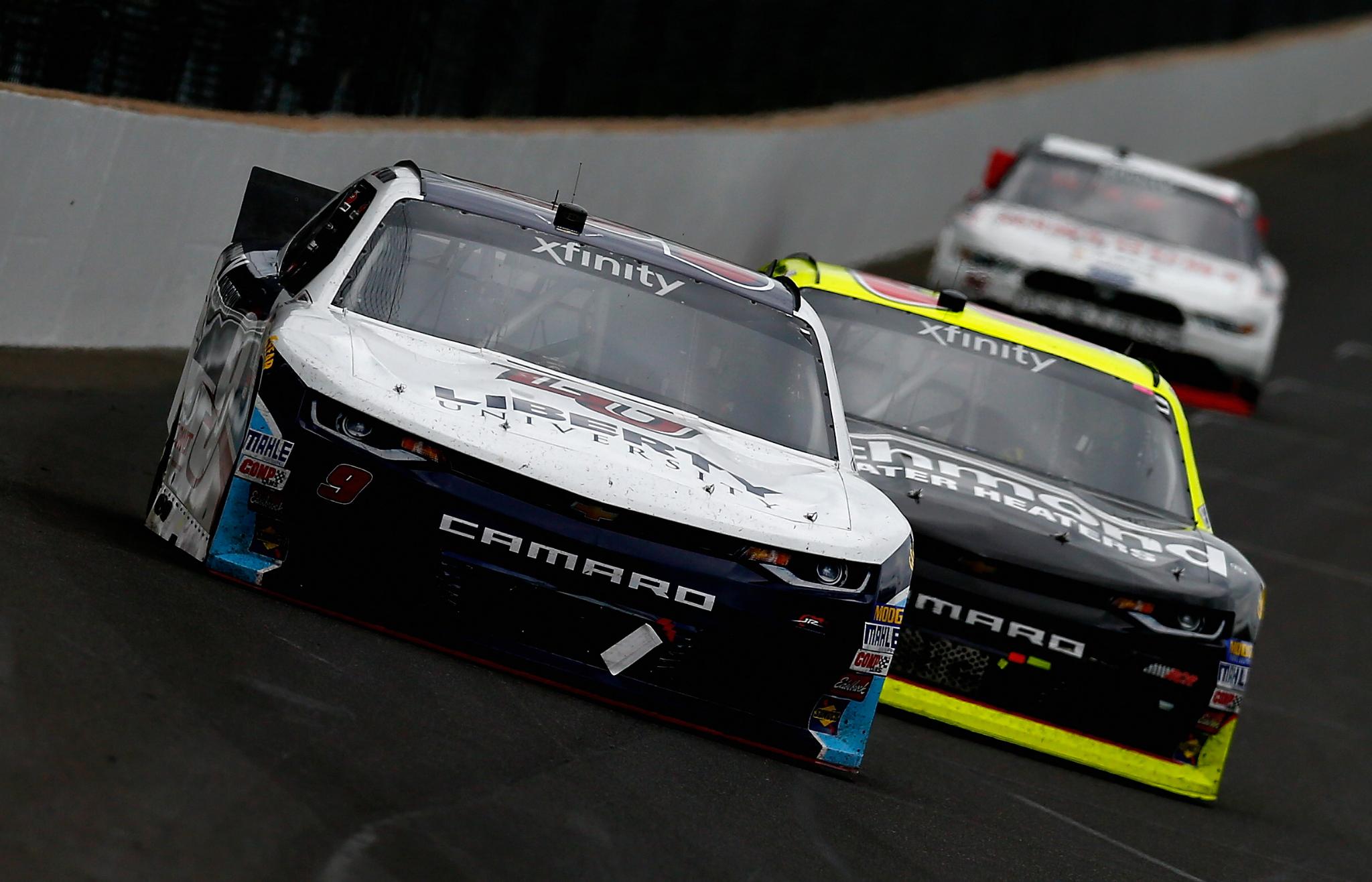 Paul Menard (rear) battles William Byron in the closing laps
Sean Gardner/Getty Images
"He was better than me through Turn 1," Menard said. "I just had to lift too much and play catch-up through Turns 2, 3 and 4 back to the start/finish line. I made a pretty aggressive dive into (Turn) 1 that last lap, just to see if I could get him loose, but he made it stick.
"I maybe could have gotten to his bumper, but that would have definitely killed my momentum, too. All it probably would have done is chase both of us up the hill, and Joey might have won. I didn't think that was in either of our best interest."

Second in the standings, Byron now trails Sadler, the series leader, by 40 points. A disastrous pit stop cost JRM teammate Justin Allgaier dearly, dropping him to 35th at the finish and 133 points behind Sadler in the standings.

Allgaier pitted from the lead on Lap 57 of 100 and overshot his stall, starting a comedy of errors. The No. 7 crew began working on the car before pushing it back into the pit box. Allgaier took off early, snapping the air hose, which danced around the stall like a snake before coming to rest. The coup de grace was a right front tire that hadn't been secured.

The tire came off the hub and lodged at an angle inside the wheel well. With his car towed to the garage for repairs, Allgaier lost 13 laps.

That was the comic relief, however, in a race where the new rules package drew overwhelmingly positive reviews.

"Overall, we're certainly pleased with what we saw on the race track," said Steve O'Donnell, NASCAR executive vice president and chief racing development officer. "From an eye test, it definitely passed when you look at the metrics, right? Most leaders we've had (eight). Most lead changes. Closest finish. Certainly, on the quick recap, some really great metrics.

"But as we said before, there's a lot for us to digest, go back, talk to the teams, drivers, crew chiefs, see where we're at and go from there."
RACE RESULTS
| | | | | | | | | | |
| --- | --- | --- | --- | --- | --- | --- | --- | --- | --- |
| Pos. | # | Driver | Make | Start | Laps | Led | Status | Points | Playoff Points |
| 1 | 9 | William Byron | Chevy | 3 | 100 | 26 | Running | 50 | 17 |
| 2 | 2 | Paul Menard | Chevy | 15 | 100 | 0 | Running | 0 | 0 |
| 3 | 22 | Joey Logano | Ford | 12 | 100 | 0 | Running | 0 | 0 |
| 4 | 1 | Elliott Sadler | Chevy | 1 | 100 | 22 | Running | 45 | 5 |
| 5 | 00 | Cole Custer | Ford | 6 | 100 | 0 | Running | 39 | 0 |
| 6 | 16 | Ryan Reed | Ford | 10 | 100 | 0 | Running | 31 | 5 |
| 7 | 48 | Brennan Poole | Chevy | 17 | 100 | 0 | Running | 45 | 0 |
| 8 | 21 | Daniel Hemric | Chevy | 13 | 100 | 1 | Running | 37 | 1 |
| 9 | 33 | Brandon Jones | Chevy | 14 | 100 | 0 | Running | 34 | 0 |
| 10 | 3 | Ty Dillon | Chevy | 19 | 100 | 0 | Running | 0 | 0 |
| 11 | 19 | Matt Tifft | Toyota | 7 | 100 | 0 | Running | 27 | 0 |
| 12 | 18 | Kyle Busch | Toyota | Chevy11 | 100 | 44 | Running | 0 | 0 |
| 13 | 62 | Brendan Gaughan | | 16 | 100 | 0 | Running | 31 | 1 |
| 14 | 39 | Ryan Sieg | Chevy | 8 | 100 | 0 | Running | 25 | 0 |
| 15 | 14 | JJ Yeley | Toyota | 21 | 100 | 0 | Running | 25 | 0 |
| 16 | 4 | Ross Chastain | Chevy | 23 | 100 | 0 | Running | 26 | 0 |
| 17 | 11 | Blake Koch | Chevy | 22 | 100 | 0 | Running | 20 | 1 |
| 18 | 96 | Ben Kennedy | Chevy | 9 | 100 | 0 | Running | 23 | 0 |
| 19 | 24 | Jeb Burton | Toyota | 25 | 100 | 0 | Running | 18 | 0 |
| 20 | 28 | Dakoda Armstrong | Toyota | 24 | 99 | 0 | Running | 17 | 0 |
| 21 | 0 | Garrett Smithley | Chevy | 33 | 99 | 1 | Running | 16 | 0 |
| 22 | 01 | Harrison Rhodes | Chevy | 29 | 99 | 1 | Running | 15 | 0 |
| 23 | 20 | Erik Jones | Toyota | 2 | 99 | 0 | Running | 0 | 0 |
| 24 | 07 | Ray Black Jr | Chevy | 30 | 99 | 0 | Running | 13 | 0 |
| 25 | 5 | Michael Annett | Chevy | 5 | 99 | 0 | Running | 12 | 0 |
| 26 | 78 | Tommy Joe Martins | Chevy | 31 | 99 | 0 | Running | 11 | 0 |
| 27 | 90 | Mario Gosselin | Chevy | 26 | 99 | 0 | Running | 10 | 0 |
| 28 | 23 | Spencer Gallagher | Chevy | 20 | 99 | 0 | Running | 9 | 0 |
| 29 | 99 | David Starr | Chevy | 35 | 99 | 0 | Running | 8 | 0 |
| 30 | 52 | Joey Gase | Chevy | 37 | 98 | 0 | Running | 7 | 0 |
| 31 | 51 | Jeremy Clements | Chevy | 32 | 98 | 0 | Running | 7 | 0 |
| 32 | 40 | Chad Finchum | Dodge | 39 | 98 | 0 | Running | 5 | 0 |
| 33 | 8 | BJ McLeod | Chevy | 34 | 93 | 0 | Running | 4 | 0 |
| 34 | 74 | Mike Harmon | Dodge | 40 | 90 | 0 | Transmission | 3 | 0 |
| 35 | 7 | Justin Allgaier | Chevy | 4 | 86 | 4 | Running | 2 | 7 |
| 36 | 13 | Timmy Hill | Toyota | 36 | 40 | 0 | Clutch | 1 | 0 |
| 37 | 42 | Tyler Reddick | Chevy | 18 | 38 | 0 | Accident | 5 | 0 |
| 38 | 15 | Reed Sorenson | Chevy | 27 | 23 | 0 | Vibration | 0 | 0 |
| 39 | 89 | Morgan Shepherd | Chevy | 38 | 22 | 1 | Engine | 1 | 0 |
| 40 | 93 | Jeff Green | Chevy | 28 | 9 | 0 | Vibration | 1 | 0 |
[adinserter name="GOOGLE AD"]