What's new in the 2020 ELMS regulations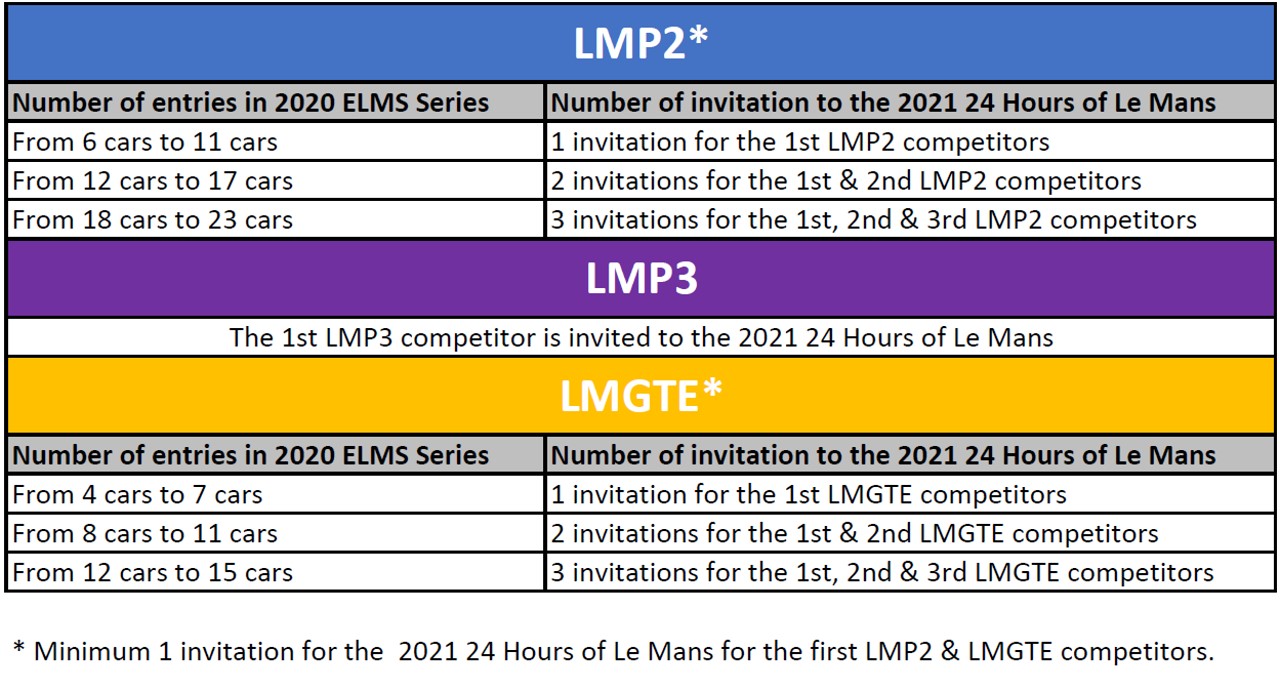 ELMS gets more LeMans entries
Applications for the 2020 European Le Mans Series are now open and will close on the 3rd February. Here are the main changes to the 2020 ELMS sporting regulations.
Standardization of the regulations
The 2020 ELMS regulations and the articles numbering have been standardized in order to be similar to the FIA World Endurance Championship regulations to make them clearer for the competitors
Invitation to the 24 Hours of Le Mans
The numbers of invitations for the 24 Hours of Le Mans will now be granted according to the number of entries in the corresponding class as in the following tab.
A minimum of one invitation to the 2021 24 Hours of Le Mans will be offered to the first LMP2 and LMGTE competitors. (Art 15.2.2)
Safety car procedure: "Pass- Around"
During a Safety car procedure, if deemed appropriate, the Race Director will authorize "Pass- Around" for any car that has their category leader behind them in the order circulating behind the Safety Car.
It will be under the competitors responsibly to determine if their car is eligible for "Pass-around". (Art 14.6.5)
Innovative Car
In order to promote new technologies, the Selection Committee may authorize one competitor presenting an innovative car in the innovative category subject to the following conditions (Art 3.2.5):
– The technical aspects will be defined according to the requirements and at the discretion of the ACO technical department, which may request the opinion of the FIA regarding vehicle safety.
– A European Le Mans Series Committee decision will detail the specific conditions of an innovative car entry to one or more Competitions and will be released to all entrants Competitors.
– The innovative car will take part in the Series as an unclassified competitor.
– The European Le Mans Series Committee may, at any time, revoke the assigned invitation to a Competitor entering an innovative car.
Composition of the crews
The crews' compositions and driving times have been reviewed in order to be clearer for the competitors and to avoid any misunderstanding (Annexe 5). CLICK HERE for all the details
Collective Testing organized by LMEM
Participation in collective test sessions is not mandatory and the collective testing are not considered part of the current Competition.
LMEM will organize collective testing, the Thursday prior to the event, on the following circuits: Monza, Le Castellet, Spa-Francorchamps, Portimao. (Art 8.1.2)
CLICK HERE to download the 2020 ELMS regulations