Fourth-Generation Petty Family Member Thad Moffitt Earns Four Top-Tens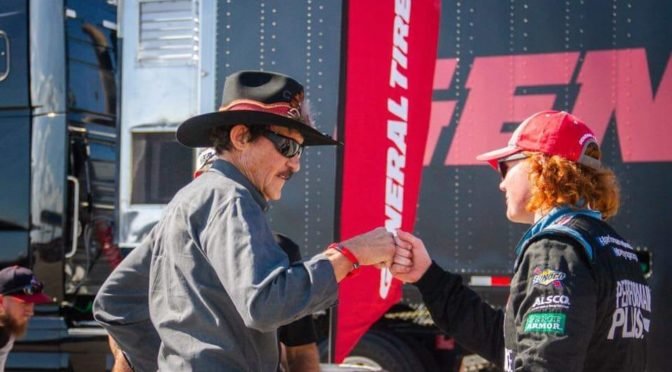 Richard Petty and Thad Moffitt
The Petty family is synonymous with stock car racing, especially at Daytona International Speedway. The patriarch of the family, the late Lee Petty, won the inaugural Daytona 500 in a photo finish that took days to evaluate. Second-general driver Richard Petty may have been nicknamed "Squirrel" by his father, but he quickly took to Daytona's high banks, earning the first of a record seven Daytona 500 wins just five years later in 1964 – coincidentally the first year the ARCA Menards Series raced on the 2.5-mile tri-oval.
The third-generation of the Petty family made his racing debut in the ARCA race at Daytona in 1979. Richard's son Kyle Petty had been a part of the Petty team for years, but had never raced anything before he strapped into a year-old Dodge Magnum and whipped the field in the ARCA 200. All three generations of the Petty family had earned a visit to the hallowed ground of Daytona's victory lane.
The second member of the fourth-generation of the Petty family – his father Brian Moffitt is the CEO of Richard Petty Motorsports and his mother is Richard's daughter Rebecca – made his stock car debut at Daytona in 2019, and just like his great-grandfather, grandfather, and uncle before him, Thad Moffitt took to the high banks and high speeds very quickly.
Driving for John Corr's Empire Racing team, Moffitt qualified on the front row alongside General Tire Pole Award winner Christian Eckes and ran among the lead pack throughout the early stages of the race. Unfortunately his window net came loose, costing him a lap as he pitted to fix it. After a caution allowed him to rejoin the lead lap, a cut tire sent him into a spin ending his chances of a Daytona win in his Daytona debut.
A cut oil line ended his day short in his next appearance at Talladega, but from there on out, Moffitt was solid. He finished ninth on the short track at Nashville, and followed it with a tenth-place finish in his first start at Charlotte Motor Speedway. Two more ninth-place finishes at WWT Raceway and Chicagoland Speedway followed, and he closed out his seven-race ARCA Menards Series season with an eleventh-place finish at Pocono Raceway.
Moffitt proved to be a good qualifier, with a 10.6 average start although the misfortunes at Daytona and Talladega lowered his average finish to 14.3.
ARCA's 67th season will come to a close when Christian Eckes will officially be crowned the 36th ARCA Menards Series champion on Saturday, December 14 at the Championship Banquet held at the Indiana State Convention Center, held annually in conjunction with the Performance Racing