George Russell fastest for Mercedes as Leclerc crashes Ferrari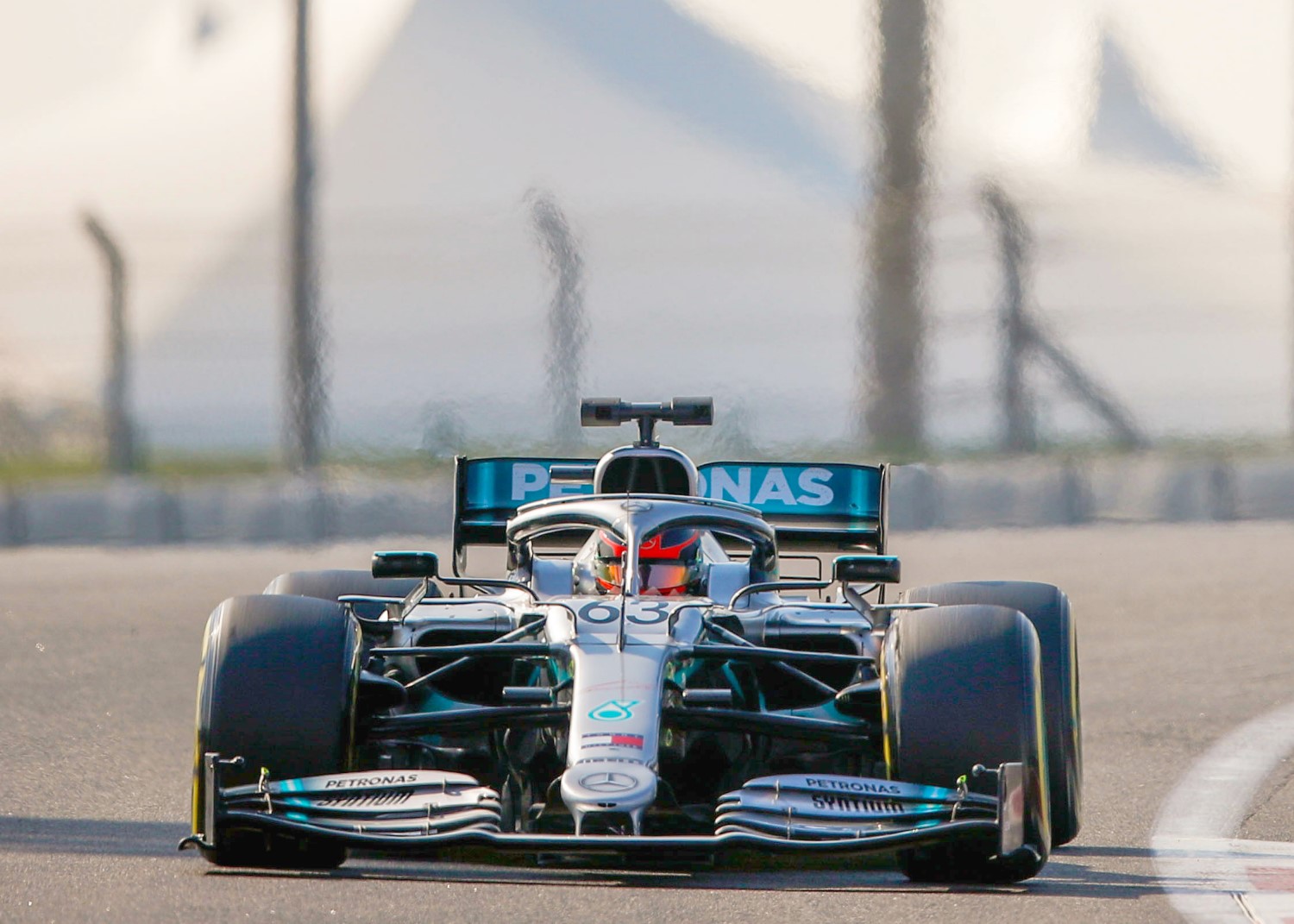 George Russell in the unbeatable Mercedes
George Russell topped the final day of Formula 1 post-season testing in Abu Dhabi, as Charles Leclerc wadded up his Ferrari.
Williams race driver Russell has been a Mercedes protege for several years, lapped a tenth slower than Bottas' Tuesday benchmark.
Russell's 1m37.204s effort, more than three seconds quicker than he had lapped on Tuesday in his 2019 wanker Williams, was eight hundredths slower than Mercedes' multiple race winner Bottas, proving once again that F1 is 99% car and 1% driver.
Leclerc went backwards into the wall at Turn 14 and did not return to the track again, the damage too much for the Ferrari mechanics to fix.
"This was our last day of track activity and I believe it was a very useful one for us, in spite of the incident that forced us to stop earlier than planned," Leclerc said.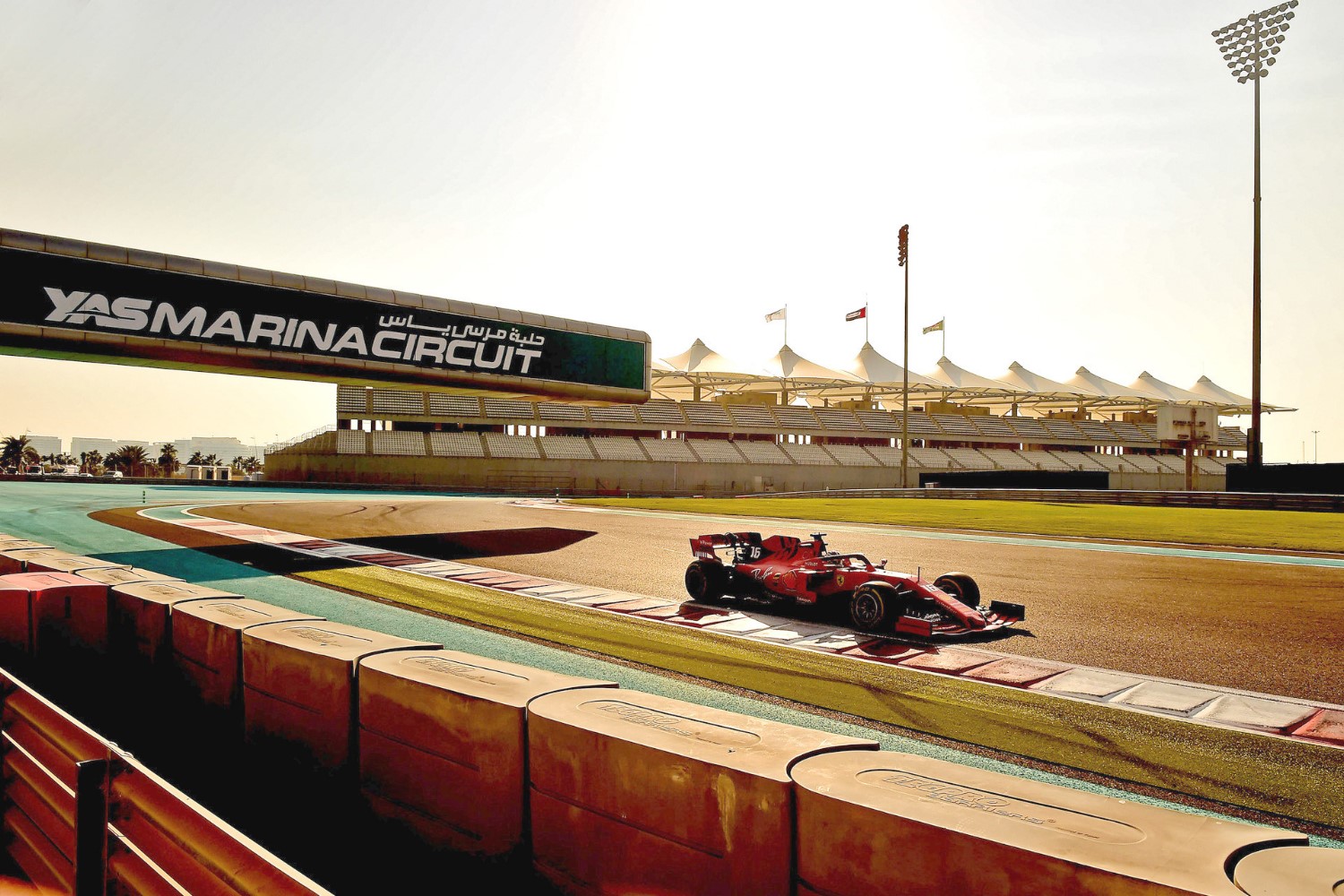 Leclerc before he wadded up his Ferrari
"We did a lot of tests to evaluate the 2020 tires in comparison with this year's tires, and we have collected a lot of data that now needs to be analyzed.
"Now we can relax a bit and, even if I'll never forget my first season with Ferrari, I know that soon I'll be raring to get back on track again."
Lance Stroll set the third-fastest time on Wednesday, recovering from a pitlane incident early in the day that was reportedly triggered by Carlos Sainz Jr misjudging the width of his McLaren with aero rakes fitted.
Pierre Gasly was fourth for Toro Rosso and the last driver to lap within a second of Russell, with Sainz fifth.
The F1 cars will be back in action for the first day of pre-season testing on 19 February 2020, at the Barcelona-Catalunya circuit.
Select Quotes
George Russell
It's been a pleasure driving the championship-winning W10 today. We tested the 2020 tires and I've learned a huge amount about them which I'm sure will help both myself and the team going into next season, which is very positive. It's been an enjoyable day at the track and I'll get more track-time in next week when I'll do the tire development test for Pirelli before my season finally comes to a close. I'm excited for a few days off to relax a little before I'm back to my training regime to get the best possible preparation for 2020. My first season in Formula One has been a steep learning curve and I'm already looking forward to Australia when we go racing again next year.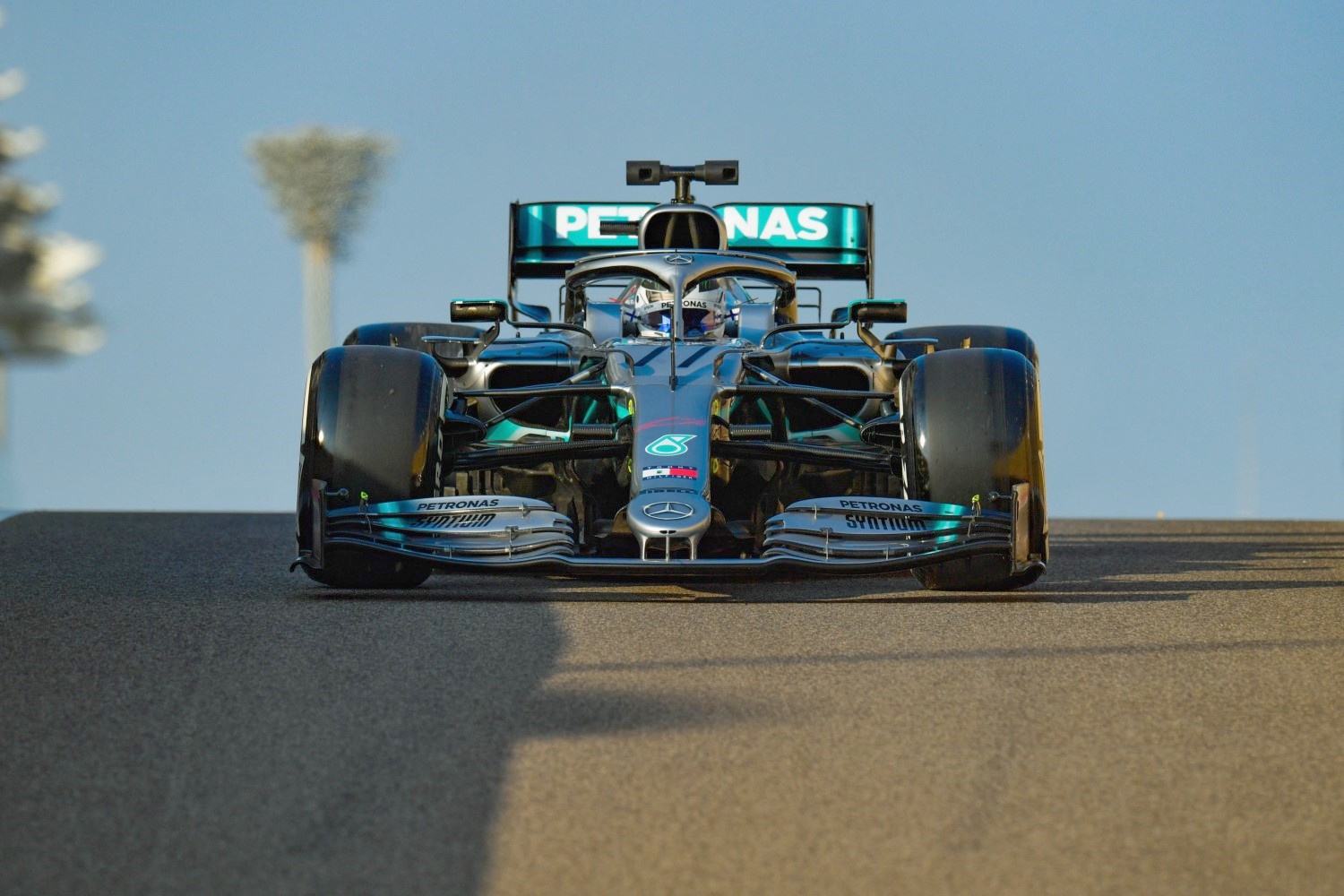 Bottas was fastest in the superior Mercedes yesterday and Russell nearly matched that time Wednesday
Andrew Shovlin
It was good to be able to work with George again today and he did a great job to get over 800 kilometer's and fastest lap of the day. The car has run faultlessly over the last two days which has allowed us to get through a lot of work. We spent more time today working on getting the most out of the 2020 tires and we have made good progress in understanding what they need in terms of set-up. We also completed a compound scan in the morning which gives us some data to select the tires for the opening races and did some work on the softest compound – the C5 – on which George set his fastest lap. That's not quite it for the W10 as we will be converting Valtteri's race chassis over the next few days into the mule car to do our first 18-inch tire development test for Pirelli. George is going to stay here to do the driving for that test, so it's been very useful to him to get familiar with our car today in preparation for that work which starts on Sunday.
Charles Leclerc #16
"This was our last day on track and I think it was useful, despite the accident which meant I had to stop early. We did a lot of comparison testing of the 2020 tires up against this year's and acquired a lot of data which will now be analyzed in depth. Now we can switch off for a while, but I will never forget my first season with Scuderia Ferrari and I'm sure that it won't be long until I want to be back on track."
Dave Robson, Williams Senior Race Engineer
We completed the 2019 campaign with a very productive day of testing here in Abu Dhabi. Roy began the day collecting important aero data before completing the tire testing that he began yesterday. Once again, he drove confidently, professionally, and proficiently and provided us with some very valuable feedback on the 2020 tires.
Nicholas drove for the final six hours of the day to get his first experience of the new tires on a warm track. He completed a similar program to the one that George ran yesterday, but this time concentrating on getting the best performance out of the 2020 C4 compound. As he has done in each of the FP1 sessions that he has driven this season, he gave some very good feedback and helped guide our long run program this afternoon. This was valuable experience for both us and Nicholas and we now head back to the factory with a lot of new information on the tires, which will help inform our choices of compound for both winter testing and the opening races of next season.
It is nice to have ended this season with a very useful and productive two days of testing. It is testament to the entire team that the car ran reliably and effectively throughout, completing 273 laps. The post-season test is always hard work, but to do this at the end of such a long season is a huge ask of the mechanics who have spent the last ten months on the road. At the end of this season, in particular, they deserve a lot of credit for pushing to the end and ensuring that we completed such a successful test. They are supported throughout the season by a superb garage support group as well as our wonderful marketing, media and catering teams. We thank all of them for their unwavering help, support, good humor and unlimited cups of tea. Without them, the track would be a considerably less enjoyable place to be. We wish them all a well-earned break and a very merry Christmas.
Nicholas Latifi
It was a good day, there were a lot of laps in a short space of time. It was very productive as I got to experience the new 2020 tires, which will be good experience going into next year. I ran these on low fuel, quali style runs and then, more importantly, full fuel race simulations which I had yet to experience. The afternoon ran pretty smoothly, we had no issues and I am very pleased with my first official day in the new job.
Roy Nissany
Again, it was another great day. We started this morning with some aero rakes and a lot of engineering testing. It was very productive, for myself, and for the team. We did a lot of long runs, and I made some good improvements throughout the session. Overall, I am very happy with my performance in the test and I hope the team feels the same way.
More to follow………………………
Day 2 test Results
| | | | | |
| --- | --- | --- | --- | --- |
| Pos. | Driver | Team | Time | Laps |
| 1. | G. Russell | Mercedes AMG Petronas Motorsport | 1:37.204 | 145 |
| 2. | C. Leclerc | Scuderia Ferrari Mission Winnow | 1:37.401 | 103 |
| 3. | L. Stroll | SportPesa Racing Point F1 Team | 1:37.999 | 132 |
| 4. | P. Gasly | Red Bull Toro Rosso Honda | 1:38.166 | 146 |
| 5. | C. Sainz | McLaren F1 Team | 1:38.729 | 112 |
| 6. | E. Ocon | Renault F1 Team | 1:38.950 | 128 |
| 7. | A. Albon | Aston Martin Red Bull Racing | 1:39.181 | 139 |
| 8. | P. Fittipaldi | Haas F1 Team | 1:39.682 | 135 |
| 9. | A. Giovinazzi | Alfa Romeo Racing | 1:39.811 | 115 |
| 10. | N. Latifi | ROKiT Williams Racing | 1:40.188 | 107 |
| 11. | R. Nissany | ROKiT Williams Racing | 1:43.892 | 38 |