New NASCAR Rules Got A Workout At Daytona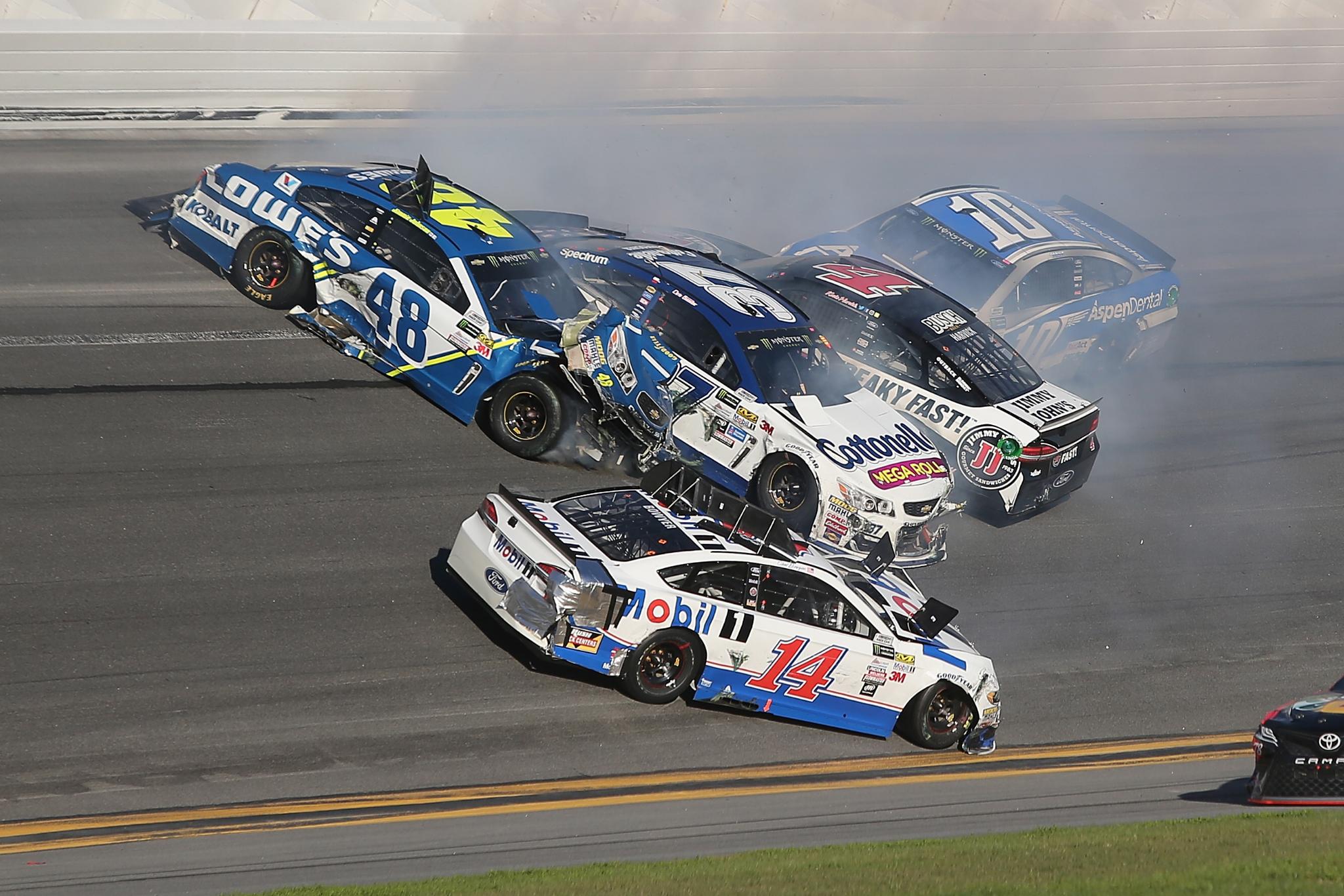 Jimmie Johnson (48) was among 17 cars collecting in this wreck on lap 129 of the Daytona 500
Jerry Markland/Getty Images
Walking through the various series garages this past weekend in Daytona was a memorabilia collectors dream – enough scrapped sheet metal lying around to fully decorate a small sports bar, or a large man-cave, whatever the case may be.
More than 40 junked race cars and trucks littered the garage area of over the course of the four-day race weekend – some made it back under their own power, but most were dragged in hooked by a tow truck.
Such is the nature of the beast when racing at Daytona, where "The Big One" can strike anytime, multiple times. And it always seems the best catalyst for causing these multi-vehicle wrecks is when the field is closely bunched up together, like say, during a restart.
And under the new race format introduced this season by NASCAR, each race is now divided into three segments, giving us a minimum of three…you guessed it…restarts.
[adinserter name="GOOGLE AD"] And during Friday night's truck race alone, there were two multi-vehicle crashes following restarts in the first 30 laps, involving a total of 17 trucks. The Xfinity Series race claimed 31 cars before the end of the second segment, with both of the biggest crashes happening…when? Right after a restart.
In racing, they have a saying – "Cautions breed cautions", so it seems counterintuitive for NASCAR to actually be adding more cautions if the end result is going to be wading up more racecars.
Ah, but then there's the excitement factor. You see, cautions breed cautions, which in turn breeds crashes, which in turn breeds more excitement.
Back when these new formats were introduced in January, "excitement" was the drinking word of the press conference. Brian France, Dale Earnhardt, Jr., Denny Hamlin, Jeff Gordon…all talked about how exciting it was going to be.
Adding segments to the race is one thing – you add in points for finishing positions in the segments, and what you really have is recipe for disaster, especially at 180-plus miles-an-hour.
I would have liked to have caught up with Dale Jr. after he got tangled up in that wreck in the Daytona 500 and asked him how excited he was to be collected in a multi-car crash.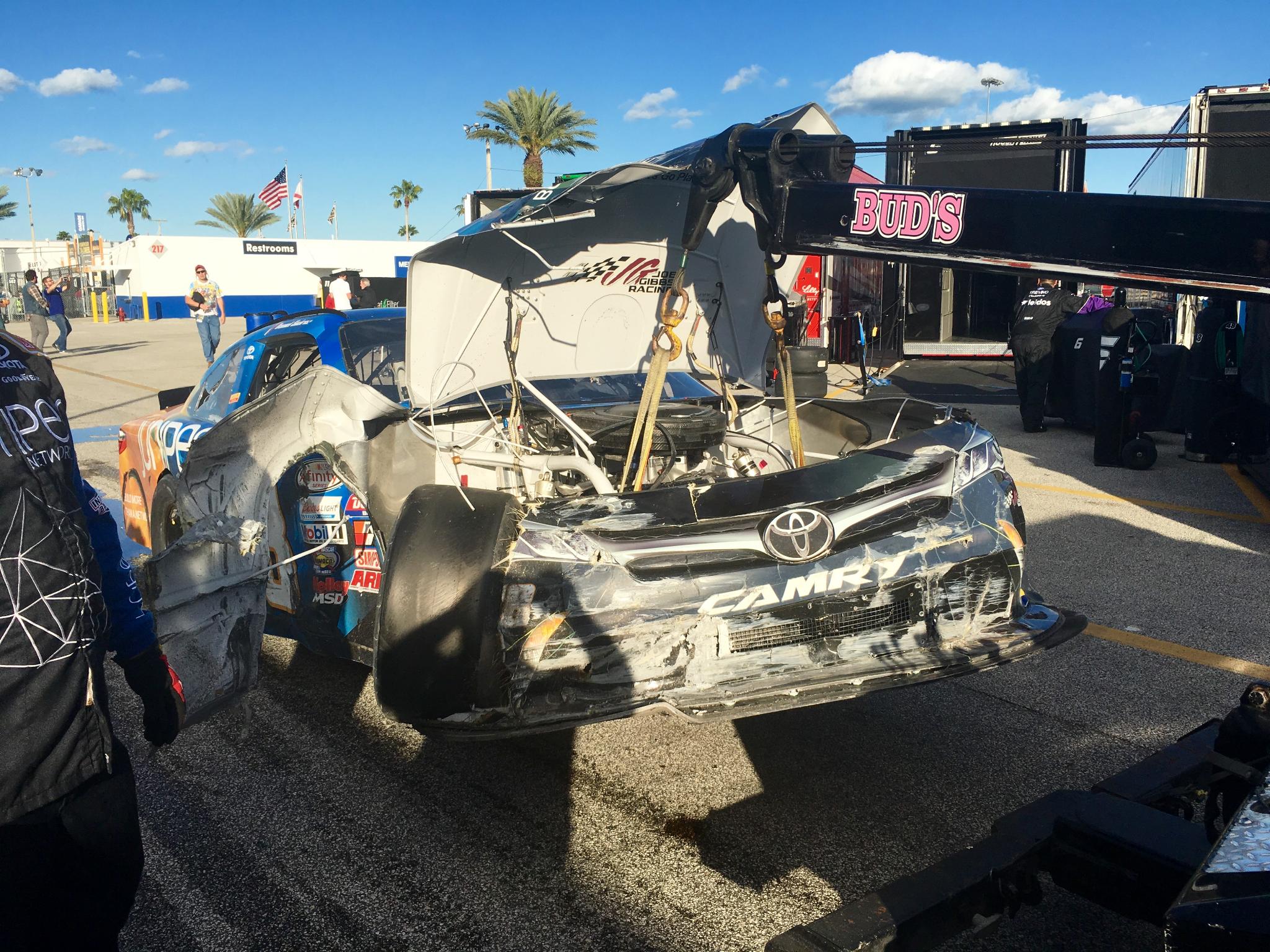 Daniel Suarez crashed out of last Saturday's Xfinity Series race
Pete McCole/AR1

By in large, most of the drivers interviewed after their mandatory trips to the infield care center had high praise for the new segments – and why not? They themselves helped come up with the idea – like Brad Keselowski, who got taken out in a crash on lap 143.
"I thought the stages were good actually and added a nice little element to the race," said Keselowski. "I didn't notice guys being any more aggressive than usual. There were a lot of accidents but I would have to see the replays to understand why"
A nice little element. Okay….
When the new formats were first made public and then announced they would be used at Daytona, the first thought that came to mind was: instead of one last-lap scrum, there would now be at least three, and that's not including any green-white-checkered attempts. And even if you survive the last-lap scrum to end a segment, you still have a restart to look forward to.
[adinserter name="GOOGLE AD"] So NASCAR's first try with the new format led to at least a dozen crashes involving nearly half the field in each of the three races over the weekend. Of course, people will say "It's Daytona. It's always a crap-shoot." Well, I'm trying to imagine this format at Bristol. Or Richmond. Or Talladega.
The crux of the issue is this: the more that's on the line, the more aggressive drivers will get. That's not as big an issue at a track like Martinsville or New Hampshire, but restrictor-plate tracks are different animals. And drivers know it.
"I think Daytona and Talladega are going to be the extreme because, you know, it comes down to trying to get your track position. You see people lay back. Now with the stages, there's points on the line. It kind of changes how people race," said A.J. Allmendinger. "I think it's the extreme of the Daytona 500 and these plate races, the way we have to race. Now with stages, with points being on the line, things are going to happen like that."
Things are going to happen like that…Okay.
But with points on the line, especially getting toward the end of the regular season, isn't it possible these segments could lead to more carnage on the racetrack?
"I guess I don't know really how to answer that. Maybe," said Allmendinger. "Isn't that what we're trying to do, make some of these races more exciting throughout the middle of the race?"
There's that word again…exciting. Everyone drink.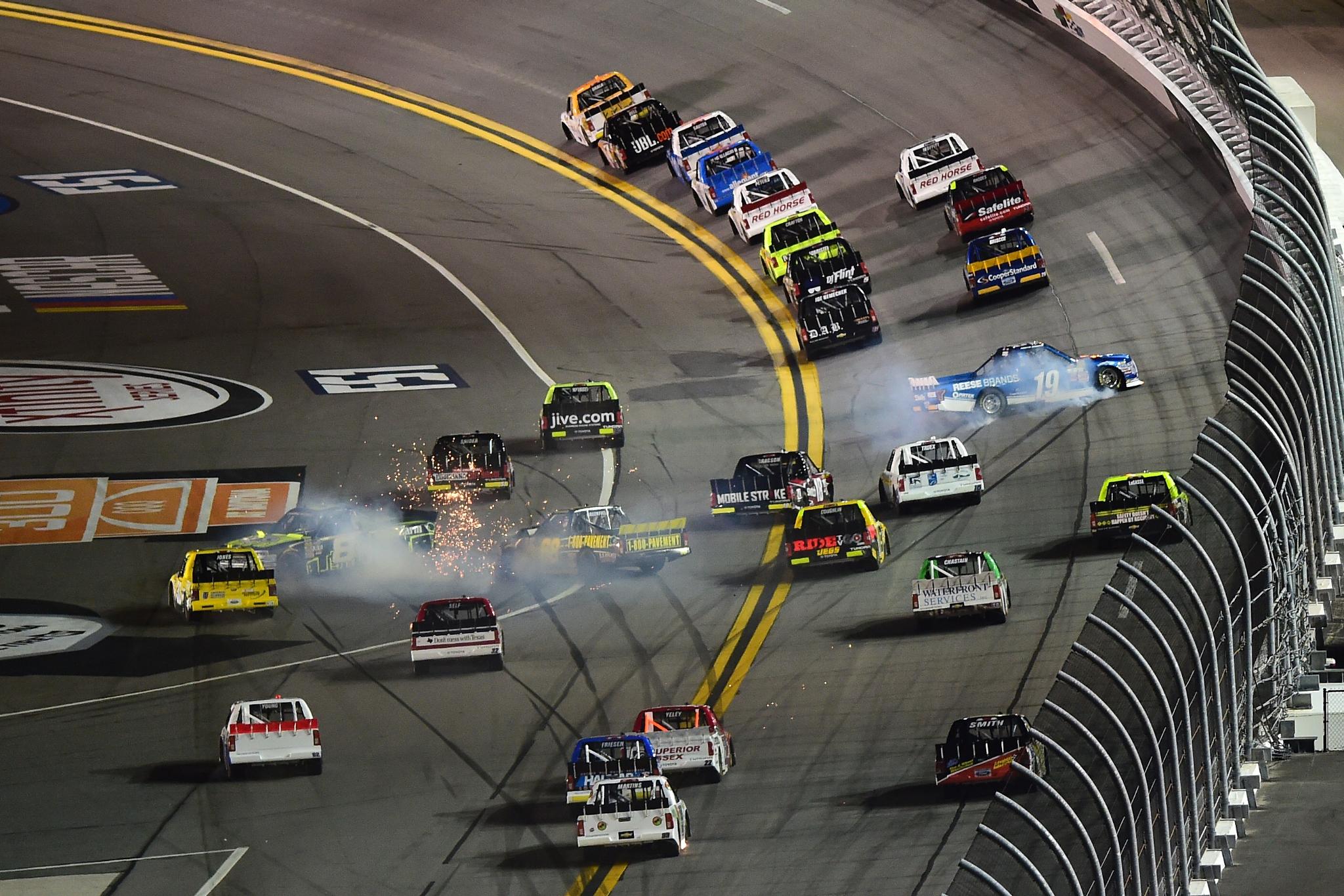 Last Friday night's truck series race had four multi-vehicle wrecks that involved more than half the field
Jared C. Tilton/Getty Images
Of course, NASCAR had to make it worthwhile for drivers to race until the last lap of the segments – why else would the drivers go all out until the final lap unless there was incentive to do so? Some people criticized the idea of awarding points for winning a segment, comparing it a "participation" trophy. For Daytona, at least, I think the points were more of a reward for surviving the segments.
Whether or not the concept of the segments in these races delivers what NASCAR wants remains to be seen. After all, television ratings were the real driving force behind all these changes, and if NASCAR's television partners don't see the number they want, they'll likely shake things up again.
So, like it or not, this is format we're going to have to live with for the next year and perhaps longer than that, giving NASCAR's penchant for trying things out for at least two years before shaking things up again.
And maybe they're right, maybe last weekend's races were an aberration – a product of restrictor-plate racing. We'll have 35 more races to find out.
At the end of the day last Sunday, NASCAR ultimately got what they wanted – a race with a last lap pass for the win, lots of action on the track, plenty of chance to show off great this new format is. And most importantly, everyone was able to walk away.
Yep, the fans were happy; the broadcasters were happy; the drivers seemed…well, the ones that finished seemed happy.
Oh, and yes, it was…exciting. Everyone, drink….
[adinserter name="GOOGLE AD"]