Jimmie Johnson Scores Historic 7th Sprint Cup Title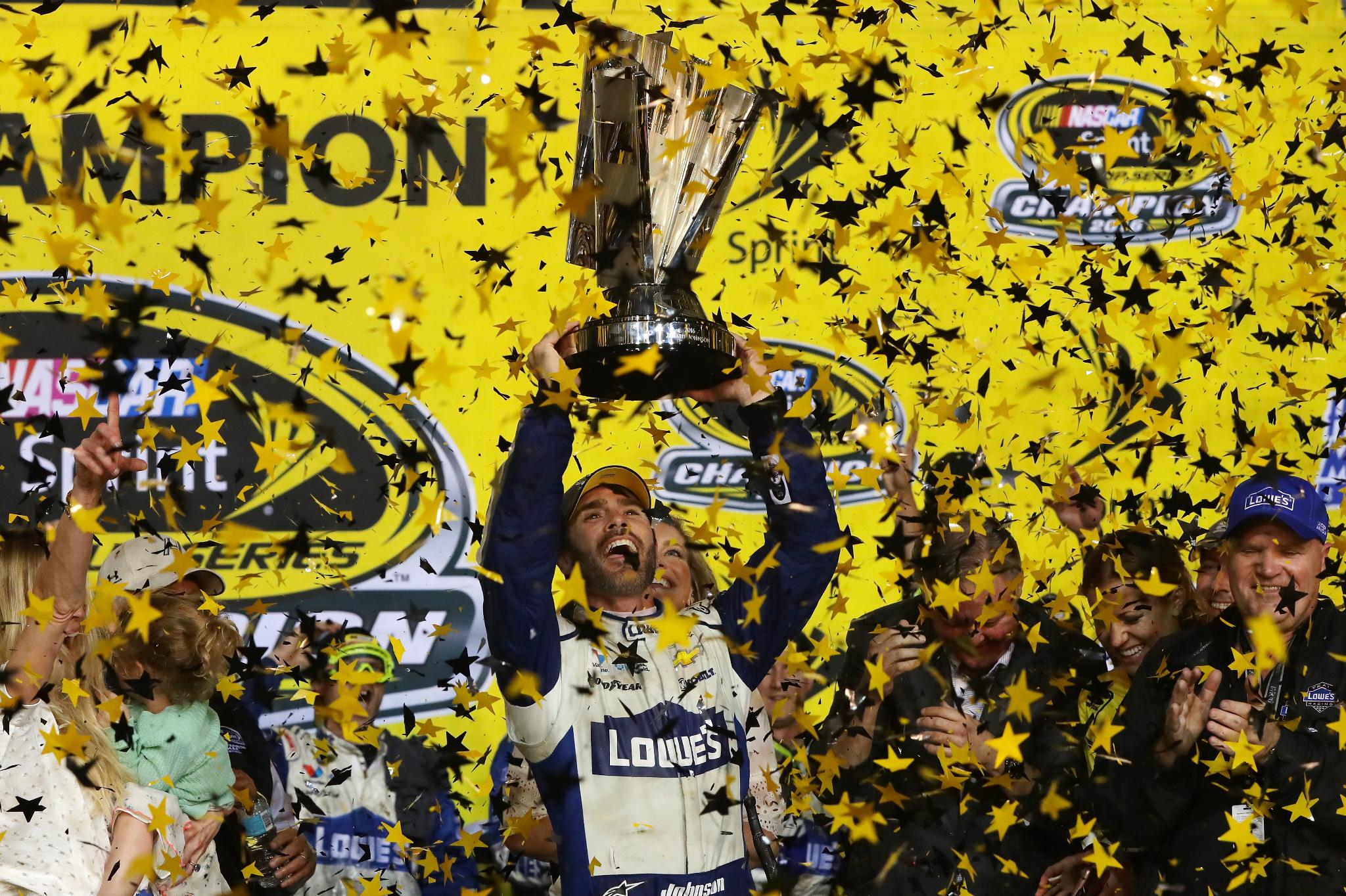 Jimmie Johnson celebrates his seventh Sprint Cup title
Sean Gardner/NASCAR via Getty Images
Six-Time is now finally Seven-Time.
Jimmie Johnson collected an historic seventh Sprint Cup title with a come-from-behind win in Sunday's season-ending Ford EcoBoost 400 at Homestead-Miami Speedway to lock up the title, joining Hall of Fame drivers Richard Petty and Dale Earnhardt as the only drivers to win seven championships.
Johnson survived a wild wreck with ten laps to go that took out title contender Carl Edwards and powered his way past Kyle Larson during an overtime restart to score to his first-career Homestead victory while beating out Kyle Busch and Joey Logano for the title.
Larson finished second, followed by Kevin Harvick, Logano and Jamie McMurray.
Johnson's victory was his fifth of the season and 80th of his career, and earned his seventh title in just his 15th season competing in Sprint Cup – and he won each title driving with the same number, sponsor, and crew chief, Chad Knaus.
"Oh my gosh, there is no, no way on earth. Just beyond words," said Johnson. "Just didn't think the race was unfolding for us like we needed to do to be the champs, but we just kept our heads in the game. Chad (Knaus) called a great strategy, made some great adjustments for the short runs. Luck came our way and we were able to win the race and win the championship.
"It's big. It has a different meaning. The No. 7 has a very special place in my heart with Ricky Hendrick. As a lot of people know. For some reason I just felt good and calm today and things just kind of unfolded at the end for us. I know it was help from above. In my heart I wanted to believe it would happen. It has and I just can't believe it. Thank you so much!"
[adinserter name="GOOGLE AD"] Johnson had to come from the rear of the field after being sent to the pack of the back before the start of the race for unapproved adjustments on his No. 48 Chevrolet, but it didn't take him long to fight his way back to the front – moving into the top 25 after just five laps and into the top five by lap 50.
Although he had managed to pull himself back in contention, Johnson was consistently the last among the four title contenders as Edwards and Logano each took turns at the front of the field.
Larson would take the lead for the first time on lap 118 and would go on to lead a race high 132 laps.
Pit stops were the watch word of the day and all four of the Championship 4 short-pitted during the course of the race for fresh tires including Kyle Busch, who made an unscheduled stop on lap 136 and fell a lap down.
Busch would fight his way back onto the lead lap and raced his way into second place behind Larson with 50 laps to go, with Edwards, Logano and Johnson also running in the top five.
With 30 laps to go, Edwards made his way around Busch to take second and led the championship battle, putting Edwards in a position to finally win his first Sprint Cup title – but a late caution flag for Dylan Lupton with 15 laps to go that would turn out to be the turning point of the race.
The ensuing caution flag brought the leader to pit road, with Larson winning the race out of the pits followed by Edwards, Harvick, Johnson and Kyle Busch.
Edwards lined up on the inside of Larson for the restart, and as the field came to take the green flag, Logano tried to duck to the inside of Edwards, who moved down to block and got spun into the inside wall off the front bumper of Logano.
Edwards would carom off the wall and back into traffic, where he collected Kasey Kahne. Logano also lost control and nailed his teammate Brad Keselowski, who collected Martin Truex, Jr. in the melee.
In all, nine cars were involved in the wreck, which brought out the red flag to clean up the mess.
And Carl Edwards dream of winning his first Sprint Cup title were over.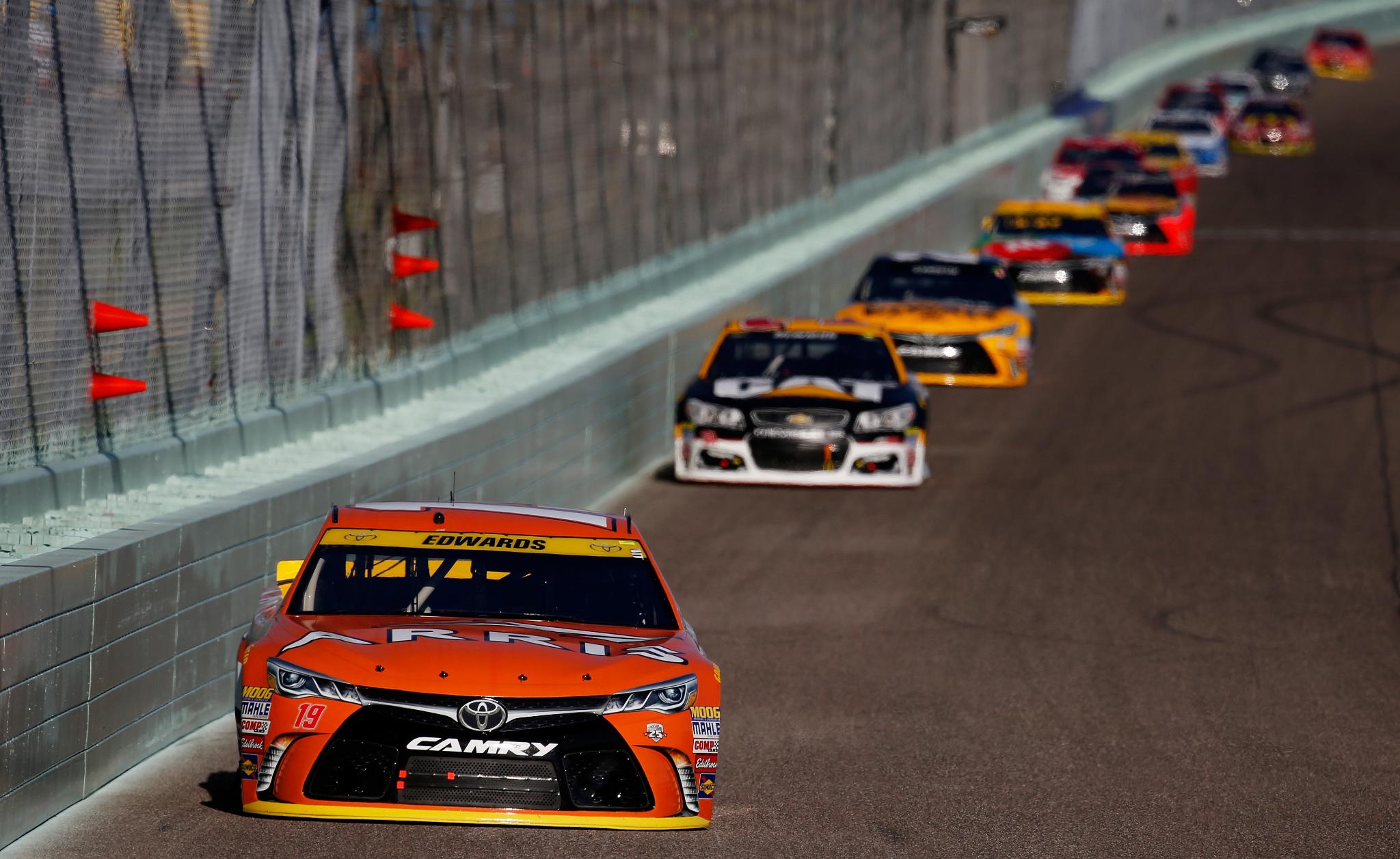 Carl Edwards finished last in the Championship 4 after crashing on lap 257
Chris Trotman/Getty Images
"I think it was shared (responsibility for the wreck), you know what I mean? I think it was just racing," Edwards said. "Joey (Logano) was so good on the short run that I knew I couldn't give it to him. I couldn't give him that lane. I went down there and blocked and he went down there as far as a guy could expect to go down and I just thought – I thought we were going to possibly hit. I just thought I'd have a little more time to correct it, but we were so far down there we couldn't go any farther down and basically we ended up wrecked, so that's the way things go sometimes."
As he walked back to pit road, Edwards made a point to stop by Logano's pit and shook hands with Logano's crew chief, Todd Gordon
"I just wanted to say, 'Hey, that's just racing and good luck to you guys.' There's so much on the line," Edwards said. "I want to make sure that – I don't want to be anything extra to mess with Joey (Logano). He's done a good job and they deserve to go have a good, fair race."
Johnson, who was running in fifth, dodged the wreck and moved up to fourth behind Larson, Harvick and Kyle Busch.
Logano pitted to repair the damage to his car and take on fresh tires and lined up ninth for the restart with five laps to go, and shot like a canon through the field to move up to third as Johnson moved around Busch to take second just as the caution waved again for Ricky Stenhouse, Jr.'s wreck on the back stretch.
The final caution set up an overtime finish with Larson leading the field back to the green flag followed by Johnson, Logano and Harvick while Kyle Busch came to pit road for tires.
Larson took the outside line for the restart but Johnson edged him out going into turn one to take the lead. Logano tried to follow under Larson but pushed up the racetrack and lost ground as Harvick pulled down low to take third.
Johnson passes Larson for the lead and the win
Harold Hinson/HHP/GM
Up front, Larson looked to the high side of Johnson in turn four but fell behind by five car lengths and barely held off Harvick for second as Johnson rocketed to the checkered flag.
Larson, who was looking for his second-career Sprint Cup victory, instead tallied his tenth top-five finish third runner-up of the season.
"Congrats to Jimmie (Johnson) for winning the championship, that's pretty cool and that Jimmie could win seven there," said Larson. "We had the car to win there and I know that I did everything in my power to win the race. But rules are rules and I have to work in the box."
Joey Logano finished second in the championship battle, followed by Kyle Busch, while Edwards was fourth.
"I hate being that close to a championship and not getting it," said Logano. "That last restart, I was hoping to get Jimmie there and trying to get either to the inside or outside of him. I just timed it a little bit wrong to get underneath him. I just didn't have enough time to get under him. We lost some time there and unfortunately we finish second. The championship means so much and everyone forgets about second place. That is what stinks. But overall I am proud of this team. This will be motivation for next year. This hurts."
Johnson crossed the finish line to win his seventh title
Sean Gardner/NASCAR via Getty Images
Busch, the defending series champion, raced his way from 13th to sixth on the final restart, but still fell short of winning his second-straight championship but helped clinch the manufactures title for Toyota.
"We were just too far back," said Busch. "In order to make up that many spots, we were going to need more than just two laps, but we were going to be able to do it if there were more laps, but that's the choice we made and we didn't feel like we had a shot to win if we didn't come down.
"We didn't have the fastest car – our teammate (Edwards) did. Neither one of us come home with a prize which is disappointing. Big congrats to seven time (Jimmie Johnson) and being able to continue that legacy and race against him and hopefully we can beat him one of these times."
Tony Stewart, making his 618th and final Sprint Cup start, finished his last race in 22nd, two laps down.
Results
| | | | | | | | | |
| --- | --- | --- | --- | --- | --- | --- | --- | --- |
| Pos | No. | Driver | Make | Behind | Gap | Laps | Led | Points |
| 1 | 48 | Jimmie Johnson (C) | Chevy | Leader | Leader | 268 | 3 | 5040 |
| 2 | 42 | Kyle Larson | Chevy | 0.467 | 0.467 | 268 | 132 | 2288 |
| 3 | 4 | Kevin Harvick | Chevy | 0.498 | 0.031 | 268 | 79 | 2289 |
| 4 | 22 | Joey Logano (C) | Ford | 1.221 | 0.723 | 268 | 6 | 5037 |
| 5 | 1 | Jamie McMurray | Chevy | 1.333 | 0.112 | 268 | 0 | 2231 |
| 6 | 18 | Kyle Busch (C) | Toyota | 1.551 | 0.218 | 268 | 1 | 5035 |
| 7 | 20 | Matt Kenseth | Toyota | 2.073 | 0.522 | 268 | 0 | 2330 |
| 8 | 47 | AJ Allmendinger | Chevy | 2.651 | 0.578 | 268 | 0 | 830 |
| 9 | 11 | Denny Hamlin | Toyota | 2.970 | 0.319 | 268 | 0 | 2320 |
| 10 | 59 | Michael McDowell | Chevy | 2.995 | 0.025 | 268 | 0 | 500 |
| 11 | 24 | Chase Elliott # | Chevy | 3.275 | 0.280 | 268 | 0 | 2285 |
| 12 | 3 | Austin Dillon | Chevy | 3.366 | 0.091 | 268 | 0 | 2223 |
| 13 | 41 | Kurt Busch | Chevy | 3.495 | 0.129 | 268 | 0 | 2296 |
| 14 | 27 | Paul Menard | Chevy | 3.562 | 0.067 | 268 | 0 | 678 |
| 15 | 44 | Brian Scott # | Ford | 3.945 | 0.383 | 268 | 0 | 481 |
| 16 | 88 | Alex Bowman(i) | Chevy | 5.080 | 1.135 | 268 | 0 | 0 |
| 17 | 16 | Greg Biffle | Ford | 1 Lap | – | 267 | 0 | 691 |
| 18 | 13 | Casey Mears | Chevy | 1 Lap | – | 267 | 0 | 556 |
| 19 | 10 | Danica Patrick | Chevy | 2 Laps | – | 266 | 0 | 689 |
| 20 | 6 | Trevor Bayne | Ford | 2 Laps | – | 266 | 0 | 762 |
| 21 | 38 | Landon Cassill | Ford | 2 Laps | – | 266 | 0 | 530 |
| 22 | 14 | Tony Stewart | Chevy | 2 Laps | – | 266 | 0 | 2211 |
| 23 | 15 | Clint Bowyer | Chevy | 2 Laps | – | 266 | 0 | 628 |
| 24 | 34 | Chris Buescher # | Ford | 2 Laps | – | 266 | 0 | 2169 |
| 25 | 31 | Ryan Newman | Chevy | 4 Laps | – | 264 | 0 | 895 |
| 26 | 21 | * Ryan Blaney # | Ford | 4 Laps | – | 264 | 0 | 812 |
| 27 | 49 | * Matt DiBenedetto(i) | Toyota | 4 Laps | – | 264 | 0 | 386 |
| 28 | 46 | Michael Annett | Chevy | 4 Laps | – | 264 | 0 | 328 |
| 29 | 23 | David Ragan | Toyota | 4 Laps | – | 264 | 0 | 455 |
| 30 | 17 | Ricky Stenhouse Jr. | Ford | 6 Laps | – | 262 | 0 | 772 |
| 31 | 83 | Jeffrey Earnhardt # | Toyota | 7 Laps | – | 261 | 0 | 159 |
| 32 | 55 | * Reed Sorenson | Toyota | 9 Laps | – | 259 | 0 | 198 |
| 33 | 95 | Ty Dillon(i) | Chevy | 10 Laps | – | 258 | 0 | 0 |
| 34 | 19 | Carl Edwards (C) | Toyota | 11 Laps | – | 257 | 47 | 5007 |
| 35 | 2 | Brad Keselowski | Ford | 11 Laps | – | 257 | 0 | 2267 |
| 36 | 78 | Martin Truex Jr. | Toyota | 11 Laps | – | 257 | 0 | 2271 |
| 37 | 5 | Kasey Kahne | Chevy | 11 Laps | – | 257 | 0 | 898 |
| 38 | 7 | * Regan Smith | Chevy | 13 Laps | – | 255 | 0 | 452 |
| 39 | 32 | Dylan Lupton(i) | Ford | 18 Laps | – | 250 | 0 | 0 |
| 40 | 43 | Aric Almirola | Ford | 54 Laps | – | 213 | 0 | 638 |
# DENOTES ROOKIE
(I) NOT ELIGIBLE FOR POINTS
[adinserter name="GOOGLE AD"]