Johnny Sauter Wins First Truck Series Championship
Johnny Sauter celebrates his first truck series title
Chevy Racing
It's been a long time coming for Johnny Sauter.
On Friday night, the second-generation NASCAR driver claimed his first NASCAR championship after more than 15 years in the sport, winning the Camping World Truck Series title in the season-finale Ford Ecoboost 200 at Homestead-Miami Speedway.
Sauter beat out his other Championship 4 competitors after coming home third in the race behind race winner William Byron and Tyler Reddick, edging out fellow Chase contenders Matt Crafton, Christopher Bell and Timothy Peters for the title in the inaugural Truck Series Chase.
Byron – who scored his series-leading seventh truck series win – clinched the owner's title for Kyle Busch Motorsports.
Sauter, who started the race way back in 19th place, passed Crafton with 16 lap to go and drove away, beating Crafton by more than a straightaway for the title.
"I just ran a smart race," said Sauter. "I'm not going to lie when we qualified as poorly as we did today I thought this was going to be tough to do because you've got to take tires here on every pit stop. There is not real easy way to get track position, so I knew we were going to have to do it by pit stops and passing people.
"This championship means a lot to me, but it means a lot to my family. "I just can't thank these guys enough. They executed like they needed to and I can't thank the Gallagher family enough for giving me this opportunity. It was a leap of faith to come here over the off season. Being in a Chevrolet was very important to me and this is just awesome."
For much of the race, the championship battle came down to former teammates Sauter and Crafton, both running in the top five nose to tail.
After the fourth and final caution flag waved with 23 laps to bring the leaders to pit road, Crafton came out of the pits second behind race leader Tyler Reddick while Sauter followed in fourth.
Back under green, Crafton fought Reddick for the lead before finally ducking back into second spot with Sauter moving up to third.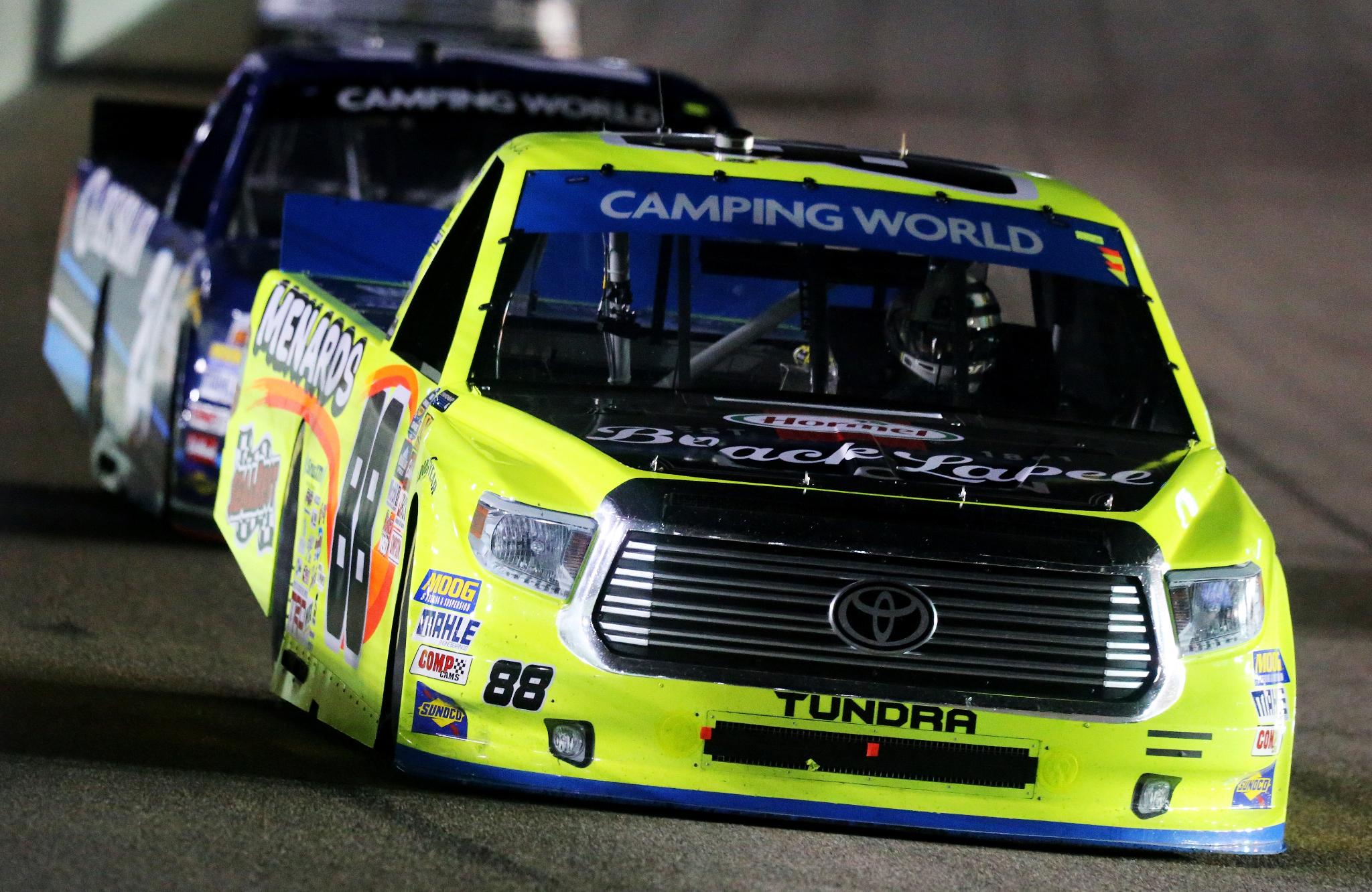 Matt Crafton fell short of his third series title
Jerry Markland/Getty Images
With 17 laps to go, Byron picked his way up to third place and made a three-wide pass on Crafton and Sauter in a bid for second place, and Sauter took advantage – side drafting off of Byron to get past Crafton and into third place as Byron took second and began to chase down Reddick.
Once he fell behind Sauter, Crafton began to fade and soon found himself fighting Daniel Hemric for fourth before Bell closed in to challenge him for fifth.
Up front, Byron trucked down Reddick and ducked under the race leader in turn one to take the lead with 10 laps to go as Sauter tucked in comfortably in third, and that's the way they finished as Byron cruised to the checkered flag over Reddick and Sauter beat out Crafton by more than half a straightway to take the title.
Kyle Larson and Hemric rounded out the top five finishers.
Crafton, who came within 20 laps of winning his third truck championship in four years, ended the day seventh, while Bell and Peters finished right behind in eighth and ninth, respectively.
"We were just really bad on that last run for whatever reason. We just went the wrong way for whatever reason," said Crafton. ""It just got tight on that last run. Before that, we got a little bit free in and just made a real small adjustment right there and just got really, really tight when it landed getting down in the corner it wouldn't turn getting in the center of the corner, but we fought hard and just came up a little short."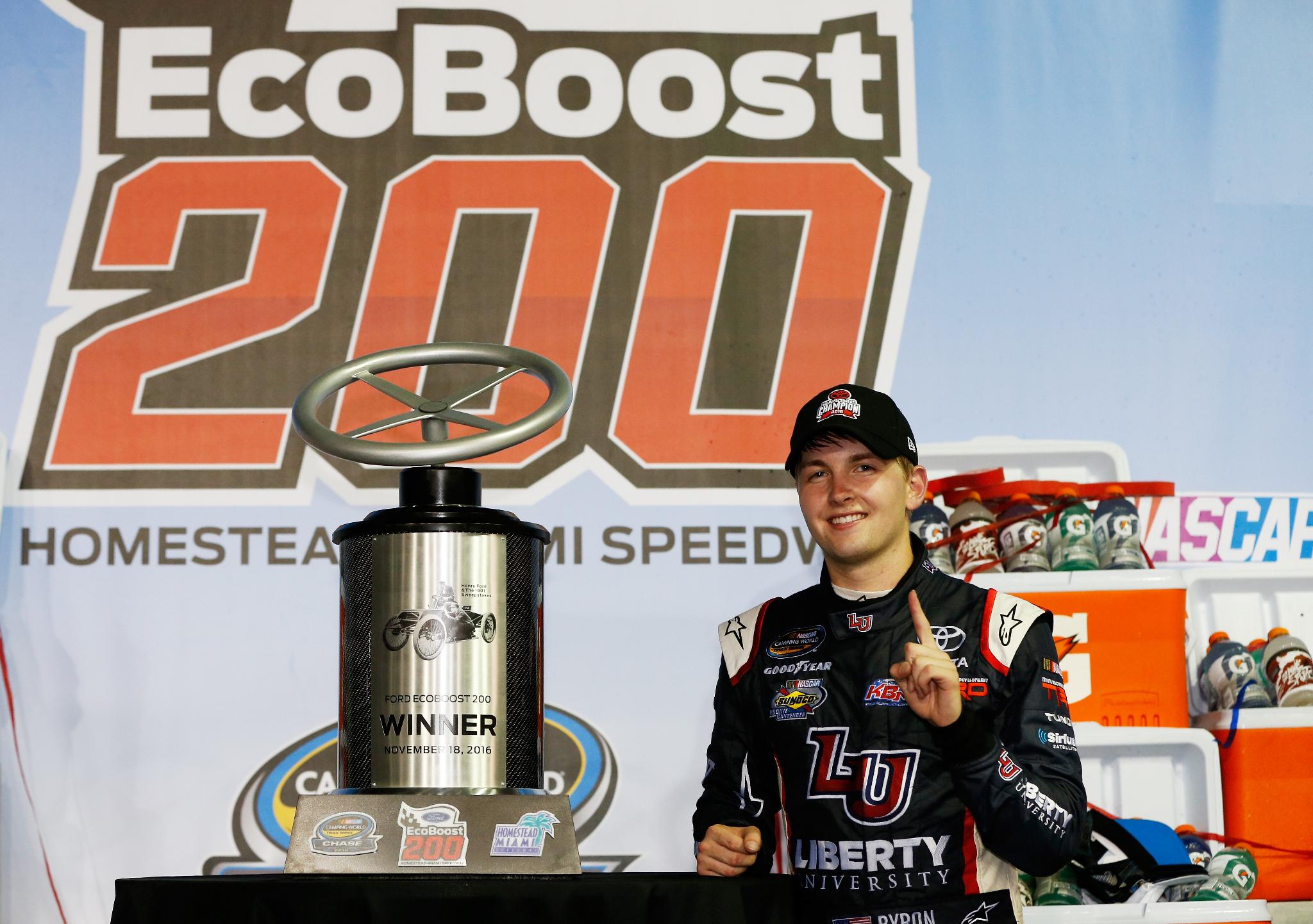 William Byron won his series-leading seventh race.
Brian Lawdermilk/Getty Images
Byron, who was eliminated from the Chase following last weekend's race at Phoenix, brought home the third straight owners title for Kyle Busch Motorsports and their fourth overall in the truck series.
"It feels awesome. It's just – it's incredible," said Byron, who will move up to the NASCAR Xfinity Series next season with Hendrick Motorsports. "I mean this team has worked so hard all year. We just had an unfortunate situation last week that we couldn't control, but, man, they brought a good truck.
"Before this race, we knew we had a lifelong bond between all of us. I mean, it's just been an incredible season. I've learned so much. They didn't know what to expect I think with a rookie driver. They were like, 'What's this kid going to do,' so I just tried to prove them right all year and we just had an awesome year, so no better way to finish it off at Homestead like this."
For Sauter, the 2016 Truck Series Championship is a culmination of a nearly two-decades-long career that started on the short tracks of his native Wisconsin and included stints in the Sprint Cup and NASCAR Xfinity Series.
In 2009, after six seasons in Sprint Cup, Sauter moved to the truck series, spending the last six seasons driving for ThorSport, Curb Racing and Billy Ballew Motorsports, winning 10 races and finishing in the top five in points in four out of seven seasons.
At the end of the 2015 season, Sauter joined GMS Racing driving their no. 21 Chevrolet full-time and this season posted the best numbers of his career – three wins, 12 top-fives, 19 top-10's, and now, his first NASCAR title.
Sauter dedicated his title to his late father, driver Jim Sauter, who passed away in 2014, as well as the father of crew chief, Joe Shear, Jr., who died in 1998.
"To be a champion… five years ago my old man was down here when I won the race. This is for him and for Joe Shear's dad—great Midwest racers," said Sauter. "My family's here, my kids are here, my wife's here. It's just an awesome night. Proud to be champion, and we'll do everything within our power to represent NASCAR and Camping World as best we can."
Race Results
| | | | | | | | | |
| --- | --- | --- | --- | --- | --- | --- | --- | --- |
| Pos. | # | Driver | Make | Start | Laps | Led | Status | Points |
| 1 | 9 | William Byron | Toyota | 1 | 134 | 31 | Running | 36 |
| 2 | 29 | Tyler Reddick | Ford | 7 | 134 | 16 | Running | 32 |
| 3 | 21 | Johnny Sauter | Chevy | 19 | 134 | 0 | Running | 30 |
| 4 | 24 | Kyle Larson | Chevy | 3 | 134 | 76 | Running | 0 |
| 5 | 19 | Daniel Hemric | Ford | 18 | 134 | 0 | Running | 28 |
| 6 | 51 | Daniel Suarez | Toyota | 17 | 134 | 0 | Running | 0 |
| 7 | 88 | Matt Crafton | Toyota | 4 | 134 | 10 | Running | 26 |
| 8 | 4 | Christopher Bell | Toyota | 8 | 134 | 0 | Running | 25 |
| 9 | 17 | Timothy Peters | Toyota | 13 | 134 | 0 | Running | 24 |
| 10 | 00 | Cole Custer | Chevy | 2 | 134 | 0 | Running | 23 |
| 11 | 8 | John Hunter Nemechek | Chevy | 6 | 134 | 0 | Running | 22 |
| 12 | 11 | Matt Tifft | Toyota | 22 | 134 | 0 | Running | 21 |
| 13 | 98 | Rico Abreu | Toyota | 20 | 134 | 0 | Running | 20 |
| 14 | 33 | Ben Kennedy | Chevy | 14 | 134 | 0 | Running | 19 |
| 15 | 18 | Noah Gragson | Toyota | 10 | 134 | 0 | Running | 18 |
| 16 | 13 | Cameron Hayley | Toyota | 16 | 134 | 0 | Running | 17 |
| 17 | 20 | Austin Hill | Ford | 24 | 134 | 0 | Running | 16 |
| 18 | 97 | Jesse Little | Toyota | 12 | 134 | 0 | Running | 15 |
| 19 | 05 | Brady Boswell | Chevy | 9 | 134 | 0 | Running | 14 |
| 20 | 41 | Ben Rhodes | Toyota | 11 | 134 | 0 | Running | 13 |
| 21 | 23 | Spencer Gallagher | Chevy | 5 | 134 | 0 | Running | 12 |
| 22 | 02 | Scott Lagasse Jr | Chevy | 21 | 134 | 0 | Running | 0 |
| 23 | 92 | Grant Enfinger | Ford | 23 | 134 | 0 | Running | 10 |
| 24 | 66 | Jordan Anderson | Chevy | 30 | 134 | 0 | Running | 9 |
| 25 | 22 | Austin Wayne Self | Toyota | 27 | 133 | 0 | Running | 8 |
| 26 | 71 | Alon Day | Chevy | 29 | 131 | 0 | Running | 7 |
| 27 | 1 | Travis Kvapil | Chevy | 32 | 131 | 0 | Running | 6 |
| 28 | 49 | Reed Sorenson | Chevy | 28 | 130 | 1 | Running | 0 |
| 29 | 16 | Stewart Friesen | Chevy | 25 | 128 | 0 | Running | 4 |
| 30 | 50 | Spencer Boyd | Chevy | 31 | 128 | 0 | Running | 3 |
| 31 | 07 | Patrick Staropoli | Chevy | 26 | 125 | 0 | Running | 2 |
| 32 | 81 | Ryan Truex | Toyota | 15 | 49 | 0 | Engine | 1 |
[adinserter name="GOOGLE AD"]