Kalitta, Johnson, Jr., Anderson, Sampey No. 1 at zMax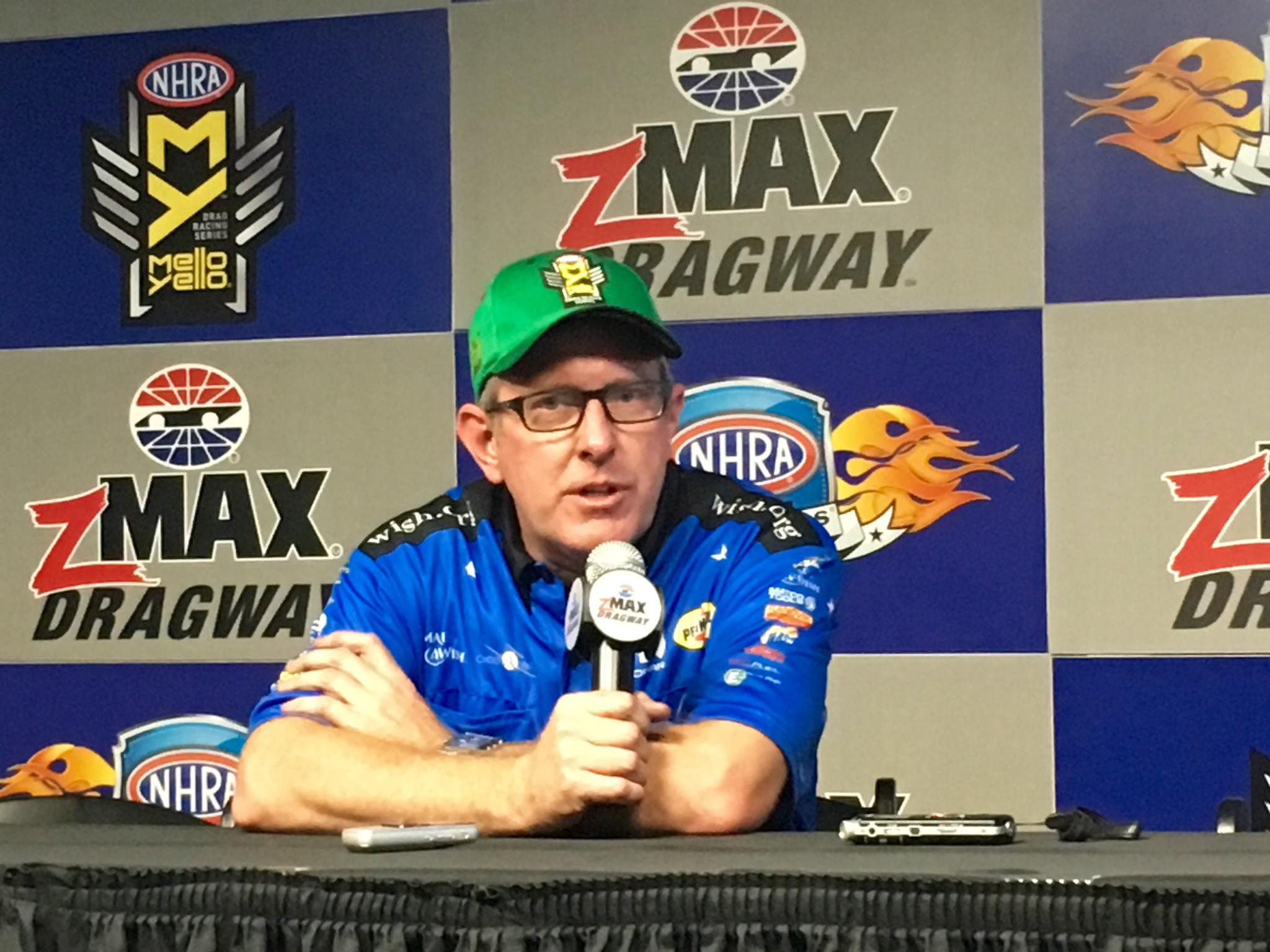 Tommy Johnson, Jr.
Pete McCole/AR1
Funny Car driver Tommy Johnson, Jr., scored his first No. 1 qualifier of the season in Saturday's qualifying sessions for the Sunday's ninth annual NHRA Carolina Nationals at zMax Dragway.
Johnson, Jr. joined Doug Kalitta (Top Fuel), Greg Anderson (Pro Stock) and Angelle Sampey (Top Fuel Motorcycle) among the top qualifiers in their respective divisions, securing all important bonus points and lane choices for the opening round of eliminations in the first race in the six-race Countdown the Championship.
Johnson, Jr, had rallied back from a disappointing run in Friday's opening round to race his way to the top of the Funny Car ladder with a record-breaking run of 3.876 seconds at 323.43 mph, topping the track ET record of 3.934 set by Alexis DeJoria back in April.
[adinserter name="GOOGLE AD"] The pole-winning effort marked Johnson's second-straight at the Carolina Nationals and the 14th of his career, ending a drought that dated back to last October at Las Vegas.
"Whenever you run a good run on Friday night, it allows you to play and experiment on Saturday," said Johnson, who will face Bob Gilbertson in the first round of Sunday's eliminations. "We had a mechanical issue on our third run but the car still ran really well. We were confident it would be fine for the fourth and it was. Tomorrow, lane choice might be a big deal. I don't know that it's really big but I think in the heat of the day it's going to pay more dividends on the starting line."
Johnson's run on Friday spoiled the day for John Force, who himself had eclipse both the track ET and speed records before Johnson stole some of his thunder by taking the ET record along with knocking him from the top spot.
Force and Ron Capps tried to push their way back to the top of the field as the final pair on Friday but came up short, and were unable to make up any ground on Saturday with Capps standing on his time from Friday of 3.878 seconds at 324.20 mph to take second, while Force held third with a time of 3.881 seconds at 331.04 mph. DeJoria (3.887, 324.67) and Jack Beckman (3.904, 327.82) rounded out the top five.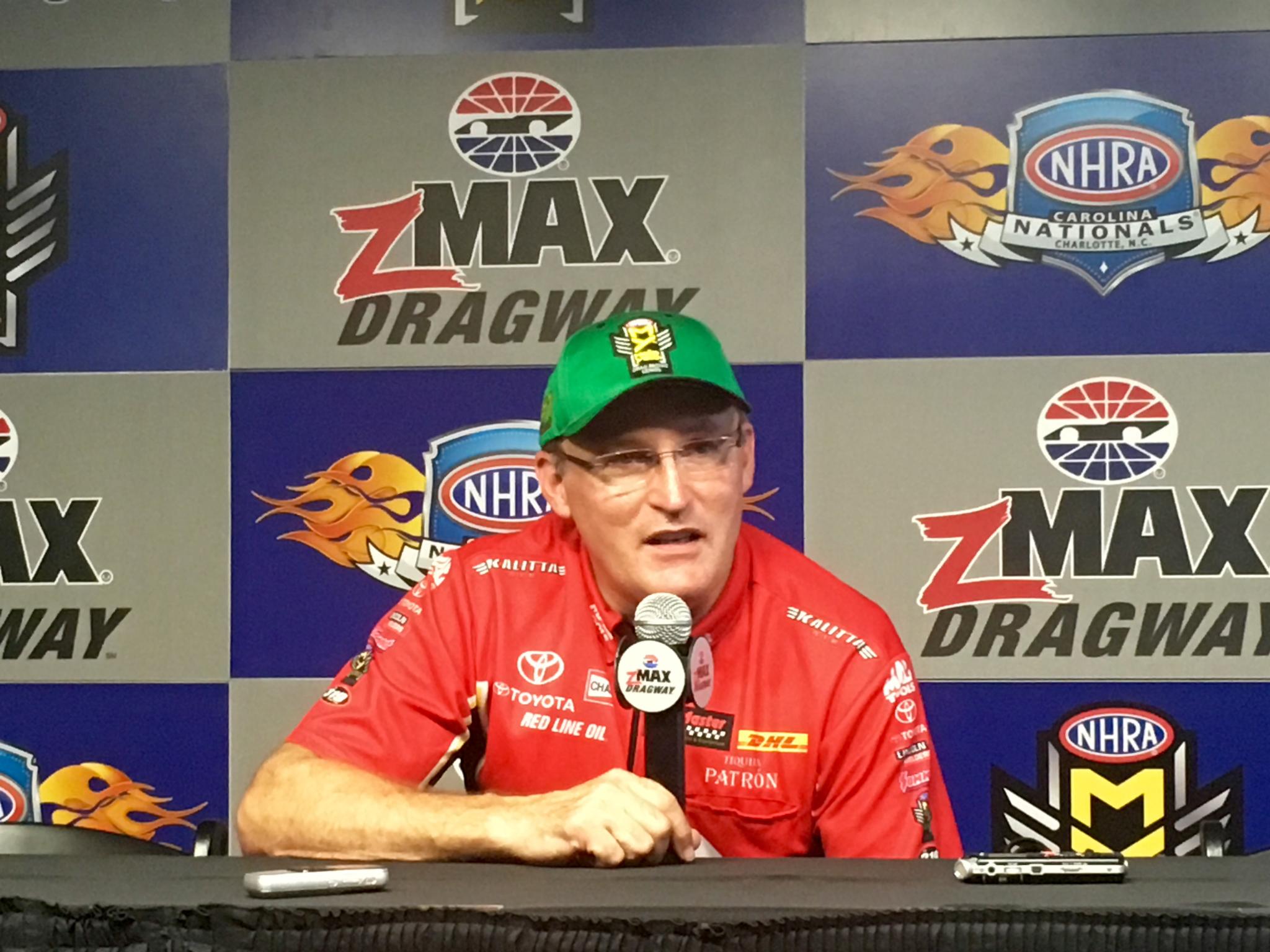 Doug Kalitta
Pete McCole/AR1
Doug Kalitta scored his fourth No.1 qualifier of the season in the Top Fuel division after grabbing the top spot in Friday's second round and holding on through both of Saturday's sessions.
Kalitta was the top qualifier on Friday with a run of 3.721 seconds at 325.77 mph to top Brittany Force and Tony Schumacher, but with the warmer track temperatures in Saturday's afternoon session no one was able to advance as the as the top five remained unchanged through both sessions.
Antron Brown and J.R. Todd posted the low ET in the third and fourth rounds, respectively, but nowhere close enough to catch Kalitta, who raced to his first-ever zMax pole.
"Anytime you can start from pole position is great in my book," Kalitta said. "We've won from there before. Some people wonder if it's a jinx but my team, we're good with low qualifier. Getting the green hats are great and just build momentum and excitement for when we get here tomorrow."
Force held the second spot running 3.729, 324.67, followed by Schumacher with a 3.730, 324.67. Steve Torrence (3.732, 323.27) and Shawn Langdon (3.741, 328.14).
Ike Maier claimed the bump spot and will face Kalitta in the opening round of eliminations on Sunday. Terry McMillan and Paul Noakes missed the field.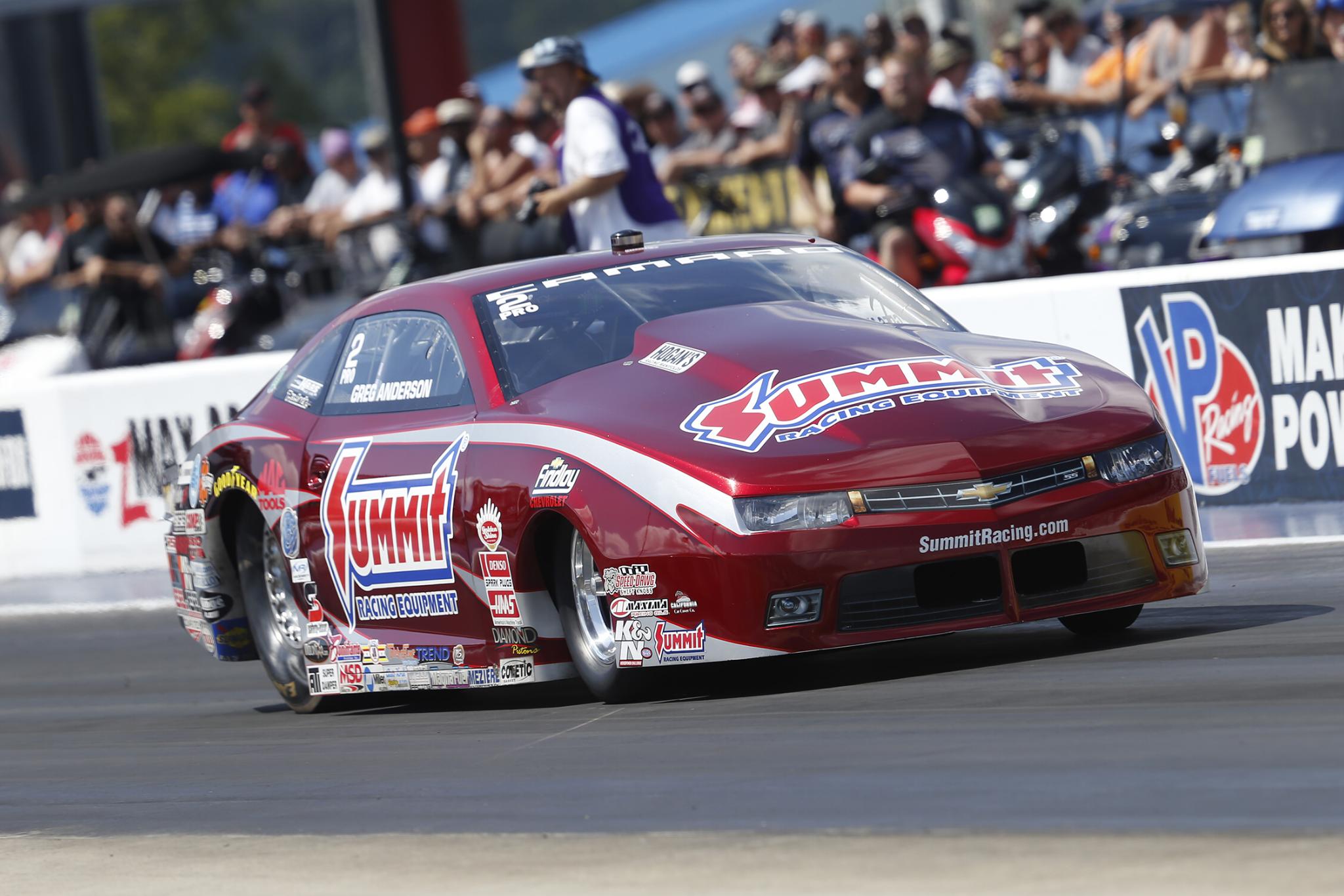 Greg Anderson
NHRA
Hometown favorite Greg Anderson secure his division-leading sixth top qualifier of the season in Pro Stock and his second straight at the Carolina Nationals with a run of 6.578 seconds at 210.50 mph to knock his KB Racing teammate Jason Line from the provisional pole.
Anderson steadily improved during Friday's sessions and topped Line in Saturday's first session while Line was unable to improve on his time. The two closed out the second session as the final pairing but neither could advance their position, with Line standing on his 6.581 at 210.41 mph to hold onto second.
Anderson's pole-winning effort was the 86th of his career and his third at zMax, including a top qualifying effort earlier this year at the Four Wide Nationals.
"I feel pretty good about the work that we've put in but it's going to be tough to win," Anderson said. "The way the class is shaped up now you're really going to have to get up on the wheel. We don't want to have a magical year like we've had so far go up in smoke. You can't win the Countdown in the first race but you can lose it. You've got to have a great day the first time out. You've got to peak at the right time of the year and I think we're peaking."
Vincent Nobile qualified third with a 6.593 at 210.28 mph. Shane Gray was fourth with a time of 6.595 at 210.18 mph, followed by Alex Laughlin with a 6.597 at 210.44 mph.
The lone driver to miss the field was defending Pro Stock World Champion Erica Enders, who smoked the tires in the opening session, recording a 14.169 second run which was easily eclipsed by John Gaydosh in the final session. Enders last bid to make the field went up in smoke when her engine failed in the last qualifying session.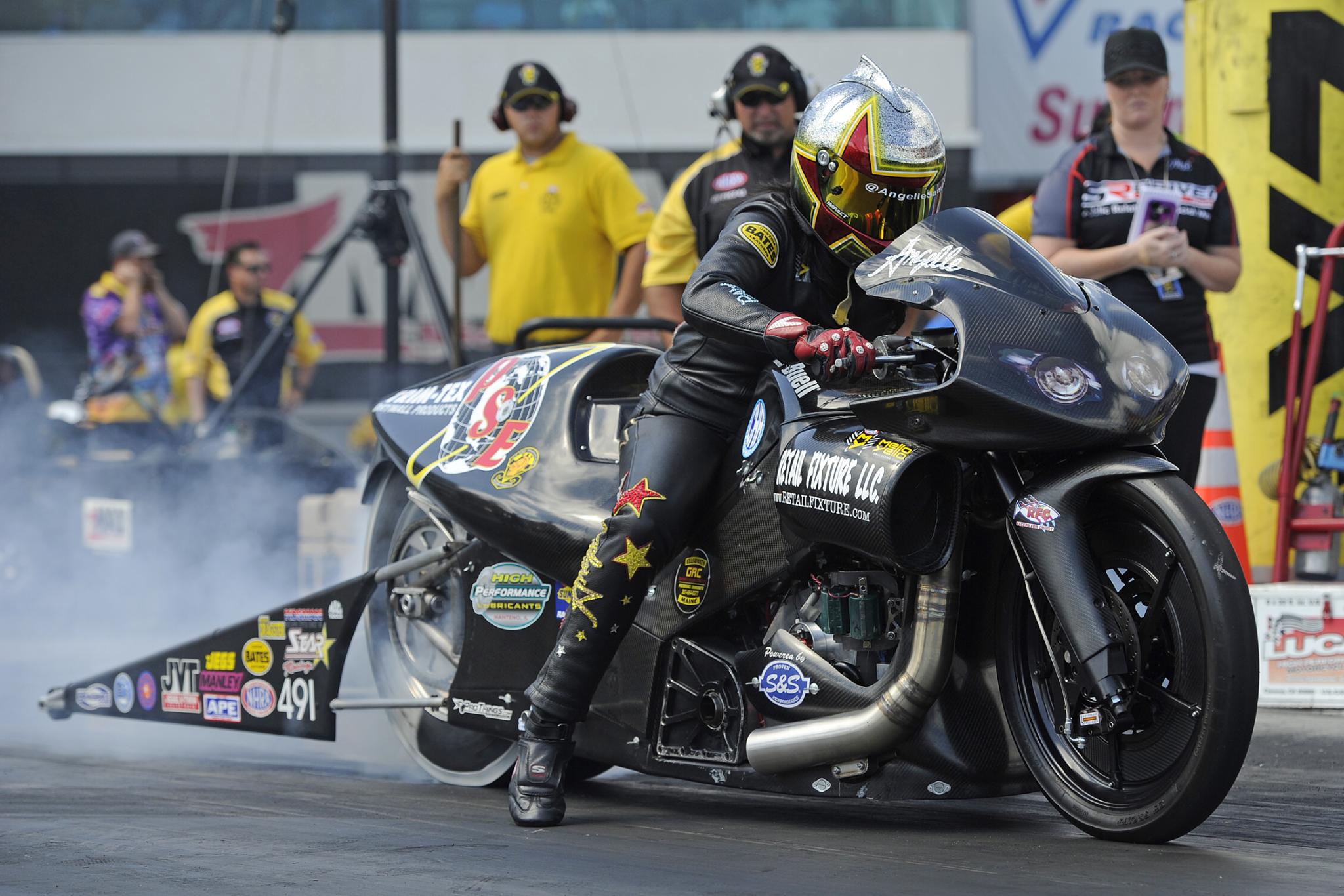 Angelle Sampey
NHRA
In Pro Stock Motorcycle, Angelle Sampey notched her third straight No. 1 qualifier after topping Eddie Krawiec and Jerry Savoie in Saturday's opening session, running 6.815 seconds at 196.02 mph.
Sampey and Savoie had topped Friday's qualifying session and watched as Krawiec raced to the top spot with a pass of 6.83 seconds at 194.60 mph in Saturday's opening session before taking to the track as the final pair of the session.
Sampey was able to advance to the top spot while Savoie stood pat of his time from Friday, clocking in at 6.850 at 195.19 to claim the third spot.
It was the 49th-career No. 1 qualifier for Sampey and her first-ever at zMax, where she's never advanced past the semi-final round.
Chip Ellis (6.855, 194.55) and LE Tonglet (6.867, 195.96) made up the rest of the top five qualifiers.
[adinserter name="GOOGLE AD"]