Hamlin Closes Regular Season With Richmond Win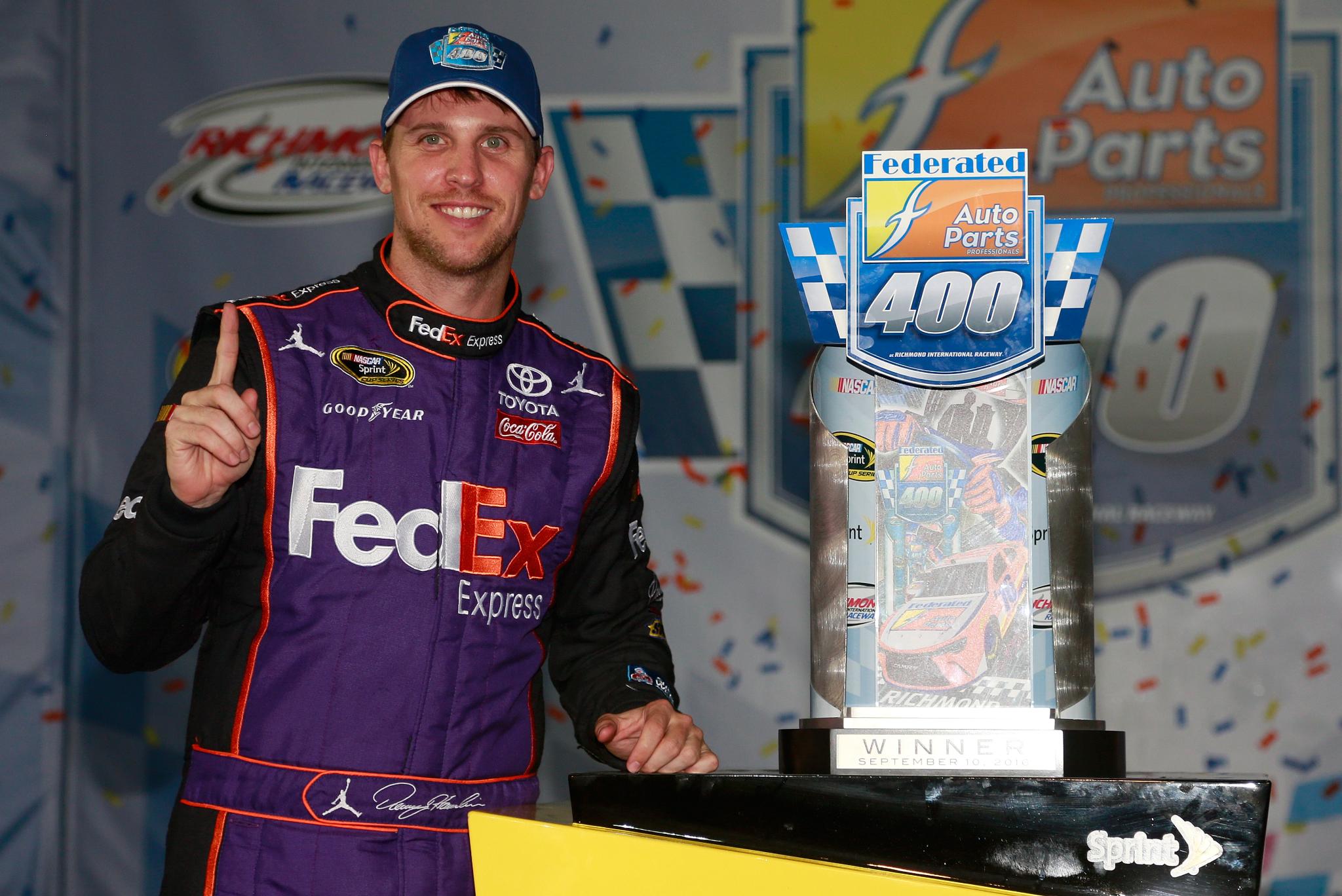 Denny Hamlin celebrates in Victory Lane at Richmond
Matt Sullivan/NASCAR via Getty Images
In a race that saw a little of everything, Saturday night's cutoff race for the Chase to the Sprint Cup ended with an Overtime finish.
When Martin Truex, Jr. spun his tires on that final restart, Denny Hamlin sprinted away from the pack, and drove to the victory in the Federated Auto Parts 400 at Richmond International Raceway.
After his crew got him off pit road first after a lap 321 caution, Hamlin would hold off challenges from Truex, Jr., Kurt Busch and Kyle Larson en route to his third NASCAR Sprint Cup Series victory of the season.
"Yeah, it definitely was a great night," Hamlin, said. "We ran in the top three all day. Just got our car right when it really counted the last 200 laps or so. This is a great win for us. It just gives us three extra points. We'll go into Chicago with a fresh slate and obviously try to ride this momentum all the way to Homestead."
The win had extra meaning for Hamlin, as it came in his home state of Virginia.
"Yeah, that's what's so special about it so you get to do it at home, and there's just — I see all the extra Denny Hamlin shirts and hats and everything, and fires me up every time I get here. I've also got to thank Sport Clips for their support this year, as well. Got all that covered, and man, this is a great car. Hopefully we can use it in the Chase."
The driver that made the biggest gain on the Overtime restart was Kyle Larson, who was among a handful of drivers who hit pit road on the final caution. On the first lap in Overtime, Larson powered his way to fourth. On the final lap, Larson drove his No. 42 Chevrolet to the outside, driving around Brad Keselowski and Truex, Jr. to finish in second.
"It felt like a video game on rookie mode, having fresh tires like that," said Larson. "That was fun. Our Target car was probably a eighth to tenth car most of the race. I was really good on short runs. I could pass a few cars every restart which really helped us. It seemed like we could never get the race going there at the end of the race, which helped us. Fun, fun last restart, get all the way to second. I thought I could get to fourth, but second was a little bit better, so that was great. I had a blast there during the last couple laps."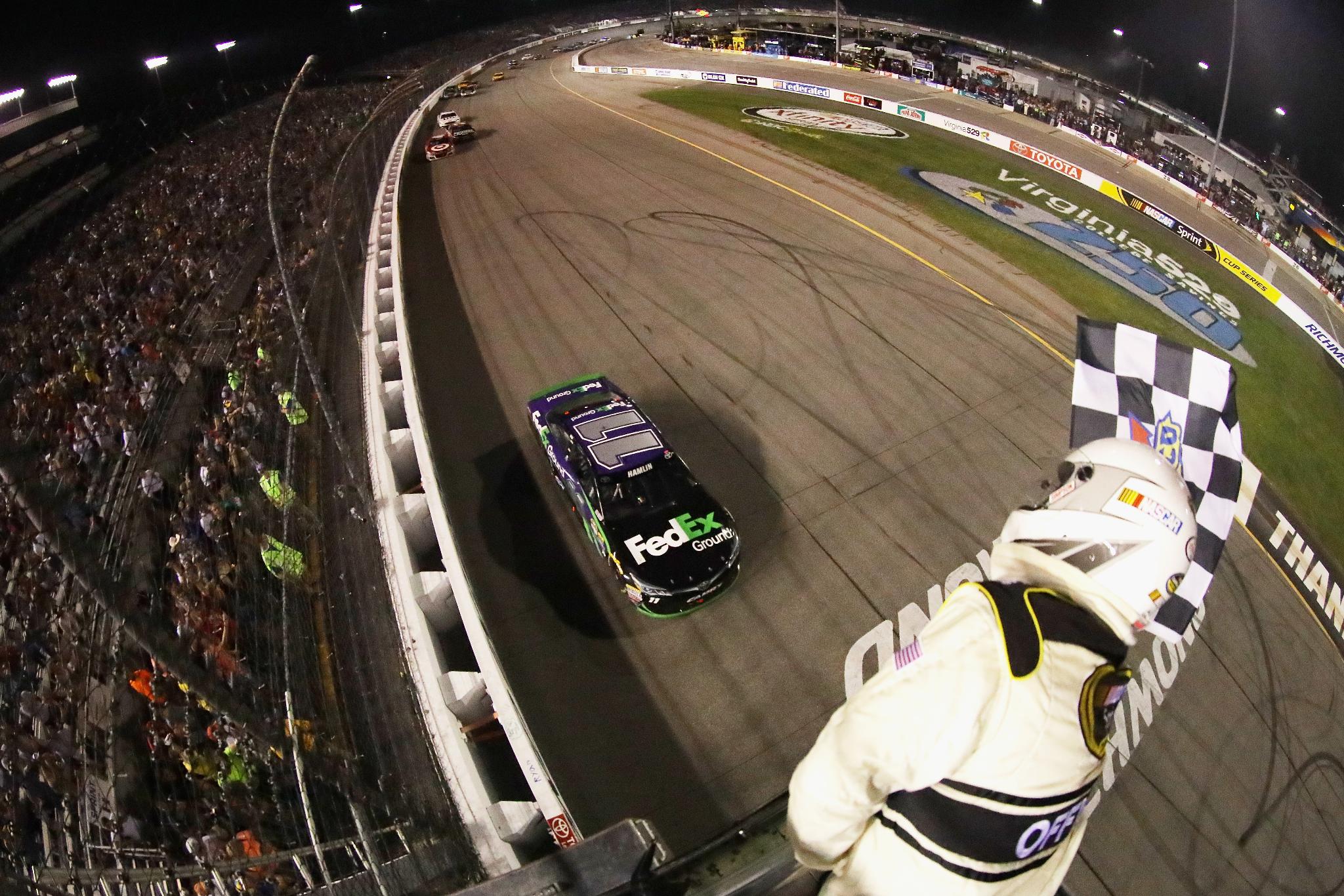 Denny Hamlin (11) beats out Kyle Larson to the checkered flag at Richmond
Chris Graythen/NASCAR via Getty Images
Truex, Jr. appeared to have the dominant car on the night, leading six times for 193 laps. But a speeding penalty on pit road after a caution flag on lap 265 put his No. 78 Toyota back in the pack. Truex, Jr. would move back to the front when the leaders came in to pit near the three-quarter mark of the race, and would retake the lead. But after losing the lead to Hamlin on pit road, Truex was never able to reclaim the top spot. In the end, he would settle for third.
"I think it all started with him getting out of the pits in front of us and it translated into all those cautions coming out of those short runs," Truex, Jr. said. "It seemed like I would feel like I just got even with him or typically all night I was off a little bit from a few of those guys, for five or six laps on restarts, and then I'd maintain and then I would start to reel them in and I could pass them within 10 laps. Just never got that opportunity."
Keselowski finished in fourth, with Kevin Harvick in fifth. Kasey Kahne, Jamie McMurray, Kurt Busch, Kyle Busch and Joey Logano rounded out the top ten.
With so much on the line in the final cutoff race before the Chase, there were a lot of emotions on driver's sleeves as competitors ran three wide several times throughout the 400 lap contest. In all, there were a record 16 cautions throughout the night, with many of those coming after cut tires sent cars into the wall, usually following contact between drivers as they fought for position.
The best example of that resulted in the biggest crash of the night, and also caused some harsh words between former teammates.
Ryan Newman and former car owner Tony Stewart were fighting for position on lap 363. With Newman trying to drive his way into the Chase, he made contact with Stewart from behind as the two raced through turns one and two.
[adinserter name="GOOGLE AD"] As the two raced down the backstretch, Stewart moved down the track, making contact with the right front of Newman's car, gathering up Carl Edwards in the process. Stewart made hard contact with the inside wall, while Newman's car went back up into traffic, gathering up several more cars in the process, including Dylan Lupton, David Ragan and Brian Scott, while Chase contender Chris Buescher just squeaked by with minimal damage.
When the dust settled, Newman's car was heavily damaged, with Dylan Lupton's car on top of his hood. Despite being able to return to the race after repairs, Newman's hopes for making the Chase was over.
Meanwhile, Stewart drove his car a little further before exiting with his No. 14 on fire. Stewart, who was involved in a similar incident last week at Darlington Raceway, is locked into the chase based on his points position and a win earlier in the year at Sonoma Raceway.
"I only hit him in Turn 1 when he cut across my nose," said Newman. "So, I don't think there was any reason other than him just being bipolar and having anger issues. Google Tony Stewart, you'll see all kinds of things he's done. Look it up. YouTube and everything else. Quite the guy."
Stewart agreed with Newman that the move was intentional.
"He was right," Stewart said. "That was the third time he'd driven into me during the night, and how many times does a guy get a free pass until you've had enough of it? He's got to do his part racing for a championship, too, and to race to get in there, and if you're going to run into guys — I go into 1 and he dive bombs in there. I'm already coming down, so it's not like I was trying to squeeze him in the infield or something.
"Ryan and I have been good friends. I don't do that to him. But he hits me in one, he hits me off of 2, and it's like the third time by that time. There was once early in the race that nobody saw. Three times, that's two more times than I normally let somebody run into me."
Another incident occurred when Keselowski missed a shift on a late restart, bunching up the field behind him. As Keselowski tried to get back up to speed in turn one, his car slip up and into the side of Matt Kenseth's Toyota. On lap 366, a cut tire from that contact sent Kenseth hard into the turn 4 wall, ending his night.
While some drivers were unhappy with their night, others were as happy as if they had won. Chris Buescher turned a 24th place finish into his transfer into the Chase after winning earlier this year at Pocono Raceway.
Meanwhile, bubble drivers Chase Elliott, Austin Dillon, and Jamie McMurray all raced their way into the Chase, which begins next weekend at Chicagoland Speedway.
Race Results
| | | | | | | | | |
| --- | --- | --- | --- | --- | --- | --- | --- | --- |
| Pos. | # | Driver | Make | Start | Laps | Led | Status | Points |
| 1 | 11 | Denny Hamlin | Toyota | 1 | 407 | 189 | Running | 44 |
| 2 | 42 | Kyle Larson | Chevy | 2 | 407 | 15 | Running | 40 |
| 3 | 78 | Martin Truex Jr | Toyota | 6 | 407 | 193 | Running | 40 |
| 4 | 2 | Brad Keselowski | Ford | 17 | 407 | 0 | Running | 37 |
| 5 | 4 | Kevin Harvick | Chevy | 19 | 407 | 0 | Running | 36 |
| 6 | 5 | Kasey Kahne | Chevy | 7 | 407 | 0 | Running | 35 |
| 7 | 1 | Jamie McMurray | Chevy | 4 | 407 | 0 | Running | 34 |
| 8 | 41 | Kurt Busch | Chevy | 5 | 407 | 3 | Running | 34 |
| 9 | 18 | Kyle Busch | Toyota | 9 | 407 | 0 | Running | 32 |
| 10 | 22 | Joey Logano | Ford | 12 | 407 | 0 | Running | 31 |
| 11 | 48 | Jimmie Johnson | Chevy | 10 | 407 | 0 | Running | 30 |
| 12 | 95 | Michael McDowell | Chevy | 27 | 407 | 0 | Running | 29 |
| 13 | 3 | Austin Dillon | Chevy | 8 | 407 | 0 | Running | 28 |
| 14 | 6 | Trevor Bayne | Ford | 18 | 407 | 0 | Running | 27 |
| 15 | 10 | Danica Patrick | Chevy | 29 | 407 | 0 | Running | 26 |
| 16 | 88 | Jeff Gordon | Chevy | 11 | 407 | 0 | Running | 25 |
| 17 | 43 | Aric Almirola | Ford | 23 | 407 | 0 | Running | 24 |
| 18 | 17 | Ricky Stenhouse Jr | Ford | 22 | 407 | 0 | Running | 23 |
| 19 | 24 | Chase Elliott | Chevy | 34 | 407 | 0 | Running | 22 |
| 20 | 47 | AJ Allmendinger | Chevy | 16 | 407 | 0 | Running | 21 |
| 21 | 13 | Casey Mears | Chevy | 26 | 407 | 0 | Running | 20 |
| 22 | 15 | Clint Bowyer | Chevy | 33 | 407 | 0 | Running | 19 |
| 23 | 16 | Greg Biffle | Ford | 28 | 407 | 0 | Running | 18 |
| 24 | 34 | Chris Buescher | Ford | 31 | 407 | 0 | Running | 17 |
| 25 | 83 | Dylan Lupton | Toyota | 39 | 406 | 0 | Running | 0 |
| 26 | 55 | Reed Sorenson | Chevy | 38 | 404 | 0 | Running | 15 |
| 27 | 32 | Jeffrey Earnhardt | Ford | 40 | 403 | 2 | Running | 15 |
| 28 | 31 | Ryan Newman | Chevy | 15 | 402 | 0 | Running | 13 |
| 29 | 7 | Regan Smith | Chevy | 24 | 397 | 2 | Accident | 13 |
| 30 | 30 | Josh Wise | Chevy | 36 | 396 | 0 | Running | 11 |
| 31 | 46 | Michael Annett | Chevy | 37 | 390 | 0 | Running | 10 |
| 32 | 19 | Carl Edwards | Toyota | 13 | 366 | 0 | Suspension | 9 |
| 33 | 14 | Tony Stewart | Chevy | 14 | 363 | 0 | Accident | 8 |
| 34 | 23 | David Ragan | Toyota | 21 | 362 | 0 | Accident | 7 |
| 35 | 44 | Brian Scott | Ford | 35 | 362 | 0 | Accident | 6 |
| 36 | 38 | Landon Cassill | Ford | 32 | 358 | 0 | Running | 5 |
| 37 | 93 | Matt DiBenedetto | Toyota | 25 | 352 | 0 | Accident | 4 |
| 38 | 20 | Matt Kenseth | Toyota | 3 | 335 | 3 | Accident | 4 |
| 39 | 21 | Ryan Blaney | Ford | 20 | 279 | 0 | Running | 2 |
| 40 | 27 | Paul Menard | Chevy | 30 | 264 | 0 | Accident | 1 |
[adinserter name="GOOGLE AD"]