No Darlington Conversation Is Complete Without……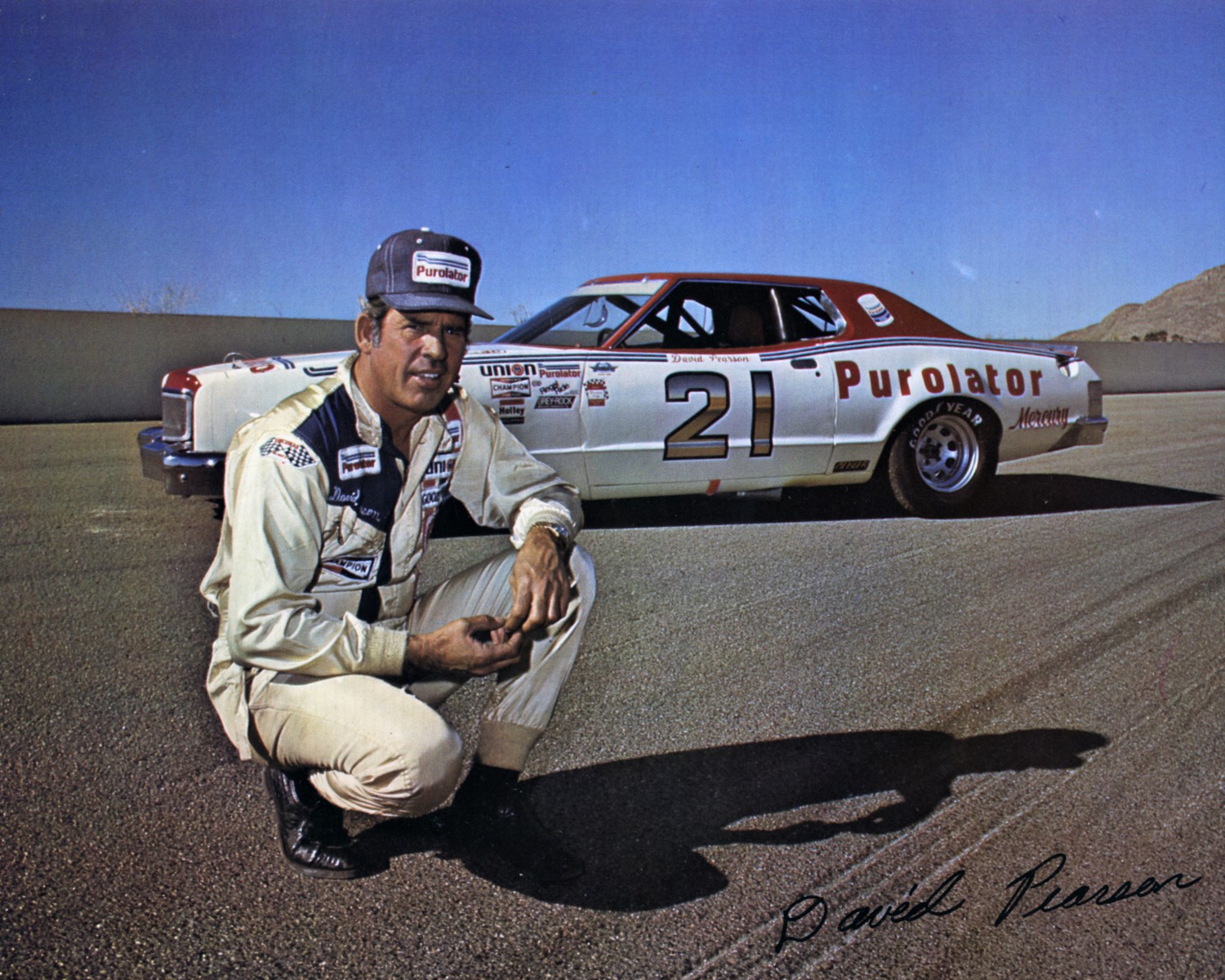 David Pearson
This weekend at Darlington Raceway, in keeping with the track's wildly popular throwback theme, the No. 21 Motorcraft/Quick Lane Ford Fusion will carry a paint scheme honoring David Pearson's 1976 season, which saw him win 10 major races including the Southern 500.
Even without the throwback theme, Pearson's name comes to mind most every time a conversation turns to Sprint Cup racing at Darlington Raceway.
"You can't really talk about one without talking about the other," said Eddie Wood, co-owner of the Motorcraft/Quick Lane Ford Fusion that Ryan Blaney will race this weekend and a crew member back when Pearson drove the iconic No. 21.
Even though Pearson hasn't driven in competition at Darlington since 1985, he still leads all drivers in Cup wins there with 10, six of which came aboard a Wood Brothers Mercury. He also leads in Darlington poles with 12, nine of them earned while driving the Woods' iconic No. 21.
[adinserter name="GOOGLE AD"]He also remains the oldest driver to win a Darlington pole, at 47 years, eight months and 15 days.
Pearson's stats are no surprise to anyone who ever watched him drive the track that bills itself the "Track Too Tough To Tame."
Leonard Wood, Pearson's long-time crew chief, says Pearson's driving style matched up well with the Woods' way of setting up a car, and the combination of Wood and Pearson made laps at Darlington look deceptively easy.
Ryan Blaney
"He knew exactly when to back off and when to get back on it," Wood said. In turn four, now turn two, Pearson would let the car drift up to the outside groove, ease out of the throttle, then turn left and head down the straightway, effectively allowing him more time running straight — and faster — than if he took a more conventional route through the turns.
The speed he generated with his unique line was a sight to behold, according to Wood.
"The car would kind of leap twice over the bumps, but it was completely straight, and he was just flying coming out of there."
Ironically, for all of Pearson's success at Darlington, he didn't get his first Southern 500 win until the 1976 season, when he swept NASCAR's big three races – the Daytona 500, the World 600 [now Coca-Cola 600 at Charlotte] and the Southern 500.
He also won the spring race at Darlington that year.
In the Southern 500, he started on the pole, and led the first 11 laps before yielding to Bobby Allison.
That was typical for Pearson and the reason his Silver Fox nickname was so appropriate, Eddie Wood said. "He was kind of sly about it," Wood said. "He usually started up front and would lead a few laps before settling in.
"You wouldn't know what he had until there were about 100 miles left."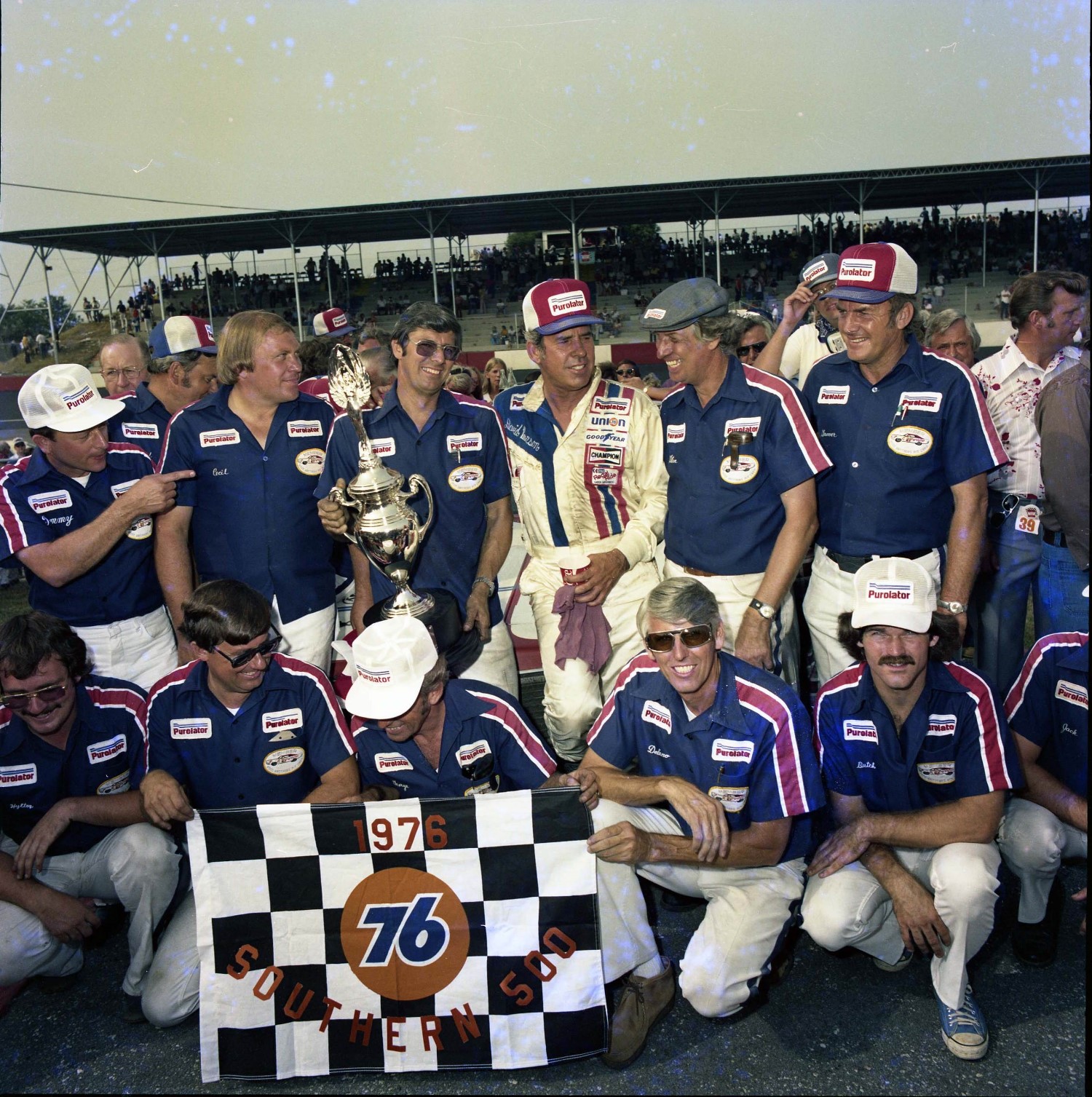 The Wood Brothers and Pearson celebrate their 1976 Southern 500 win
Sure enough, in the 1976 Southern 500, Pearson retook the lead for Laps 36 and 37 but didn't lead again until Lap 267. Then, with 45 laps remaining, he dispatched a young Darrell Waltrip and led the rest of the way to get the victory.
After his driving years ended, Pearson rarely attended races at most tracks but seldom skipped a race at Darlington, which he considers his favorite track. He also passed along his tricks for negotiating the track to many young drivers including his own son Larry, who won an Xfinity Series race at Darlington in 1995. He also helped Trevor Bayne when he drove the No. 21 and gave Ricky Craven some pointers that helped Craven beat Kurt Busch for the win in 2003, a finish many consider the best in Darlington history.
For the 22-year-old Blaney, driving a David Pearson-themed car in Sunday's Southern 500 means he has a lot to live up to. Eddie Wood believes his young driver, who already shows a Pearson-like coolness under pressure, is up to the challenge.
"He will be just fine," Wood said.
Qualifying for the Southern 500 is set for Saturday at 1:45 p.m. and the race is expected to get the green flag just after 6 p.m. on Sunday with TV coverage on NBC.
[adinserter name="GOOGLE AD"]