Ben Kennedy Scores First Truck Series Victory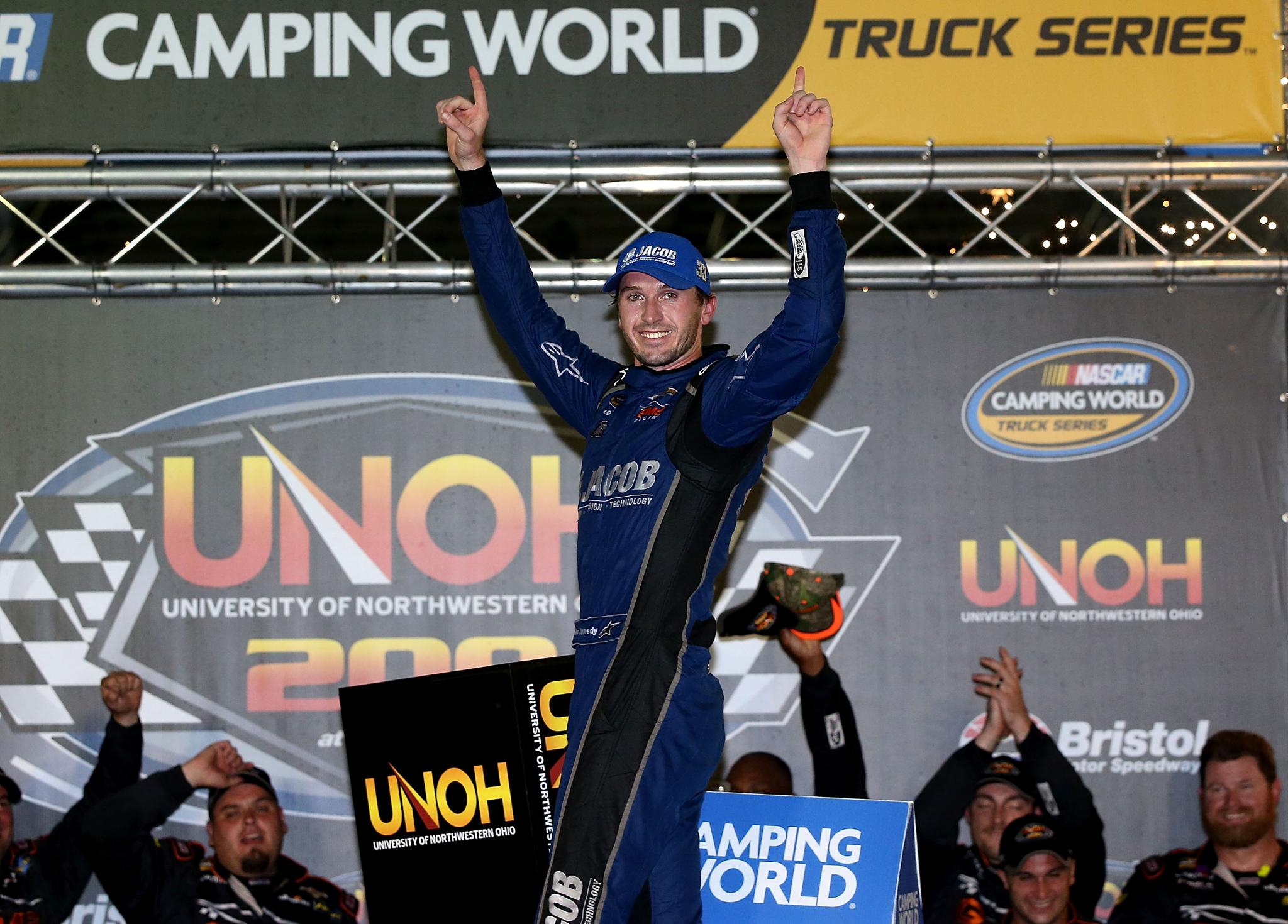 Ben Kennedy won at Bristol Motor Speedway for his first-career NASCAR victory
Sean Gardner/NASCAR via Getty Images
Just four short months ago, Ben Kennedy wasn't even sure he'd have a full-time ride in the NASCAR Camping World Truck Series. Now, Kennedy is a first-time NASCAR race winner and locked into the truck series title chase with a shot at winning the championship.
Kennedy scored his first truck series victory in the UNOH 200 at Bristol Motor Speedway on Wednesday night, passing race leader William Byron for the top soot with 17 laps to go and then held off a furious bid for the lead from Brett Moffitt in the final lap to score the victory – his first win in 63 starts in the Truck Series.
Daniel Hemric finished third, followed by Byron and Johnny Sauter.
Kennedy, the 24-year-old son of International Speedway Corporation CEO Lesa France Kennedy, is the great-grandson of NASCAR founder Bill France, Sr., and is the first member of the France family to ever win a race in one of NASCAR's three premiere series.
It seems, then, only fitting that the founding family of the one biggest empires in all of auto racing have one of their own finally hoisting a trophy as a NASCAR winner.
"I can't put in into words," said Kennedy in victory lane. "Someone asked me earlier today what's it's like going to Bristol for the first time – to win here is so cool, I'm speechless.
"This is just the coolest day of my life, I don't know how to say it any other way."
Kennedy begun the season driving the no. 11 Toyota for Red Horse Racing before moving over to GMS Racing to pilot the no. 33 Chevrolet in April. Since then, he's racked up six top-10 finishes.
Ironically, Kennedy beat out his former no. 11 ride for the victory, denying Moffitt his chance for his first-career victory.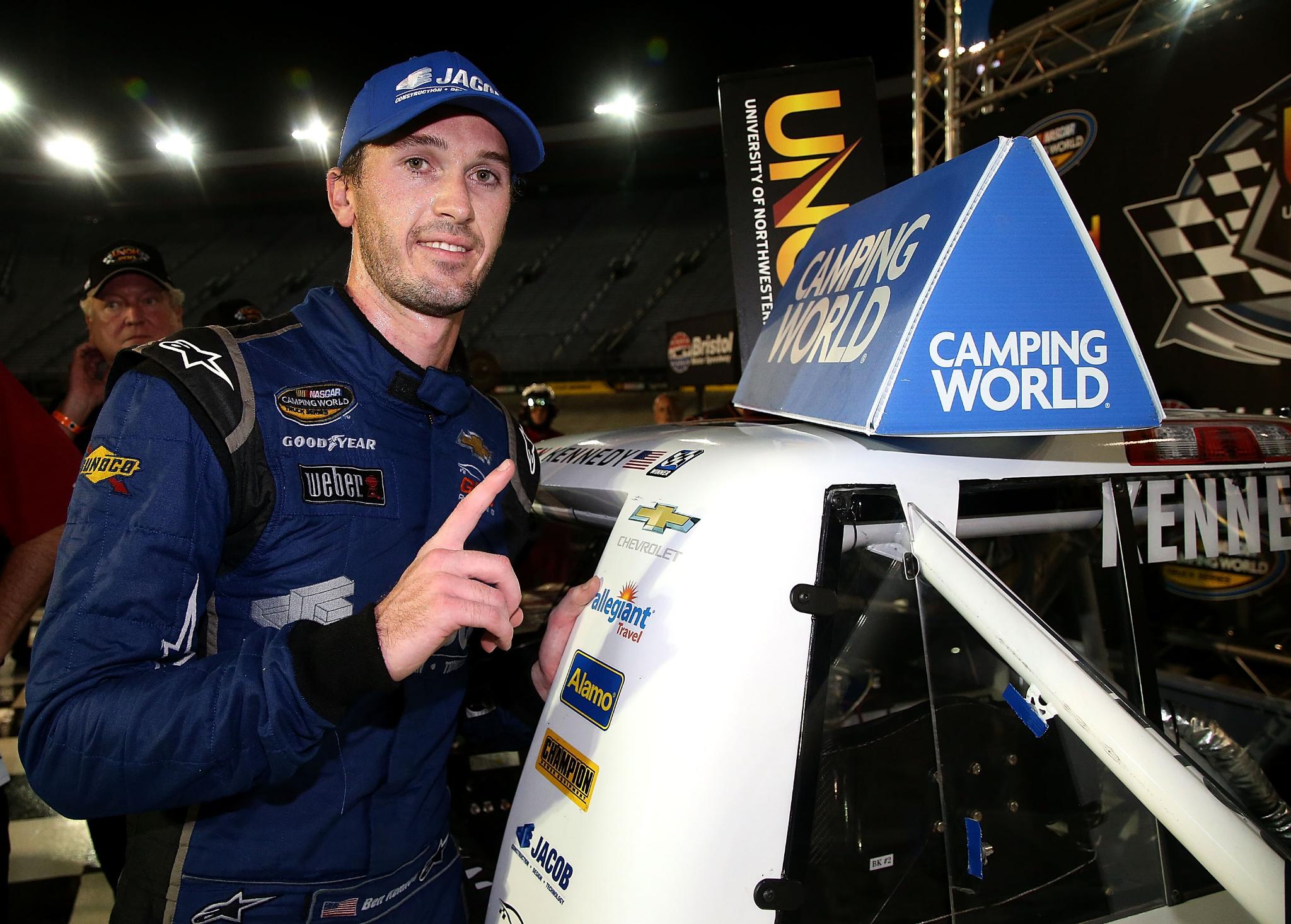 Ben Kennedy scored his first victory in his 63rd series start
Sean Gardner/NASCAR via Getty Images
"I was just thinking 'go as far as possible on this last lap,'" said Kennedy. "Brett (Moffitt) was putting pressure on me from behind – I appreciate him racing me clean.
This is just so cool – these guys deserve it. We put this deal together a couple of months ago and I never imagined going into this race that we would have been here today, I thought we were a top-15 truck, a top-10 truck, but to actually be here in victory lane, it means the world to me."
Wednesday's events were the first on-track action since the new racing surface was applied to the half-mile oval, including a special "polishing" of the lower groove that had made running the bottom particularly treacherous during the first practice sessions.
By race time, the inside groove had seemed to have been worn in, despite some late evening rain showers that delayed the start of the race.
Tyler Reddick started on the pole for the 200-lap event but quickly lost the lead to Daniel Suarez, who proved to have one of the strongest trucks on the track, as he and his Kyle Busch Motorsports teammates Christopher Bell and Byron combined to lead 179 of the opening 180 laps.
[adinserter name="GOOGLE AD"] On lap 179, Bryon made a daring cross-over move to get past Suarez – diving from the high banking down the track to the low side, ducking just past Suarez's bumper to take the lead. Kennedy would follow suit just two laps later to move into second place.
With 17 laps to go, Byron slid up the banking in turn three and got loose, losing momentum as he tried to gather up the truck, allowing Kennedy to slip by in the inside as they exited turn four.
After losing the lead, Byron would begin to fall back with an ill-handling truck – which later turned out to be a broken shock – as Moffitt took over the second spot.
Suarez would later cut a tire on lap 188, sliding up into the outside wall to bring his night to an end and bring out the final caution of the race.
On the restart with six laps to go, Kennedy and Moffitt took off from the rest of the field and ran nearly nose to tail for the final laps. Moffitt would move right up on Kennedy's bumper on the white flag lap and tried to nudge his way to the lead, but Kennedy held firm and pulled away just enough beat out Moffitt to the finish.
Moffitt, running in just his third truck series race of the year, logged his second runner-up finish following his second-place effort at Kentucky last month.
In the final laps, it looked like he had a chance to push his way to the lead, but Moffitt said he never could get enough of a run.
"I'm going to race people the way I want to be raced," said Moffitt. "It is Bristol, so if you need to move someone, you've got to move them and I just wasn't quite good enough through the center to get to him.
"He slipped up a few times and I was able to get to his bumper once, but didn't get to him hard enough and I was really waiting for him to make a mistake so I could shove my nose in there, but he was – he executed when he needed to and he hit his marks and I just wasn't able to get to him there."
Byron's fourth-place finish helped him retain the series point lead, as Hemric now moves to second in points ahead of Sauter, who jumps from fifth to third in the standings. Timothy Peters and Bell make up the rest of the top five.
Matt Crafton finished dead-last in 32nd after a blown engine and took a big hit in the points, tumbling four spots to sixth.
Race Results
| | | | | | | | | |
| --- | --- | --- | --- | --- | --- | --- | --- | --- |
| Pos. | # | Driver | Make | Start | Laps | Led | Status | Points |
| 1 | 33 | Ben Kennedy | Chevy | 13 | 200 | 20 | Running | 36 |
| 2 | 11 | Brett Moffitt | Toyota | 8 | 200 | 0 | Running | 31 |
| 3 | 19 | Daniel Hemric | Ford | 12 | 200 | 0 | Running | 30 |
| 4 | 9 | William Byron | Toyota | 6 | 200 | 1 | Running | 30 |
| 5 | 21 | Johnny Sauter | Chevy | 7 | 200 | 0 | Running | 28 |
| 6 | 00 | Cole Custer | Chevy | 9 | 200 | 0 | Running | 27 |
| 7 | 4 | Christopher Bell | Toyota | 5 | 200 | 101 | Running | 28 |
| 8 | 8 | John Hunter Nemechek | Chevy | 16 | 200 | 0 | Running | 25 |
| 9 | 71 | Brandon Jones | Chevy | 15 | 200 | 0 | Running | 0 |
| 10 | 05 | John Wes Townley | Chevy | 19 | 200 | 0 | Running | 23 |
| 11 | 24 | Kaz Grala | Chevy | 10 | 200 | 0 | Running | 22 |
| 12 | 23 | Spencer Gallagher | Chevy | 14 | 200 | 0 | Running | 21 |
| 13 | 17 | Timothy Peters | Toyota | 25 | 200 | 0 | Running | 20 |
| 14 | 29 | Tyler Reddick | Ford | 1 | 200 | 1 | Running | 20 |
| 15 | 75 | Caleb Holman | Toyota | 21 | 200 | 0 | Running | 18 |
| 16 | 66 | Jordan Anderson | Chevy | 22 | 200 | 0 | Running | 17 |
| 17 | 81 | Jesse Little | Toyota | 11 | 200 | 0 | Running | 16 |
| 18 | 2 | Austin Cindric | Ford | 27 | 199 | 0 | Running | 15 |
| 19 | 02 | Austin Hill | Ford | 18 | 199 | 0 | Running | 14 |
| 20 | 92 | Parker Kligerman | Ford | 24 | 199 | 0 | Running | 13 |
| 21 | 22 | Austin Wayne Self | Toyota | 26 | 198 | 0 | Running | 12 |
| 22 | 16 | Stewart Friesen | Chevy | 23 | 198 | 0 | Running | 11 |
| 23 | 86 | Brandon Brown | Chevy | 28 | 197 | 0 | Running | 10 |
| 24 | 13 | Cameron Hayley | Toyota | 3 | 197 | 0 | Running | 9 |
| 25 | 50 | Travis Kvapil | Chevy | 30 | 197 | 0 | Running | 8 |
| 26 | 98 | Rico Abreu | Toyota | 20 | 194 | 0 | Running | 7 |
| 27 | 07 | Matt Mills | Chevy | 31 | 191 | 0 | Running | 6 |
| 28 | 49 | Bryce Napier | Chevy | 32 | 191 | 0 | Running | 5 |
| 29 | 51 | Daniel Suarez | Toyota | 2 | 186 | 77 | Accident | 0 |
| 30 | 41 | Ben Rhodes | Toyota | 4 | 128 | 0 | Engine | 3 |
| 31 | 44 | Tommy Joe Martins | Chevy | 29 | 71 | 0 | Power Steering | 2 |
| 32 | 88 | Matt Crafton | Toyota | 17 | 70 | 0 | Engine | 1 |
[adinserter name="GOOGLE AD"]