Brown, Beckman, Anderson, Hines Winners at Chicago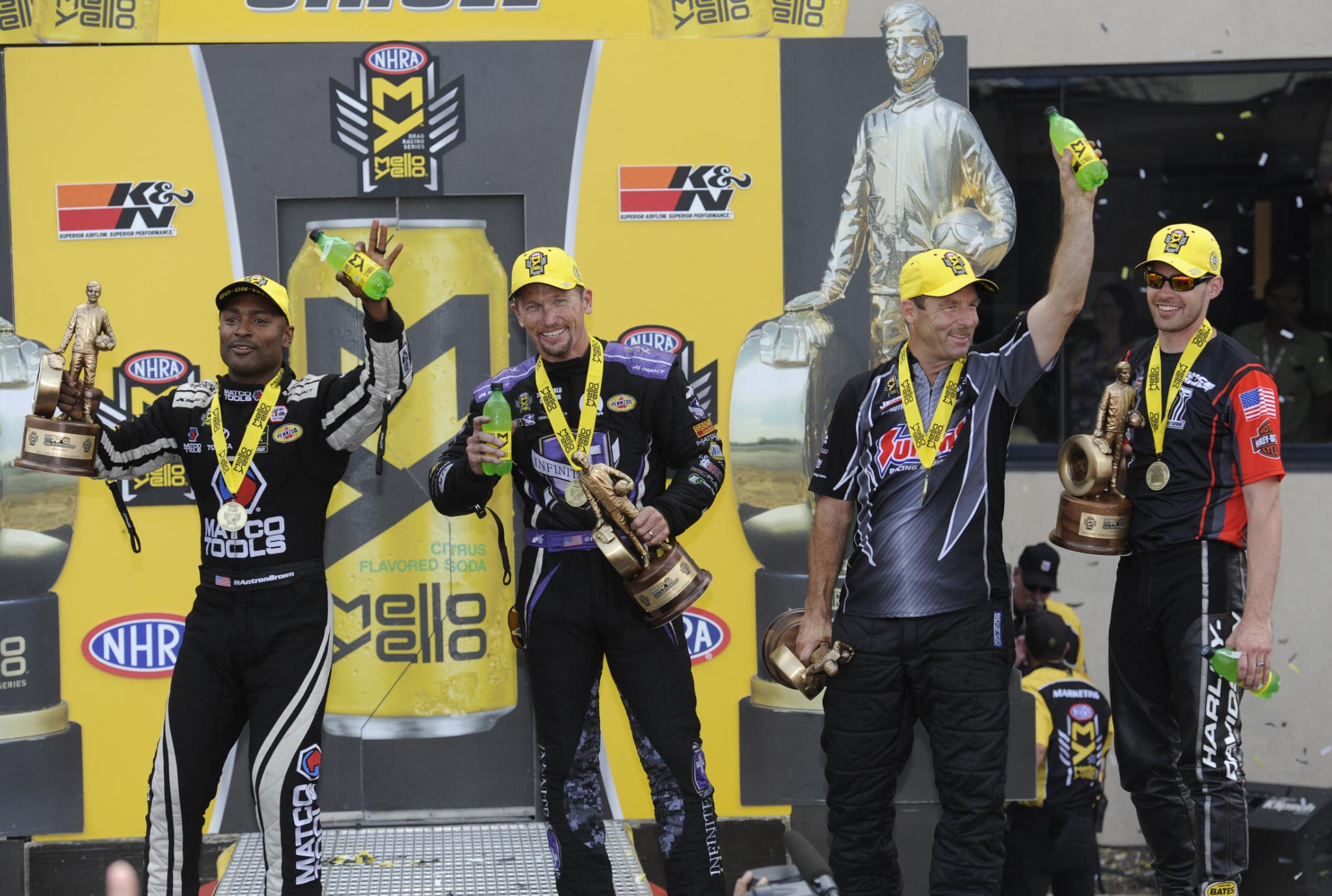 (L-R) Antron Brown, Jack Beckman, Greg Anderson and Andrew Hines celebrate at Chicago
Antron Brown raced to his third Top Fuel victory of the season Sunday at the K&N Filters Route 66 NHRA Nationals and moved into the series points lead over rival Doug Kalitta.
Jack Beckman (Funny Car), Greg Anderson (Pro Stock) and Andrew Hines (Pro Stock Motorcycle) also were winners in their respective categories at the NHRA Mello Yello Drag Racing Series event at Route 66 Raceway near Chicago.
Brown claimed his third Chicago win and 57th career victory with a final round performance of 3.777 seconds at 321.19 mph in his Matco Tools dragster to hold off J.R. Todd, whose SealMaster machine trailed with a 3.798 at 322.11.
"Chicago is incredible," Brown said. "We love coming here. This is the gladiator stadium. To be able to see all the Don Schumacher Racing cars run great today and to bring home a win for our boss man Don Schumacher at his home track is just awesome."
Brown used a consistent string of 3.7-second runs to speed past Clay Millican, Terry McMillen and Leah Pritchett and advance to the final. He dialed up another 3.7-second run to get past Todd.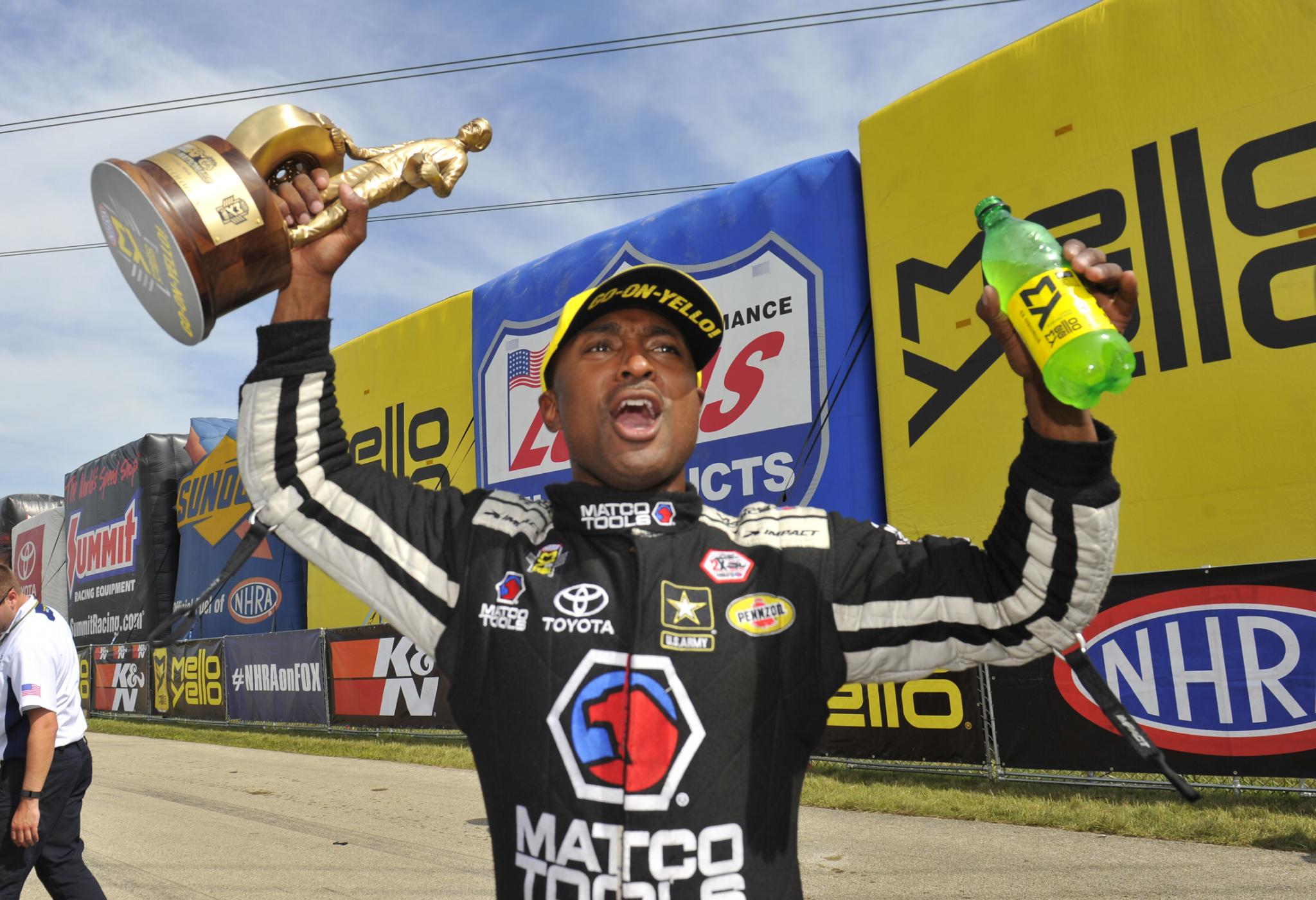 Antron Brown
"We're starting to go in the right direction and peaking at the right time," Brown said. "The car responds to everything that our Matco crew does to it. We've got to keep on going strong with the routine. We really wanted to be great here with a lot of sponsors, friends and family here. We made all the right calls and made all the right moves and now we have to focus on getting, better, better and better."
With the win, Brown moves two points ahead of season-long leader Kalitta, who drives the rival Mac Tools dragster.
"Me and Doug are basically tied right now," Brown said. "Hopefully we can sneak it out and get those extra bonus points for the Countdown that can hopefully help us get that title."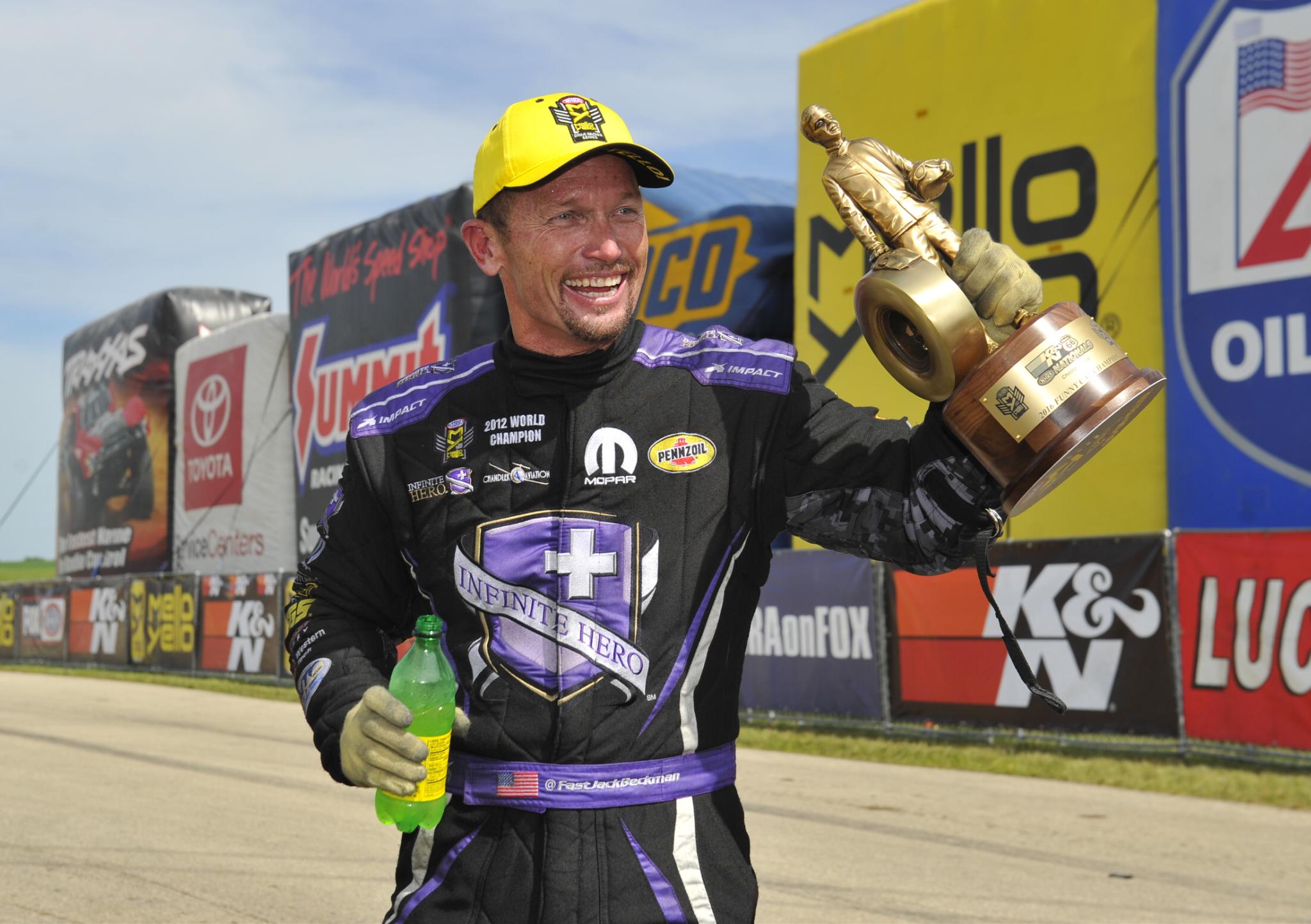 Jack Beckman
In Funny Car, Beckman defeated red-hot Ron Capps in the final. Beckman posted a winning time of 3.955 at 324.05 in his Infinite Hero Foundation Dodge Charger, while Capps' NAPA Auto Parts Dodge lost traction near the start. It was Beckman's first win of the season, 23rd of his career and first at this event.
"The car was darn near flawless today," Beckman said. "I saw a whole lot of that NAPA front fender out there in the final and just as I thought oh-no, it disappeared. It was a great feeling watching that win light come on today."
Like Brown's dragster, Beckman's DSR Funny Car also had the appearance of a 320-mph bracket car as he used a bunch of 3.9-second runs to advance to the finals with early round wins over John Hale, Courtney Force and Robert Hight.
His car started to resemble the dominating car that turned the Funny Car world upside down last summer with a streak of record-setting performances through the Western Swing, Brainerd and on to Indy.
"I thought we had so much momentum last year and we haven't seen a winner's circle since Reading last year," Beckman said. "We were struggling. We've ran well at times this year, with four No. 1 qualifying positions and setting the national record, but we haven't been able to put it all together."
He cautioned that the win today simply means the Jimmy Prock-tuned team is back in the game this season, with sights set on earning their second championship title. With the win, Beckman moved into second place in the points order, 126 behind four-time season winner Capps with five races remaining until the start of the Mello Yello Countdown to the Championship playoffs.
"This doesn't mean we're going to be dominant come next race," Beckman cautioned, "but what it does mean is that we will be more confident when we tow into the gates and make more consistent runs and then you can turn up the wick and make quick runs."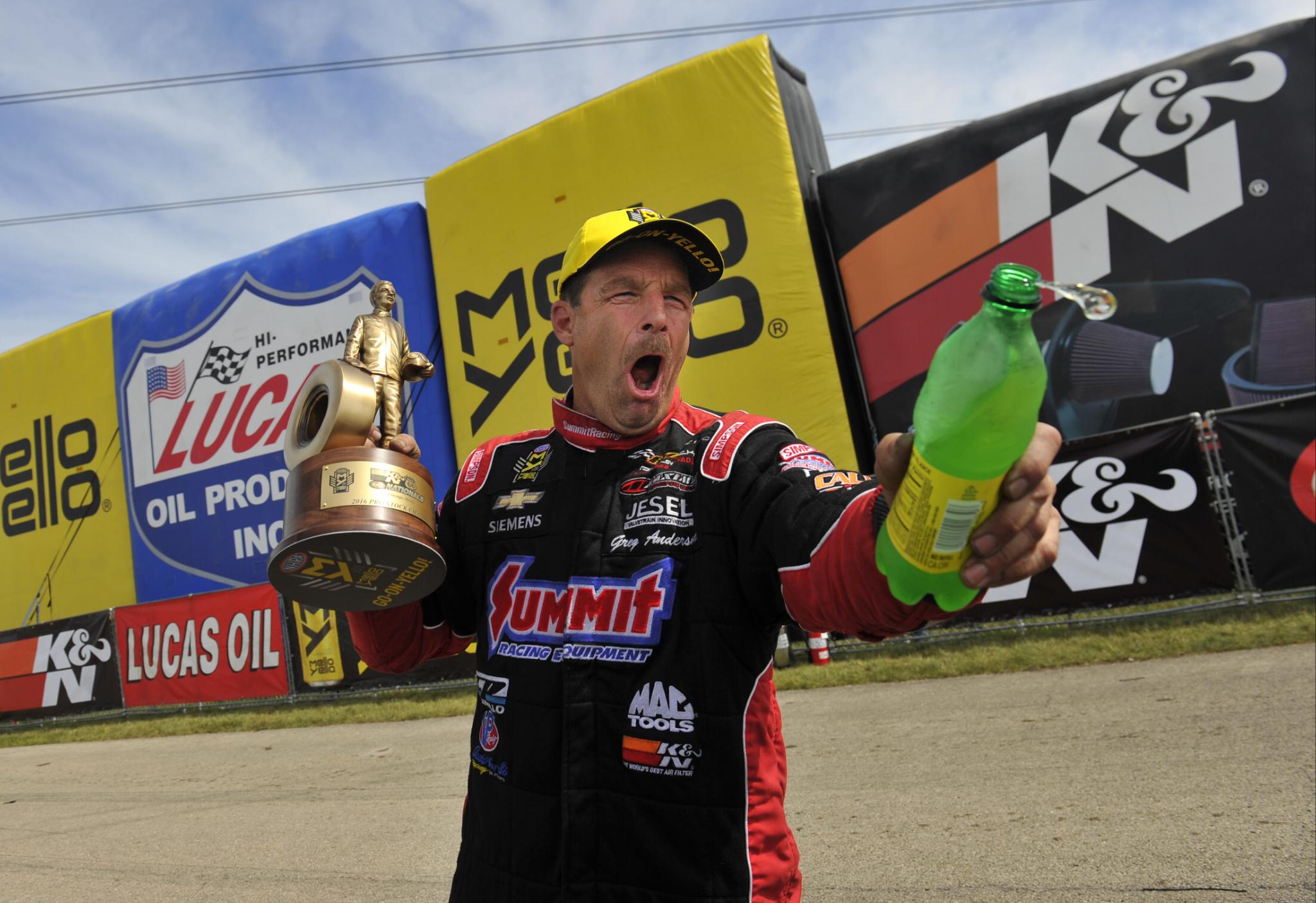 Greg Anderson
Anderson claimed his sixth victory of the season in Pro Stock, defeating rising star Bo Butner in the final round. Anderson scored his 84th career win with a final round performance of 6.644 at 209.01 in his Summit Racing Equipment Chevy Camaro, while Butner trailed with a 6.667 at 209.17 in his Jim Butner Auto Sales Camaro. It was Anderson's eighth consecutive final round appearance.
"Rob Downing and the crew did a great job," said Anderson, who also beat Dave River, Allen Johnson and No. 1 qualifier Shane Gray in earlier rounds. "We basically out raced them today and we just flat found a way to win each round. That's what it's all about. Couldn't be more proud of the guys. It is certainly our hardest-fought win of the season. I am looking forward to the battle that's coming. This Western Swing should be a real battle."
Anderson and teammate Jason Line have now won 13 consecutive events, tying the record for most consecutive wins by a race team in NHRA history, as well as the same record in Pro Stock. The mark equals their team winning streak in 2004 as well as the Vance & Hines team streak of 13 straight wins with Eddie Krawiec and Andrew Hines in 2011-'12.
"We saw some teams make big progress here this weekend and we will have a new landscape coming up for the Countdown," said Anderson, who now trails series leader Line by 80 points. "I am sure of it. We are going to have to go home and dig and work hard and get ready for the Western Swing."
In Pro Stock Motorcycle, Hines claimed his second victory of the season and 44th of his career, tying him for most victories in the history of the two-wheel class with the late Dave Schultz. He outran Angelle Sampey in the final round, clocking a 6.858 at 194.91 on his Screamin' Eagle Vance & Hines Harley-Davidson, to the 6.893 at 193.40 produced by Sampey's Precision Service Equipment/Star Racing Buell.
Hines advanced to the final with round wins over Chip Ellis, Michael Ray and Steve Johnson.
"We had a good motorcycle all weekend it was just a matter of making the straight, consistent runs that we needed to," said Hines of his third Chicago win. "That's what allows you to go out there and turn on four win lights. I've always loved this track and I always seem to excel at the hot racetracks. You have to be on top of your tune-up these days and you can't cut anyone any slack."
The NHRA Mello Yello Drag Racing Series continues July 22-24 with the Mopar Mile-High NHRA Nationals at Bandimere Speedway near Denver.
[adinserter name="GOOGLE AD"]