Force, Hagan, Gray, Smith No.1 Qualifiers at Chicago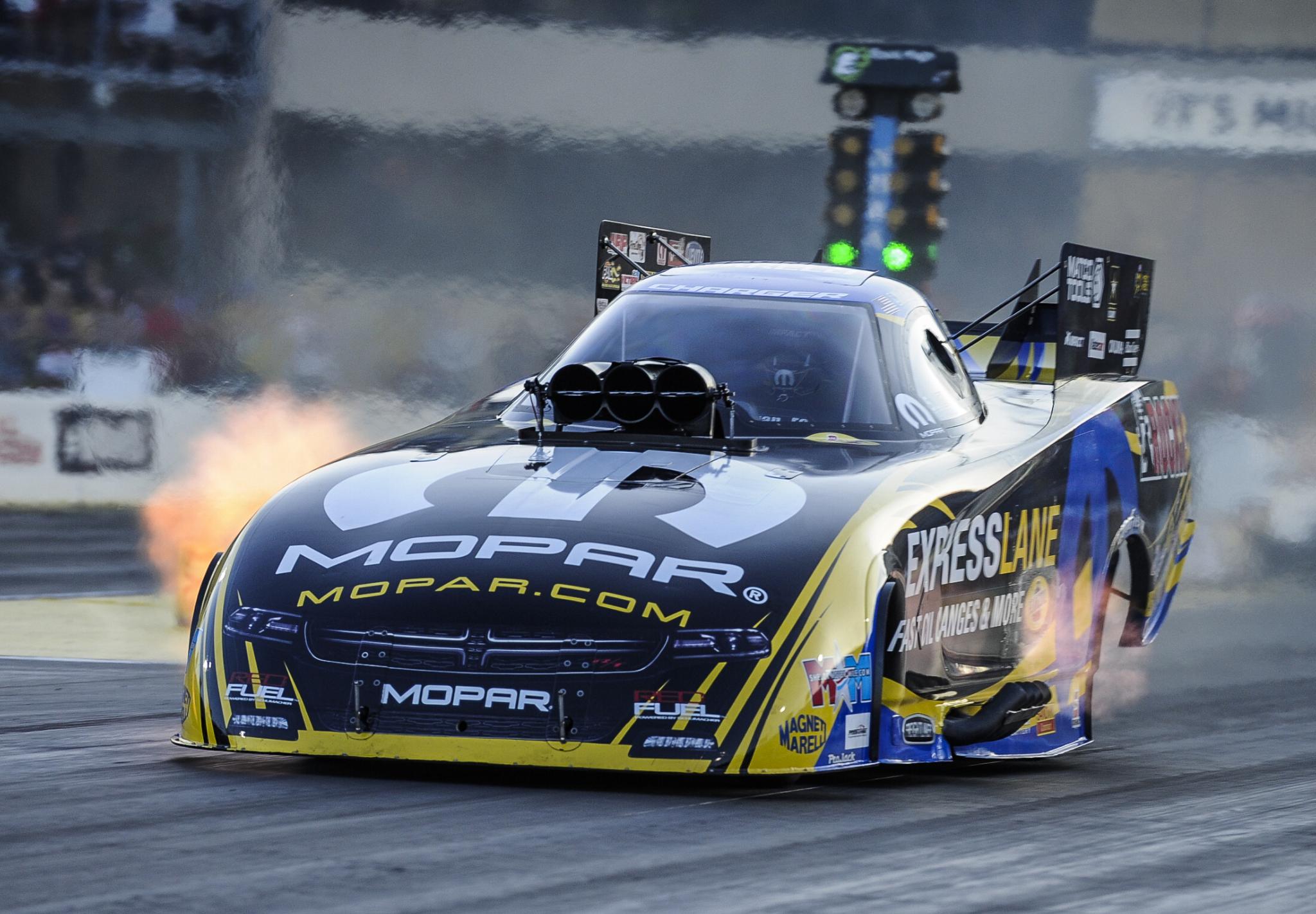 Matt Hagan
Matt Hagan thundered to the No. 1 qualifying position with a track record performance to lead the quickest Funny Car field in history Saturday at the K&N Filters Route 66 NHRA Nationals.
It was the second top qualifying effort of the season for Hagan, who navigated the Route 66 Raceway dragstrip under the lights in a track record time of 3.882 seconds at 331.12 mph in his Mopar Express Lane Dodge Charger R/T.
Brittany Force (Top Fuel), Shane Gray (Pro Stock) and Matt Smith (Pro Stock Motorcycle) also will lead their respective classes into Sunday's 11 a.m. eliminations as the No. 1 qualifiers at the NHRA Mello Yello Drag Racing Series event near Chicago.
Hagan was able to grab the top spot away from teammate Jack Beckman, who momentarily held the position following a run of 3.885 at a track record speed of 333.25 in his Infinite Hero Foundation Dodge Charger.
[adinserter name="GOOGLE AD"] "Dickie [Venables, crew chief] is very consistent and methodical and I am glad he's my crew chief and that's why we are number one," said Hagan of his 23rd career No. 1 and first ever at Chicago. "It was a game-changer in this class from Sonoma on last year with the change to the headers and that's why these Funny Cars are so competitive now. It all comes down to the parts and pieces that are in front of us and making small tweaks to them here and there."
Hagan, a three-time Chicago winner, will try for his third victory of the season when he meets round one foe Bob Bode, who anchored the quickest 16-car Funny Car field in NHRA history with his time of 4.100 seconds in a Toyota Solara.
"It's all about momentum out here," said Hagan, a two-time world champ. "If being No. 1 qualifier doesn't give you confidence then nothing will. That is a huge run for us, for me personally and for our team. You will sleep better tonight and feel like you have a really good race car going into tomorrow."
Beckman will race John Hale, while No. 3 qualifier Alexis DeJoria, who moved into that spot with a 3.887 at 327.11 in her Tequila Patron Toyota Camry, will battle Brian Stewart. Friday qualifying leader and series points leader Ron Capps will start fourth in his NAPA Auto Parts Dodge Charger with a 3.888 at 328.78 and will meet 16-time world champ John Force in a highly anticipated opener.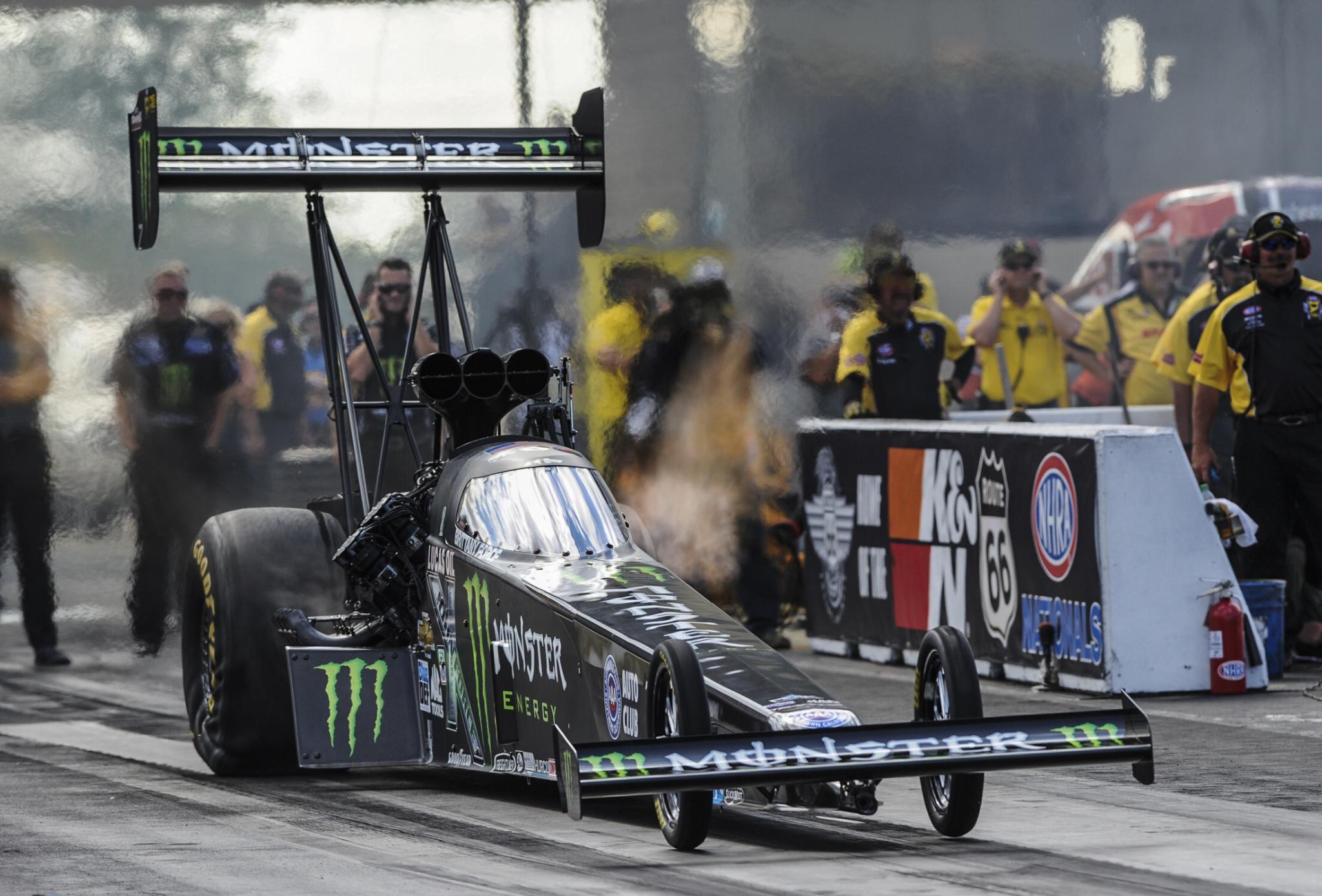 Brittany Force
In Top Fuel, Brittany Force earned her second No. 1 qualifying position of the season and sixth of her career by virtue of her Friday track record time of 3.692 at 325.69 in her Monster Energy dragster. She will race the ageless Chris Karamesines, a Chicago native, in round one.
"The main focus today was getting two consistent runs down the track today and we were able to do that, and we had four good runs all weekend, so that's exactly where we want to be," Force said. "Being No. 1, that just tops everything. I think we are comfortable and confident going in and I am looking forward to seeing what we can do tomorrow."
Steve Torrence powered to the No. 2 spot with a Saturday-best of 3.731 at 327.03 in his Capco Contractors dragster and will race another Chi-Town drag racing legend, Luigi Novelli, in the first round. Series points leader Doug Kalitta qualified third in the Mac Tools dragster with a 3.732 at a track record speed of 330.55 and will meet Kyle Wurtzel in round one as he goes for his fourth victory of the season.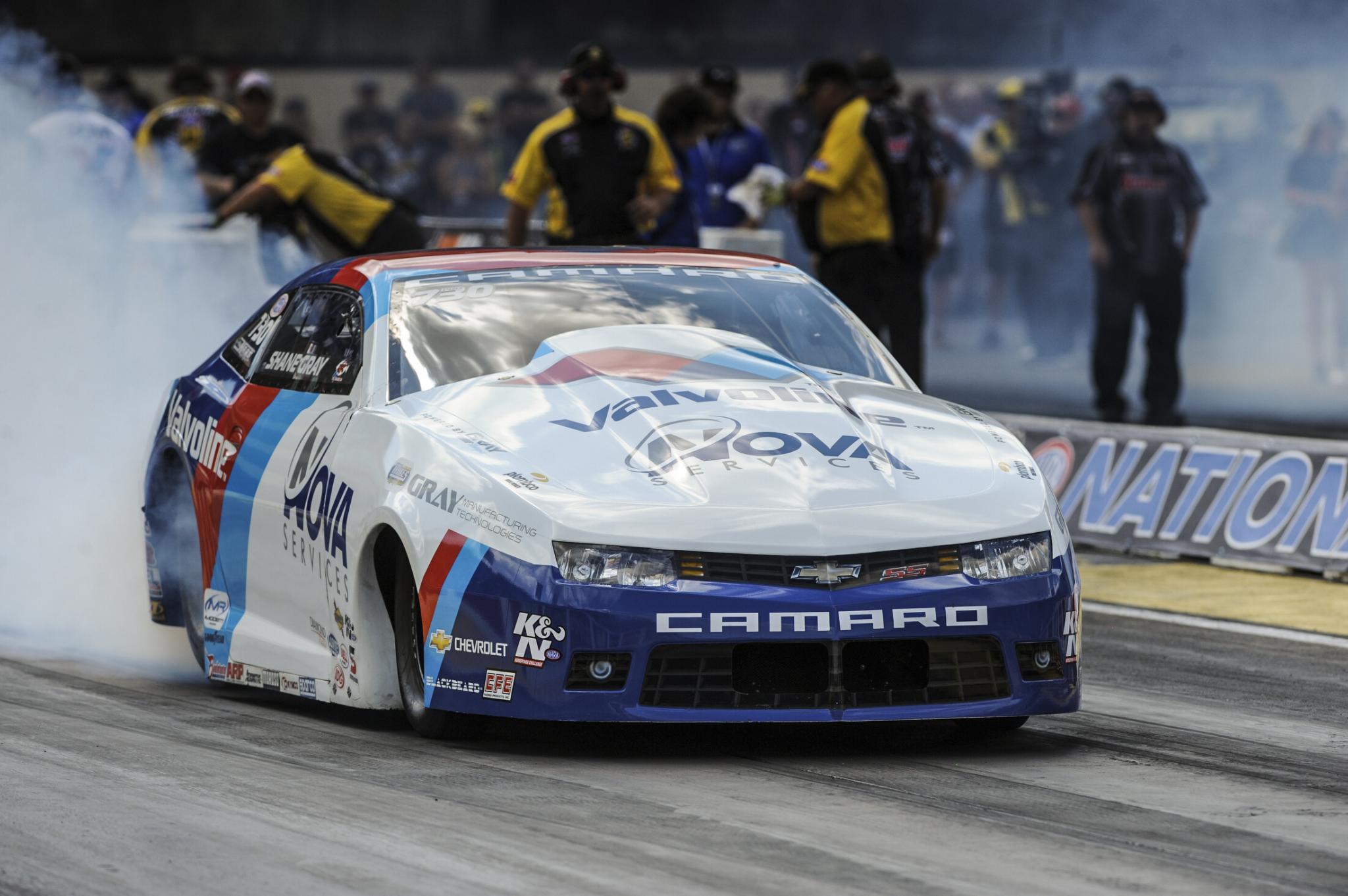 Shane Gray
In Pro Stock, Gray became the first driver of the season from outside the KB Racing team to earn a No. 1 qualifying position. His Friday effort of 6.578 at 209.43 in his Valvoline/Nova Services Chevy Camaro gave him his sixth top qualifying effort of his career and his first at Chicago. He will try for his first win of the season when he faces Alan Prusiensky in round one.
"I am real pleased with the progress we made today and I am really stoked about race day tomorrow and I think we have a good shot," Gray said. "I don't try to get too far ahead of myself but I would say we have caught up to [the Summit Racing team] at this race. We'll see how we are doing a few more races down the road. We've got a core group of guys that have been with me for seven years and we are like family. We are having fun out here, so look out."
Rising star Bo Butner qualified second in his Jim Butner Auto Camaro with a 6.596 at 210.21 and he will meet local favorite Kevin Lawrence in the first round. Series points leader Jason Line qualified third in his Summit Racing Camaro with a 6.598 at 209.95 and will meet Mark Hogan, while four-time world champ Greg Anderson qualified fourth in his Summit Camaro at 6.610 at 209.30 and will race Dave River.
Smith rode to his first No. 1 qualifying position of the season, 24th of his career and second at Chicago in Pro Stock Motorcycle as no one was able to better his Friday track record time of 6.842 at 195.51. It was his first No. 1 in well over a year, since Gainesville 2015.
[adinserter name="GOOGLE AD"] "It feels good to be back up top," Smith said. "We know we have a top four or five bike. Luckily we got in the running and got the top spot yesterday. We almost were quickest today. The bike is running good and is consistent. Hopefully we can turn on some win lights tomorrow. We need to get Victory their first win."
He opens eliminations on his Victory Gunner against former teammate Michael Ray as he tries to win at this track for the first time after posting three previous runner-up finishes.
"I like this place, this track has a lot of teeth to it," Smith added. "The facility is just awesome. We've always done good here and hopefully we can parlay that into a final round tomorrow."
Points leader Eddie Krawiec moved to second in the final qualifying order on his Vance & Hines Screamin' Eagle Harley-Davidson with a 6.845 at 193.93 and he will race Michael Phillips in the opener. Two-time world champ and recent Englishtown winner Angelle Sampey will start third on her Star Racing Buell with a 6.853 at 195.59 and will meet Jim Underdahl in the opener.
[adinserter name="GOOGLE AD"]