Bottas over Verstappen in Abu Dhabi practice 1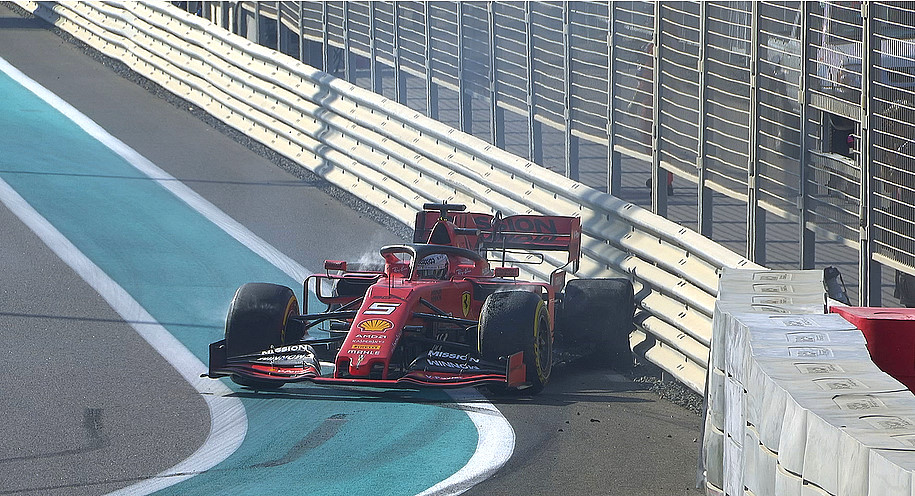 Vettel hits the barrier with his left rear causing damage to the fragile Ferrari
The track was still dusty and the sun was still heating the track, so the times are meaningless, but Valtteri Bottas put his new Mercedes engine to good use and turned the fastest lap of 1m36.957s in opening practice for the Abu Dhabi GP.
Max Verstappen was 2nd quick 0.535s back in his Red Bull Honda and Lewis Hamilton third in the 2nd Mercedes 0.634s in arrears.
Alex Albon was 4th quick in the 2nd Red Bull while Sebastian Vettel, who spun into the barriers to end the session early, rounded out the top-5.
It was a relatively simple error – the German was on the racing line into Turn 19, and as he exited he just lost control of the rear. With no run off area there, he touched the barriers with the rear of the car.
Romain Grosjean was using a new, simulator-developed set-up on his Haas VF-19, and it seemed to work well, as he ended up P6, ahead of the Ferrari of Charles Leclerc. Grosjean's team mate Magnussen was P8, heading the Alfa Romeo of Antonio Giovinazzi and the Renault of Nico Hulkenberg, who's having his last outing for the team this weekend.
Daniel Ricciardo lost an engine in his Renault but should be back out in Session 2. Meanwhile, Bottas was lucky to survive a slip on Ricciardo's oil, collecting a wild moment that sent him skating onto the final corner run-off.
Practice 1 Results
| | | | | | | |
| --- | --- | --- | --- | --- | --- | --- |
| POS | No. | DRIVER | CAR | TIME | GAP | LAPS |
| 1 | 77 | Valtteri Bottas | Mercedes | 1:36.957 | +0.000s | 23 |
| 2 | 33 | Max Verstappen | Red Bull Racing Honda | 1:37.492 | +0.535s | 22 |
| 3 | 44 | Lewis Hamilton | Mercedes | 1:37.591 | +0.634s | 20 |
| 4 | 23 | Alexander Albon | Red Bull Racing Honda | 1:38.084 | +1.127s | 23 |
| 5 | 5 | Sebastian Vettel | Ferrari | 1:38.906 | +1.949s | 19 |
| 6 | 8 | Romain Grosjean | Haas Ferrari | 1:39.146 | +2.189s | 18 |
| 7 | 16 | Charles Leclerc | Ferrari | 1:39.249 | +2.292s | 18 |
| 8 | 20 | Kevin Magnussen | Haas Ferrari | 1:39.350 | +2.393s | 19 |
| 9 | 99 | Antonio Giovinazzi | Alfa Romeo Racing Ferrari | 1:39.423 | +2.466s | 20 |
| 10 | 27 | Nico Hulkenberg | Renault | 1:39.505 | +2.548s | 22 |
| 11 | 4 | Lando Norris | McLaren Renault | 1:39.628 | +2.671s | 18 |
| 12 | 18 | Lance Stroll | Racing Point Bwt Mercedes | 1:39.864 | +2.907s | 23 |
| 13 | 7 | Kimi Raikkonen | Alfa Romeo Racing Ferrari | 1:39.888 | +2.931s | 17 |
| 14 | 11 | Sergio Perez | Racing Point Bwt Mercedes | 1:39.901 | +2.944s | 17 |
| 15 | 26 | Daniil Kvyat | Scuderia Toro Rosso Honda | 1:39.969 | +3.012s | 20 |
| 16 | 10 | Pierre Gasly | Scuderia Toro Rosso Honda | 1:40.401 | +3.444s | 17 |
| 17 | 55 | Carlos Sainz | McLaren Renault | 1:40.687 | +3.730s | 23 |
| 18 | 88 | Robert Kubica | Williams Mercedes | 1:40.792 | +3.835s | 21 |
| 19 | 3 | Daniel Ricciardo | Renault | 1:40.850 | +3.893s | 12 |
| 20 | 63 | George Russell | Williams Mercedes | 1:41.362 | +4.405s | 24 |