Vips takes pole for qualifying race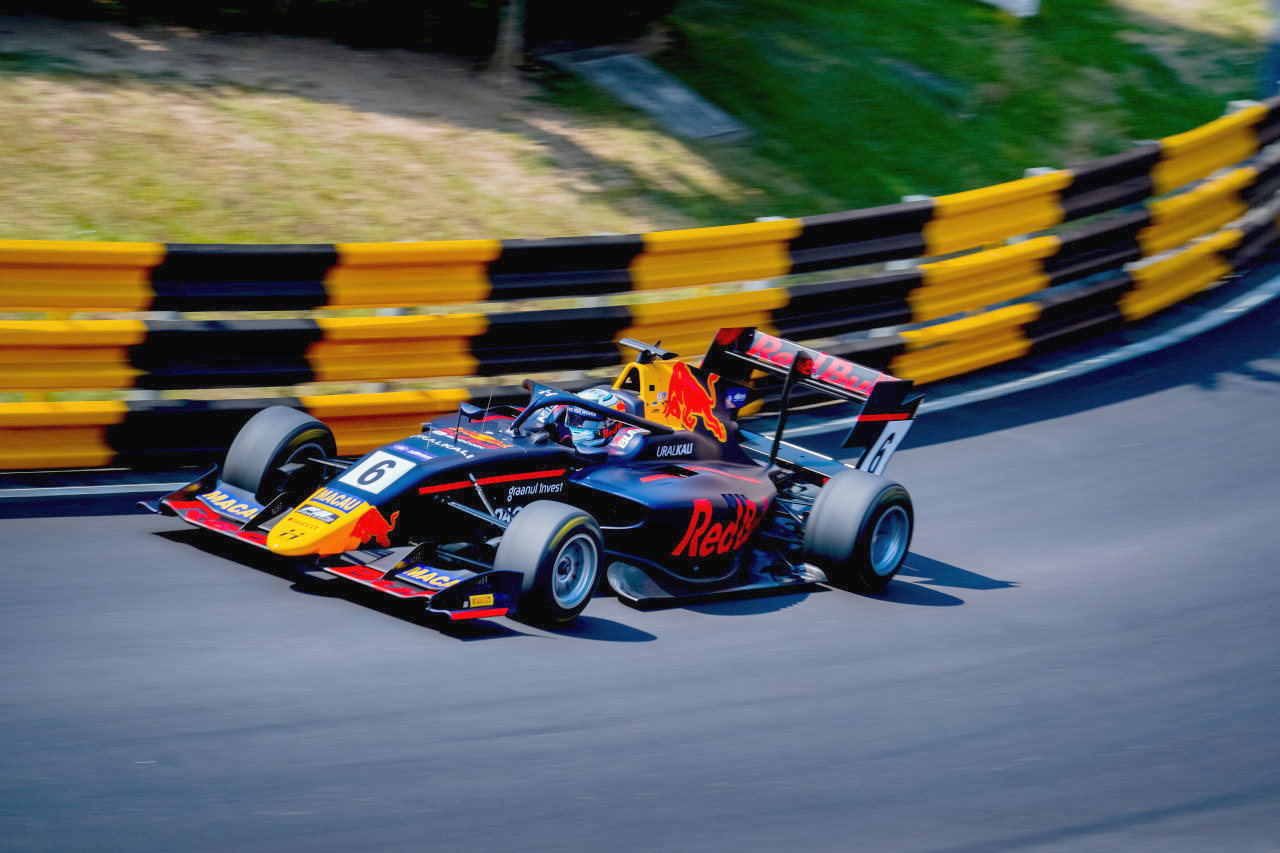 Juri Vips
Juri Vips took a spectacular pole position for the Qualification Race for Suncity Group Formula 3 Macau Grand Prix – FIA F3 World Cup.
The Estonian was in the fight for pole throughout the session, one of a number of drivers to enjoy a spell as the pacesetter in the first half of the second qualifying session.
But it was only after a stoppage to clear pole contender Marcus Armstrong's crashed car that Vips really showed his hand, breaking the two minute, five second barrier with a stunning 2:04.99 lap – five seconds faster than last year's pole time – with seven minutes to go.
While that time initially left him six-tenths clear of the field, the gap was swiftly closed to just under four-tenths by Robert Shwartzman. However, that was as close as the Russian could get, a late red flag due to a stranded Yuki Tsunoda confirming Vips as the 2019 Qualification Race polesitter.
Callum Ilott will start the Qualification Race from third, the Briton impressive on what is his outright debut in an FIA F3 car.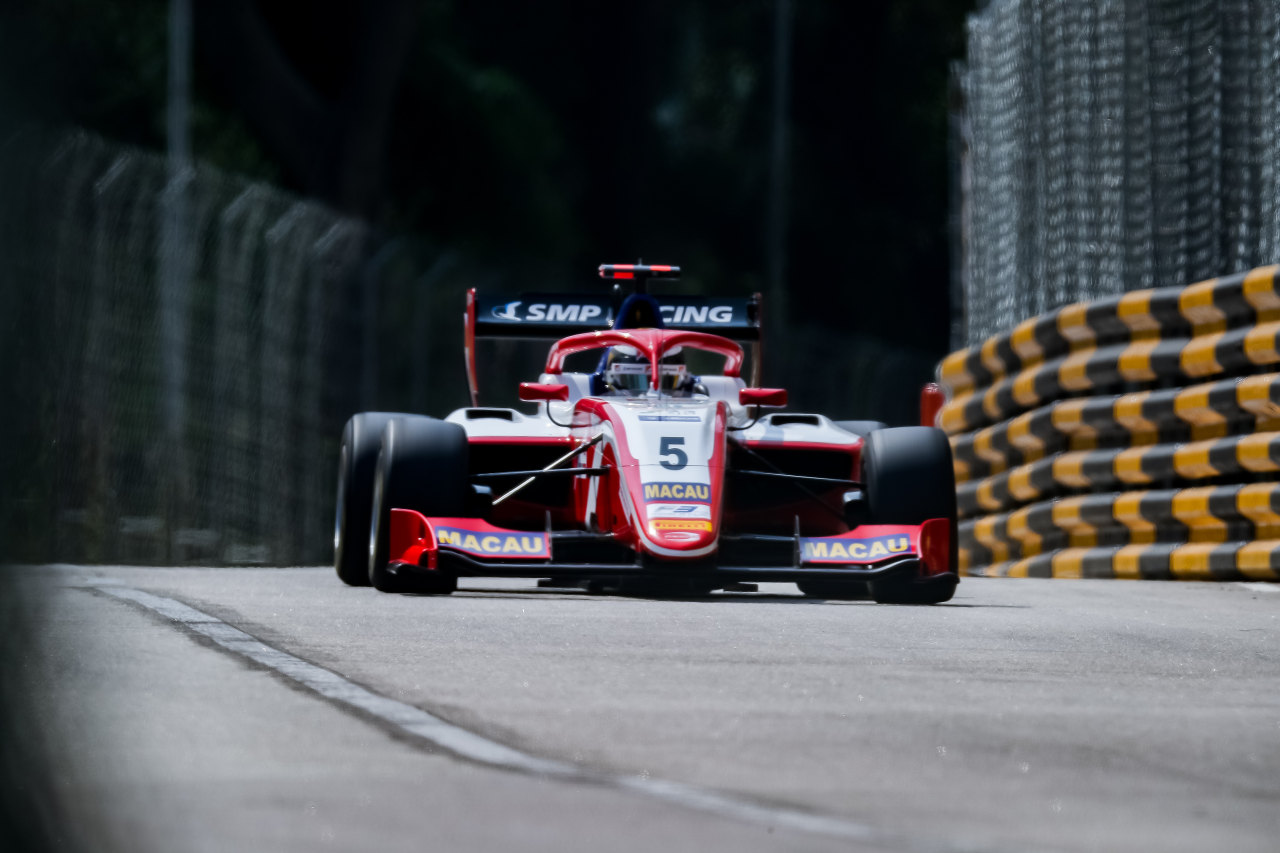 Robert Shwartzman
Most of the top 10 broke into the two minute five seconds, with Christian Lundgaard, Richard Verschoor, Jake Hughes, Frederik Vesti and Arjun Maini locking out positions fourth to eighth.
Armstrong, meanwhile, will start from ninth, despite his session-ending crash with 20 minutes to go. The Kiwi's afternoon started with a brush of the wall at Moorish Hill on an early run, which required some minor repairs before he could set a representative time.
He then became the first driver into the 'fives' with a 2:05.95, which he promptly followed up by slamming the wall at Police on his next run.
The Armstrong red flag was great news for Dan Ticktum, as his Carlin Buzz Racing crew scrambled to repair his car after his practice crash with David Beckmann. In the four-hour break, the team had to replace the engine, gearbox, rear wing and more, the stoppage creating just enough of a time buffer for the Briton to get out on track. Despite only getting eight laps in he was able to qualify 13th.
It was a similar story for Beckmann, the German only getting out for a five-lap run that left him 24th for the session.
Qualifying Results
| | | | | | | |
| --- | --- | --- | --- | --- | --- | --- |
| Pos | No. | Driver | Nat | Team | Time | GAP |
| 1 | 6 | Juri Vips | EST | Hitech Grand Prix | 2:04.997 | 0.000s |
| 2 | 5 | Robert Shwartzman | RUS | SJM Prema Theodore Racing | 2:05.376 | 0.379s |
| 3 | 25 | Callum !Ilott | GBR | Sauber Junior Team by Charouz | 2:05.580 | 0.583s |
| 4 | 9 | Christian Lundgaard | DNK | ART Grand Prix | 2:05.669 | 0.672s |
| 5 | 21 | Richard Verschoor | NLD | MP Motorsport | 2:05.723 | 0.726s |
| 6 | 16 | Jake Hughes | GBR | HWA Racelab | 2:05.774 | 0.777s |
| 7 | 3 | Frederik Vesti | DNK | SJM Prema Theodore Racing | 2:05.776 | 0.779s |
| 8 | 22 | Arjun Maini | IND | Jenzer Motorsport | 2:05.814 | 0.817s |
| 9 | 2 | Marcus Armstrong | NZL | SJM Prema Theodore Racing | 2:05.955 | 0.958s |
| 10 | 28 | Logan Sargeant | USA | Carlin Buzz Racing | 2:06.043 | 1.046s |
| 11 | 10 | Ferdinand Habsburg | AUT | ART Grand Prix | 2:06.209 | 1.212s |
| 12 | 7 | Max Fewtrell | GBR | Hitech Grand Prix | 2:06.368 | 1.371s |
| 13 | 30 | Daniel Ticktum | GBR | Carlin Buzz Racing | 2:06.406 | 1.409s |
| 14 | 15 | Alessio Lorandi | ITA | Trident Motorsport | 2:06.428 | 1.431s |
| 15 | 20 | Liam Lawson | NZL | MP Motorsport | 2:06.455 | 1.458s |
| 16 | 29 | Felipe Drugovich | BRA | Carlin Buzz Racing | 2:06.637 | 1.640s |
| 17 | 12 | Oliver Caldwell | GBR | Trident Motorsport | 2:06.641 | 1.644s |
| 18 | 11 | Sebastian Fernandez | ESP | ART Grand Prix | 2:06.717 | 1.720s |
| 19 | 14 | David Beckmann | DEU | Trident Motorsport | 2:06.844 | 2.149s |
| 20 | 32 | Enaam Ahmed | GBR | Campos Racing | 2:07.146 | 2.310s |
| 21 | 8 | Yuki Tsunoda | JPN | Hitech Grand Prix | 2:07.307 | 2.582s |
| 22 | 17 | Keyvan Andres | IRN | HWA Racelab | 2:07.579 | 2.590s |
| 23 | 26 | David Schumacher | DEU | Sauber Junior Team by Charouz | 2:07.587 | 2.895s |
| 24 | 19 | Lukas Dunner | AUT | MP Motorsport | 2:07.892 | 3.276s |
| 25 | 33 | Leonardo Pulcini | ITA | Campos Racing | 2:08.287 | 3.654s |
| 26 | 24 | Andreas Estner | DEU | Jenzer Motorsport | 2:08.651 | 4.262s |
| 27 | 18 | Sophia Floersch | DEU | HWA Racelab | 2:09.259 | 4.571s |
| 28 | 23 | Hon Chio Leong | MAC | Jenzer Motorsport | 2:09.568 | 5.004s |
| 29 | 31 | Alessio Deledda | ITA | Campos Racing | 2:10.114 | 5.117s |
| 30 | 27 | Enzo Fittipaldi | BRA | Sauber Junior Team by Charouz | 2:10.124 | 5.127s |